You don't need the Ghost of Christmas Past or Charles Dickens to appreciate the true meaning of Christmas! These seven novels are wonderful stories in our archives that we love to reread every season. If you've been searching for a bit of extra holiday magic, look no further than these stories filled with joy, nostalgia and Christmas cheer!
Evergreen Tidings from the Baumgartners by Gretchen Anthony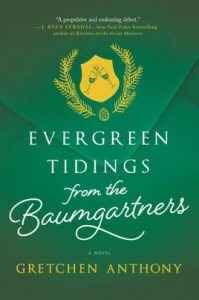 A formidable matriarch learns the hard way that no family is perfect in this witty, sparkling debut novel

Dearest loved ones, far and near—evergreen tidings from the Baumgartners!Violet Baumgartner has opened her annual holiday letter the same way for the past three decades. And this year she's going to throw her husband, Ed, a truly perfect retirement party, one worthy of memorializing in her upcoming letter. But the event becomes a disaster when, in front of two hundred guests, Violet learns her daughter Cerise has been keeping a shocking secret from her, shattering Violet's carefully constructed world.
In an epic battle of wills, Violet goes to increasing lengths to wrest back control of her family, infuriating Cerise and snaring their family and friends in a very un-Midwestern, un-Baumgartner gyre of dramatics. And there will be no explaining away the consequences in this year's Baumgartner holiday letter…
Full of humor, emotion and surprises at every turn, Evergreen Tidings from the Baumgartners brings to life a remarkable cast of quirky, deeply human characters who must learn to adapt to the unconventional, or else risk losing one another. This is the story of a family falling to pieces—and the unexpected way they put it all back together.
Available at:
Amazon | Barnes & Noble | Google Play | Kobo | Apple Books | Indiebound | Indigo | Audible | Goodreads
My Kind of Christmas by Robyn Carr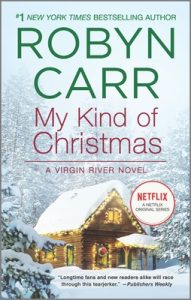 Celebrate another Virgin River holiday, only from #1 New York Times bestselling author Robyn Carr.
While the Riordan brothers have a reputation for being rough-and-tumble, Patrick has always been the gentle, sweet-natured one. But his easygoing manner is tested by his high-octane career as a navy pilot, and for the Riordan men, when the going gets toughthe tough find the love of a good woman.
Angie LeCroix wants to spend Christmas in Virgin River relaxing, away from her well-intentioned but hovering mother. Yet instead of freedom, she gets her uncle, Jack Sheridan. If he had his way, she'd never go out at all. And certainly not with Patrick Riordan. But Angie has her own idea of the kind of Christmas she wants and the kind of man.
Patrick and Angie thought they wanted to be left alone this Christmas until they met each other. Now they want to be left alone together. But the Sheridan and Riordan families have different plans for Patrick and Angie and for Christmas, Virgin River style!
Available at:
Amazon | Barnes & Noble | Google Play | Kobo | Apple Books | Indiebound | Indigo | Goodreads
A Snow Country Christmas by Linda Lael Miller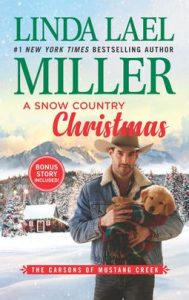 It's a Christmas affair to remember as a Hollywood mogul discovers his inner cowboy—and the woman of his dreams—amid the rugged beauty of Wyoming
Raine McCall would take snow-covered mountains over a star-studded premiere any day. But when hotshot movie executive Mick Branson arranges dinner on Christmas Eve to discuss a work opportunity, she's intrigued—by the offer and the man. She's a no-makeup, no-frills single mom who's happy with her quiet life. Sharing chili cheeseburgers and sizzling kisses with Mick is sure heating up her holiday, but country girl and power player don't mix…
It's not just work that's brought Mick back to Mustang Creek. Since he first visited to oversee a documentary, free-spirited graphic designer Raine has been in his head. Her approach to life is as unconventional as her quirky holiday ornaments. Their attraction is undeniable—and so are their differences. Putting down roots in the Wild West wasn't in the script. But there are some Christmas gifts you can't walk away from, even when they turn your whole world upside down…
Don't miss Country Proud, the second book in Linda Lael Miller's Painted Pony Creek series about three best buddies whose strength, honor and independence exemplify the Montana land they love.
Available at:
Amazon | Barnes & Noble | Google Play | Kobo | Apple Books | Indiebound | Indigo | Goodreads
Season of Wonder by RaeAnne Thayne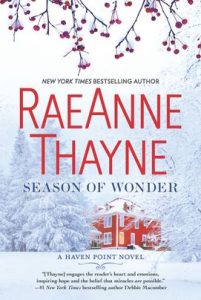 It's a long way from New York to Idaho…but could they have found a home at last?
Dani Capelli has never truly belonged anywhere. And from her earliest days as a foster child in Queens, she would have been lost if it weren't for her love of animals. Until high school, when she fell hard for the wrong boy, and found herself pregnant—and married—by graduation. Two daughters later, Dani realized her mistake and filed for divorce, and with the help of scholarships and loans—and a lot of macaroni and cheese dinners—she enrolled in vet school. Things were finally looking up…until her ex-husband became her late husband, in the most notorious way possible.
Now Dani and her daughters need an out-of-town pass more than ever. So when the retiring Haven Point veterinarian offers her a chance to settle in the small Idaho town and take over his practice, she jumps at it. But adjusting to the charming mountain community isn't easy; thirteen-year-old Silver begins acting out while six-year-old Mia is growing too attached to Haven Point and everything in it, especially their next-door-neighbor, Deputy Sheriff Ruben Morales. And Dani can't blame her. Ruben is everything she's secretly wanted—and everything she can't bear to risk loving…and losing.
As the holidays draw near, their shared concern for Dani's daughters brings them closer together, giving Ruben the chance to show this big-city woman just how magical Christmas in Haven Point can be…and that the promise of a home at last is very real in the most wondrous season of the year…
Available at:
Amazon | Barnes & Noble | Google Play | Kobo | Apple Books | Indiebound | Indigo | Audible | Goodreads
Lone Star Christmas by Delores Fossen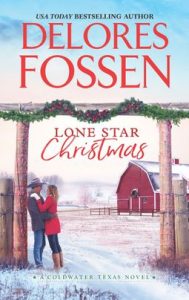 A family crisis brings him home…

Just in time for Christmas
Cattleman Callen Laramie has no intention of returning to his hometown of Coldwater, Texas, until a Christmas wedding and a family secret convince him he has no choice. And when he's reunited with his childhood crush, the girl who'd always been off-limits, Callen knows leaving might not be so easy this time.
Shelby McCall is as pretty as a Christmas snowfall, and Callen wants to kiss her under the mistletoe…and the Christmas tree…and the stars. But once Shelby knows the whole truth behind this homecoming, will their holiday fling come to an abrupt end? Or will she accept the gift of his heart?
Available at:
Amazon | Barnes & Noble | Google Play | Kobo | Apple Books | Indiebound | Indigo | Goodreads
Wyoming Legend by Diana Palmer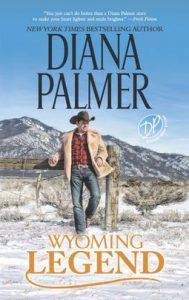 A Wyoming rancher finds love where he least expects it in this heartwarming second-chance romance
Micah Torrance could use a helping hand. Between managing his expansive Wyoming ranch and caring for his willful little girl, Janey, Micah's plate is more than full. Usually, it's not in this cowboy's nature to ask, but when beautiful Karina Carter offers her help, Micah can't resist. With her sweet smile and her easy way with Janey, Micah wants to trust her. But he knows better than anyone that love only leads to heartbreak.
Champion ice-skater Karina Carter needs a fresh start while her body heals. Caring for little Janey is just temporary until she can get back on the ice—or so she keeps telling herself. But the longer she spends with this gorgeous single dad, the more drawn she is to him and the family they could share. Now if only she can convince him that she's here to stay, this new life with him could be beyond her wildest dreams.
Available at:
Amazon | Barnes & Noble | Google Play | Kobo | Apple Books | Indiebound | Indigo | Audible | Goodreads
The Gift of Love by Debbie Macomber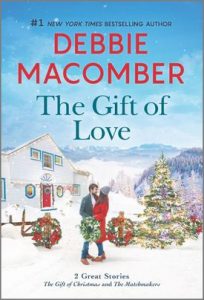 At this special time of year, get wrapped up in two classic heartwarming stories about discovering what gifts love can bring.
The Gift of Christmas
This year Ashley has finished her education, launched her career and affirmed her faith. And she's now in a position to pay Cooper back the money he lent her for college. She's achieved all her goals—except one, and it has to do with Cooper, the man she fell in love with years ago. Ashley hopes that the offer of her heart is the greatest gift she can give him.
The Matchmakers
Single mom Dori Robertson is suddenly under pressure to find a new father for her eleven-year-old son. And he's already chosen the guy—former pro-football player Gavin Parker. As it turns out, Gavin's daughter wants her dad to marry again, too. When the kids join forces, Gavin suggests he and Dori start dating, just to make them happy. Dori figures it's safe enough…until it starts to feel real.
Available at:
Amazon | Barnes & Noble | Indiebound | Indigo | Goodreads
A MacGregor Christmas by Nora Roberts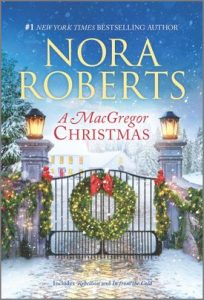 Return to the past in these two classic winter romances!

RebellionScotland, winter 1745: Serena MacGregor, the fiery daughter of the powerful MacGregor clan laird, despises Englishmen and all they stand for. So when her brother returns home with his gallant English friend Brigham Langston, Serena knows the man can't be trusted. All it takes is one look at his friend's ravishing red-haired sister, and Brigham is captivated. But the hot-tempered beauty spurns his advances with a rapier-sharp tongue. However, as the snow rages, Serena's passionate anger soon melts into desire…
In from the Cold America, Christmas 1776: Injured minuteman Ian MacGregor is forced to take refuge from a winter storm in the home of young widow Alanna Flynn. As she carefully nurses him back to health, he can't help but fall for her. But battling the British has hardly helped prepare Ian for the fight he has on his hands to win the love of this Irish spitfire. Christmas is coming fast, and Alanna is determined to make it a joyful one—even if it means letting this stranger into her home…and her heart.
"America's favorite writer."—The New Yorker
Available at:
Amazon | Barnes & Noble | Indiebound | Indigo | Goodreads
Share with us! What's your favorite Christmas book?