One of the best things about books is that we can escape into another person's reality. If you're obsessed with fashion and have been interested in the industry since The Devil Wears Prada, do we have the book recommendations for you! From the good to the bad and the sweet to the sour, you'll find a stylish story in these fashionable reads.
The Grace Kelly Dress by Brenda Janowitz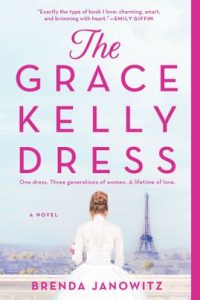 Two years after Grace Kelly's royal wedding, her iconic dress is still all the rage in Paris—and one replica, and the secrets it carries, will inspire three generations of women to forge their own paths in life and in love.
Paris, 1958: Rose, a seamstress at a fashionable atelier, has been entrusted with sewing a Grace Kelly—look-alike gown for a wealthy bride-to-be. But when, against better judgment, she finds herself falling in love with the bride's handsome brother, Rose must make an impossible choice, one that could put all she's worked for at risk: love, security and of course, the dress.
Sixty years later, tech CEO Rachel, who goes by the childhood nickname "Rocky," has inherited the dress for her upcoming wedding in New York City. But there's just one problem: Rocky doesn't want to wear it. A family heirloom dating back to the 1950s, the dress just isn't her. Rocky knows this admission will break her mother Joan's heart. But what she doesn't know is why Joan insists on the dress—or the heartbreaking secret that changed her mother's life decades before, as she herself prepared to wear it.
As the lives of these three women come together in surprising ways, the revelation of the dress's history collides with long-buried family heartaches. And in the lead-up to Rocky's wedding, they'll have to confront the past before they can embrace the beautiful possibilities of the future.
Available at:
Amazon | Barnes & Noble | Google Play | Kobo | Apple Books | Indiebound | Audible | Goodreads
The Emperor of Shoes by Spencer Wise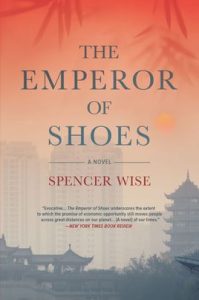 From an exciting new voice in literary fiction, a transfixing story about an expatriate in southern China and his burgeoning relationship with a seamstress intent on inspiring dramatic political change
Alex Cohen, a twenty-six-year-old Jewish Bostonian, is living in southern China, where his father runs their family-owned shoe factory. Alex reluctantly assumes the helm of the company, but as he explores the plant's vast floors and assembly lines, he comes to a grim realization: employees are exploited, regulatory systems are corrupt and Alex's own father is engaging in bribes to protect the bottom line.
When Alex meets a seamstress named Ivy, his sympathies begin to shift. She is an embedded organizer of a pro-democratic Chinese party, secretly sowing dissonance among her fellow laborers. Will Alex remain loyal to his father and his heritage? Or will the sparks of revolution ignite?
Available at:
Amazon | Barnes & Noble | Google Play | Kobo | Apple Books | Indiebound | Goodreads
Fat Girl on a Plane by Kelly DeVos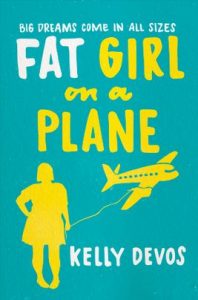 FAT
Cookie Vonn's dreams include getting out of Phoenix and becoming the next great fashion designer. But in the world of fashion, being fat is a cardinal sin. It doesn't help that she's constantly compared to her supermodel mother—and named after a dessert.
Cookie scores a trip to New York to pitch her design portfolio, but her plans are put on standby when she's declared too fat to fly. When she finally arrives, she finds she's been replaced by her ultrathin rival. Cookie vows to lose weight, get out of the friend zone with her crush, and put her dreams back on track.
SKINNY
Cookie expected sunshine and rainbows, but nothing about her new life is turning out like she planned. When the fashion designer of the moment offers her what she's always wanted—an opportunity to live and study in New York—she finds herself in a world full of people more interested in putting women down than dressing them up. Her designs make waves, but her real dream of creating great clothes for people of all sizes seems to grow more distant by the day.
Will she realize that she's always had the power to make her own dreams come true?
Available at:
Amazon | Barnes & Noble | Google Play | Kobo | Apple Books | Indiebound | Goodreads
The Gown by Jennifer Robson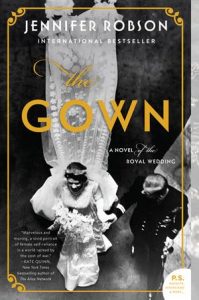 From the internationally bestselling author of Somewhere in France comes an enthralling historical novel about one of the most famous wedding dresses of the twentieth century—Queen Elizabeth's wedding gown—and the fascinating women who made it.
London, 1947: Besieged by the harshest winter in living memory, burdened by onerous shortages and rationing, the people of postwar Britain are enduring lives of quiet desperation despite their nation's recent victory. Among them are Ann Hughes and Miriam Dassin, embroiderers at the famed Mayfair fashion house of Norman Hartnell. Together they forge an unlikely friendship, but their nascent hopes for a brighter future are tested when they are chosen for a once-in-a-lifetime honor: taking part in the creation of Princess Elizabeth's wedding gown.

Toronto, 2016: More than half a century later, Heather Mackenzie seeks to unravel the mystery of a set of embroidered flowers, a legacy from her late grandmother. How did her beloved Nan, a woman who never spoke of her old life in Britain, come to possess the priceless embroideries that so closely resemble the motifs on the stunning gown worn by Queen Elizabeth II at her wedding almost seventy years before? And what was her Nan's connection to the celebrated textile artist and holocaust survivor Miriam Dassin?

With The Gown, Jennifer Robson takes us inside the workrooms where one of the most famous wedding gowns in history was created. Balancing behind-the-scenes details with a sweeping portrait of a society left reeling by the calamitous costs of victory, she introduces readers to three unforgettable heroines, their points of view alternating and intersecting throughout its pages, whose lives are woven together by the pain of survival, the bonds of friendship, and the redemptive power of love.
Available at:
Amazon | Barnes & Noble | Google Play | Kobo | Apple Books | Indiebound | Audible | Goodreads
The Last Collection by Jeanne Mackin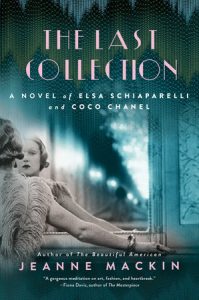 An American woman becomes entangled in the intense rivalry between iconic fashion designers Coco Chanel and Elsa Schiaparelli in this captivating novel from the acclaimed author of The Beautiful American.

Paris, 1938. Coco Chanel and Elsa Schiaparelli are fighting for recognition as the most successful and influential fashion designer in France, and their rivalry is already legendary. They oppose each other at every turn, in both their politics and their designs: Chanel's are classic, elegant, and practical; Schiaparelli's bold, experimental, and surreal.

When Lily Sutter, a recently widowed young American teacher, visits her brother, Charlie, in Paris, he insists on buying her a couture dress—a Chanel. Lily, however, prefers a Schiaparelli. Charlie's beautiful and socially prominent girlfriend soon begins wearing Schiaparelli's designs as well, and much of Paris follows in her footsteps.

Schiaparelli offers budding artist Lily a job at her store, and Lily finds herself increasingly involved with Schiaparelli and Chanel's personal war. Their fierce competition reaches new and dangerous heights as the Nazis and the looming threat of World War II bear down on Paris.
Available at:
Amazon | Barnes & Noble | Google Play | Kobo | Apple Books | Indiebound | Audible | Goodreads
Have any of these earned a spot on your TBR list? Let us know below!