Hands up if you've ever felt like you slept on a book onto to find out how amazing it was well after it initially came out. Don't worry, it happens to the best of us! We've looked through our archives and came up with a list of five amazing books that you just may have missed when they were first published. And while we can't travel back in time, you can make up for it by adding them to your TBR list stat!
The Curious Charms of Arthur Pepper by Phaedra Patrick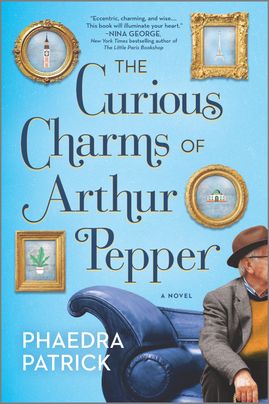 From the author of Rise and Shine Benedict Stone, soon to be a an original movie on Hallmark.
"An endearing celebration of life." -RealSimple.com
Perfect for fans of A Man Called Ove, this curiously charming debut follows a lovable widower and his life-changing adventure of love and self-discovery.
Sixty-nine-year-old Arthur Pepper lives a simple life. He gets out of bed at precisely 7:30 a.m., just as he did when his wife, Miriam, was alive. He dresses in the same gray slacks and mustard sweater vest, waters his fern, Frederica, and heads out to his garden.
But on the one-year anniversary of Miriam's death, something changes. Sorting through Miriam's possessions, Arthur finds an exquisite gold charm bracelet he's never seen before. What follows is a surprising and unforgettable odyssey that takes Arthur from London to Paris and as far as India in an epic quest to find out the truth about his wife's secret life before they met—a journey that leads him to find hope and healing in the most unexpected places.
Featuring an unforgettable cast of characters with big hearts and irresistible flaws, The Curious Charms of Arthur Pepper is a joyous reminder of life's infinite possibilities.
Available at:
Amazon | Barnes & Noble | Google Play | Kobo | Apple Books | Indiebound | Indigo | Audible | Goodreads
Harry's Trees by Jon Cohen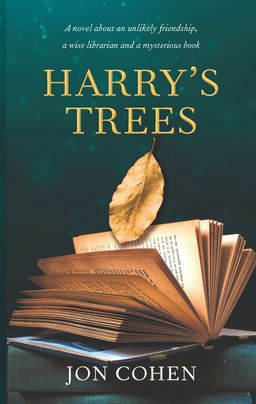 USA TODAY BESTSELLER!
A grieving widower, a determined girl, a courageous librarian and a mysterious book come together in an uplifting tale of love, loss, friendship and redemption.
Thirty-four-year-old Harry Crane works as an analyst for the US Forest Service. When his wife dies suddenly, Harry, despairing, retreats north to lose himself in the remote woods of the Endless Mountains of Pennsylvania. But fate intervenes in the form of a fiercely determined young girl named Oriana. She and her mother, Amanda, are struggling to pick up the pieces from their own tragic loss of Oriana's father. Discovering Harry while roaming the forest, Oriana believes that he holds the key to righting her world.
Harry reluctantly agrees to help Oriana carry out an astonishing scheme inspired by a book given to her by the town librarian, Olive Perkins. Together, Harry and Oriana embark on a golden adventure that will fulfill Oriana's wild dream—and ultimately open Harry's heart to new life.
Available at:
Amazon | Barnes & Noble | Google Play | Kobo | Apple Books | Indiebound | Indigo | Audible | Goodreads
The Things We Cannot Say by Kelly Rimmer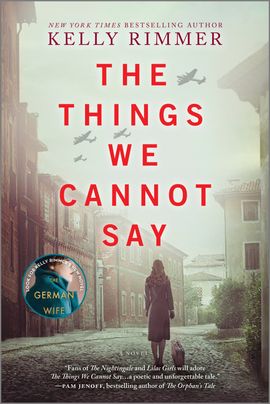 A New York Times bestseller!

From the author of Truths I Never Told You, Before I Let You Go, and the upcoming The Warsaw Orphan, Kelly Rimmer's powerful WWII novel follows a woman's urgent search for answers to a family mystery that uncovers truths about herself that she never expected.
In 1942, Europe remains in the relentless grip of war. Just beyond the tents of the Russian refugee camp she calls home, a young woman speaks her wedding vows. It's a decision that will alter her destiny…and it's a lie that will remain buried until the next century.
Since she was nine years old, Alina Dziak knew she would marry her best friend, Tomasz. Now fifteen and engaged, Alina is unconcerned by reports of Nazi soldiers at the Polish border, believing her neighbors that they pose no real threat, and dreams instead of the day Tomasz returns from college in Warsaw so they can be married. But little by little, injustice by brutal injustice, the Nazi occupation takes hold, and Alina's tiny rural village, its families, are divided by fear and hate.
Then, as the fabric of their lives is slowly picked apart, Tomasz disappears. Where Alina used to measure time between visits from her beloved, now she measures the spaces between hope and despair, waiting for word from Tomasz and avoiding the attentions of the soldiers who patrol her parents' farm. But for now, even deafening silence is preferable to grief.
Slipping between Nazi-occupied Poland and the frenetic pace of modern life, Kelly Rimmer creates an emotional and finely wrought narrative. The Things We Cannot Say is an unshakable reminder of the devastation when truth is silenced…and how it can take a lifetime to find our voice before we learn to trust it.
Available at:
Amazon | Barnes & Noble | Google Play | Kobo | Apple Books | Indiebound | Indigo | Audible | Goodreads
The Wives by Tarryn Fisher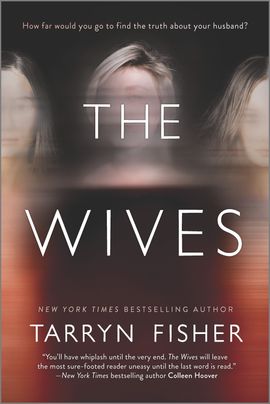 An Instant Bestseller!

New York Times bestselling author Tarryn Fisher delivers a pulse-pounding, fast-paced suspense novel that will leave you breathless. A thriller you won't be able to put down!
Imagine that your husband has two other wives.
You've never met the other wives. None of you know each other, and because of this unconventional arrangement, you can see your husband only one day a week. But you love him so much you don't care. Or at least that's what you've told yourself.
But one day, while you're doing laundry, you find a scrap of paper in his pocket—an appointment reminder for a woman named Hannah, and you just know it's another of the wives.
You thought you were fine with your arrangement, but you can't help yourself: you track her down, and, under false pretenses, you strike up a friendship. Hannah has no idea who you really are. Then Hannah starts showing up to your coffee dates with telltale bruises, and you realize she's being abused by her husband. Who, of course, is also your husband. But you've never known him to be violent, ever.
Who exactly is your husband, and how far would you be willing to go to find out?
And who is his mysterious third wife?
Available at:
Amazon | Barnes & Noble | Google Play | Kobo | Apple Books | Indiebound | Indigo | Audible | Goodreads
The Bookshop of Yesterdays by Amy Meyerson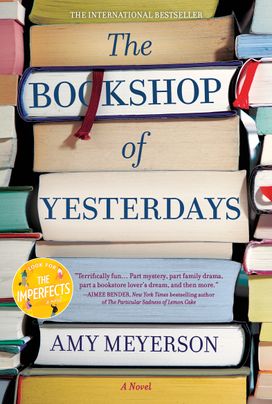 THE INTERNATIONAL BESTSELLER

"Part mystery and part drama, Meyerson uses a complex family dynamic in The Bookshop of Yesterdays to spotlight the importance of truth and our need for forgiveness." —Associated Press

A woman inherits a beloved bookstore and sets forth on a journey of self-discovery in this poignant debut about family, forgiveness and a love of reading.

Miranda Brooks grew up in the stacks of her eccentric Uncle Billy's bookstore, solving the inventive scavenger hunts he created just for her. But on Miranda's twelfth birthday, Billy has a mysterious falling-out with her mother and suddenly disappears from Miranda's life. She doesn't hear from him again until sixteen years later when she receives unexpected news: Billy has died and left her Prospero Books, which is teetering on bankruptcy—and one final scavenger hunt.
When Miranda returns home to Los Angeles and to Prospero Books—now as its owner—she finds clues that Billy has hidden for her inside novels on the store's shelves, in locked drawers of his apartment upstairs, in the name of the store itself. Miranda becomes determined to save Prospero Books and to solve Billy's last scavenger hunt. She soon finds herself drawn into a journey where she meets people from Billy's past, people whose stories reveal a history that Miranda's mother has kept hidden—and the terrible secret that tore her family apart.
Bighearted and trenchantly observant, The Bookshop of Yesterdays is a lyrical story of family, love and the healing power of community. It's a love letter to reading and bookstores, and a testament to how our histories shape who we become.
Available at:
Amazon | Barnes & Noble | Google Play | Kobo | Apple Books | Indiebound | Indigo | Audible | Goodreads
What's a book you feel others may have missed out on? Let us know in the comments below!