Even though wedding season is a little bit different this year, we think these marriage tips from our readers are more important than ever right now. Secrets from a Happy Marriage by Maisey Yates shows us that while we might not have it all together, we still have it all. Without further ado, let's get on to the tips brought to you by our readers and fans of Maisey Yates!
"Always remember to have a sense of humor. "—Cindy M.
"Take time to say how much you love the other." —Crystal L.
"Make time to keep dating each other." —S. M. K.
"Respect each other." —Barbara F. A.
"Don't stress the small things!" —Sheila B.
"Honesty, respect, love, and communication." —Nicole T. W.
"You must be best friends first. There will be times when romance is not enough so you need a strong friendship to survive." —Susan W.
"Be willing to compromise." —Sarah S.
"Find a way to laugh." —Marcie R.
"Listen to each other and have fun in your everyday lives." —Kathy F.
Read on to find out more about Maisey Yates' newest book!
Secrets from a Happy Marriage by Maisey Yates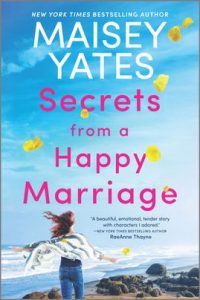 New York Times bestselling author Maisey Yates's new novel introduces the women of the Lighthouse Inn B&B. They might not have it all together, but this summer, they'll discover that together, they might still have it all…
Rachel Henderson's family is falling apart. Becoming a widow—especially at this age—is heartbreaking. With her teenage daughter, Emma, leaving soon for college, Rachel needs a friend—but local diner owner Adam is the last person she ever thought she'd lean on.
From the outside, her little sister, Anna, has a picture-perfect marriage. But the weight of it is suffocating her. The only way for her to breathe again comes at a high price, one she's not so sure she can pay.
After raising two daughters on her own, their mother, Wendy, knows just how hard life can be. She's done things she's not proud of, things she desperately wants to keep from her girls—until keeping quiet is no longer an option.
As long-held secrets bubble up and their old lives unravel, this family will need all their strength to start again and open their hearts up to the possibility of more. But most of all, they'll need each other…
Available at:
Amazon | Barnes & Noble | Google Play | Kobo | Apple Books | Indiebound | Audible | Goodreads
What is your go-to marriage tip? Let us know in the comments below!