We all love a good book club recipe here at BookClubbish! While your book club meeting may be looking a little bit different (Zoom, anyone?), you don't need to settle for snacking on something uninspiring. We've rounded up 7 different recipes to go with some of our favorite book club-worthy reads. Pro-tip: Think about scaling down or freezing leftovers to make these perfect for one!
Royal Rabri for The Henna Artist by Alka Joshi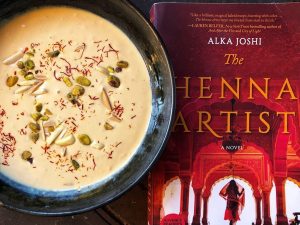 Rabri is an easy-to-make, rich and creamy dessert perfect for palace royalty. Read a book, like the latest Reese Book Club Pick, while you're stirring this delectable treat.
Ingredients
10 cups whole milk
2 cups heavy whipping cream
4/5 cup sugar
1 tsp crushed cardamom seeds
2 tbsp toasted sliced slivered almonds
6 threads saffron
1 tsp rose or kewra essence (optional)
Directions
Combine mil and cream in a deep saucepan. Boil for 2 hours on low heat, stirring continuously. Scrape the cream that collects on the sides of the pan, adding it back into the mixture. Do not let the milk burn.
Set aside 2 tablespoons of hot milk mixture into a bowl and soak the saffron threads in it.
Add sugar to the pan.
When the milk mixture is creamy and reduced to half its volume, remove the pan from heat. Let cool.
Fold the saffron essence, crushed cardamom seeds and almonds into the mixture.
Chill for 4 hours.
Makes 10 servings. Recipe courtesy of Alka Joshi.
Mini Vanilla Cake for The Grace Kelly Dress by Brenda Janowitz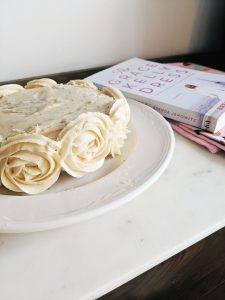 How can you read a book about a wedding dress without wanting a piece of wedding cake? We found it nearly impossible which is why we've decide to bake this cake that's ideal for a small (read: solo) crowd for our Read With BookClubbish meeting this month!
Ingredients
For the cake:
6 tbsp unsalted butter, softened
1/2 cup granulated sugar
1 large egg
1 tbsp vanilla extract
3/4 cup all-purpose flour
1/8 tsp fine salt
1/4 tsp baking soda
6 tbsp whole milk
1/2 tsp apple cider vinegar
For the vanilla buttercream:
8 tbsp (1 stick) unsalted butter, at room temperature
2 cups powdered sugar
2 tsp vanilla extract
1 tbsp heavy cream
Directions
Preheat the oven to 350°F, and spray a 6″ round cake pan with 2″ sides with cooking spray. Line the bottom of the pan with a round of parchment paper.
In a medium-size bowl, beat together the butter and sugar with an electric mixer. Beat very well, about 1-2 minutes.
Add the egg and vanilla, and beat until well-combined, about 15 seconds.
In a small bowl, whisk together the flour, salt and baking soda. Add half of the mixture to the batter and beat for just a few seconds before stirring in half of the milk and vinegar. Continue beating. Add the remaining dry ingredients and beat, and then stir in the remaining milk.
Scrape the batter into the prepared pan, smooth out the top, and bake on a small sheet pan for 37-39 minutes, until a cake tester or toothpick comes out clean.
Let the cake cool on a wire rack in the pan. Carefully remove it from the pan, pulling away the parchment paper once it has cooled.
To make the buttercream, beat the butter in a medium-size bowl with an electric mixer until light and fluffy. Add the powdered sugar, vanilla and heavy cream, and beat until light and fluffy. If the mixture seems too stiff, add a splash more heavy cream.
Use a little more than half of the buttercream to frost the cake. If you made the cake ahead of time and frozen it, it's best to apply a crumb coat of buttercream before applying a second layer.
Place the remaining 1/4 of the buttercream in a piping bag fitted with a 1M tip, and pipe roses along the outside edge of the cake. To make a rose, pipe a spiral shape, starting inside of moving around the center.
Recipe courtesy of Dessert for Two.
Chewy Ginger Molasses Cookies for The Other Mrs. by Mary Kubica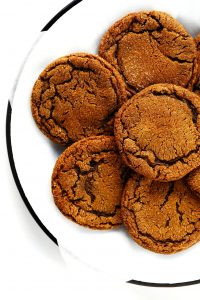 Another Read With BookClubbish fave! Settle into suspense with this killer combination of sweet, spice and everything not-so-nice.
Ingredients
1 1/2 cups unsalted butter, softened to room temperature
1 cup granulated sugar
1 cup packed brown sugar
1/2 cup unsulphured molasses
2 eggs

4 1/2 cups all-purpose flour

4 tsp baking soda
1 tbsp ground ginger
2 tsp ground cinnamon
1 tsp ground cloves
1 tsp salt
Directions
In a medium bowl, whisk together flour, baking soda, cinnamon, cloves, ginger and salt. Set aside.
Using a separate mixing bowl, either with a stand mixer or hand mixer, cream together the softened butter and sugars on medium-high speed until the mixture is light and fluffy and a pale yellow color, about 2 minutes, scraping down the sides occasionally as needed. Mix in the eggs (one at a time) and molasses, and beat on medium-low speed until each is combined. Gradually add in the dry ingredient mixture and beat until it is evenly incorporated.
Transfer the dough to an airtight container and refrigerate for at least 2 hours, or until the dough is completely chilled.
Preheat oven to 350°F. Line a sheet pan with parchment paper; set aside.
Roll the dough into small balls, about 1-inch in diameter. Fill a separate small bowl with sugar and roll each ball in the sugar until it is completely coated. Place dough balls on the prepared baking sheet.
Bake for about 8-10 minutes until the cookies begin to slightly crack on top. (They will crack more while cooling.) Remove from the oven and let cool for 4-5 minutes. Then transfer the cookies to wire racks to cool completely.
Serve warm and enjoy, or store in a sealed container for up to 4 days. Or freeze for up to 3 months.
Makes around 4 dozen cookies. Recipe courtesy of Gimme Some Oven.
Candy Floss Champagne for Followers by Megan Angelo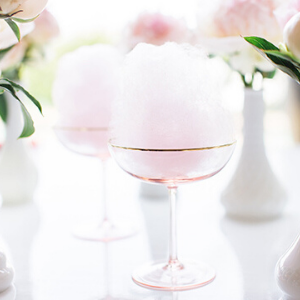 Our inaugural Read With BookClubbish pick sure was special…that's why we needed toast to it with some (candy floss) champagne! This fun cocktail is amazingly simple but just the right amount of fancy to gain some new Instagram followers.
Ingredients
Cotton candy (strawberry flavor works well!)
St. Germain liqueur
Champagne or sparkling wine
Directions
Place a bit of cotton candy in the glass.
Add a splash of St. Germain, and fill to the top with Champagne or sparkling wine. The cotton candy will melt away as you pour over the bubbly.
Enjoy!
Recipe adapted from LaurenConrad.com
Veggie Burgers for Family for Beginners by Sarah Morgan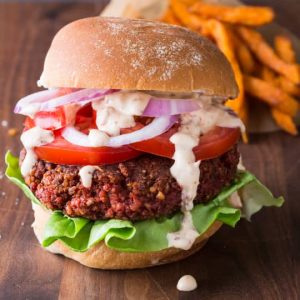 Do you have a secret family recipe? For the family in Family for Beginners, it just so happens to be veggie burgers. While we couldn't get our hands on the real deal, we're pretty sure they tasted like this. And yes, if you're wondering, the toasted bun is essential.
Ingredients
1 1/2 tsp table salt, plus salt for cooking bulgur
2/3 cup medium-grind bulgur, rinsed
1 large beet (9 ounces), peeled and shredded
3/4 cup walnuts
1/2 cup fresh basil leaves
2 garlic cloves, minced
1 (15-ounce) can pinto beans, rinsed
1 (4-ounce) jar carrot baby food
1 tbsp whole-grain mustard
1/2 tsp pepper
1 1/2 cups panko bread crumbs
6 tbsp vegetable oil, divided, plus extra as needed
8 hamburger buns, toasted
Directions
Bring 1 1/2 cups water and 1/2 teaspoon salt to boil in small saucepan. Off heat, stir in bulgur, cover, and let sit until tender, 15 to 20 minutes. Drain bulgur, spread onto rimmed baking sheet, and let cool slightly.
Pulse beet, walnuts, basil, and garlic in food processor until finely chopped, about 12 pulses, scraping down sides of bowl as needed. Add beans, carrot baby food, 2 tablespoons water, mustard, salt, and pepper and pulse until well combined, about 8 pulses. Transfer mixture to large bowl and stir in panko and cooled bulgur.
Divide beet-bulgur mixture into 8 equal portions, then tightly pack each portion into 3/4-inch-thick patty. (Patties can be refrigerated for up to 3 days. To freeze, transfer patties to parchment paper-lined rimmed baking sheet, cover with plastic wrap, and freeze until firm, about 1 hour. Stack patties, separated by parchment paper, wrap in plastic wrap, and place in zipper-lock freezer bag. Do not thaw patties before cooking.)
Adjust oven rack to middle position and heat oven to 200°F. Set wire rack in rimmed baking sheet. Heat 3 tablespoons oil in 12-inch nonstick skillet over medium-high heat until shimmering. Place 4 patties in skillet and cook until well browned and crisp on first side, about 4 minutes. Using 2 spatulas, gently flip patties and continue to cook until well browned and crisp on second side, about 4 minutes, adding extra oil as needed if skillet looks dry. Transfer burgers to prepared rack and keep warm in oven. Wipe skillet clean with paper towels and repeat with remaining 3 tablespoons oil and remaining 4 patties. Serve burgers on toasted buns.
Makes 8 servings. Recipe courtesy of America's Test Kitchen.
Pineapple Upside-Down Cake for Saving Ruby King by Catherine Adel West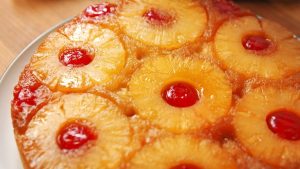 This classic cake is a great addition to a historical fiction title like Saving Ruby King. It gives us a sweet taste of summer with its amazing flavor and it'll definitely be a show-stopping dessert at your next book club meeting.
Ingredients
For the topping:
1/4 cup unsalted butter, melted
1/2 cup packed brown sugar
1 20-oz. can pineapple rings in juice
stemless maraschino cherries
For the cake:
1 1/3 cup all-purpose flour
1 tsp baking powder
1/2 tsp kosher salt
1/4 cup unsalted butter, softened
1/2 cup sugar
1/4 cup packed brown sugar
1 large egg
1 tsp pure vanilla extract
1/4 cup sour cream
1/4 cup pineapple juice (from can used for topping)
Directions
Preheat oven to 350°F and grease a round 9" cake pan.
Make topping: Mix butter with brown sugar and add to prepared cake pan. Let mixture spread to the edges, then add 7 pineapple rings. Place cherries inside and in between pineapple slices.
Make batter: In a small bowl, whisk together flour, baking powder, and salt. Set aside. In a large bowl using a hand mixer, cream butter with sugars. Beat in egg, vanilla, and sour cream, then slowly beat in flour mixture and pineapple juice until just combined.
Spoon the batter over the pineapple, gently spreading out in an even layer.
Bake until cake is golden and a toothpick comes out clean, about 35 minutes.
Remove from oven, wait 5 minutes and flip cake upside-down onto serving platter. Wait 30 seconds more, then carefully lift pan off. Let cool completely before slicing and serving.
Recipe courtesy of Delish.
Goat Cheese, Spinach and Sun-Dried Tomato Quiche for One Perfect Summer by Brenda Novak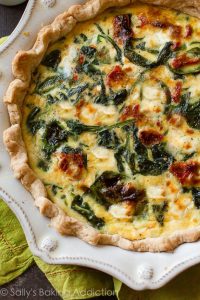 Book clubs and brunch…need we say more? This quiche is a fantastic start to the morning and a book club meeting. It's an impressive dish that makes for excellent leftovers.
Ingredients
1/2 recipe homemade pie crust
1/2 tsp olive oil
1 tsp minced garlic
3 packed cups fresh spinach
4 large eggs
1 cup whole milk
1/2 cup sun-dried tomatoes, drained and chopped
4 ounces goat cheese, crumbled or chopped
salt & pepper, to taste
Directions
The night before, make the pie dough and keep it chilled in the fridge overnight.
On a floured work surface, roll out one of the disks of chilled dough (freeze the other for another time). Turn the dough about a quarter turn after every few rolls until you have a circle 12 inches in diameter. Carefully place the dough into a 9-inch pie dish. Tuck it in with your fingers, making sure it is completely smooth. Chill the pie crust in the refrigerator for at least 30 minutes.
While the crust is chilling, preheat oven to 400°F.
Line the chilled pie crust with parchment paper or aluminum foil. (Crunch up the parchment paper first so that you can easily shape it into the crust.) Fill with pie weights or dried beans. Bake until the edges of the crust are starting to brown, about 15-16 minutes. Remove pie from the oven and carefully lift the parchment paper/aluminum foil (with the weights) out of the pie. Prick holes all around the bottom crust with a fork. Return the pie crust to the oven and bake until the bottom crust is just beginning to brown, about 7-8 minutes.
Remove crust from the oven.
Reduce oven temperature to 350°F.
Heat olive oil and garlic in a skillet over medium heat. Add the spinach. Cook and stir until wilted. Set aside.
Whisk the eggs and milk together until combined. Stir in the sun-dried tomatoes, goat cheese, and spinach. Sprinkle with salt and pepper, then pour into warm pre-baked crust. If desired, sprinkle the top lightly with more salt and pepper.
Bake the quiche until the center is just about set, about 45-60 minutes. Don't over-bake. Use a pie crust shield to prevent the pie crust edges from over-browning. Allow to cool for 15 minutes before slicing and serving.
Recipe adapted from Sally's Baking Addiction.
Are you hungry yet? What is your favorite book club recipe?