There's nothing better than cozying up with a good book on a cold day with a warm beverage to make you feel all nice, warm, and fuzzy inside. Whether you're meeting your book club in IRL, you're doing your meetings on Zoom, or you're flying solo, we've rounded up our top 5 drinks to pair with your books for the fall and winter seasons! Read on below to see how to make them.
Pumpkin Chai Latte
Ingredients
1 tea bag of spiced chai (or decaf spiced chai rooibos)
½ cup plain, unsweetened almond milk or milk of choice*
2 tablespoons real pumpkin purée
1 tablespoon real maple syrup or honey
¼ teaspoon vanilla extract
¼ teaspoon pumpkin spice blend (or ⅛ teaspoon ground cinnamon, ⅛ teaspoon ground ginger, dash of nutmeg, dash of cloves)
Tiny dash salt
½ teaspoon arrowroot starch or cornstarch (optional, makes the latte super creamy)
Directions
In a small saucepan, bring ½ cup water to a gentle boil. Remove the water from heat, add the tea bag, and let it steep for 4 minutes. Before removing the tea bag, squeeze any water remaining out by pressing the tea bag against the side of the pan with the back of a spoon.
Add the almond milk, pumpkin purée, maple syrup, vanilla, pumpkin spice blend and salt to the pan. Whisk in the optional arrowroot starch or cornstarch. Pour the mixture into a stand blender and blend for a minute or two, until the components are blended together and the drink is nice and creamy. (You can alternatively use an immersion blender, but I had much better results with my stand blender.)
Pour the mixture back into your pan and gently rewarm on the stove, then pour it into a mug. Top with totally optional whipped coconut cream and/or garnish with totally optional cinnamon stick or star of anise.
Recipe courtesy of Cookie and Kate.
Mulled Wine
Ingredients
1 (750 ml) bottle of dry red wine
1 orange, sliced into rounds (also peeled, if you would like a less-bitter drink)
8 whole cloves
2 cinnamon sticks
2 star anise
2–4 tablespoons sugar, honey, or maple syrup to taste (or your desired sweetener)
optional add-in: 1/4 cup brandy (or your favorite liqueur)
optional garnishes: citrus slices (orange, lemon and/or lime), extra cinnamon sticks, extra star anise
Directions
Add wine, orange slices, cloves, cinnamon, star anise, 2 tablespoons sweetener, and brandy to a large saucepan. Stir briefly to combine.
Cook the mulled wine on medium-high heat until it just barely reaches a simmer. (Avoid letting it bubble — you don't want to boil off the alcohol.) Reduce heat to low, cover, and let the wine simmer for at least 15 minutes or up to 3 hours.
Using a fine mesh strainer, remove and discard the orange slices, cloves, cinnamon sticks, and star anise. Give the mulled wine a taste, and stir in extra sweetener if needed.
Serve warm in heatproof mugs, topped with your favorite garnishes.
Recipe and photo courtesy of Gimme Some Oven.
Hot Cocoa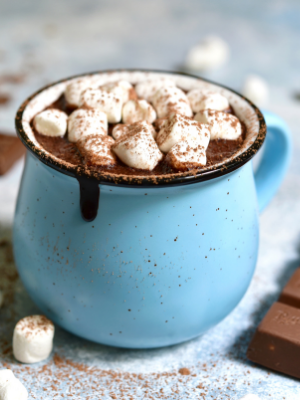 Ingredients
2 tablespoons unsweetened cocoa powder
1 to 2 tablespoons sugar (depending on how sweet you like it)
Pinch of salt
1 cup milk or any combination of milk, half-and-half, or cream
1/4 teaspoon vanilla extract
Directions
Whisk together the cocoa, sugar, salt, and about 2 tablespoons milk in a small saucepan over medium-low heat until cocoa and sugar are dissolved. Whisk in the rest of the milk and heat it over medium heat, whisking occasionally, until it is hot. Stir in the vanilla and serve.
If you like it frothy, blend it in the blender.
This recipe multiplies easily. When you get up to a quart of milk, use 1/4 teaspoon salt.
Recipe courtesy of Epicurious.
Apple Cider
Ingredients
1 orange
10 medium apples (use a variety)
3 cinnamon sticks (or 1 tablespoon ground cinnamon)
2 teaspoons ground cloves
granulated sugar (to taste)
Directions
Peel the orange and place the segments in the slow cooker. Wash the apples, cut into quarters, and place in the slow cooker. Add the cinnamon sticks, ground cloves, and sugar. Add enough water to cover the fruit.
Cook on low heat for 6-7 hours. (Or high heat for 3.)
After 6-7 hours, the fruit will be very soft. Use a large spoon to mash the fruit and release its liquids. Allow the cider to cook on low for 1 more hour.
Very slowly strain the chunky liquid though a fine mesh sieve into a large pot or pitcher. You can discard the solids. Strain the cider one more time to rid any other solids. Serve the cider warm. Leftover cider keeps well in the refrigerator for up to 5-7 days. Warm up on the stove before serving– or drink it cold!
Recipe courtesy of Sally's Baking Addiction.
Hot Honey Toddy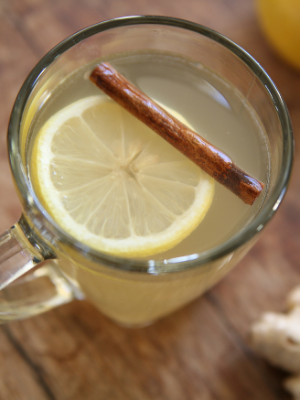 Ingredients
2 ounces bourbon
1/2 ounce hot honey
1/2 ounce lemon juice
top with hot water
Instructions
Add the bourbon and honey to a mug. Top with hot water and give it a good stir, to dissolve the honey. Then top with lemon juice. Serve garnished with a lemon rind or wedge, optional.
To make your own hot honey, combine 2 large dried chilis and 1 teaspoon red pepper flakes with 12 ounces of honey over low heat. Cook for 30 minutes, then allow to cool. Remove the large chilis and store in a container with a lid. If you want to strain out the red peppers you can, or you can leave them in.
Recipe courtesy of A Beautiful Mess.
What is your favourite fall/winter drink to pair with a book? Share it in the comments below!