Audiobook listening is one of our favorite pastimes. In fact, you'll often find us plugged in and listening while doing chores, running errands, and even while working (shh…don't tell anyone!). If you've been looking for amazing audiobooks to download, look no further. Here are 10 you'll want to press play on ASAP.
The Lost Apothecary by Sarah Penner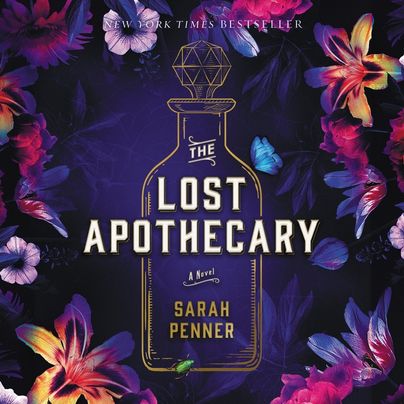 INSTANT NEW YORK TIMES BESTSELLER
Named Most Anticipated of 2021 by Newsweek, Good Housekeeping, Hello! magazine, Oprah.com, Bustle, Popsugar, Betches, Sweet July, and GoodReads!
March 2021 Indie Next Pick and #1 LibraryReads Pick
A forgotten history. A secret network of women. A legacy of poison and revenge. Welcome to The Lost Apothecary…
Hidden in the depths of eighteenth-century London, a secret apothecary shop caters to an unusual kind of clientele. Women across the city whisper of a mysterious figure named Nella who sells well-disguised poisons to use against the oppressive men in their lives. But the apothecary's fate is jeopardized when her newest patron, a precocious twelve-year-old, makes a fatal mistake, sparking a string of consequences that echo through the centuries.
Meanwhile in present-day London, aspiring historian Caroline Parcewell spends her tenth wedding anniversary alone, running from her own demons. When she stumbles upon a clue to the unsolved apothecary murders that haunted London two hundred years ago, her life collides with the apothecary's in a stunning twist of fate—and not everyone will survive.
With crackling suspense, unforgettable characters and searing insight, The Lost Apothecary is a subversive and intoxicating debut novel of secrets, vengeance and the remarkable ways women can save each other despite the barrier of time.
Available at:
Audible | Google Play | Kobo | Apple Books | LibroFM | Chirp
Her Dark Lies by J.T. Ellison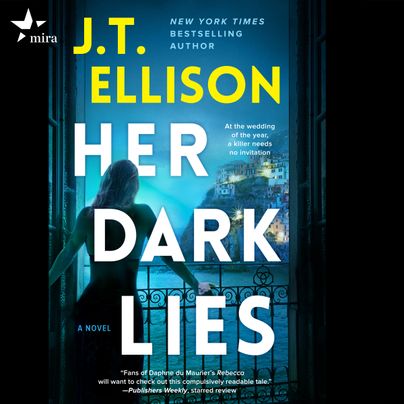 Fast-paced and brilliantly unpredictable, J.T. Ellison's breathtaking new novel invites you to a wedding none will forget—and some won't survive.
Jutting from sparkling turquoise waters off the Italian coast, Isle Isola is an idyllic setting for a wedding. In the majestic cliff-top villa owned by the wealthy Compton family, up-and-coming artist Claire Hunter will marry handsome, charming Jack Compton, surrounded by close family, intimate friends…and a host of dark secrets.
From the moment Claire sets foot on the island, something seems amiss. Skeletal remains have just been found. There are other, newer disturbances, too. Menacing texts. A ruined wedding dress. And one troubling shadow hanging over Claire's otherwise blissful relationship—the strange mystery surrounding Jack's first wife.
Then a raging storm descends, the power goes out—and the real terror begins…
Available at:
Audible | Google Play | Kobo | Apple Books | LibroFM | Chirp
The Woman with the Blue Star by Pam Jenoff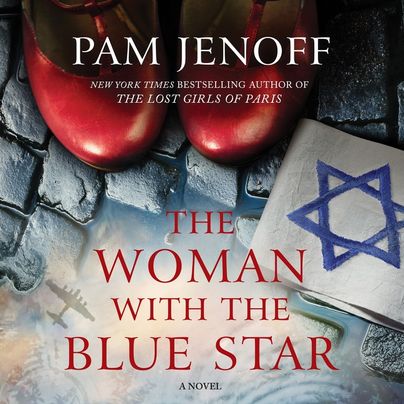 From the New York Times bestselling author of The Lost Girls of Paris comes a riveting tale of unfathomable sacrifice and unlikely friendship during World War II.

1942. Sadie Gault is eighteen and living with her parents amid the horrors of the Kraków Ghetto during World War II. When the Nazis liquidate the ghetto, Sadie and her pregnant mother are forced to seek refuge in the perilous sewers beneath the city. One day Sadie looks up through a grate and sees a girl about her own age buying flowers.
Ella Stepanek is an affluent Polish girl living a life of relative ease with her stepmother, who has developed close alliances with the occupying Germans. Scorned by her friends and longing for her fiancé, who has gone off to war, Ella wanders Kraków restlessly. While on an errand in the market, she catches a glimpse of something moving beneath a grate in the street. Upon closer inspection, she realizes it's a girl hiding.
Ella begins to aid Sadie and the two become close, but as the dangers of the war worsen, their lives are set on a collision course that will test them in the face of overwhelming odds. Inspired by harrowing true stories, The Woman with the Blue Star is an emotional testament to the power of friendship and the extraordinary strength of the human will to survive.
Available at:
Audible | Google Play | Kobo | Apple Books | LibroFM
The Jigsaw Man by Nadine Matheson
"A heart-pounding roller coaster ride."—Tami Hoag, #1 New York Times bestselling author of The Boy

*A Crime Reads Most Anticipated Book of 2021*
A serial killer and his copycat are locked in a violent game of cat and mouse. Can DI Anjelica Henley stop them before it's too late?
On the day she returns to active duty with the Serial Crimes Unit, Detective Inspector Anjelica Henley is called to a crime scene. Dismembered body parts from two victims have been found by the river.
The modus operandi bears a striking resemblance to Peter Olivier, the notorious Jigsaw Killer, who has spent the past two years behind bars. When he learns that someone is co-opting his grisly signature—the arrangement of victims' limbs in puzzle-piece shapes—he decides to take matters into his own hands.
As the body count rises, DI Anjelica Henley is faced with an unspeakable new threat. Can she apprehend the copycat killer before Olivier finds a way to get to him first? Or will she herself become the next victim?
Drawing on her experience as a criminal attorney, debut novelist Nadine Matheson delivers the page-turning crime novel of the year. Taut, vivid and addictively sinister, The Jigsaw Man will leave you breathless until the very last page.
Available at:
Audible | Google Play | Kobo | Apple Books | LibroFM
Meant to Be by Jude Deveraux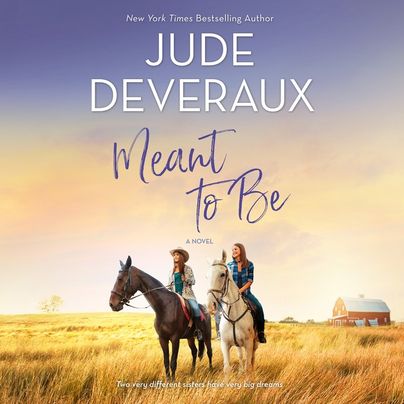 An inspiring new family saga by New York Times bestselling author Jude Deveraux

Two headstrong sisters are bound by tradition but long to forge their own path.
It's 1972 and times are changing. In the small farming community of Mason, Kansas, Vera and Kelly Exton are known for their ambitions. Vera is an activist who wants to join her boyfriend in the Peace Corps. But she is doing her duty caring for her widowed mother and younger sister until Kelly is firmly established. Kelly is studying to become a veterinarian. She plans to marry her childhood sweetheart and eventually take over his father's veterinary practice.
But it's a tumultuous time and neither sister is entirely happy with the path that's been laid out for her. As each evaluates her options, everything shifts. Do you do what's right for yourself or what others want? By having the courage to follow their hearts these women will change lives for the better and the effects will be felt by the generations that follow. Meant to Be delivers an emotional, smart, funny and wise lesson about the importance of being true to yourself.
Available at:
Audible | Google Play | Kobo | Apple Books | LibroFM
Tell No Lies by Allison Brennan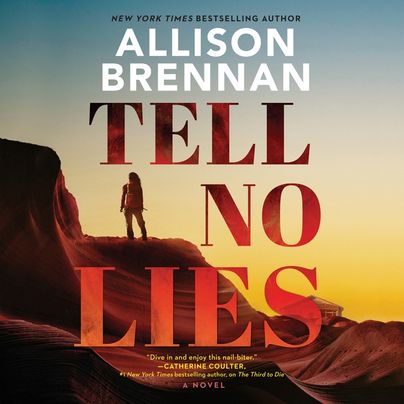 NEW YORK TIMES BESTSELLING AUTHOR ALLISON BRENNAN'S NEW QUINN & COSTA NOVEL

The unsolved murder of a young activist leads to the discovery of much darker crimes in New York Times bestselling author Allison Brennan's latest compelling thriller to feaure the young, edgy detective Kara Quinn and the loner FBI agent Matt Costa. This time they work to uncover possible ties to a high-stakes cartel in the Southwest desert.

Something mysterious is killing the wildlife in the mountains just south of Tucson. When a college intern turned activist sets out to collect her own evidence, she, too, ends up dead. Local law enforcement is slow to get involved. That's when the mobile FBI unit goes undercover to infiltrate the town and its copper refinery in search of possible leads.

Quinn and Costa find themselves scouring the desolate landscape, which keeps revealing clues to something much darker—greed, child trafficking and more death. As the body count adds up, it's clear they have stumbled onto much more than they bargained for. Now they must figure out who is at the heart of this mayhem and stop them before more innocent lives are lost.
Available at:
Audible | Google Play | Kobo | Apple Books | LibroFM
Just My Luck by Adele Parks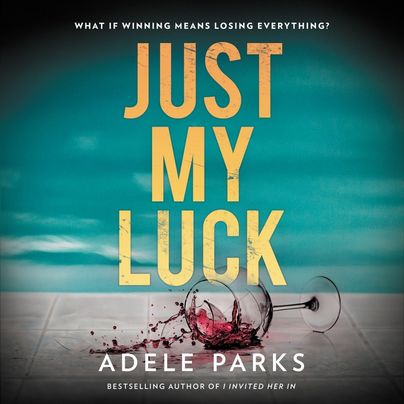 OVER 4 MILLION BOOKS SOLD!

"Utterly engrossing and brilliant"— Lucy Foley New York Times bestselling author of The Guest List

It was supposed to be the lottery win they'd always dreamed of…
For fifteen years, Lexi and Jake have played the same six numbers with their friends. Over drinks, dinner parties and summer barbecues, the three couples have discussed the important stuff—kids, marriages, careers—and they've laughed off their disappointment when they failed to win anything.
But then the unthinkable happens. There's a rift in the group. Someone is caught in a lie. And soon after, six numbers come up that change everything forever.
Lexi and Jake have a ticket worth millions. And their friends are determined to claim a share.
#1 Sunday Times bestselling author Adele Parks returns with a riveting look at the dark side of wealth in this gripping tale of friendship, money, betrayal and good luck gone bad…
Available at:
Audible | Google Play | Kobo | Apple Books | LibroFM
The Last Bookshop in London by Madeline Martin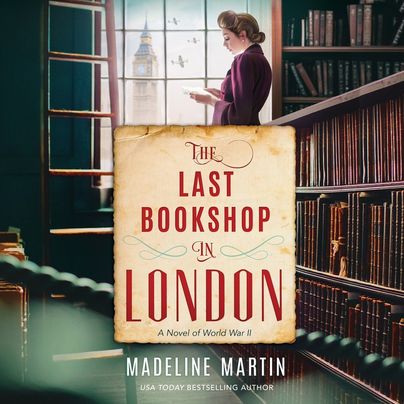 Inspired by the true World War II history of the few bookshops to survive the Blitz, The Last Bookshop in London is a timeless story of wartime loss, love and the enduring power of literature.
August 1939: London is dismal under the weight of impending war with Germany as Hitler's forces continue to sweep across Europe. Into this uncertain maelstrom steps Grace Bennett, young and ready for a fresh start in the bustling city streets she's always dreamed of—and miles away from her troubled past in the countryside.
With aspirations of working at a department store, Grace never imagined she'd wind up employed at Primrose Hill, an offbeat bookshop nestled in the heart of the city—after all, she's never been much of a reader. Overwhelmed with organizing the cluttered store, she doesn't have time to read the books she sells. But when one is gifted to her, what starts as an obligation becomes a passion that draws her into the incredible world of literature.
As the Blitz rains down bombs on the city night after night, a devastating attack leaves the libraries and shops of London's literary center in ruins. Miraculously, Grace's bookshop survives the firestorm. Through blackouts and air raids, Grace continues running the shop, discovering a newfound comfort in the power of words and storytelling that unites her community in ways she never imagined—a force that triumphs over even the darkest nights of war-torn London.
Available at:
Audible | Google Play | Kobo | Apple Books | LibroFM
The Funny Thing About Norman Foreman by Julietta Henderson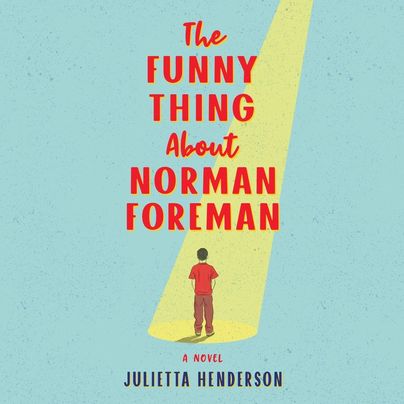 "Charming, warm and uplifting…there is so much to love about this book."—Laurie Frankel, New York Times bestselling author of This is How It Always Is

A triumphant and touching debut about the unlikeliest superstar you'll ever meet.
Twelve-year-old Norman Foreman and his best friend, Jax, are a legendary comedic duo in waiting, with a plan to take their act all the way to the Edinburgh Fringe. But when Jax dies, Norman decides the only fitting tribute is to perform at the festival himself. The problem is, Norman's not the funny one. Jax was.
There's also another, far more colossal objective on Norman's new plan that his single mom, Sadie, wasn't ready for: he wants to find the father he's never known. Determined to put a smile back on her boy's face, Sadie resolves to face up to her own messy past, get Norman to the Fringe and help track down a man whose identity is a mystery, even to her.
Julietta Henderson's delightfully funny and tender debut takes us on a road trip with a mother and son who will live in the reader's heart for a long time to come, and teaches us that—no matter the odds—we must always reach for the stars.
Available at:
Audible | Google Play | Kobo | Apple Books | LibroFM
Do you like listening to audiobooks? Let us know your favorites in the comments below!