Unsure what to get the Gen Z-er in your life this holiday? Never fear! This list of ten books is sure to make any one fall in love with reading and transport them into a new world. From romance to fantasy to middle-grade, there's a book for everyone on your list! This year, you're sure to be the cool relative when these books are added to their TBR.
Salt and Sugar
by Rebecca Carvalho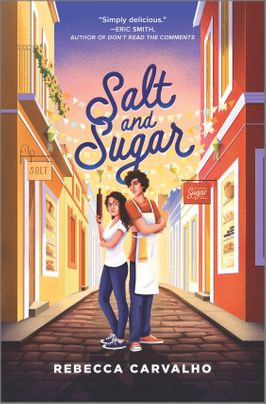 The grandchildren of two rival Brazilian bakeries fall in love despite their families' feud in this delicious debut rom-com perfect for fans of Nicola Yoon and Gloria Chao.

Trust neither thin-bottomed frying pans nor Molinas.

Lari Ramires has always known this to be true. In Olinda, Brazil, her family's bakery, Salt, has been at war with the Molinas' bakery across the street, Sugar, for generations. But Lari's world turns upside down when her beloved grandmother passes away. On top of that, a big supermarket chain has moved to town, forcing many of the small businesses to close.

Determined to protect her home, Lari does the unthinkable—she works together with Pedro Molina to save both of their bakeries. Lari realizes she might not know Pedro as well as she thought—and she maybe even likes what she learns—but the question remains: Can a Ramires and a Molina truly trust one another?
Available at:
Amazon | Barnes & Noble | Google Play | Kobo | Apple Books | Indiebound | Indigo | Audible | Goodreads
If You Could See The Sun
by Ann Liang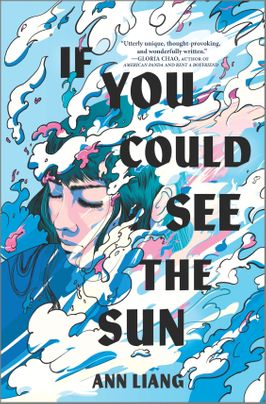 In this genre-bending YA debut, a Chinese American girl monetizes her strange new invisibility powers by discovering and selling her wealthy classmates' most scandalous secrets.

Alice Sun has always felt invisible at her elite Beijing international boarding school, where she's the only scholarship student among China's most rich and influential teens. But then she starts uncontrollably turning invisible—actually invisible.

When her parents drop the news that they can no longer afford her tuition, even with the scholarship, Alice hatches a plan to monetize her strange new power—she'll discover the scandalous secrets her classmates want to know, for a price.

But as the tasks escalate from petty scandals to actual crimes, Alice must decide if it's worth losing her conscience—or even her life.
Available at:
Amazon | Barnes & Noble | Google Play | Kobo | Apple Books | Indiebound | Indigo | Audible | Goodreads
The Poison Season
by Mara Rutherford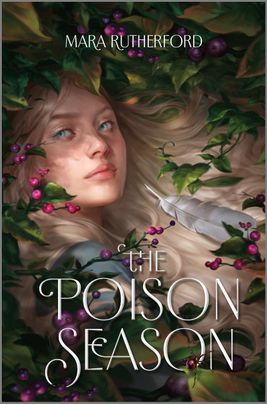 Outsiders are always given a choice: the Forest or the lake. Either way, they're never heard from again.
Leelo has spent her entire life on Endla, coexisting with the bloodthirsty Forest and respecting the poisonous lake that protects her island from outsiders who seek to destroy it. But as much as Leelo cares for her community, she struggles to accept that her younger brother will be exiled by his next birthday, unless he gains the magic of enchanted song so vital to Endla.
When Leelo sees a young outsider on the verge of drowning in the lake, she knows exactly what she's supposed to do. But in a moment that will change everything, Leelo betrays her family, her best friend, and Endla by making an unthinkable choice.
Discovery could lead to devastating consequences for both Leelo and the outsider, Jaren, but as they grow closer, Leelo realizes that not all danger comes from beyond the lake—and they can only survive if Leelo is willing to question the very fabric of her society, her people, and herself.
Available December 6, 2022:
Amazon | Barnes & Noble | Google Play | Kobo | Apple Books | Indiebound | Indigo | Audible | Goodreads
If You Change Your Mind
by Robby Weber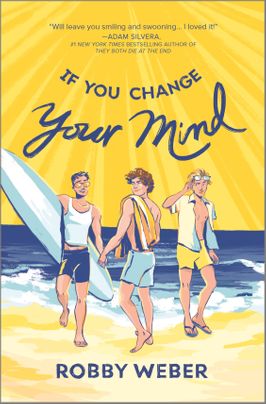 In this hilarious and heartfelt debut novel, an aspiring screenwriter learns sometimes love has its own script.

Harry wants nothing more than to write Hollywood screenplays. He knows the first step toward achieving that goal is winning a screenwriting competition that will seal his admission into the college of his dreams, so he's determined to spend his summer free of distractions—also known as boys—and finish his script. After last year, Harry is certain love only exists in the movies anyway.

But then the cause of his first heartbreak, Grant, returns with a secret that could change everything—not to mention, there's a new boy in town, Logan, who is so charming and sweet, he's making Harry question everything he knows about romance. As he tries to keep his emotions in check and stick to his perfect plan for the future, Harry's about to learn that life doesn't always follow a script.
Available at:
Amazon | Barnes & Noble | Google Play | Kobo | Apple Books | Indiebound | Indigo | Goodreads
Seoulmates
by Susan Lee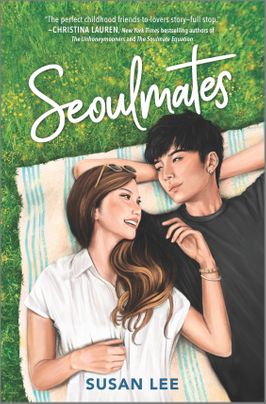 The last person Hannah wants to see is her former best friend, Jacob. Until blackmail and a bucket list, along with two meddling mamas, push them together for a summer worthy of a K-drama…
Hannah Cho had the next year all planned out—the perfect summer with her boyfriend, Nate, and then a fun senior year with all of their friends.
But then Nate does what everyone else in Hannah's life seems to do—he leaves her, claiming they have nothing in common. He and all her friends are newly obsessed with K-pop and K-dramas, and Hannah is not. After years of trying to embrace the American part and shunning the Korean side of her Korean American identity to fit in, Hannah finds that's exactly what now has her on the outs.
But someone who does know K-dramas—so well that he's actually starring in one—is Jacob Kim, Hannah's former best friend, whom she hasn't seen in years. He's desperate for a break from the fame and someone to trust, so a family trip back to San Diego might be just what he needs…that is, if he and Hannah can figure out what went wrong when they last parted and navigate the new feelings developing between them.
Available at:
Amazon | Barnes & Noble | Google Play | Kobo | Apple Books | Indiebound | Indigo | Audible | Goodreads
How To Heal a Gryphon
by Meg Cannistra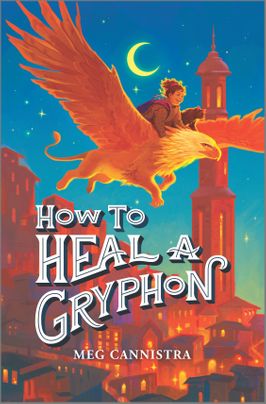 To save her family, she'll have to make a dangerous bargain and tip the scales of balance.
With her thirteenth birthday just around the corner, Giada Bellantuono has to make a big decision: Will she join the family business and become a healer or follow her dreams? But even though she knows her calling is to heal vulnerable animals, using her powers to treat magical creatures is decidedly not allowed.
When a group of witches kidnaps her beloved older brother, Rocco, and her parents are away, Giada is the only person left who can rescue him. Swept into the magical underground city of Malavita, Giada will need the help of her new companions to save her brother—or risk losing him forever.
Available at:
Amazon | Barnes & Noble | Google Play | Kobo | Apple Books | Indiebound | Indigo | Audible | Goodreads
A Show For Two
by Tashie Bhuiyan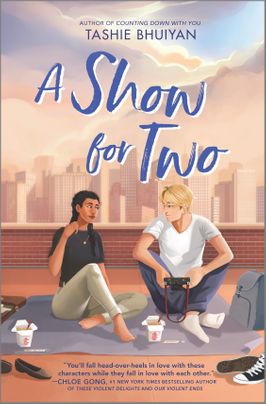 "Wholly heartwarming and enchanting." —Chloe Gong, #1 New York Times bestselling author of These Violent Delights and Our Violent Ends

New from the author of Counting Down with You comes a sparkling YA romance about an aspiring screenwriter who falls for the indie film star who goes undercover at her school.

All Mina Rahman wants is to finally win the Golden Ivy student film competition, get into her dream school, and leave New York City behind for good. When indie film star Emmitt Ramos enrolls in her high school under a secret identity to research his next role, he agrees to star in her short film for the competition…if she acts as his NYC tour guide.

As Mina ventures across the five boroughs with Emmitt, the city she grew up in starts to look more like home than it ever has before. Suddenly, Mina's dreams—which once seemed impenetrable—begin to crumble, and she's forced to ask herself: Is winning worth losing everything?
Available at:
Amazon | Barnes & Noble | Google Play | Kobo | Apple Books | Indiebound | Indigo | Audible | Goodreads
The Keeper of Night
by Kylie Lee Baker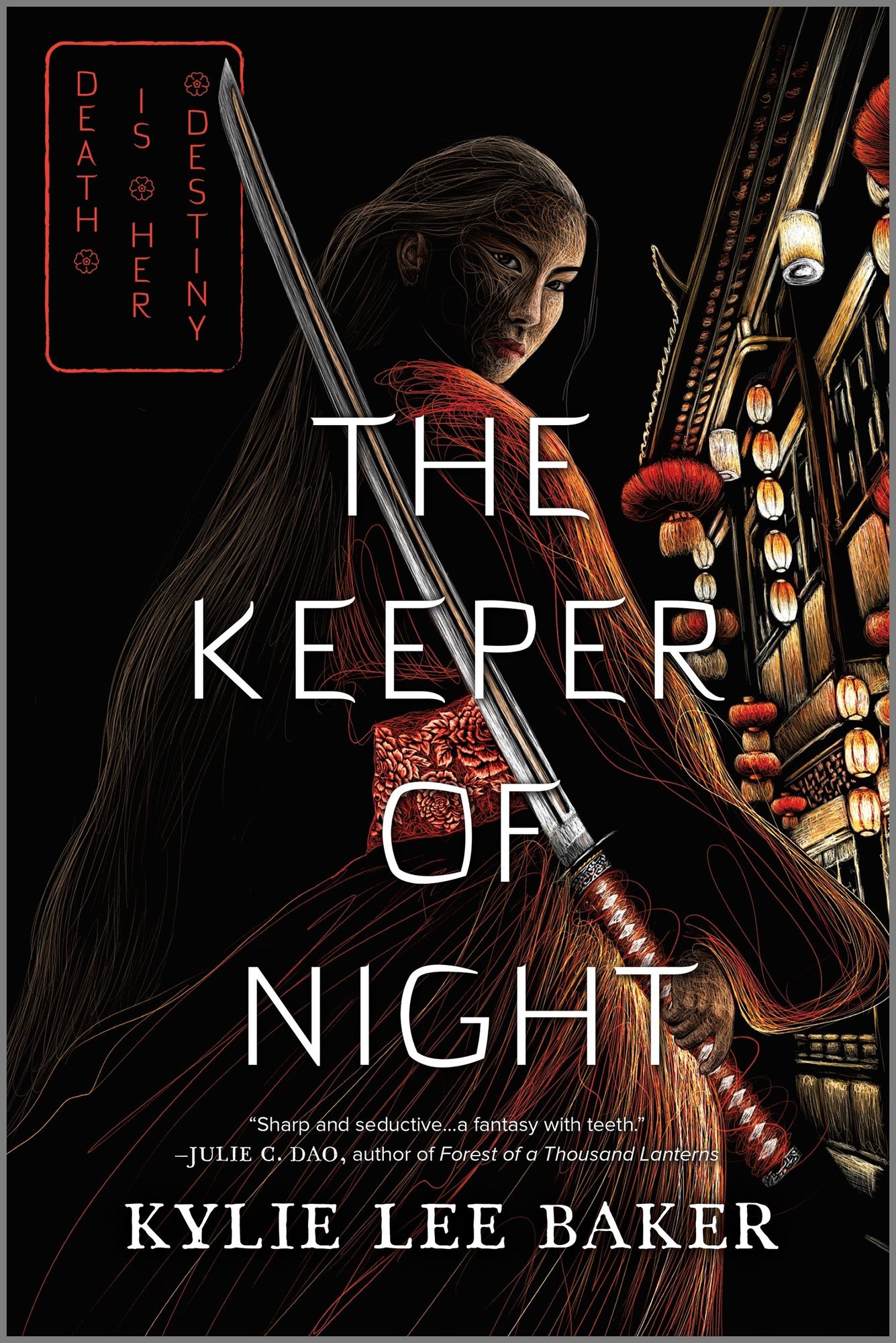 "Sharp and seductive…a fantasy with teeth." —Julie C. Dao, author of Forest of a Thousand Lanterns
A girl of two worlds, accepted by none… A half Reaper, half Shinigami soul collector seeks her destiny in this haunting and compulsively readable dark fantasy duology set in 1890s Japan.
Death is her destiny.
Half British Reaper, half Japanese Shinigami, Ren Scarborough has been collecting souls in the London streets for centuries. Expected to obey the harsh hierarchy of the Reapers who despise her, Ren conceals her emotions and avoids her tormentors as best she can.
When her failure to control her Shinigami abilities drives Ren out of London, she flees to Japan to seek the acceptance she's never gotten from her fellow Reapers. Accompanied by her younger brother, the only being on earth to care for her, Ren enters the Japanese underworld to serve the Goddess of Death…only to learn that here, too, she must prove herself worthy. Determined to earn respect, Ren accepts an impossible task—find and eliminate three dangerous Yokai demons—and learns how far she'll go to claim her place at Death's side.
Available at:
Amazon | Barnes & Noble | Google Play | Kobo | Apple Books | Indiebound | Indigo | Goodreads
The Gingerbread Witch
by Alexandra Overy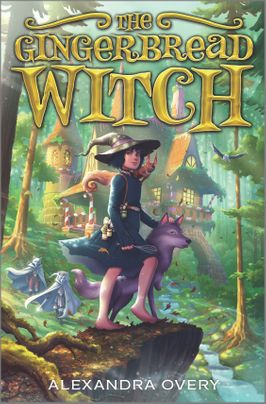 Maud has grown up in a house made of gingerbread, wanting nothing more than to be a witch like Mother Agatha. But just like all of Agatha's gingerbread creations—from the magical house to the chocolate mousse squirrel—Maud will turn back into crumbs if anything ever happens to Agatha.

This seems unthinkable…until Hansel and Gretel, a pair of witch hunters, push Agatha into the cottage's oven.
To save herself and the other creations, Maud will have to go into the dangerous forest of the Shadelands to find the First Witch's spellbook. But with witch hunters on her trail and others interested in the book for their own means, can Maud bring back the only mother she's ever known…or will witch hunters capture her before she can save her gingerbread family?
Available at:
Amazon | Barnes & Noble | Google Play | Kobo | Apple Books | Indiebound | Indigo | Goodreads
The Not-So-Uniform Life of Holly-Mei
by Christina Matula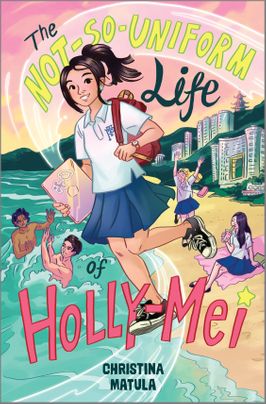 "I can't wait for readers to explore Hong Kong with Holly-Mei. I have no doubt they will love both as much as I did." —Erin Entrada Kelly, 2018 Newbery Medalist and 2021 Newbery Honoree
Packed with humor and heart, this debut middle grade series follows a girl finding her place in a brand-new world of private school and frenemies when her family moves to Hong Kong.
Holly-Mei Jones couldn't be more excited about moving to Hong Kong for her mother's job. Her new school is right on the beach and her family's apartment is beyond beautiful. Everything is going to be perfect . . . right?
Maybe not. It feels like everywhere she turns, there are new rules to follow and expectations to meet. On top of that, the most popular girl in her grade is quickly becoming a frenemy. And without the guidance of her loving Ah-ma, who stayed behind in Toronto, Holly-Mei just can't seem to get it right.
It will take all of Holly-Mei's determination and sparkle (and maybe even a tiny bit of stubbornness) to get through seventh grade and turn her life in Hong Kong into the ultimate adventure!
Available at:
Amazon | Barnes & Noble | Google Play | Kobo | Apple Books | Indiebound | Indigo | Audible | Goodreads