I was fifteen the first time I read a novel with historical elements in it. The book was a romance. Zoya, by Danielle Steel, and I can remember vividly, decades later, details from that story that thrilled, captivated, and made me want more. I was intrigued reading about another time period. The words, the clothing, a way of living and an era long gone. I was hooked – heart, head, and soul.
But while I love a book with historical details, love learning something new and being pulled into another time, I never imagined I'd write historical fiction myself. In fact, my first outing into novel writing involved something a bit darker. Something a little more sinister. Something… with bite. Yup. Vampires. Unfortunately, bloodsuckers weren't my calling (yet) and so, when I crossed paths with a book about the Women Airforce Service Pilots, I found myself instantly smitten and wondering if I could tell a different kind of a story. The kind of story I had once loved above all others.
What I liked most about telling the story that takes place within the pages of The Flight Girls, was shedding a light on a group of women whose bravery was nearly lost to history. Women from all walks of life willing to step up for their country in whatever way that country would allow them. Over eleven hundred women were part of the WASP program, but so many more applied. Women wanted to be a part of the war effort, and they volunteered in any way they could, despite being paid little and getting even less in recognition.
Since writing that first book, I have delved into other stories. My most recent novel was inspired by a little-known story about two Dutch sisters who, as teenagers joined the Dutch Resistance and became saboteurs. They forged papers, blew rail lines, set fire to buildings, and eventually did the job they became the most famous for – luring Nazis and Dutch collaborators into the woods to kill them. But while WWII has always been my favorite era to explore, this year I explored something new – 1920s Seattle. The music, the speakeasies, the sassy women who shimmied out of what society had told them was right and created a new kind of life for themselves. One on their own terms. I was drawn to this era for several reasons, not in the least the parallels drawn between our current 20s, and those of a hundred years ago. A war, a pandemic, and women leading a charge and changing the ways society saw them.
And all the while, as I create these stories inspired by the women who came before me, nothing gives me greater pleasure than to see and read what my amazing colleagues are writing. I draw inspiration from them, mesmerized by the stories they weave, the attention they draw to bits of history that might otherwise be lost. Stories of women whose courage and grit enthralls. Some of my favorite authors in the historical genre include Sara Ackerman, Kate Quinn, Karen Dukess, and Yangszee Choo. Code breakers, snipers, coming-of-age college students, and a tiger. There is something in each story that spurs me on to seek more, imagine bigger, and write always.
Sincerely,
Noelle
Angels of the Resistance by Noelle Salazar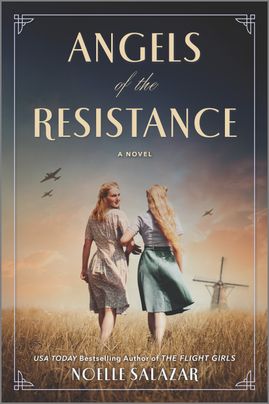 From the bestselling author of The Flight Girls comes another World War II story inspired by true events, about courageous women who risked everything for country, for family, and for each other.
Netherlands, 1940
As bombs fall across Europe, fourteen-year-old Lien Vinke fears that the reality of war is inescapable. Though she lives a quiet life with her mother and older sister, Elif, in their small town of Haarlem, they are no strangers to heartache, having recently suffered an immeasurable loss. And when the Nazis invade the Netherlands, joining the Dutch resistance with Elif offers just the atonement Lien craves.
Trained to shoot by their late father, the sisters are deadly wolves in sheep's clothing. They soon find themselves entrenched in the underground movement, forging friendships with the other young recruits, and Lien even discovers a kindred spirit in a boy named Charlie. But in wartime, emotional attachments are a liability she can't afford, especially when a deeply personal mission jeopardizes everything she holds dear—her friendships, her family, and her one shot at redemption.
Available November 29, 2022:
Amazon | Barnes & Noble | Google Play | Kobo | Apple Books | Indiebound | Indigo | Audible | Goodreads