It's time your TBR reflects the royalty that you are! You're a Queen/King and you deserve your reads to reflect this. So put down those other books and time to call in the Royal Calvary, grab your jewels, and sit upon your throne with 17 of the best royal reads!
The Last Grand Duchess by Bryn Turnbull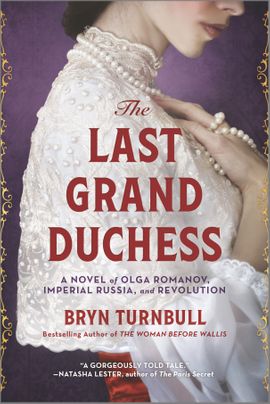 Grand Duchess Olga Romanov comes of age amid a shifting tide for the great dynasties of Europe. But even as unrest simmers in the capital, Olga is content to live within the confines of the sheltered life her parents have built for her and her three sisters: hiding from the world on account of their mother's ill health, their brother Alexei's secret affliction, and rising controversy over Father Grigori Rasputin, the priest on whom the tsarina has come to rely. Olga's only escape from the seclusion of Alexander Palace comes from the grand tea parties her aunt hosts amid the shadow court of Saint Petersburg—a world of opulent ballrooms, scandalous flirtation, and whispered conversation.
But as war approaches, the palaces of Russia are transformed. Olga and her sisters trade their gowns for nursing habits, assisting in surgeries and tending to the wounded bodies and minds of Russia's military officers. As troubling rumors about her parents trickle in from the front, Olga dares to hope that a budding romance might survive whatever the future may hold. But when tensions run high and supplies run low, the controversy over Rasputin grows into fiery protest, and calls for revolution threaten to end three hundred years of Romanov rule.
At turns glittering and harrowing, The Last Grand Duchess is a story about dynasty, duty, and love, but above all, it's the story of a family who would choose devotion to each other over everything—including their lives.
Available at:
Amazon | Barnes & Noble | Google Play | Kobo | Apple Books | Indiebound | Indigo | Audible | Goodreads
Last Duke Standing by Julia London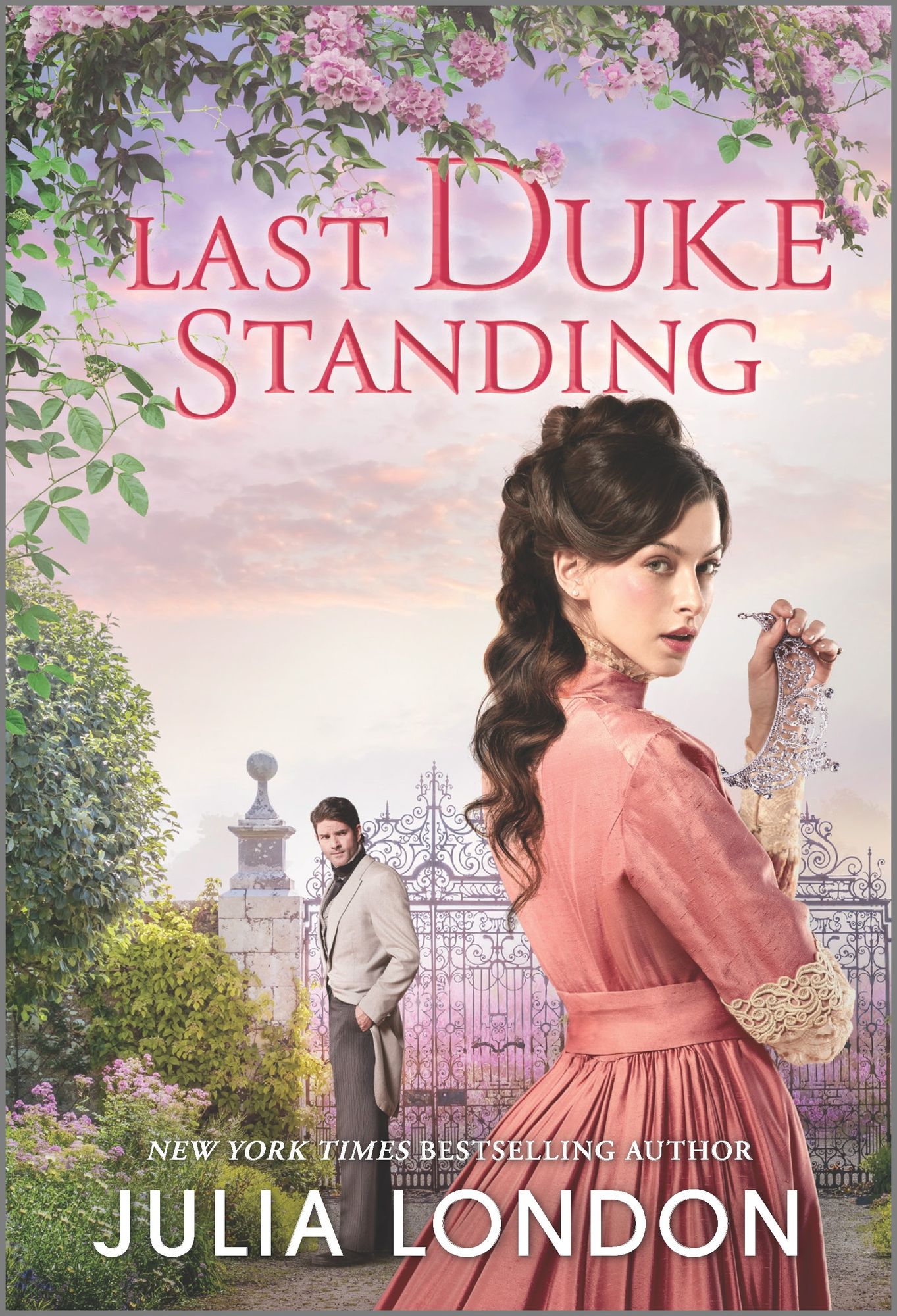 New York Times bestselling author Julia London opens her sparkling, witty, sexy new series, A Royal Match, with a young future queen in the market for a husband, and the charming—and opinionated—Scottish lord tasked to introduce her to the ton's most eligible bachelors.
Charming. Cheeky. Cunning.
When Crown Princess Justine of Wesloria is sent to England to learn the ropes of royalty, she falls under the tutelage of none other than Queen Victoria herself. Justine's also in the market for a proper husband—one fit to marry the future queen of Wesloria.
Because he knows simply everyone, William, Lord Douglas (the notoriously rakish heir to the Duke of Hamilton seat in Scotland, and decidedly not husband material), is on hand as an escort of sorts. William has been recruited to keep an eye on the royal matchmaker for the Weslorian prime minister, tasked to ensure the princess is matched with a man of quality…and one who will be sympathetic to the prime minister's views.
As William and Justine are forced to scrutinize an endless parade of England's best bachelors, they become friends. But when the crowd of potential grooms is steadily culled, what if William is the last bachelor standing?
Available at:
Amazon | Barnes & Noble | Google Play | Kobo | Apple Books | Indiebound | Indigo | Audible | Goodreads
A Caribbean Heiress in Paris by Adriana Herrera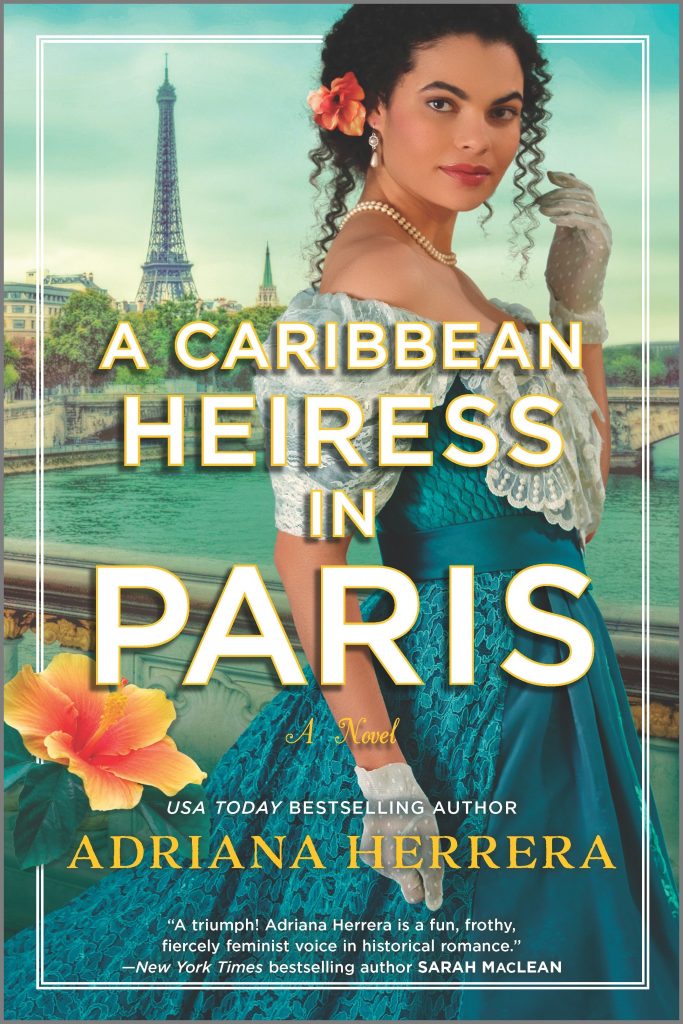 Paris, 1889
The Exposition Universelle is underway, drawing merchants from every corner of the globe…including Luz Alana Heith-Benzan, heiress to the Caña Brava rum empire.
Luz Alana set sail from Santo Domingo armed with three hundred casks of rum, her two best friends and one simple rule: under no circumstances is she to fall in love. In the City of Lights, she intends to expand the rum business her family built over three generations, but buyers and shippers alike can't imagine doing business with a woman…never mind a woman of color. This, paired with being denied access to her inheritance unless she marries, leaves the heiress in a very precarious position.
Enter James Evanston Sinclair, Earl of Darnick, who has spent a decade looking for purpose outside of his father's dirty money and dirtier dealings. Ignoring his title, he's built a whisky brand that's his biggest—and only—passion. That is, until he's confronted with a Spanish-speaking force of nature who turns his life upside down.
From their first tempestuous meeting, Luz Alana is conflicted. Why is this titled—and infuriatingly charming—Scottish man so determined to help her?
For Evan, every day with Luz Alana makes him yearn for more than her ardent kisses or the marriage of convenience that might save them both. But Luz Alana sailed for Paris prepared to build her business and her future; what she wasn't prepared for was love finding her.
Available at:
Amazon | Barnes &Noble | Google Play | Kobo | Apple Books | Indiebound | Indigo | Audible | Goodreads
The Evil Queen by Gena Showalter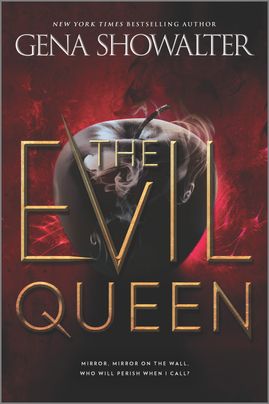 Once Upon a Time meets Game of Thrones in New York Times bestselling author Gena Showalter's magical, romantic dark fantasy series, in which the fairy tales we know and love are prophecies of the future.
Welcome to the Forest of Good and Evil, where villains may be heroes and heroes may be villains…it all depends on who you ask.
In the realm of Enchantia, creatures of legend still exist, magic is the norm, and fairy tales are real.
Raised in the human world, Everly Morrow has no idea she's a fairy-tale princess—until she begins to commune with mirrors. Soon, a horrifying truth is revealed. She is fated to be Snow White's greatest enemy, the Evil Queen.
With powers beyond her imagination or control, Everly returns to the land of her birth. There, she meets Roth Charmaine, the supposed Prince Charming. Their attraction is undeniable, but their relationship is doomed. As Everly faces disasters and betrayals, giving in to her wicked side proves more tempting. Can she resist, or will she become the villain she was born to be?
Available at:
Amazon | Barnes &Noble | Google Play | Kobo | Apple Books | Indiebound | Indigo | Audible | Goodreads
The Woman Before Wallis by Bryn Turnbull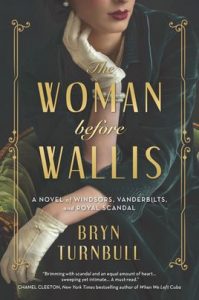 For fans of The Paris Wife and The Crown, this stunning novel tells the true story of the American divorcée who captured Prince Edward's heart before he abdicated his throne for Wallis Simpson.
In the summer of 1926, when Thelma Morgan marries Viscount Duke Furness after a whirlwind romance, she's immersed in a gilded world of extraordinary wealth and privilege. For Thelma, the daughter of an American diplomat, her new life as a member of the British aristocracy is like a fairy tale—even more so when her husband introduces her to Edward, Prince of Wales.
In a twist of fate, her marriage to Duke leads her to fall headlong into a love affair with Edward. But happiness is fleeting, and their love is threatened when Thelma's sister, Gloria Morgan Vanderbilt, becomes embroiled in a scandal with far-reaching implications. As Thelma sails to New York to support Gloria, she leaves Edward in the hands of her trusted friend Wallis, never imagining the consequences that will follow.
Bryn Turnbull takes readers from the raucous glamour of the Paris Ritz and the French Riviera to the quiet, private corners of St. James's Palace in this sweeping story of love, loyalty and betrayal.
Available at:
Amazon | Barnes & Noble | Google Play | Kobo | Apple Books | Indiebound | Audible | Goodreads
The Secret Keeper of Jaipur by Alka Joshi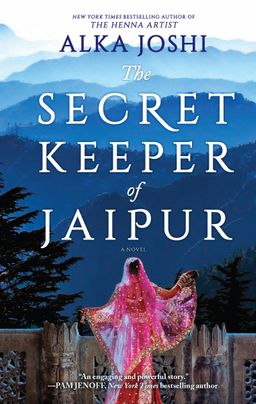 A NEW NOVEL BY THE AUTHOR OF THE HENNA ARTIST, A REESE'S BOOK CLUB PICK
"Captivated me from the first chapter to the last page." —Reese Witherspoon on The Henna Artist
In New York Times bestselling author Alka Joshi's intriguing new novel, henna artist Lakshmi arranges for her protégé, Malik, to intern at the Jaipur Palace in this tale rich in character, atmosphere, and lavish storytelling.
It's the spring of 1969, and Lakshmi, now married to Dr. Jay Kumar, directs the Healing Garden in Shimla. Malik has finished his private school education. At twenty, he has just met a young woman named Nimmi when he leaves to apprentice at the Facilities Office of the Jaipur Royal Palace. Their latest project: a state-of-the-art cinema.
Malik soon finds that not much has changed as he navigates the Pink City of his childhood. Power and money still move seamlessly among the wealthy class, and favors flow from Jaipur's Royal Palace, but only if certain secrets remain buried. When the cinema's balcony tragically collapses on opening night, blame is placed where it is convenient. But Malik suspects something far darker and sets out to uncover the truth. As a former street child, he always knew to keep his own counsel; it's a lesson that will serve him as he untangles a web of lies.
Available at:
Amazon | Barnes & Noble | Google Play | Kobo | Apple Books | Indiebound | Indigo | Audible | Goodreads
The Bookseller's Secret by Michelle Gable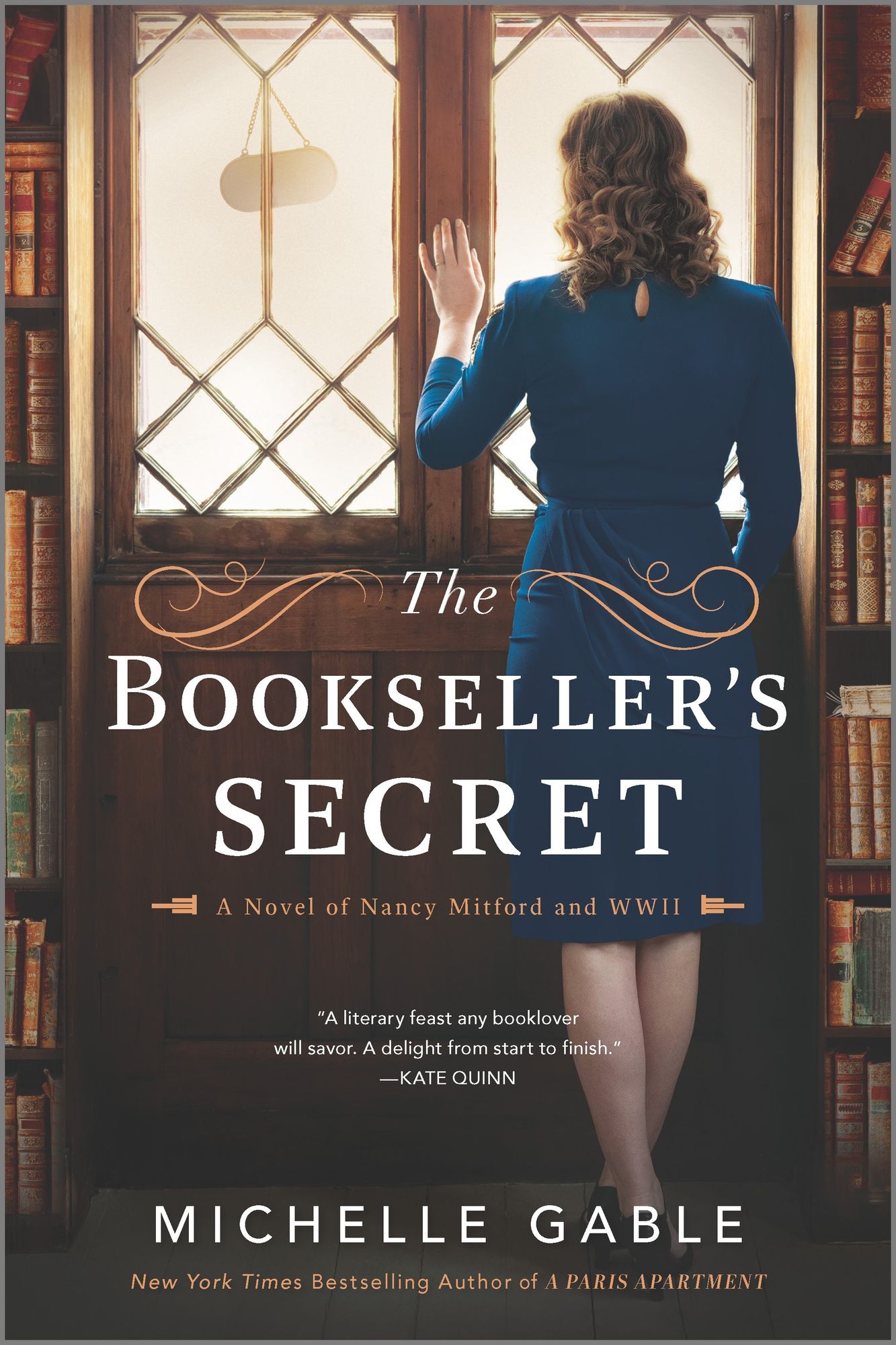 An ambitious and persistent Capricorn will find a kindred spirit in this thrilling novel about real-life literary icon Nancy Mitford.
In 1942, London, Nancy Mitford is worried about more than air raids and German spies. Still recovering from a devastating loss, the once sparkling Bright Young Thing is estranged from her husband, her allowance has been cut, and she's given up her writing career. On top of this, her five beautiful but infamous sisters continue making headlines with their controversial politics.
Eager for distraction and desperate for income, Nancy jumps at the chance to manage the Heywood Hill bookshop while the owner is away at war. Between the shop's brisk business and the literary salons she hosts for her eccentric friends, Nancy's life seems on the upswing. But when a mysterious French officer insists that she has a story to tell, Nancy must decide if picking up the pen again and revealing all is worth the price she might be forced to pay.
Eighty years later, Heywood Hill is abuzz with the hunt for a lost wartime manuscript written by Nancy Mitford. For one woman desperately in need of a change, the search will reveal not only a new side to Nancy, but an even more surprising link between the past and present…
Available at:
Amazon | Barnes & Noble | Google Play | Kobo | Apple Books | Indiebound | Indigo | Audible | Goodreads
A Princess by Christmas by Julia London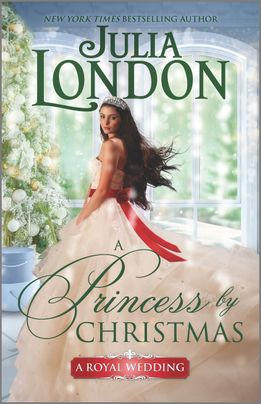 After three years of mourning—and turning her dear deceased husband's gazette into the ton's sauciest source of fashion and gossip—Hollis Honeycutt feels her life has been strangely bereft of late… Her sister is living abroad, and her best friend moved to the country. What must a young widow of rank and reputation do? Why, transform her society gossip sheets into serious investigative news, starting with a rumored coup…and the rather dashing, mysterious gentleman whom Hollis suspects might be the villain of her first real story, and she is the only one who can write it.
Marek Brendan is investigating terrible rumors of treachery and treason that threaten his home country of Wesloria, but he must proceed with caution. No one can discover the truth. After all, who would ever believe he is Wesloria's lost crown prince? Only Hollis Honeycutt's cerulean-blue eyes seem to know more than she's letting on—and worse, Marek can't seem to resist her curious charms. But even as betrayal threatens a nation and a throne, nothing is quite so dangerous as the lovely young widow who's determined to find the truth…and a prince of her own.
Available at:
Amazon | Barnes & Noble | Google Play | Kobo | Apple Books | Indiebound | Indigo | Audible | Goodreads
A Royal Kiss & Tell by Julia London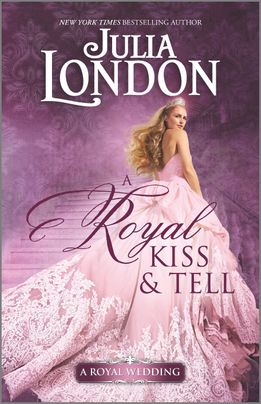 Every young man in London's ton is vying for Lady Caroline Hawke's hand—except one. Handsome roué Prince Leopold of Alucia can't quite remember Caroline's name, and the insult is not to be tolerated. So Caroline does what any clever, resourceful lady of means would do to make sure Leo never again forgets: sees that scandalous morsels about his reputation are printed in a ladies' gossip gazette…all while secretly setting her cap for the rakish royal.
Someone has been painting Leo as a blackguard, but who? Socially, it is ruining him. More important, it jeopardizes his investigation into a contemptible scheme that reaches the highest levels of British government. Leo needs Lady Caroline's help to regain access to society. But this charming prince is about to discover that enlisting the deceptively sweet and sexy Lady Caroline might just cost him his heart, his soul and both their reputations…
Available at:
Amazon | Barnes & Noble | Google Play | Kobo | Apple Books | Indiebound | Indigo | Audible | Goodreads
A Very Merry Princess by Susan Mallery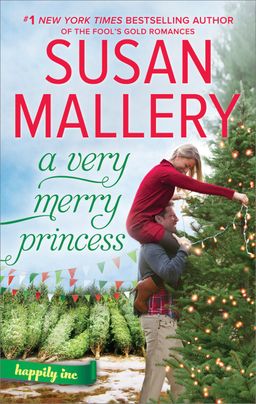 Celebrate the season with this warmhearted charmer from #1 New York Times bestselling author Susan Mallery
When Princess Bethany's father, the king, sells one of his best stallions, she insists the animal get the royal treatment. Disguised as Beth Archer, a mere stable hand, she takes him to Happily Inc, California, a quaint wedding destination that's especially sparkly over the holidays.
Rich women have no place on Cade Saunders's ranch. He wants a down-to-earth girl-next-door type—like Beth Archer. After a few cocoa-flavored kisses by the Christmas tree, Bethany begins to fall for her irresistibly handsome host. But will Cade still want her when he discovers she's more familiar with a crown than a cowboy hat?
Available at:
Amazon | Barnes & Noble | Google Play | Kobo | Apple Books | Indiebound | Indigo | Audible | Goodreads
The Princess Plan by Julia London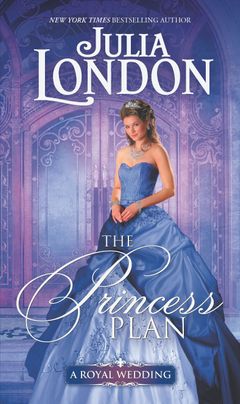 Nothing gets the tongues of London's high society wagging like a good scandal. And when the personal secretary of the visiting Prince Sebastian of Alucia is found murdered, it's all anyone can talk about, including Eliza Tricklebank. Her unapologetic gossip gazette has benefited from an anonymous tip about the crime, prompting Sebastian to take an interest in playing detective—and an even greater interest in Eliza.
With a trade deal on the line and mounting pressure to secure a noble bride, there's nothing more salacious than a prince dallying with a commoner. Sebastian finds Eliza's contrary manner as frustrating as it is seductive, but they'll have to work together if they're going to catch the culprit. And when things heat up behind closed doors, it's the prince who'll have to decide what comes first—his country or his heart.
Available at:
Amazon | Barnes & Noble | Google Play | Kobo | Apple Books | Indiebound | Indigo | Audible | Goodreads
An Affair at Stonecliffe by Candace Camp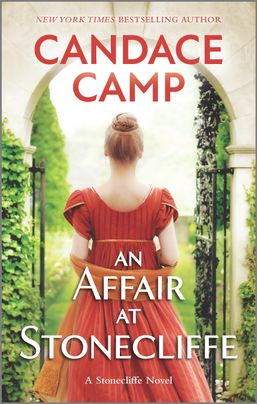 Noelle Rutherford would do anything for her young son, Gil. A fiercely independent woman recently widowed, Noelle is determined to raise Gil alone. After all, her late husband Adam Rutherford married her for love, which infuriated his aristocratic family. Gil is Noelle's whole world, and she will not have him wrested from her by haughty nobles.

But she may not have a choice unless she's prepared to run.

One awful night, Noelle is confronted by Carlisle Thorne, a handsome yet severe, irascible man sent by the Rutherfords. Noelle is horrified when Carlisle offers her money in exchange for taking Gil to be raised at the Rutherford estate, Stonecliffe. Knowing that Carlisle will use any means necessary to take her son from her, Noelle flees, Gil at her side.

Thus begins an epic rivalry that spans five years—a battle of wits between two unforgettable characters bound together by fate and fortune. However, when danger threatens, these enemies must come together to protect what matters most… even if it means losing their hearts.
Available at:
Amazon | Barnes & Noble | Google Play | Kobo | Apple Books | Indiebound | Indigo | Goodreads
Allegiance by Cayla Kluver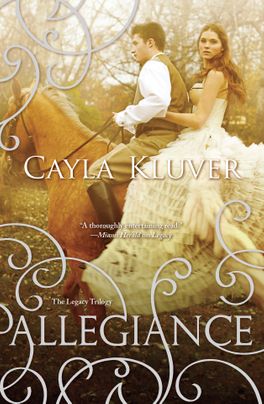 He couldn't help his past any more than he could help the way those intense, deep blue eyes pierced me and held me captive.
An eighteen-year-old queen in love with the enemy as their countries pass the point of no return…
Bound to a man she cannot love, Queen Alera of Hytanica must forget Narian, the young man who holds her heart. For Narian is destined to conquer Hytanica at the behest of his master, the powerful magic-user known as the Overlord. Alera doesn't truly believe Narian will fight against Hytanica—until Cokyrian troops attack with Narian commanding the charge.
Faced with the greatest betrayal a heart can know, Alera must set aside personal feelings and lead her kingdom through its darkest time. And when all hope, will and courage seem lost, she must find strength and remember that even the blackest night must have a dawn….
Available at:
Amazon | Barnes & Noble | Google Play | Kobo | Apple Books | Indiebound | Indigo | Goodreads
The Dead Queens Club by Hannah Capin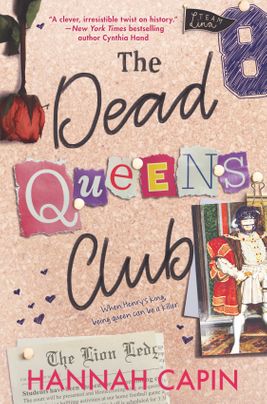 If your school's homecoming king had a little too much in common with Henry VIII, would you survive with your head still attached?
You'd think being the new girl in a tiny town would equal one very boring senior year. But if you're me—Annie Marck, alias Cleves—and you accidentally transform into teenage royalty by entering Lancaster High on the arm of the king himself? Life becomes the exact opposite of boring.
Henry has it all: he's the jock, the genius and the brooding bad boy all in one. Which sort of explains why he's on his sixth girlfriend in two years.
What it doesn't explain is why two of them—two of us—are dead.
My best friend thinks it's Henry's fault, which is obviously ridiculous. My nemesis says we shouldn't talk about it, which is straight-up sketchy. But as the resident nosy new girl, I'm determined to find out what really happened to Lancaster's dead queens…ideally before history repeats itself.
Available at:
Amazon | Barnes & Noble | Google Play | Kobo | Apple Books | Indiebound | Indigo | Audible | Goodreads
These Feathered Flames by Alexandra Overy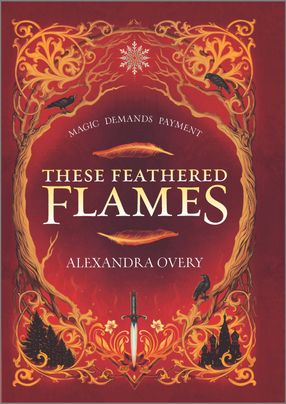 "These Feathered Flames is a stunning debut as dark, lush, and captivating as the best fairy tales."—Nina Varela, author of the Crier's War duology
When twin heirs are born in Tourin, their fates are decided at a young age. While Izaveta remained at court to learn the skills she'd need as the future queen, Asya was taken away to train with her aunt, the mysterious Firebird, who ensured magic remained balanced in the realm.
But before Asya's training is completed, the ancient power blooms inside her, which can mean only one thing: the queen is dead, and a new ruler must be crowned.
As the princesses come to understand everything their roles entail, they'll discover who they can trust, who they can love—and who killed their mother.
Available at:
Amazon | Barnes & Noble | Google Play | Kobo | Apple Books | Indiebound | Indigo |Goodreads
The Witch King by H.E. Edgmon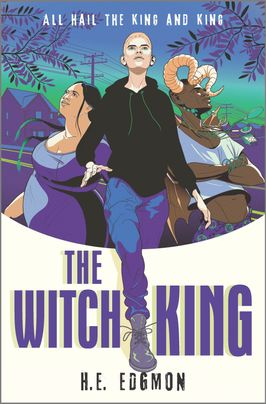 Wyatt would give anything to forget where he came from—but a kingdom demands its king.
In Asalin, fae rule and witches like Wyatt Croft…don't. Wyatt's betrothal to his best friend, fae prince Emyr North, was supposed to change that. But when Wyatt lost control of his magic one devastating night, he fled to the human world.
Now a coldly distant Emyr has hunted him down. Despite transgender Wyatt's newfound identity and troubling past, Emyr has no intention of dissolving their engagement. In fact, he claims they must marry now or risk losing the throne. Jaded, Wyatt strikes a deal with the enemy, hoping to escape Asalin forever. But as he gets to know Emyr, Wyatt realizes the boy he once loved may still exist. And as the witches face worsening conditions, he must decide once and for all what's more important—his people or his freedom.
Available at:
Amazon | Barnes & Noble | Google Play | Kobo | Apple Books | Indiebound | Indigo | Goodreads
The Iron King (Special Edition) by Julie Kagawa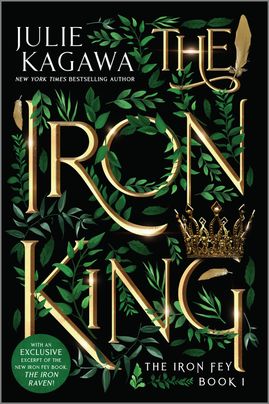 Enter a fantastical world of dangerous faeries, wicked princes and one half-human girl who discovers her entire life is a lie. This special edition of The Iron King includes the bonus novella "Winter's Passage" and an exclusive excerpt from the new Iron Fey book, The Iron Raven.
MY NAME IS MEGHAN CHASE.

In less than twenty-four hours, I'll be sixteen. Countless stories, songs and poems have been written about this wonderful age, when a girl finds true love and the stars shine for her and the handsome prince carries her off into the sunset.
I DON'T THINK IT WILL BE THAT WAY FOR ME.

Something has always felt slightly off in Meghan Chase's life, ever since her father disappeared when she was six. Ten years later, when her little brother also goes missing, Meghan learns the truth—she is the secret daughter of a mythical faery king and a pawn in a deadly war. Now Meghan will learn just how far she'll go to save someone she loves, to stop a mysterious evil no faery creature dare face…and to find love with a young prince who might rather see her dead than let her touch his icy heart.
Available at:
Amazon | Barnes & Noble | Google Play | Kobo | Apple Books | Indiebound | Indigo | Goodreads