We've done it! Three months into 2022! Give yourselves a pat on the back, truly. And you know what this calls for? A perfect moment to TREAT YOURSELF! And what better way to treat yourself you ask? Well, we may have a suggest, or 15, that will perk up any day. I promise, these following reads are worth adding to your TBR. When we say "Add" you say "To Cart!"
Black Market by Merl Code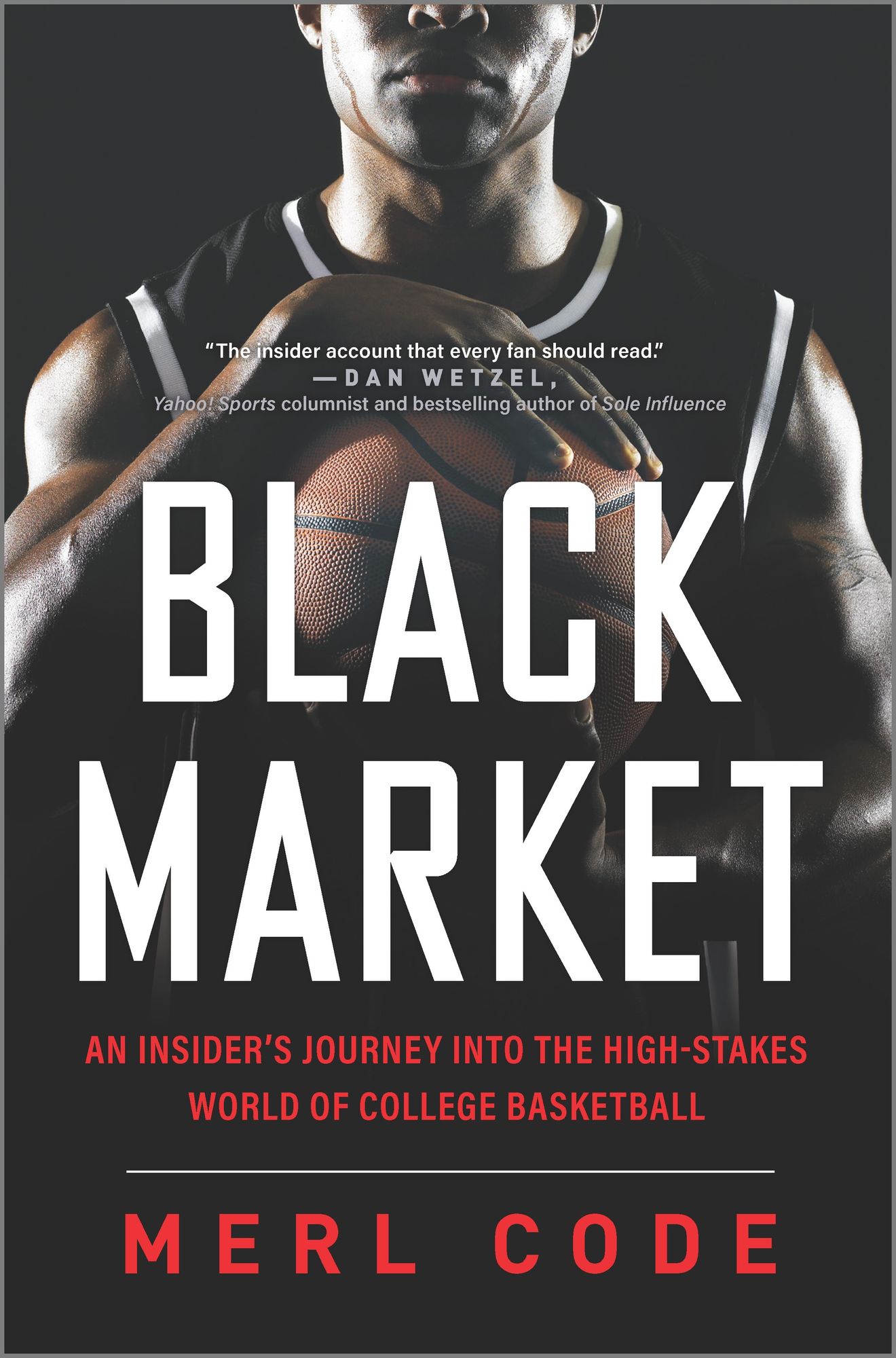 From a former college basketball player and shoe rep for Nike, this explosive insider's account into the dark underworld of college basketball exposes the corrupt and racist systems that exploit young athletes and offers a new way forward
For Merl Code, basketball was life. In college he played point guard for Clemson before turning pro. Later, with a keen eye for talent and vested interest in the basketball community, he pivoted to marketing, where he was eager to build relationships with young athletes who might one day become ambassadors for Nike and Adidas. But as his network expanded and his responsibilities as a shoe rep grew, he found himself thrust into the dark underbelly of profit-driven college basketball programs, and the storied coaches who led them. He realized that the NCAA's amateurism rules, which prohibit athletes from receiving compensation until they go pro, were exploiting young athletes, and athletes of color in particular. Colleges and universities, he observed, were using corporate sponsors to circumvent the NCAA's bylaws, and employees like Code were stuck in the middle.

Now, for the first time, Code will share his side of the explosive story of college basketball's dark reality. Code has engaged with the sport at every level—from the AAU circuit, to college recruiting battles, to wooing NBA stars to sign sneaker deals. He's been responsible for recruiting athletes like Zion Williamson, Anthony Davis, and Giannis Antetokounmpo to endorse the shoes of his employers. But Code has also seen the darker side of college basketball. He recounts how he became the fall guy for a bribery scandal involving payments to college and high school athletes, while the storied coaches implicated by the FBI were not charged and still walk the sidelines.

Highlighting stories of real athletes and their families and what's at stake for them, Code pulls back the curtain on the systemic problem of using players for financial gain in college athletics. Propulsive, urgent, and eye-opening, Black Market exposes the truth to offer a more just way forward for both colleges and athletes.
Available March 1, 2022:
Amazon | Barnes & Noble | Google Play | Kobo | Apple Books | Indiebound | Indigo | Audible | Goodreads
Retrain Your Anxious Brain by John Tsilimparis, Daylle Deanna Schwartz
Feeling overwhelmed? Worried about your day-to-day life? Trapped inside negative thought patterns?
Trouble sleeping, panic attacks, knots in your stomach, excessive worry, doubts, phobias—anxiety comes in many shapes and sizes and affects millions of people. But you don't have to suffer anymore. Rather than just treating or masking symptoms, John Tsilimparis, MFT, provides an innovative approach that helps you identify and short-circuit anxiety triggers so that you can stop anxiety before it starts. This customizable plan teaches you how to:
• Alter the fixed thoughts that can cause anxiety
• Adjust your existing personal belief systems
• Challenge the idea of consensus reality
• Balance your dualistic mind
• Consciously create your own reality
In Retrain Your Anxious Brain, renowned therapist and anxiety expert John Tsilimparis shares the groundbreaking program he's created to help hundreds of people (himself included) free themselves from debilitating anxiety and live healthier, happier lives.
Available in Paperback March 1, 2022:
Amazon | Barnes & Noble | Google Play | Kobo | Apple Books | Indiebound | Indigo | Audible | Goodreads
Humanity is Trying by Jason Gots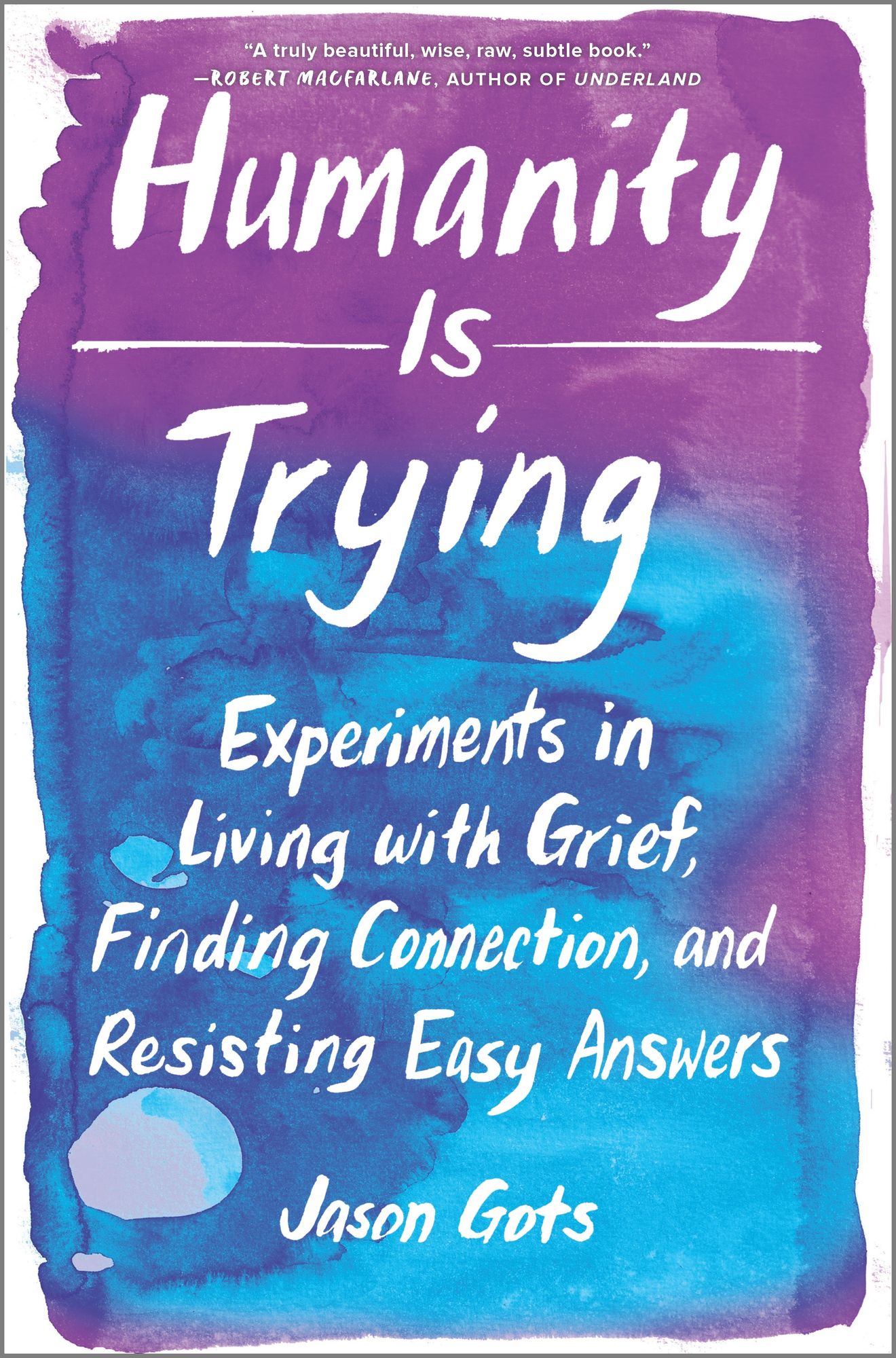 A truly beautiful, wise, raw, subtle book." —Robert MacFarlane, author of Underland
My sister and I are driving south toward Graceland in her beat-up red Saturn, both in need of refuge, both running from different things. Her bumper sticker reads "Humanity Is Trying." It's a triple entendre, she explains: Humanity is exhausting. Humanity is struggle. Humanity is doing the best it knows how.
Humanity Is Trying is several books in one. It's a memoir about the love and the loss of a sister and a best friend. It's the story of a series of escape attempts—cowardly, courageous, harmful, and hopeful—experiments in freedom from the stories that limit us. And it's a record of spiritual, intellectual, and emotional growth with the help of friends, psychedelics, art, and spiritual practice.
From Jason Gots, creator of the podcasts Think Again and Clever Creature, comes a philosophical love letter to the slow, messy work of building a life and living with your dreams in the face of reality.
Available March 1, 2022:
Amazon | Barnes & Noble | Google Play | Kobo | Apple Books | Indiebound | Indigo | Audible | Goodreads
Comedy Comedy Comedy Drama by Bob Odenkirk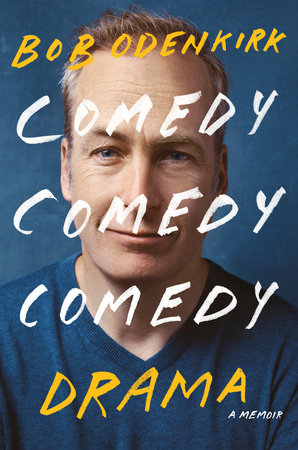 In this "essential" (Entertainment Weekly), "hilarious" (AV Club) memoir, the star of Mr. Show, Breaking Bad, and Better Call Saul opens up about the highs and lows of showbiz, his cult status as a comedy writer, and what it's like to reinvent himself as an action film ass-kicker at fifty.

"I've known Bob Odenkirk for more than thirty years, and yet I had to read this book to believe his stunning career arc."—Conan O'Brien

ONE OF THE MOST ANTICIPATED BOOKS OF 2022—Entertainment Weekly, USA Today, Parade, The AV Club

Bob Odenkirk's career is inexplicable. And yet he will try like hell to explicate it for you. Charting a "Homeric" decades-long "odyssey" from his origins in the seedy comedy clubs of Chicago to a dramatic career full of award nominations—with a side-trip into the action-man world that is baffling to all who know him—it's almost like there are many Bob Odenkirks! But there is just one and one is plenty.

Bob embraced a life in comedy after a chance meeting with Second City's legendary Del Close. He somehow made his way to a job as a writer at Saturday Night Live. While surviving that legendary gauntlet by the skin of his gnashing teeth, he stashed away the secrets of comedy writing—eventually employing them in the immortal "Motivational Speaker" sketch for Chris Farley, honing them on The Ben Stiller Show, and perfecting them on Mr. Show with Bob and David.

In Hollywood, Bob demonstrated a bullheadedness that would shame Sisyphus himself, and when all hope was lost for the umpteenth time, the phone rang with an offer to appear on Breaking Bad—a show about how boring it is to be a high school chemistry teacher. His embrace of this strange new world of dramatic acting led him to working with Steven Spielberg, Alexander Payne, and Greta Gerwig, and then, in a twist that will confound you, he re-re-invented himself as a bona fide action star. Why? Read this and do your own psychoanalysis—it's fun!

Featuring humorous tangents, never-before-seen photos, wild characters, and Bob's trademark unflinching drive, Comedy Comedy Comedy Drama is a classic showbiz tale told by a determined idiot.
Available March 1, 2022:
Amazon | Barnes & Noble | Google Play | Kobo | Apple Books | Indiebound | Indigo | Audible | Goodreads
But You're Still So Young by Kayleen Schaefer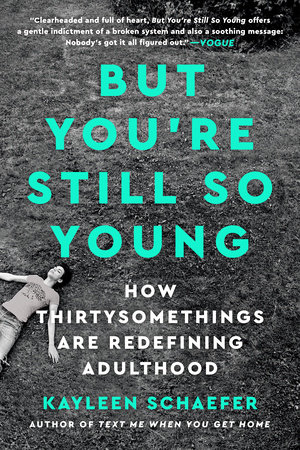 Vogue's "Best of 2021" — BuzzFeed's "Most Anticipated 2021" — The Week's "Must Reads in 2021" — PopSugar's "A Running List of the Best Books of 2021"

From the author of Text Me When You Get Home, the acclaimed celebration of friendship, comes a timely and essential look at what it means to be a thirtysomething . . . and how it is more okay than ever to not have every box checked off.

The traditional "check list" of becoming an adult has existed for decades. Sociologists have long identified these markers of adulthood as: completing school, leaving home, establishing a career/becoming financially independent, getting married, and having children. But the signifiers of being in our thirties today are not the same—repeated economic upheaval, rising debt, decreasing marriage rates, fertility treatments, and a more open-minded society have all led to a shifting definition of adulthood.

But You're Still So Young cleverly shows how thirtysomethings have rethought these five major life events. Schaefer describes her own journey through her thirties—including a nonlinear career path, financial struggles, romantic mistakes, and an unconventional path to parenthood—shares findings from data research, and conducts interviews nationwide. For each milestone, the book highlights men and women from various backgrounds, from around the country, and delves into their experiences navigating an ever-changing financial landscape and evolving societal expectations. The thirtysomethings in this book envisioned their thirties differently than how they are actually living them. He thought he would be done with his degree; she thought she'd be married; they thought they'd be famous comedians; and everyone thought they would have more money.

Schaefer uses her smart narrative framing and relatable voice to show how the thirties have changed from the cultural stereotypes around them, and how they are a radically different experience for Americans now than they were for any other generation. And as Schaefer and her sources show, not being able to do everything isn't a sign of a life gone wrong. Being open to going sideways or upside down or backward means finding importance and value in many different ways of living.
Available March 1, 2022:
Amazon | Barnes & Noble | Google Play | Kobo | Apple Books | Indiebound | Indigo | Audible | Goodreads
Hook, Line, and Sinker by Tess Bailey
In the follow-up to It Happened One Summer, Tessa Bailey delivers another deliciously fun rom-com about a former player who accidentally falls for his best friend while trying to help her land a different man…
King crab fisherman Fox Thornton has a reputation as a sexy, carefree flirt. Everyone knows he's a guaranteed good time—in bed and out—and that's exactly how he prefers it. Until he meets Hannah Bellinger. She's immune to his charm and looks, but she seems to enjoy his… personality? And wants to be friends? Bizarre. But he likes her too much to risk a fling, so platonic pals it is.
Now, Hannah's in town for work, crashing in Fox's spare bedroom. She knows he's a notorious ladies' man, but they're definitely just friends. In fact, she's nursing a hopeless crush on a colleague and Fox is just the person to help with her lackluster love life. Armed with a few tips from Westport's resident Casanova, Hannah sets out to catch her coworker's eye… yet the more time she spends with Fox, the more she wants him instead. As the line between friendship and flirtation begins to blur, Hannah can't deny she loves everything about Fox, but she refuses to be another notch on his bedpost.
Living with his best friend should have been easy. Except now she's walking around in a towel, sleeping right across the hall, and Fox is fantasizing about waking up next to her for the rest of his life and… and… man overboard! He's fallen for her, hook, line, and sinker. Helping her flirt with another guy is pure torture, but maybe if Fox can tackle his inner demons and show Hannah he's all in, she'll choose him instead?
Available March 1, 2022:
Amazon | Barnes & Noble | Google Play | Kobo | Apple Books | Indiebound | Indigo | Audible | Goodreads
The Club by Ellery Lloyd
From the author of People Like Her, a smart and sinister murder mystery set in the secretive world of exclusive celebrity clubs, where the A-list members and the staff who serve them all have something to hide.
The Club
The A-List is Dying to Join
Envisioned as a luxurious home-away from-home for Very Important People, The Home Group is a collection of celebrity members clubs dotted across the globe, from London to Lisbon, Malibu to Manhattan, where the rich and famous can party hard and then crash out in its five-star suites, far from the prying eyes of fans and the media.
The most spectacular and exclusive of all is Island Home—a sprawling, closely-guarded complex of faux-rustic guest cabins, spas, bars and restaurants just off the English coast. To mark its opening, Home's mercurial CEO Ned Groom and his team have planned a glamorous three-day launch party, easily the most coveted A-list invite of the year.
But behind the scenes, tensions are at breaking point. Years behind schedule and vastly over budget, the project has stretched a long-serving and long-suffering team to their limits. There's Ned's trusted PA, who has over decades maneuvered her way from coat-check girl to Home's inner circle; Ned's younger brother, who has sacrificed his marriage and morals to be Ned's right-hand man; the Head of Membership keeping the world's most spoiled and jaded individuals entertained using any means necessary; the Head of Housekeeping, who plays silent witness to the guests' very worst excesses. All of them have something to hide – and that's before the beautiful people with their own ugly secrets even set foot on the island.
As tempers fray and behaviour worsens, as things get more sinister by the hour and the body count piles up, some of Island Home's members begin to wish they'd never RSVP'd at all.
Because at this club, if your name's on the list, you're not getting out . . .
Available March 1, 2022:
Amazon | Barnes & Noble | Google Play | Kobo | Apple Books | Indiebound | Indigo | Audible | Goodreads
MY DARLING HUSBAND BY KIMBERLY BELLE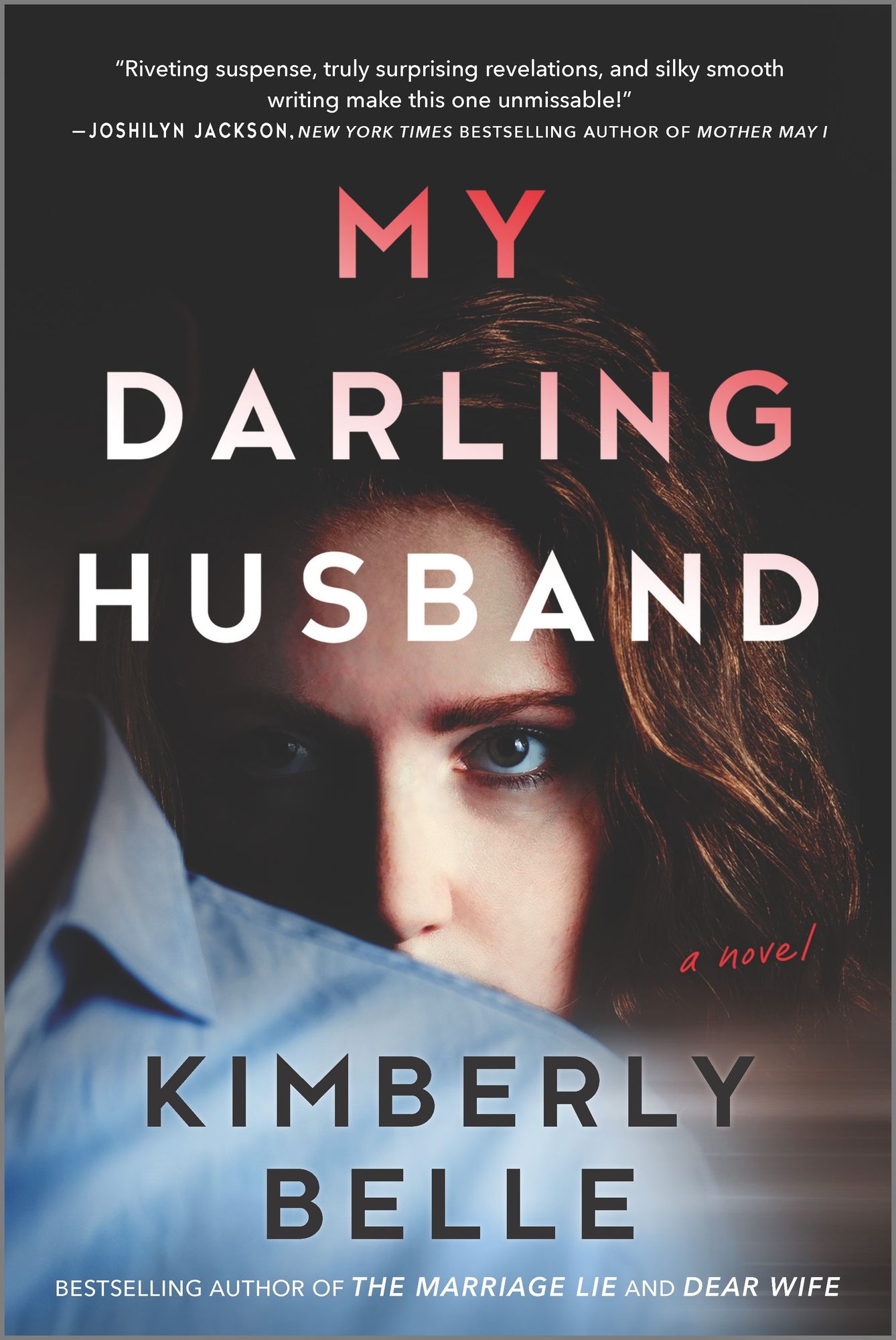 Kimberly Belle returns with her most heart-pounding thriller to date, as a masked home invader reveals the cracks in a marriage.
Jade and Cam Lasky are by all accounts a happily married couple with two adorable kids, a spacious home and a rapidly growing restaurant business. But their world is tipped upside down when Jade is confronted by a masked home invader. As Cam scrambles to gather the ransom money, Jade starts to wonder if they're as financially secure as their lifestyle suggests, and what other secrets her husband is keeping from her.

Cam may be a good father, a celebrity chef and a darling husband, but there's another side he's kept hidden from Jade that has put their family in danger. Unbeknownst to Cam and Jade, the home invader has been watching them and is about to turn their family secrets into a public scandal.
Available in Paperback March 8, 2022:
Amazon | Barnes & Noble | Google Play | Kobo | Apple Books | Indiebound | Indigo | Audible | Goodreads
The Old Woman With The Knife by Gu Byeong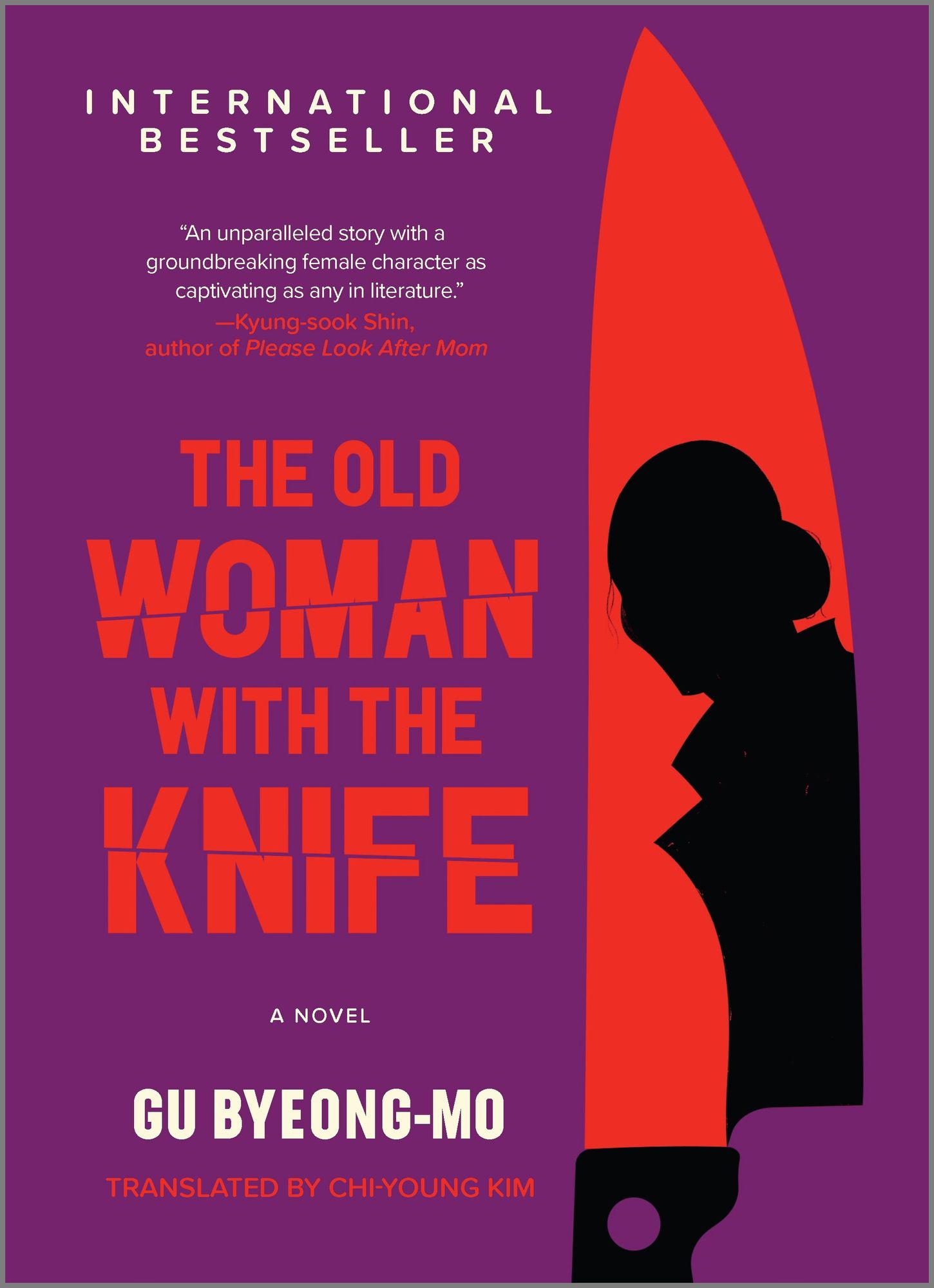 The kinetic story of a sixty-five-year-old female assassin who faces an unexpected threat in the twilight of her career—this is an international bestseller and the English language debut from an award-winning South Korean author
At sixty-five, Hornclaw is beginning to slow down. She lives modestly in a small apartment, with only her aging dog, a rescue named Deadweight, to keep her company. There are expectations for people her age—that she'll retire and live out the rest of her days quietly. But Hornclaw is not like other people. She is an assassin.
Double-crossers, corporate enemies, cheating spouses—for the past four decades, Hornclaw has killed them all with ruthless efficiency, and the less she's known about her targets, the better. But now, nearing the end of her career, she has just slipped up. An injury leads her to an unexpected connection with a doctor and his family. But emotions, for an assassin, are a dangerous proposition. As Hornclaw's world closes in, this final chapter in her career may also mark her own bloody end.
A sensation in South Korea, and now translated into English for the first time by Chi-Young Kim, The Old Woman with the Knife is an electrifying, singular, mordantly funny novel about the expectations imposed on aging bodies and the dramatic ways in which one woman chooses to reclaim her agency.
Available March 8, 2022:
Amazon | Barnes & Noble | Google Play | Kobo | Apple Books | Indiebound | Indigo | Audible | Goodreads
SMILE AND LOOK PRETTY BY AMANDA PELLEGRINO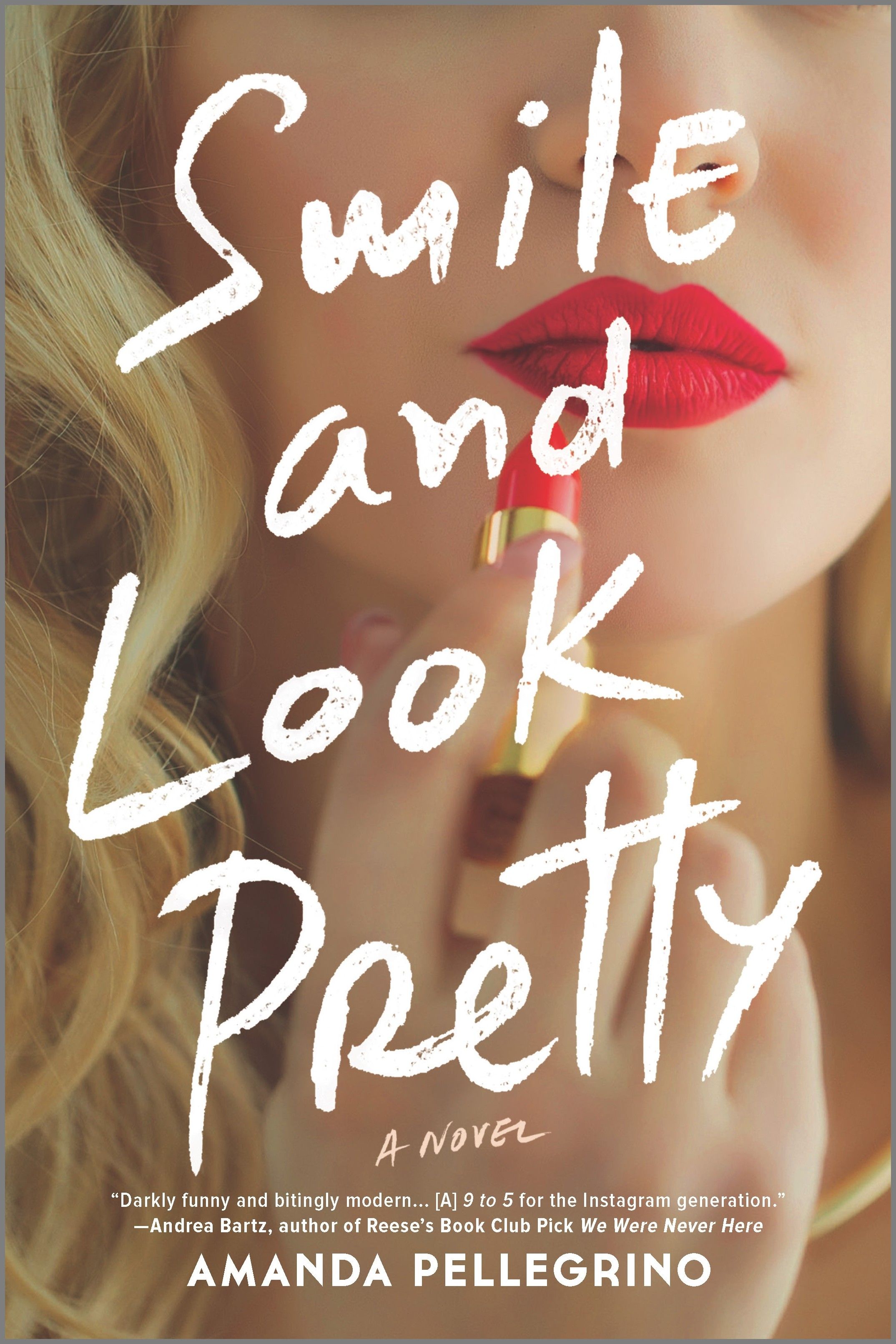 "[A] 9 to 5 for the Instagram generation… Darkly funny and bitingly modern." —Andrea Bartz, author of Reese's Book Club Pick We Were Never Here

HIGHLY ANTICIPATED BY FORTUNE ⋅ FEMINIST BOOK CLUB ⋅ THE NERD DAILY ⋅ BOOKISH ⋅ MOTHERLY

What happens when four assistants risk everything to say enough is enough?
Best friends Cate, Lauren, Olivia and Max are overworked and underpaid assistants to some of the most powerful people in the entertainment industries. Like the assistants who came before them, the women know they have to pay their dues and abide the demeaning tasks and verbal abuse from their bosses in order to climb the ladders to their dream jobs.
But as they are passed over for promotions and the toxic office environments reach a breaking point, the women secretly start an anonymous blog detailing their experiences, which snowballs into hundreds of others coming forward with stories of their own. Confronted with newfound viral fame and the possibility of their identities being revealed, the assistants have to contend with the life-changing consequences of speaking out against those who refuse to share the power.
Available March 8, 2022:
Amazon | Barnes & Noble | Google Play | Kobo | Apple Books | Indiebound | Indigo | Audible | Goodreads
Conversations by Steve Reich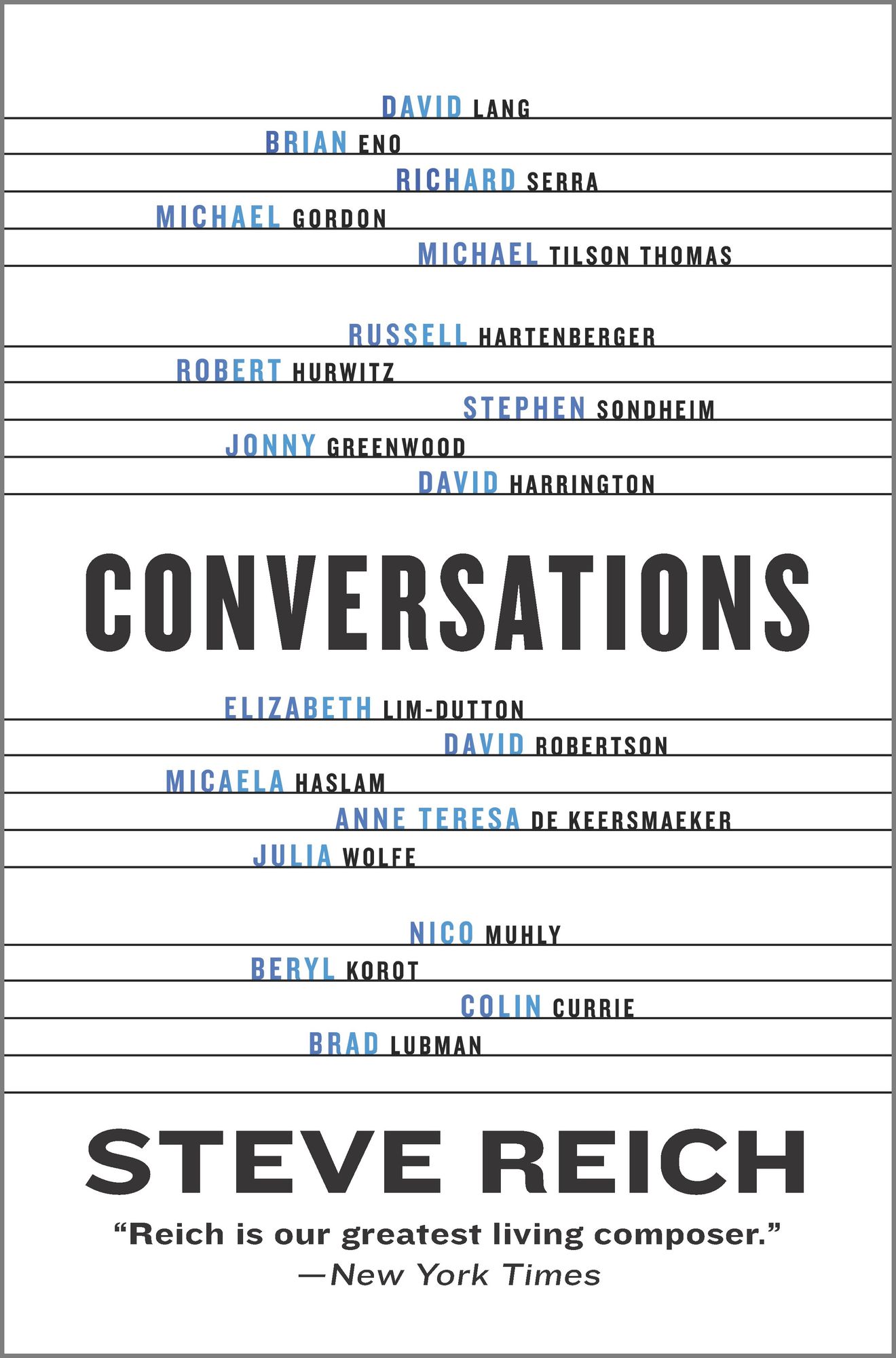 A surprising, enlightening series of conversations that shed new light on the music and career of "our greatest living composer" (New York Times)
Steve Reich is a living legend in the world of contemporary classical music. As a leader of the minimalist movement in the 1960s, his works have become central to the musical landscape worldwide, influencing generations of younger musicians, choreographers and visual artists. He has explored non-Western music and American vernacular music from jazz to rock, as well as groundbreaking music and video pieces. He toured the world with his own ensemble and his compositions are performed internationally by major orchestras and ensembles.
Now Reich sits down with past collaborators, fellow composers, and musicians influenced by his work to reflect on his prolific career as a composer as well as the music that inspired him and that has been inspired by him. Through this series of insightful, wide-ranging conversations about the highlights, successes, and creative influences of Reich's work, we gain a compelling glimpse into the career of "the most original musical thinker of our time" (New Yorker).
Available March 8, 2022:
Amazon | Barnes & Noble | Google Play | Kobo | Apple Books | Indiebound | Indigo | Audible | Goodreads
Quantum Girl Theory by Erin Kate Ryan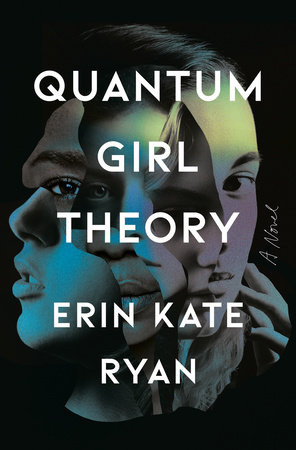 Part detective novel, part ghost story, Erin Kate Ryan's brilliant debut asks a tantalizing question: What really happens when a girl goes missing?

ONE OF THE MOST ANTICIPATED BOOKS OF 2022—CrimeReads

Mary Garrett has a gift for finding missing girls, a special kind of clairvoyance she calls "the sight." Lured by a poster and the promise of a reward, she arrives at a small town in the Jim Crow South to discover that not one but three girls have vanished—two of whom are Black, and whose disappearances have gone uninvestigated outside their own community. She sets out to find them.

As it turns out, Mary is herself a "missing girl." In another life, she was a Bennington College sophomore named Paula Jean Welden, who disappeared one night in 1946. The case captivated the nation's imagination, triggering front-page headlines, scores of dubious sightings, and a wave of speculation: Who was Paula Jean, really, and why had she disappeared?

As Mary's search for the three missing girls intensifies, so do the glimpses of Paula Jean's other possible lives: She is a circus showgirl hiding from her past, a literary forger on the verge of being caught, a McCarthy-era informant in love with a woman she meets in a Communist cell. With the signals multiplying, the locals beginning to resent her presence, and threats coming from all sides, Mary wonders whether she can trust anyone—most of all herself.

Both a captivating mystery and a powerful thought experiment, Quantum Girl Theory spins out a new way of seeing those who seem to disappear before our eyes.
Available March 8, 2022:
Amazon | Barnes & Noble | Google Play | Kobo | Apple Books | Indiebound | Indigo | Audible | Goodreads
Angels of the Pacific by Elise Hooper
Their survival would depend on sisterhood and service.
Inspired by the extraordinary true stories of World War II's American Army nurses famously known as the Angels of Bataan and the unsung contributions of Filipinas of the resistance, this novel transports us to a remarkable era of hope, bravery, perseverance, and ultimately—victory.
The Philippines, 1941: Tess Abbott, an American Army nurse, has fled the hardships of the Great Depression at home for the glamour and adventure of Manila, one of the most desirable postings in the world. But everything changes when the Japanese Imperial Army invades with lightning speed and devastating results. Tess and her band of nurses serve on the front lines until they are captured as prisoners of war and held behind the high stone walls of Manila's Santo Tomas Internment Camp.
When the Japanese occupation of her beloved homeland commences, Flor Dalisay, a Filipina university student, will be drawn into the underground network of resistance, discovering within herself reserves of courage, resilience, and leadership she never knew she possessed.
As the war continues, Tess and Flor face danger, deprivation, and terror, leading them into a web of danger as they unexpectedly work together to save lives and win their freedom.
Available March 8, 2022:
Amazon | Barnes & Noble | Google Play | Kobo | Apple Books | Indiebound | Indigo | Audible | Goodreads
The Summer Getaway by Susan Mallery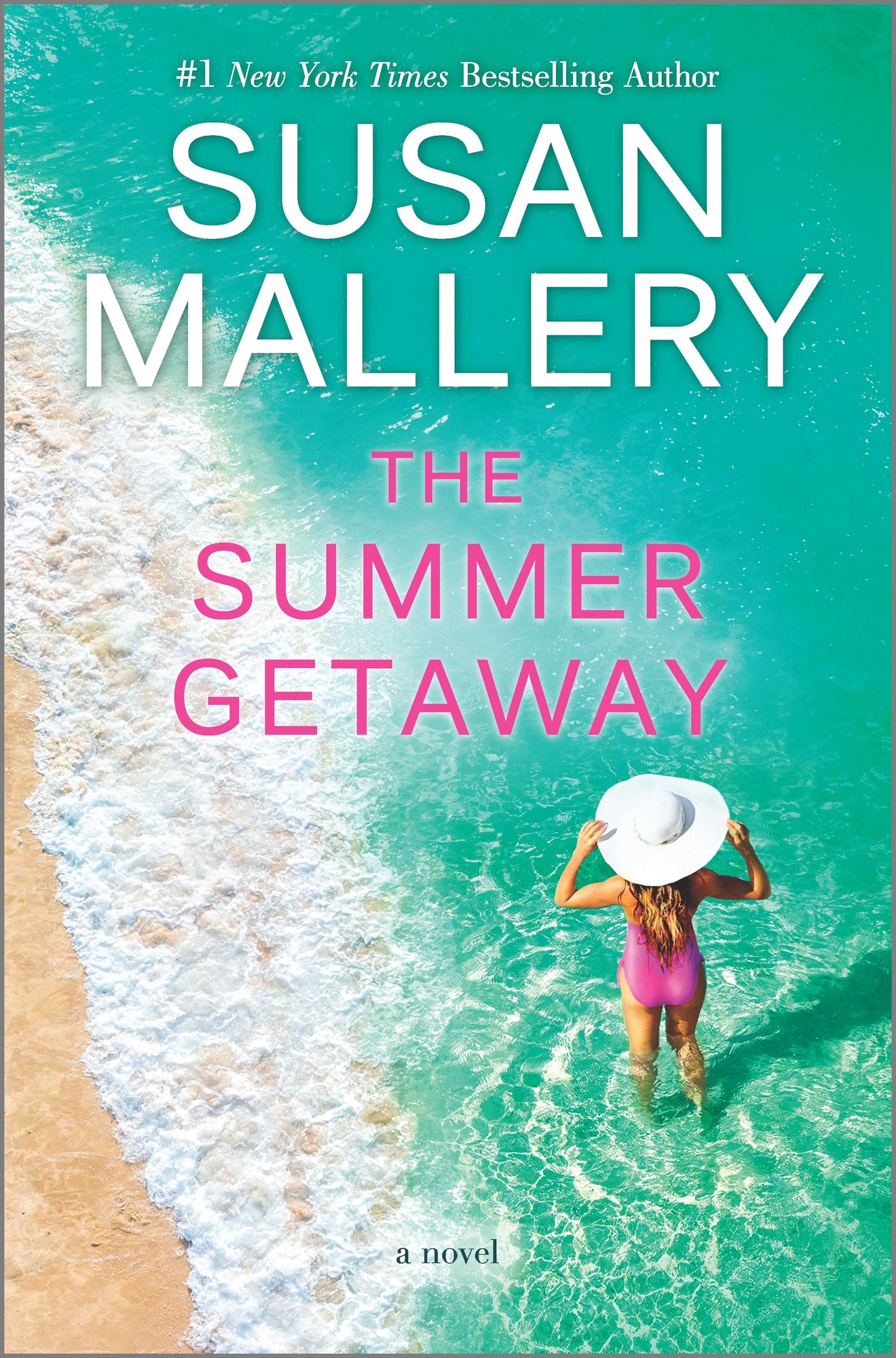 One woman discovers the beauty in chaos in this poignant and heartwarming story about the threads that hold family together from #1 New York Times bestselling author Susan Mallery.
With her divorce settlement about to run out and a mortgage she can't afford, Robyn Caldwell needs a plan for her future. She nurtured her family and neglected herself. But how's she supposed to think when her daughter has become the most demanding bride ever, her son won't even consider college, her best friend is on the brink of marital disaster and her ex is making a monumentally bad decision that could bring everything crashing down on Robyn's head? So when her great-aunt Lillian invites her to Santa Barbara for the summer, Robyn hops on the first plane.
But it's hard to run away when you're the heart of the family. One by one, everyone she left behind follows her across the country. Somehow, their baggage doesn't feel as heavy in the sun-drenched, mishmash mansion. The more time Robyn spends with free-spirited Lillian, the more she sees the appeal in taking chances—on dreams, on love, on family. Life is meant to be lived on purpose. All she has to do is muster the courage to take a chance on herself.
Available March 15, 2022:
Amazon | Barnes & Noble | Google Play | Kobo | Apple Books | Indiebound | Indigo | Audible | Goodreads
Nine Lives by Peter Swanson
If you're on the list, someone wants you dead.
From the New York Times bestselling author of Eight Perfect Murders comes the heart-pounding story of nine strangers who receive a cryptic list with their names on it—and then begin to die in highly unusual circumstances.
Nine strangers receive a list with their names on it in the mail. Nothing else, just a list of names on a single sheet of paper. None of the nine people know or have ever met the others on the list. They dismiss it as junk mail, a fluke—until very, very bad things begin happening to people on the list.
First, a well-liked old man is drowned on a beach in the small town of Kennewick, Maine. Then, a father is shot in the back while running through his quiet neighborhood in suburban Massachusetts. A frightening pattern is emerging, but what do these nine people have in common? Their professions range from oncology nurse to aspiring actor, and they're located all over the country. So why are they all on the list, and who sent it?
FBI agent Jessica Winslow, who is on the list herself, is determined to find out. Could there be some dark secret that binds them all together? Or is this the work of a murderous madman? As the mysterious sender stalks these nine strangers, they find themselves constantly looking over their shoulders, wondering who will be crossed off next…
Available March 15, 2022:
Amazon | Barnes & Noble | Google Play | Kobo | Apple Books | Indiebound | Indigo | Audible | Goodreads
The Words We Keep by Erin Stewart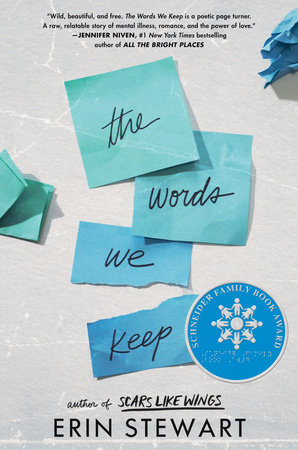 A beautifully realistic, relatable story about mental health and the healing powers of art–perfect for fans of Girl in Pieces and How it Feels to Float.

It's been three months since The Night on the Bathroom Floor–when Lily found her older sister Alice hurting herself. Ever since then, Lily has been desperately trying to keep things together, for herself and for her family. But now Alice is coming home from her treatment program and it is becoming harder for Lily to ignore all of the feelings she's been trying to outrun.

Enter Micah, a new student at school with a past of his own. He was in treatment with Alice and seems determined to get Lily to process not only Alice's experience, but her own. Because Lily has secrets, too. Compulsions she can't seem to let go of and thoughts she can't drown out.

When Lily and Micah embark on an art project for school involving finding poetry in unexpected places, she realizes that it's the words she's been swallowing that desperately want to break through.
Available March 15, 2022:
Amazon | Barnes & Noble | Google Play | Kobo | Apple Books | Indiebound | Indigo | Audible | Goodreads
The Lying Club by Annie Ward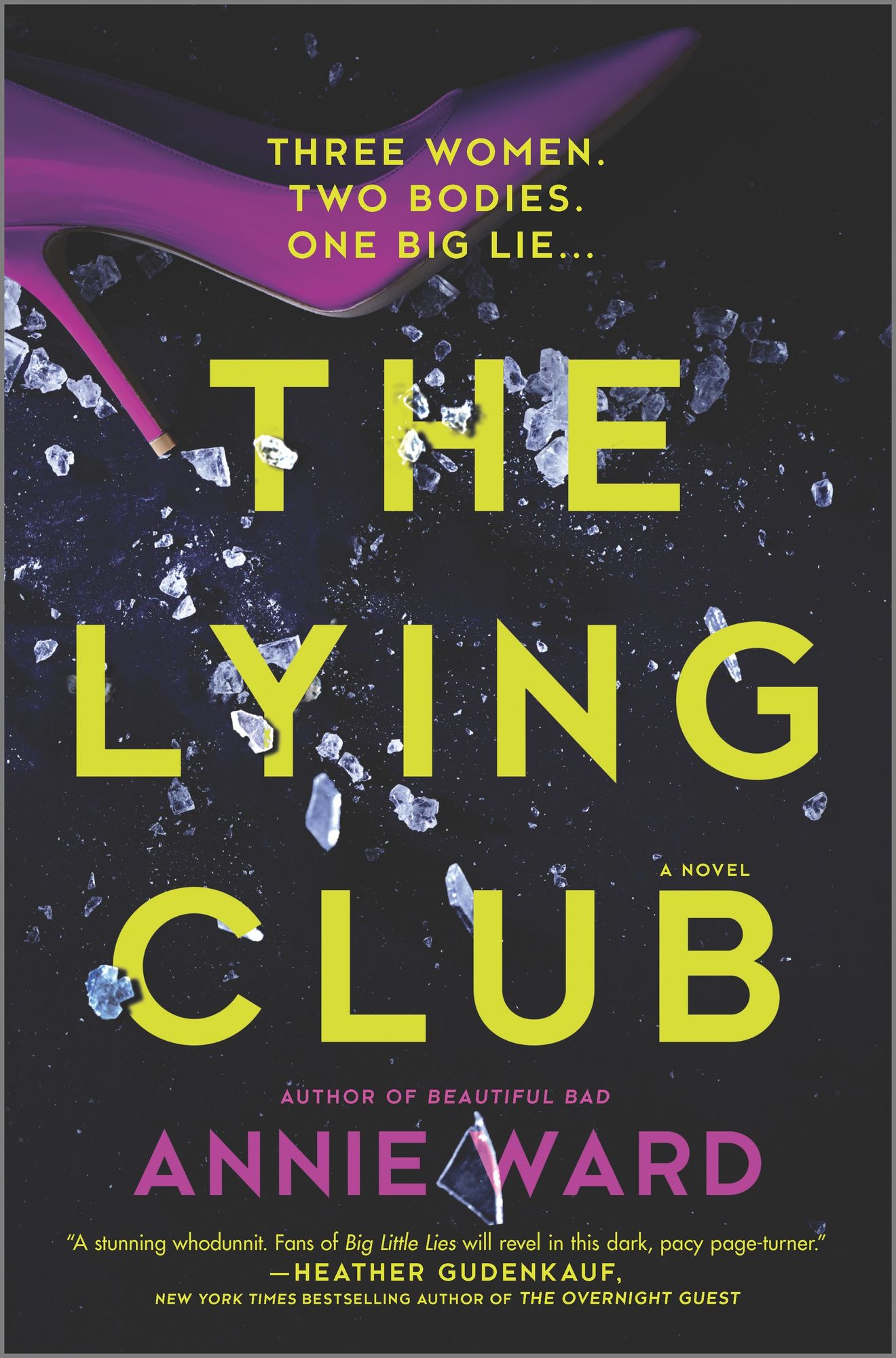 "If you loved Big Little Lies and Little Fires Everywhere, allow me to introduce you to your next obsession. —Kim Liggett, New York Times bestselling author of The Grace Year

A tangled web of lies draws together three women in this explosive thriller of revenge, murder and shocking secrets
At an elite private school nestled in the Colorado mountains, Natalie, an office assistant, dreams of having a life like the school moms she deals with every day. Women like Brooke—a gorgeous heiress, ferociously loving mother and serial cheater—and Asha, an overprotective mom who suspects her husband of having an affair. Their fates are bound by the handsome assistant athletic director Nicholas, whom Natalie loves, Brooke wants and Asha needs.
But when two bodies are carried out of the school one morning, it seems the tension between mothers and daughters, rival lovers, and the haves and have-nots has shattered the surface of this isolated, affluent town—where people stop at nothing to get what they want.
Available March 22, 2022:
Amazon | Barnes & Noble | Google Play | Kobo | Apple Books | Indiebound | Indigo | Audible | Goodreads
Savvy Sheldon Feels Good As Hell by Taj McCoy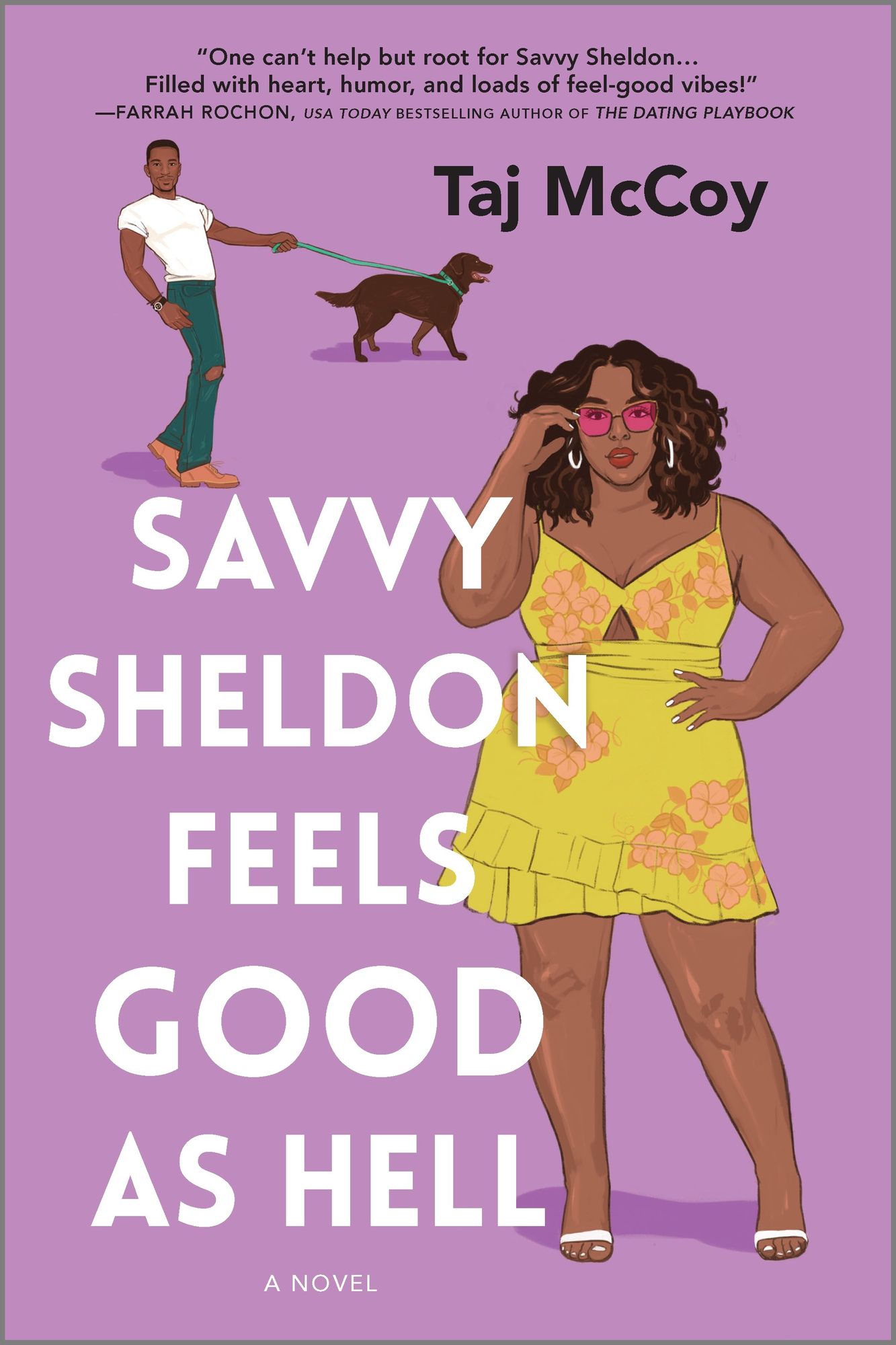 "This feel-good, empowering rom-com will blow you away, guaranteed." —Sarah Smith, author of Simmer Down
A delicious debut rom-com about a plus-size sweetheart who gets a full-life makeover after a brutal breakup.
Savvy Sheldon spends a lot of time tiptoeing around the cracks in her life: her high-stress and low-thanks job, her clueless boyfriend and the falling-apart kitchen she inherited from her beloved grandma—who taught her how to cook and how to love people by feeding them. But when Savvy's world starts to crash down around her, she knows it's time for some renovations.
Starting from the outside in, Savvy tackles her crumbling kitchen, her relationship with her body, her work–life balance (or lack thereof) and, last but not least, her love life. The only thing that doesn't seem to require effort is her ride-or-die squad of friends. But as any home-reno-show junkie can tell you, something always falls apart during renovations. First, Savvy passes out during hot yoga. Then it turns out that the contractor she hires is the same sexy stranger she unintentionally offended by judging based on appearances. Worst of all, Savvy can't seem to go anywhere without tripping over her ex and his latest "upgrade." Savvy begins to realize that maybe she should've started her renovations the other way around: beginning with how she sees herself before building a love that lasts.
Available March 22, 2022:
Amazon | Barnes & Noble | Google Play | Kobo | Apple Books | Indiebound | Indigo | Audible | Goodreads
A Relative Murder by Jude Deveraux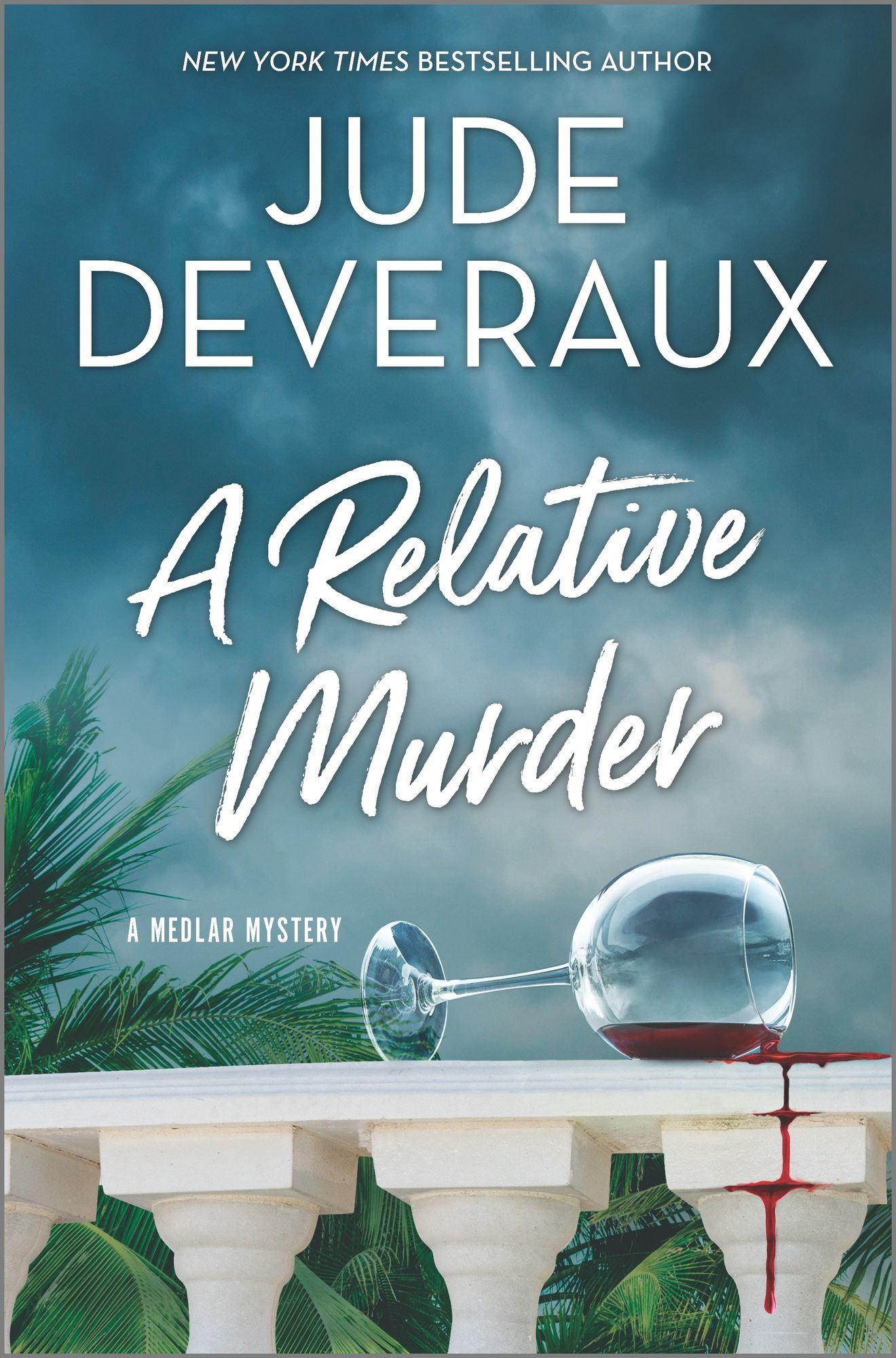 Even the closest families have secrets hidden away.
Bestselling novelist Sara Medlar is skilled at sharing stories about other people, but she hoped the truth about her own family would never surface. Her home in Lachlan, Florida, is her refuge and she loves having her niece Kate and dear friend Jack Wyatt together under her roof. The Medlar Three, as they are known around town, have sworn off getting involved in any more murder investigations.
When the sheriff unexpectedly leaves on vacation, Jack is surprised to find himself appointed as deputy. So when Kate stumbles upon a dead body while visiting a friend, the Medlar Three are back in the sleuthing game. Kate also has a charming new real estate client with a mysterious past. He seems to be followed by trouble and that makes Sara and Jack uneasy.
It doesn't take long to discover that the murder and the new man in town are somehow related—the question is how. When the stranger's true identity is revealed, Sara realizes her carefully crafted story is about to unravel and she fears she'll lose Kate and Jack forever. But she desperately hopes that love and honesty will win out over years of lies and deceit. And besides, family is family—even if you sometimes want to kill them.
Available March 29, 2022:
Amazon | Barnes & Noble | Google Play | Kobo | Apple Books | Indiebound | Indigo | Goodreads