New year, new books! Start the year off right with these fabulous new releases.
Are you looking for some romance? You'll fall for Love at First Spite by Anna E. Collins. How about some thought-provoking suspense? The Good Son by Jacquelyn Mitchard fits the bill.
Whatever the case, here's to a happy new year with lots of reading ahead!
Love at First Spite by Anna E. Collins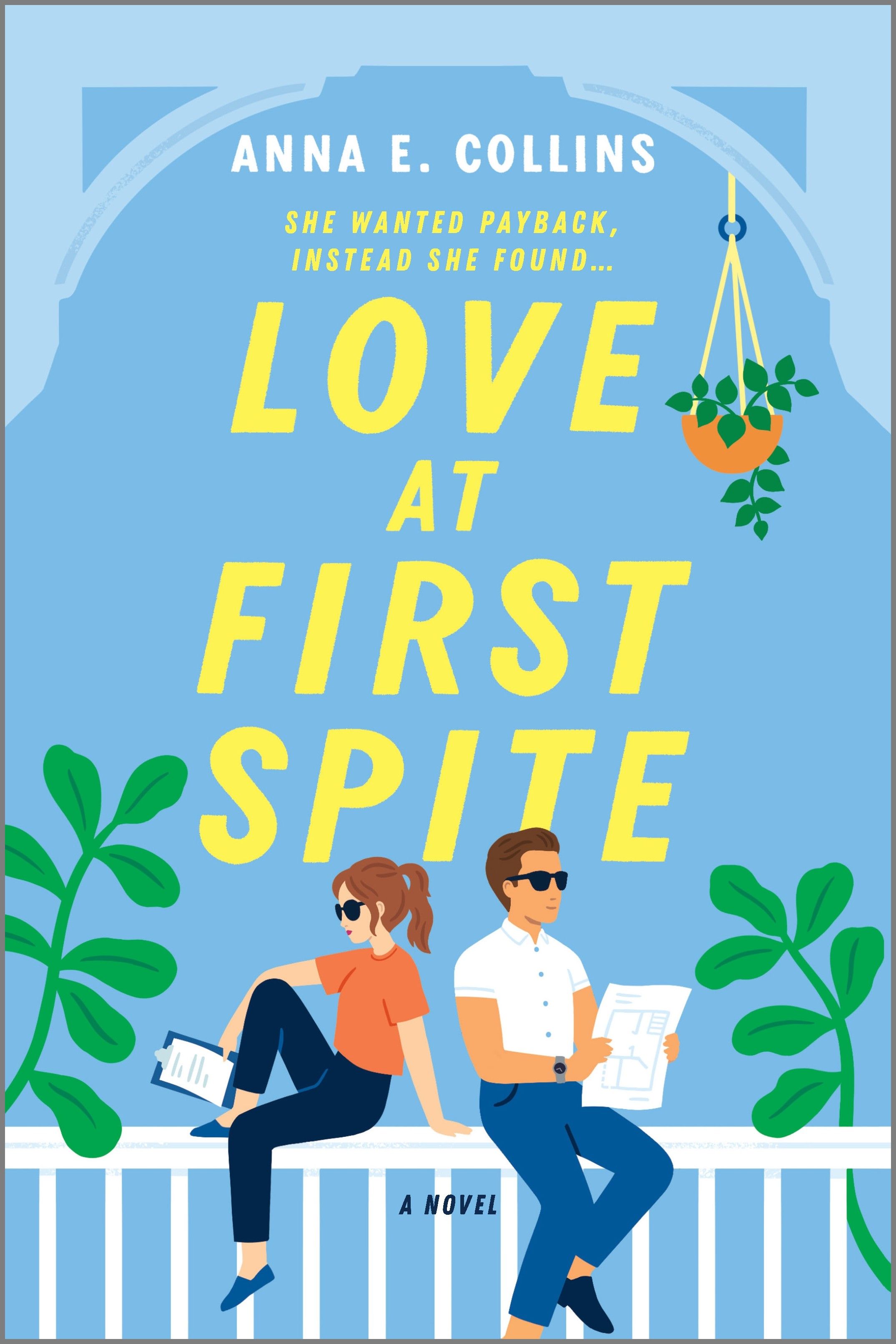 Falling in love is the ultimate payback in this delightful, breezy romcom about an interior designer who teams up with an enigmatic architect at her firm to get revenge on her ex the only way she knows how: by building a spite house next door

"Filled with sizzling chemistry and delicious revenge, Love at First Spite had me smiling from start to finish. This is one debut you don't want to miss!" —Kate Bromley, author of Talk Bookish to Me
They say living well is the best revenge. But sometimes, spreading the misery seems a whole lot more satisfying. That's interior designer Dani Porter's justification for buying the vacant lot next to her ex-fiancé's house…the house they were supposed to live in together, before he cheated on her with their Realtor. Dani plans to build a vacation rental that will a) mess with his view and his peace of mind and b) prove that Dani is not someone to be stepped on. Welcome to project Spite House.
That plan quickly becomes complicated when Dani is forced to team up with Wyatt Montego, the handsome, haughty architect at her firm, and the only person available to draw up blueprints. Wyatt is terse and stern, the kind of man who eats his sandwich with a knife and fork. But as they spend time together on- and off-site, Dani glimpses something deeper beneath that hard veneer, something surprising, vulnerable, and real. And the closer she gets to her goal, the more she wonders if winning revenge could mean losing something infinitely sweeter…
"Rollickingly, fast-paced… Fans of Emily Henry's tales will enjoy Collins' imaginative rom-com." —Booklist

"Wyatt is the perfect grumpy romance hero with a heart of gold. An enemies-to-friends-to-lovers story that's sure to delight rom-com fans." —Kirkus Reviews
Available on January 4, 2022:
Amazon | Barnes & Noble | Google Play | Kobo | Apple Books | Indiebound | Indigo | Audible | Goodreads
On the Sweet Side by Audrey Carlan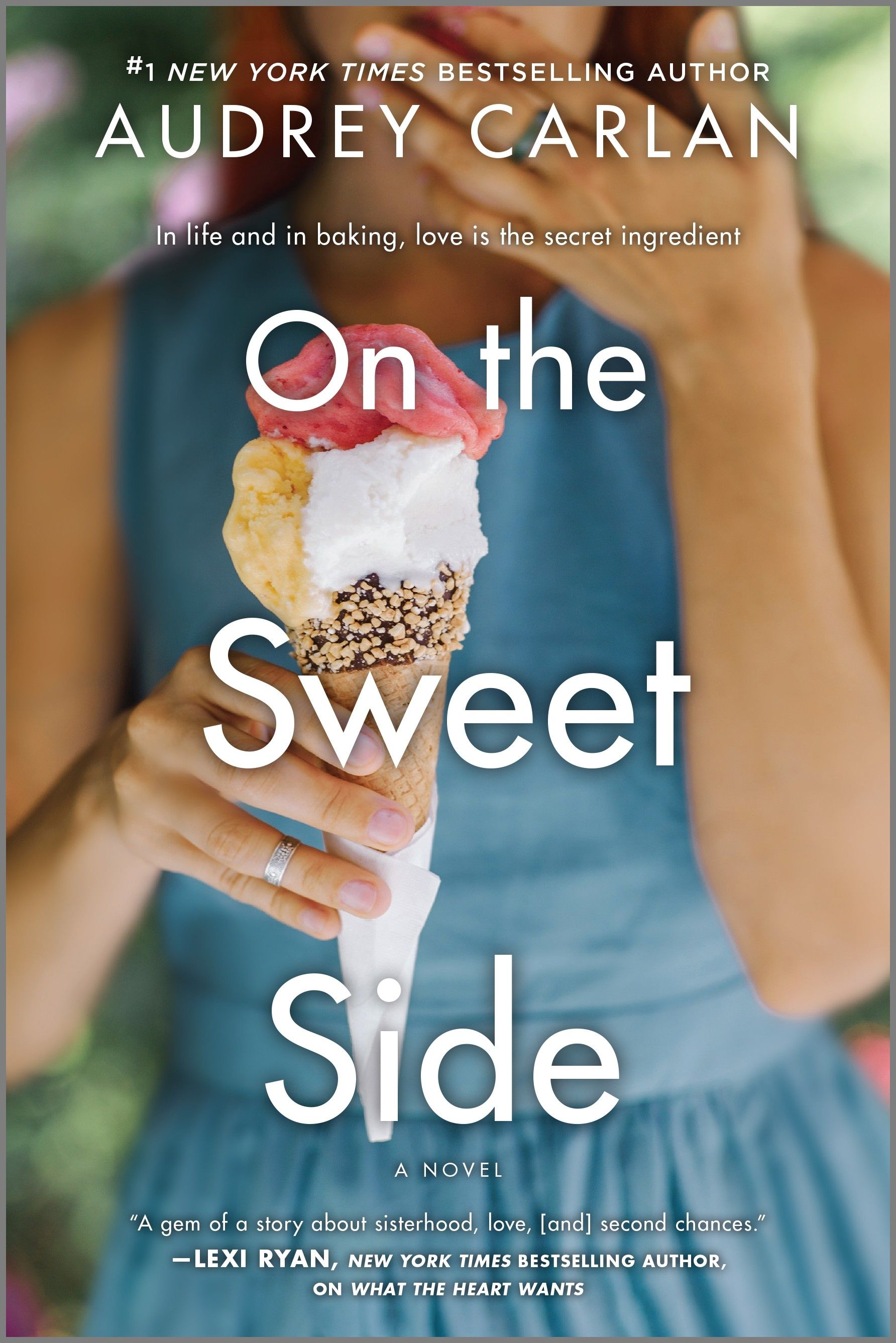 From #1 New York Times bestselling author Audrey Carlan comes a story of sisters, self-discovery and a little something sweet.
Baking is Isabeau Collins's life. Back from studying under the finest chefs in France and Italy, and with a newly minted culinary degree in hand, Izzy is ready to pursue her dream: whipping up creative confections in her own custom cake shop. But her perfect plans are waylaid when two women claiming to be her half sisters show up with a stack of letters addressed to Izzy from their late mother. Torn between launching her career and the need to learn more about her family history, Izzy makes the decision to go to Colorado to connect with the sisters she's never known.
Then Izzy stumbles across a run-down storefront in Pueblo's funky downtown and instantly knows that with a bit of work it's the perfect location for her dream bakery…which means her detour to Colorado will be a permanent reroute. And with an unexpected relationship growing between Izzy and her contractor, Kyson, she has yet another reason to stick around—even if there are secrets in Kyson's past Izzy can't quite figure out. Fighting homesickness and self-doubt, Izzy worries that she's making a mistake. But with her sisters close and her dreams within reach, she can't help but wonder if her riskiest move could be the most rewarding decision she's ever made.
Available on January 4, 2022:
Amazon | Barnes & Noble | Google Play | Kobo | Apple Books | Indiebound | Indigo | Audible | Goodreads
The Kindred by Alechia Dow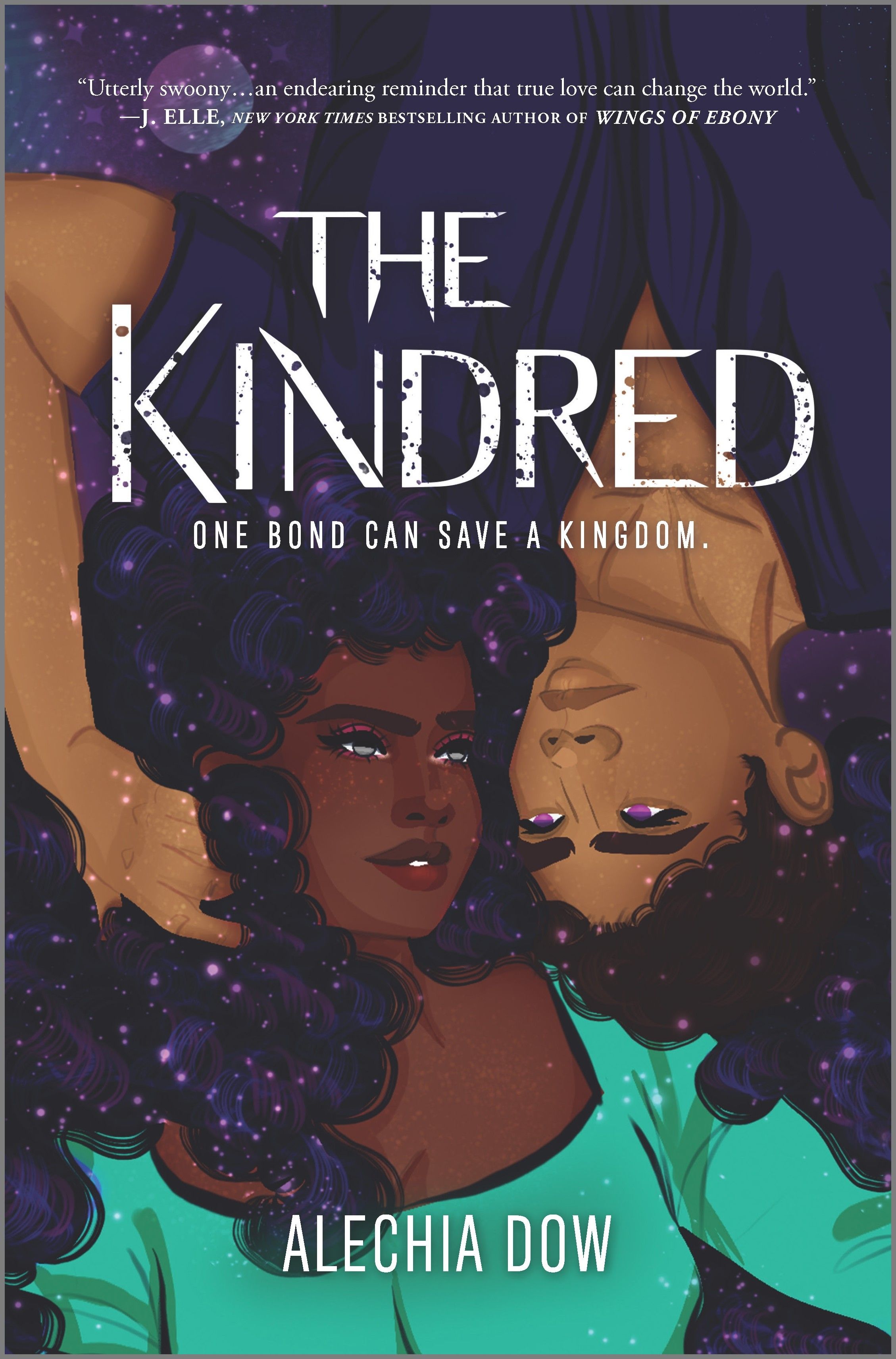 "Utterly swoony…an endearing reminder that true love can change the world"
—J. Elle, New York Times bestselling author of Wings of Ebony
To save a galactic kingdomfrom revolution, Kindred mind-pairings were created to ensure each and every person would be seen and heard, no matter how rich or poor…
Joy Abara knows her place. A commoner from the lowly planet Hali, she lives a simple life—apart from the notoriety that being Kindred to the nobility's most infamous playboy brings.
Duke Felix Hamdi has a plan. He will exasperate his noble family to the point that they agree to let him choose his own future and finally meet his Kindred face-to-face.
Then the royal family is assassinated, putting Felix next in line for the throne…and accused of the murders. Someone will stop at nothing until he's dead, which means they'll target Joy, too. Meeting in person for the first time as they steal a spacecraft and flee amid chaos might not be ideal…and neither is crash-landing on the strange backward planet called Earth. But hiding might just be the perfect way to discover the true strength of the Kindred bond and expose a scandal—and a love—that may decide the future of a galaxy.
Available on January 4, 2022:
Amazon | Barnes & Noble | Google Play | Kobo | Apple Books | Indiebound | Indigo | Audible | Goodreads
Move by Caroline Williams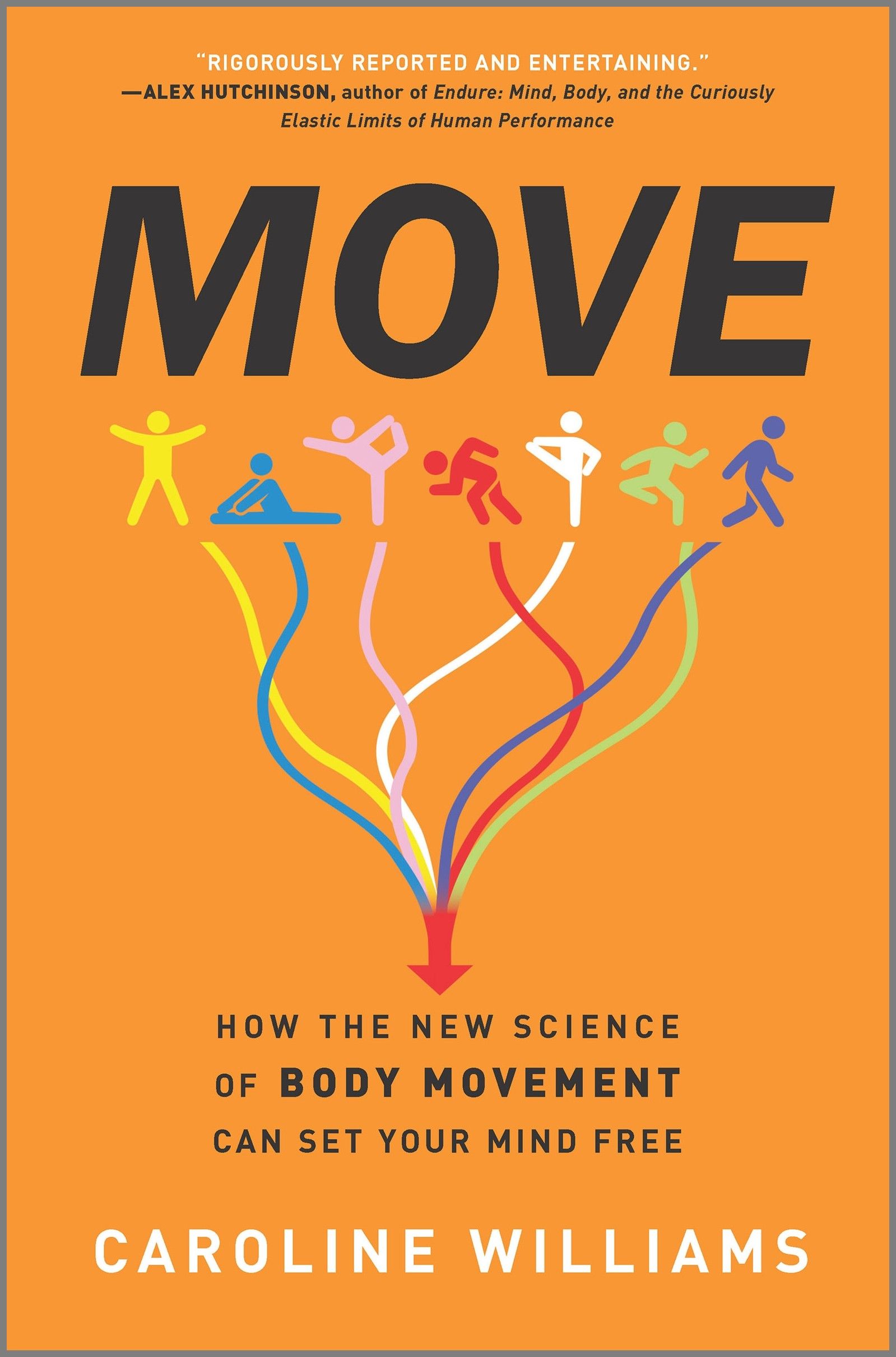 An eye-opening journey into the power of human movement and how we can harness it to optimize our brain health, boost our mood and improve every aspect of our lives
For our earliest ancestors who hunted and gathered, movement meant survival. Our brains evolved to reward physical activity. Moving, thinking and feeling have always been inextricably linked.
Yet what happens when we stop moving? Today, on average, we spend around 70 percent of our lives sitting or lying completely still. Our sedentary lifestyle—desk jobs, long commutes and lots of screen time—is not only bad for our bodies. It can also result in anxiety, depression and a lower overall IQ.
But there's good news. Even the simplest movements can reactivate our bodies and open up a hotline to our minds, improving our overall well-being and longevity. And we don't have to spend countless hours in the gym. In fact, exercise as we understand it misses the point.
Veteran science journalist Caroline Williams explores the cutting-edge research behind brain health and physical activity, interviewing scientists from around the world to completely reframe our relationship to movement. Along the way she reveals easy tricks that we could all use to improve our memory, maximize our creativity, strengthen our emotional literacy and more. A welcome counterpoint to the current mindfulness craze, Move offers a more stimulating and productive way of freeing our caged minds to live our best lives.
Available on January 4, 2022:
Amazon | Barnes & Noble | Google Play | Kobo | Apple Books | Indiebound | Indigo | Audible | Goodreads
Beautiful Little Fools by Jillian Cantor
USA Today bestselling author Jillian Cantor reimagines and expands on the literary classic The Great Gatsby in this atmospheric historical novel with echoes of Big Little Lies, told in three women's alternating voices.
On a sultry August day in 1922, Jay Gatsby is shot dead in his West Egg swimming pool. To the police, it appears to be an open-and-shut case of murder/suicide when the body of George Wilson, a local mechanic, is found in the woods nearby.
Then a diamond hairpin is discovered in the bushes by the pool, and three women fall under suspicion. Each holds a key that can unlock the truth to the mysterious life and death of this enigmatic millionaire.
Daisy Buchanan once thought she might marry Gatsby—before her family was torn apart by an unspeakable tragedy that sent her into the arms of the philandering Tom Buchanan.
Jordan Baker, Daisy's best friend, guards a secret that derailed her promising golf career and threatens to ruin her friendship with Daisy as well.
Catherine McCoy, a suffragette, fights for women's freedom and independence, and especially for her sister, Myrtle Wilson, who's trapped in a terrible marriage.
Their stories unfold in the years leading up to that fateful summer of 1922, when all three of their lives are on the brink of unraveling. Each woman is pulled deeper into Jay Gatsby's romantic obsession, with devastating consequences for all of them.
Available on January 4, 2022:
Amazon | Barnes & Noble | Google Play | Kobo | Apple Books | Indiebound | Indigo | Audible | Goodreads
The Maid by Nita Prose
A charmingly eccentric hotel maid discovers a guest murdered in his bed. Solving the mystery will turn her once orderly world upside down in this utterly original debut.
Molly Gray is not like everyone else. She struggles with social skills and misreads the intentions of others. Her gran used to interpret the world for her, codifying it into simple rules that Molly could live by.
Since Gran died a few months ago, twenty-five-year-old Molly has been navigating life's complexities all by herself. No matter—she throws herself with gusto into her work as a hotel maid. Her unique character, along with her obsessive love of cleaning and proper etiquette, make her an ideal fit for the job. She delights in donning her crisp uniform each morning, stocking her cart with miniature soaps and bottles, and returning guest rooms at the Regency Grand Hotel to a state of perfection.
But Molly's orderly life is upended the day she enters the suite of the infamous and wealthy Charles Black, only to find it in a state of disarray and Mr. Black himself dead in his bed. Before she knows what's happening, Molly's unusual demeanor has the police targeting her as their lead suspect. She quickly finds herself caught in a web of deception, one she has no idea how to untangle. Fortunately for Molly, friends she never knew she had unite with her in a search for clues to what really happened to Mr. Black—but will they be able to find the real killer before it's too late?
Available on January 4, 2022:
Amazon | Barnes & Noble | Google Play | Kobo | Apple Books | Indiebound | Indigo | Audible | Goodreads
Righteous Troublemakers by Reverend Al Sharpton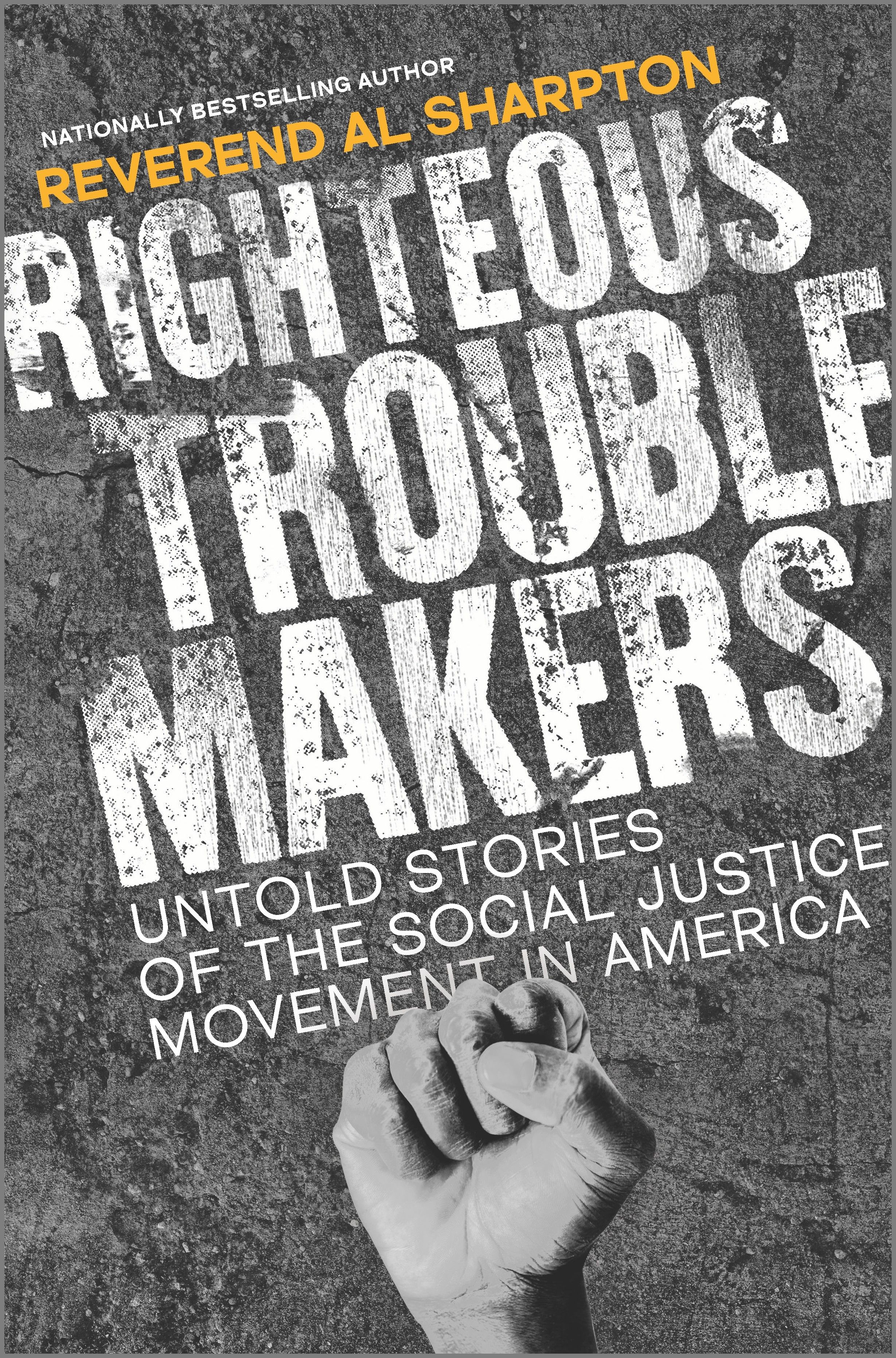 "This is the time. We won't stop until we change the whole system of justice." —Reverend Al Sharpton
In the summer of 2020, Reverend Al Sharpton stood on the steps of the Lincoln Memorial where Dr. Martin Luther King Jr. delivered his "I Have a Dream" speech, preparing to give the keynote address of theGet Your Knee Off Our NecksCommitment March. He noticed an older man in the crowd wearing a button from Dr. King's 1963 march. The man told Sharpton that he had, in fact, been to the original March on Washington. "And," he said, "I'll keep coming back until we see justice."
While the mainstream media may know the major names of the movement, there are countless lesser-known heroes like this man who "keep coming back," fighting the good fight to advance equal justice for all. Whether working in civil rights, women's rights, LGBTQIA rights, or in environmental justice, they heed the call when no one else is listening, often risking their lives and livelihoods in the process.
Righteous Troublemakers shines a light on everyday people called to do extraordinary things—like Pauli Murray, whose early work inspired Thurgood Marshall, Claudette Colvin, who refused to give up her seat on a segregated bus months before Rosa Parks did the same, and Gwen Carr, whose private pain in losing her son Eric Garner stoked her public activism against police brutality. Sharpton also gives his personal take on more widely known individuals, revealing overlooked details, historical connections, and a perspective informed by years of working in the social justice movement.
At the same time, this book details the tumultuous year following George Floyd's murder, with Sharpton delivering an up close and personal look at the behind-the-scenes work that forced today's national reckoning on race. Here, he reveals his relationship with the Floyd family, the emotional moments that impacted him most, and why his work—and ours—isn't finished, all while offering timeless lessons about the enduring strength and moral courage of the American people. For anyone who wants to be a changemaker or believes that truth and justice are worthwhile pursuits, Righteous Troublemakers is as inspirational as it is essential.
Available on January 11, 2022:
Amazon | Barnes & Noble | Google Play | Kobo | Apple Books | Indiebound | Indigo | Audible | Goodreads
To Paradise by Hanya Yanagihara
From the author of the classic A Little Life—a bold, brilliant novel spanning three centuries and three different versions of the American experiment, about lovers, family, loss and the elusive promise of utopia.
In an alternate version of 1893 America, New York is part of the Free States, where people may live and love whomever they please (or so it seems). The fragile young scion of a distinguished family resists betrothal to a worthy suitor, drawn to a charming music teacher of no means. In a 1993 Manhattan besieged by the AIDS epidemic, a young Hawaiian man lives with his much older, wealthier partner, hiding his troubled childhood and the fate of his father. And in 2093, in a world riven by plagues and governed by totalitarian rule, a powerful scientist's damaged granddaughter tries to navigate life without him—and solve the mystery of her husband's disappearances.

These three sections are joined in an enthralling and ingenious symphony, as recurring notes and themes deepen and enrich one another: A townhouse in Washington Square Park in Greenwich Village; illness, and treatments that come at a terrible cost; wealth and squalor; the weak and the strong; race; the definition of family, and of nationhood; the dangerous righteousness of the powerful, and of revolutionaries; the longing to find a place in an earthly paradise, and the gradual realization that it can't exist. What unites not just the characters, but these Americas, are their reckonings with the qualities that make us human: Fear. Love. Shame. Need. Loneliness.
Available on January 11, 2022:
Amazon | Barnes & Noble | Google Play | Kobo | Apple Books | Indiebound | Indigo | Audible | Goodreads
The Good Son by Jacquelyn Mitchard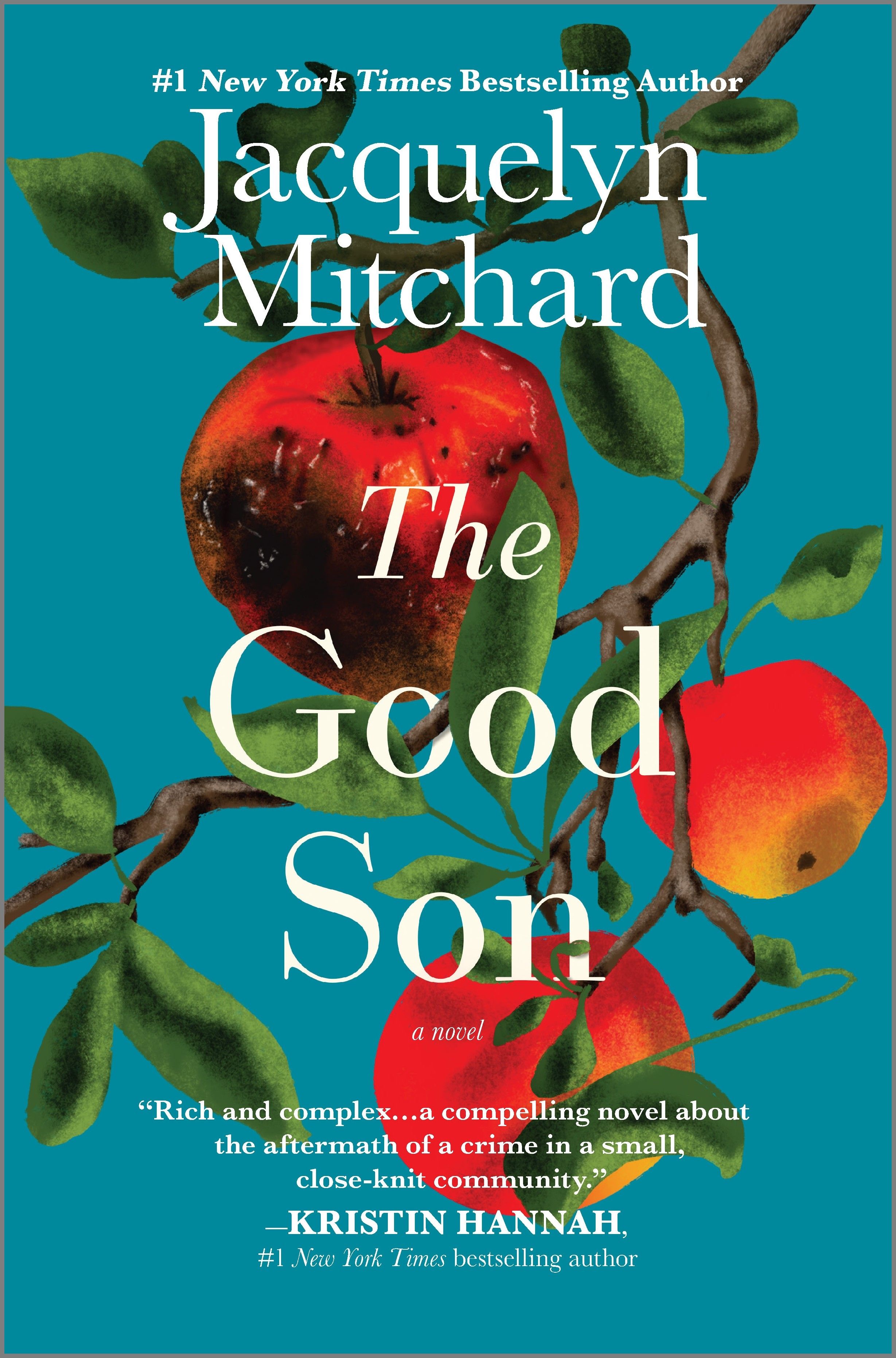 "Rich and complex, The Good Son is a compelling novel about the aftermath of a crime in a small, close-knit community."—Kristin Hannah, New York Times bestselling author

From #1 New York Times bestselling author Jacquelyn Mitchard comes the gripping, emotionally charged novel of a mother who must help her son after he is convicted of a devastating crime.
What do you do when the person you love best becomes unrecognizable to you? For Thea Demetriou, the answer is both simple and agonizing: you keep loving him somehow.
Stefan was just seventeen when he went to prison for the drug-fueled murder of his girlfriend, Belinda. Three years later, he's released to a world that refuses to let him move on. Belinda's mother, once Thea's good friend, galvanizes the community to rally against him to protest in her daughter's memory. The media paints Stefan as a symbol of white privilege and indifferent justice. Neighbors, employers, even some members of Thea's own family turn away.
Meanwhile Thea struggles to understand her son. At times, he is still the sweet boy he has always been; at others, he is a young man tormented by guilt and almost broken by his time in prison. But as his efforts to make amends meet escalating resistance and threats, Thea suspects more forces are at play than just community outrage. And if there is so much she never knew about her own son, what other secrets has she yet to uncover—especially about the night Belinda died?
Available on January 18, 2022:
Amazon | Barnes & Noble | Google Play | Kobo | Apple Books | Indiebound | Indigo | Audible | Goodreads
The Ex-Husband by Karen Hamilton
It's an offer she can't refuse…and might not survive.
Charlotte has an unsavory past, but she's on the straight and narrow these days. She was so young then—she married the wrong man, falling for Sam's sweet-talking charm and charisma, and got caught up in his con artist games.
If only she'd left him before things went too far.
Now Sam is missing. But before he disappeared, he left urgent, cryptic messages about someone threatening him—someone who has been threatening Charlotte, too.
So Charlotte takes a job as a personal assistant for an engagement party aboard a private luxury cruise ship, the Cleobella, to get far away from anyone who means her harm.
But as the Cleobella sails through its glittering destinations, increasingly sinister events haunt the guests, and the turquoise waves and sun-drenched beaches give way to something darker. Someone knows what Charlotte did. Is it the blushing bride? The seemingly placid mother-in-law? Or the mysterious heiress?
Someone knows, and someone wants revenge—before the ship reaches its final port.
Available on January 18, 2022:
Amazon | Barnes & Noble | Google Play | Kobo | Apple Books | Indiebound | Indigo | Audible | Goodreads
The Other Family by Wendy Corsi Staub
"Great psychological suspense with a wallop of a twist." —Harlan Coben, #1 New York Times bestselling author
New York Times bestselling author Wendy Corsi Staub makes her trade paperback debut with a fast-paced thriller in the vein of Lisa Jewell's The Family Upstairs and Megan Collins' The Winter Sister. Here, a family making a fresh start moves into a house which was the site of an unsolved triple homicide—and are watched by an unknown person…
The watcher sees who you are…and knows what you did.
It's the perfect home for the perfect family: pretty Nora Howell, her handsome husband, their two teenage daughters, and lovable dog. As California transplants making a fresh start in Brooklyn, they expected to live in a shoebox, but the brownstone has a huge kitchen, lots of light, and a backyard. The catch: its previous residents were victims of a grisly triple homicide that remains unsolved.
Soon, peculiar things begin happening. The pug is nosing around like a bloodhound. Nora unearths a long-hidden rusty box in the flowerbed. Oldest daughter Stacey, obsessed with the family murdered in their house, pokes into the bloody past and becomes convinced that a stranger is watching the house. Watching them.
She's right. But one of the Howells will recognize his face. Because one of them has a secret that will blindside the others with a truth that lies shockingly close to home—and to this one's terrifying history.
Available on January 18, 2022:
Amazon | Barnes & Noble | Google Play | Kobo | Apple Books | Indiebound | Indigo | Audible | Goodreads
Reminders of Him by Colleen Hoover
A troubled young mother yearns for a shot at redemption in this heartbreaking yet hopeful story from #1 New York Times bestselling author Colleen Hoover.
After serving five years in prison for a tragic mistake, Kenna Rowan returns to the town where it all went wrong, hoping to reunite with her four-year-old daughter. But the bridges Kenna burned are proving impossible to rebuild. Everyone in her daughter's life is determined to shut Kenna out, no matter how hard she works to prove herself.
The only person who hasn't closed the door on her completely is Ledger Ward, a local bar owner and one of the few remaining links to Kenna's daughter. But if anyone were to discover how Ledger is slowly becoming an important part of Kenna's life, both would risk losing the trust of everyone important to them.
The two form a connection despite the pressure surrounding them, but as their romance grows, so does the risk. Kenna must find a way to absolve the mistakes of her past in order to build a future out of hope and healing.
Available on January 18, 2022:
Amazon | Barnes & Noble | Indiebound | Indigo | Audible | Goodreads
Joan Is Okay by Weike Wang
A witty, moving, piercingly insightful new novel about a marvelously complicated woman who can't be anyone but herself, from the award-winning author of Chemistry
Joan is a thirtysomething ICU doctor at a busy New York City hospital. The daughter of Chinese parents who came to the United States to secure the American dream for their children, Joan is intensely devoted to her work, happily solitary, successful. She does look up sometimes and wonder where her true roots lie: at the hospital, where her white coat makes her feel needed, or with her family, who try to shape her life by their own cultural and social expectations.

Once Joan and her brother, Fang, were established in their careers, her parents moved back to China, hoping to spend the rest of their lives in their homeland. But when Joan's father suddenly dies and her mother returns to America to reconnect with her children, a series of events sends Joan spiraling out of her comfort zone just as her hospital, her city, and the world are forced to reckon with a health crisis more devastating than anyone could have imagined.

Deceptively spare yet quietly powerful, laced with sharp humor, Joan Is Okay touches on matters that feel deeply resonant: being Chinese-American right now; working in medicine at a high-stakes time; finding one's voice within a dominant culture; being a woman in a male-dominated workplace; and staying independent within a tight-knit family. But above all, it's a portrait of one remarkable woman so surprising that you can't get her out of your head.
Available on January 18, 2022:
Amazon | Barnes & Noble | Google Play | Kobo | Apple Books | Indiebound | Indigo | Audible | Goodreads
The Overnight Guest by Heather Gudenkauf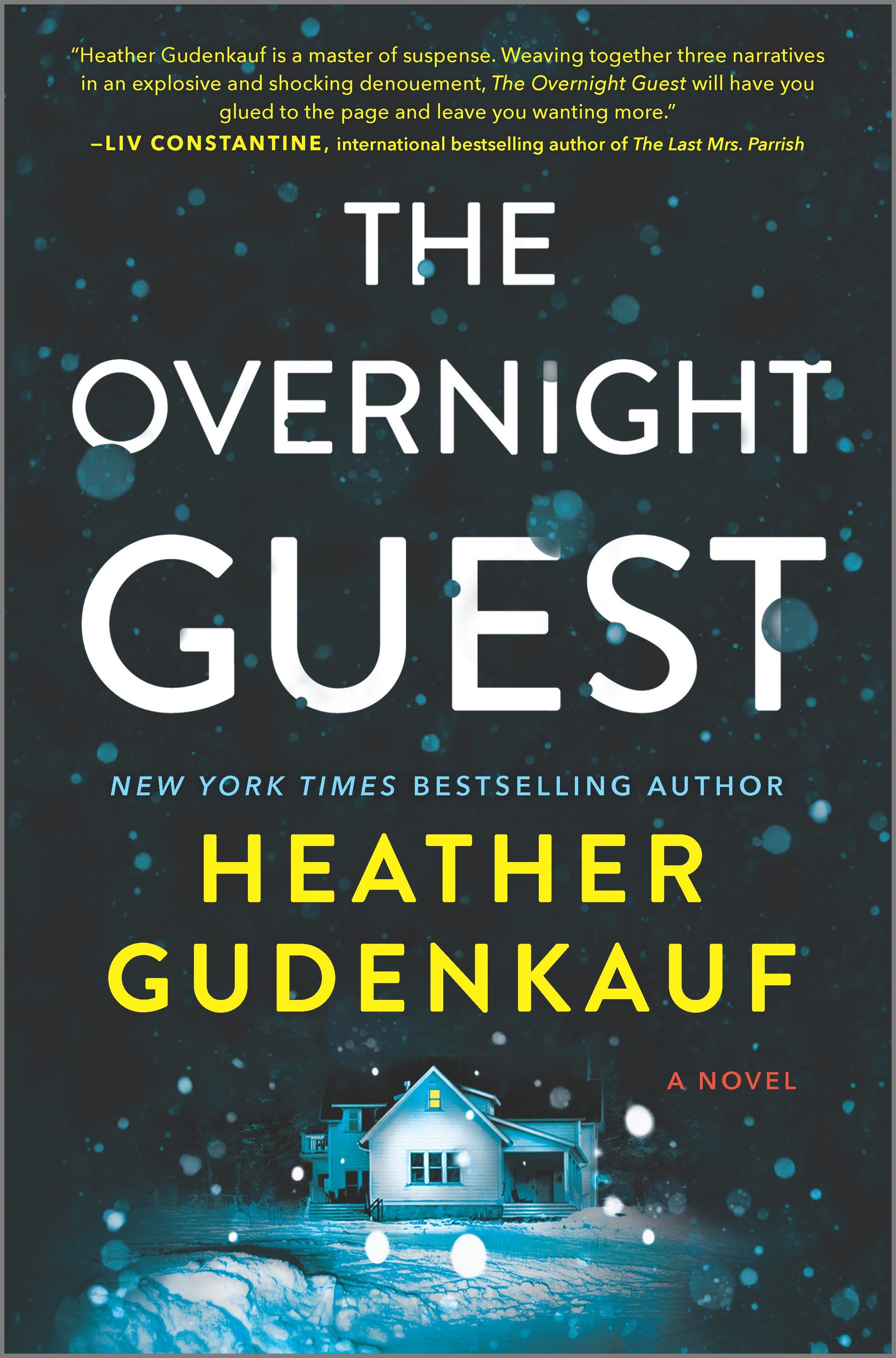 A woman receives an unexpected visitor during a deadly snowstorm in this chilling thriller from New York Times bestselling author Heather Gudenkauf
She thought she was alone…
True crime writer Wylie Lark doesn't mind being snowed in at the isolated farmhouse where she's retreated to write her new book. A cozy fire, complete silence. It would be perfect, if not for the fact that decades earlier, at this very house, two people were murdered in cold blood and a girl disappeared without a trace.
As the storm worsens, Wylie finds herself trapped inside the house, haunted by the secrets contained within its walls—haunted by secrets of her own. Then she discovers a small child in the snow just outside. After bringing the child inside for warmth and safety, she begins to search for answers. But soon it becomes clear that the farmhouse isn't as isolated as she thought, and someone is willing to do anything to find them.
Available on January 25, 2022:
Amazon | Barnes & Noble | Google Play | Kobo | Apple Books | Indiebound | Indigo | Audible | Goodreads
Light Years from Home by Mike Chen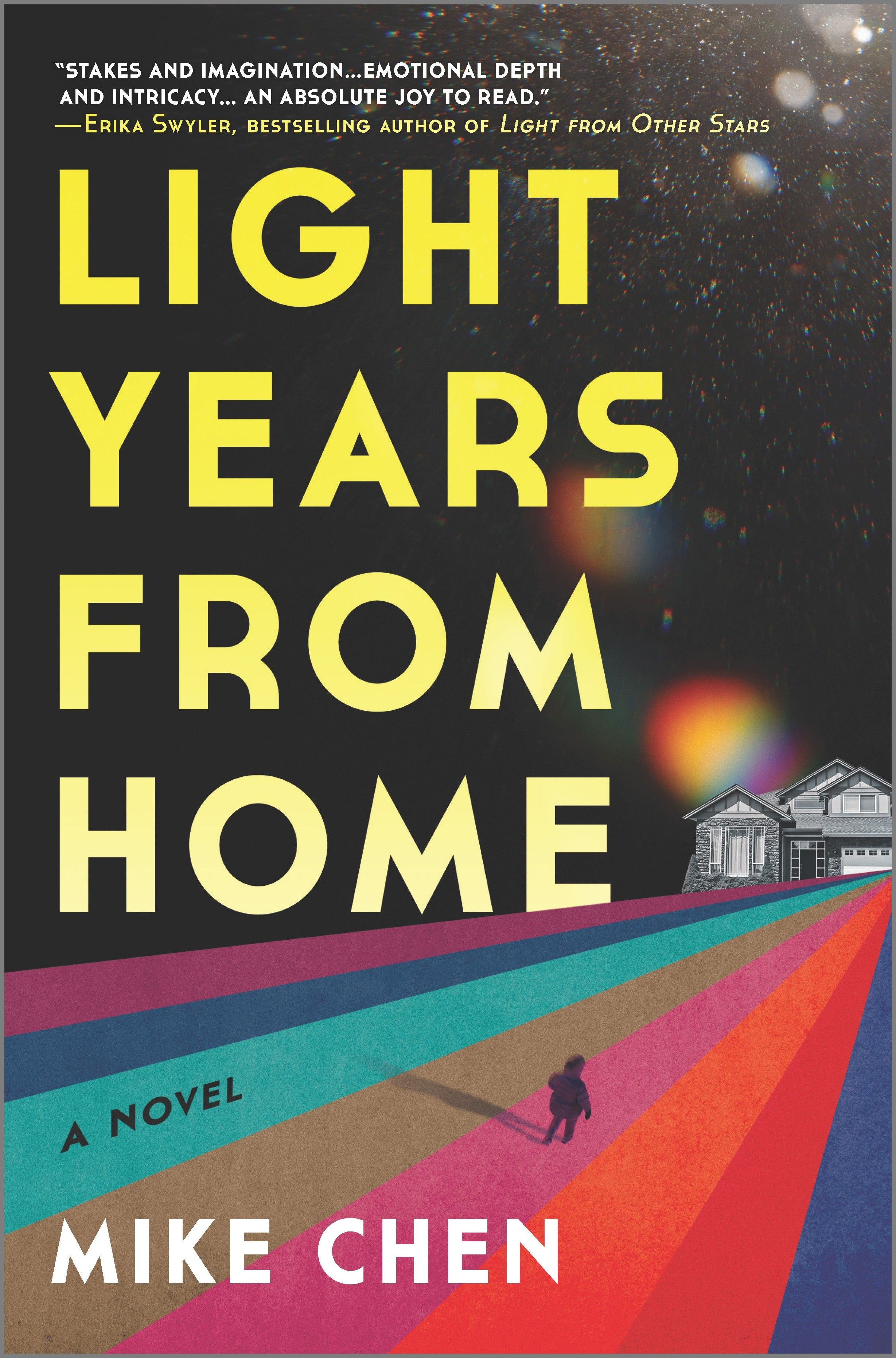 "With heart and insight…Chencrosses the stakes and imagination of a space opera with the emotional depth and intricacy of a family drama." —Erika Swyler, bestselling author of Light from Other Stars
Every family has issues. Most can't blame them on extraterrestrials.
Evie Shao and her sister, Kass, aren't on speaking terms. Fifteen years ago on a family camping trip, their father and brother vanished. Their dad turned up days later, dehydrated and confused—and convinced he'd been abducted by aliens. Their brother, Jakob, remained missing. The women dealt with it very differently. Kass, suspecting her college-dropout twin simply ran off, became the rock of the family. Evie traded academics to pursue alien conspiracy theories, always looking for Jakob.
When Evie's UFO network uncovers a new event, she goes to investigate. And discovers Jakob is back. He's different—older, stranger, and talking of an intergalactic war—but the tensions between the siblings haven't changed at all. If the family is going to come together to help Jakob, then Kass and Evie are going to have to fix their issues, and fast. Because the FBI is after Jakob, and if their brother is telling the truth, possibly an entire space armada, too.
The perfect combination of action, imagination and heart, Light Years from Home is a touching drama about a challenge as difficult as saving the galaxy: making peace with your family…and yourself.
Available on January 25, 2022:
Amazon | Barnes & Noble | Google Play | Kobo | Apple Books | Indiebound | Indigo | Audible | Goodreads
Her Last Goodbye by Rick Mofina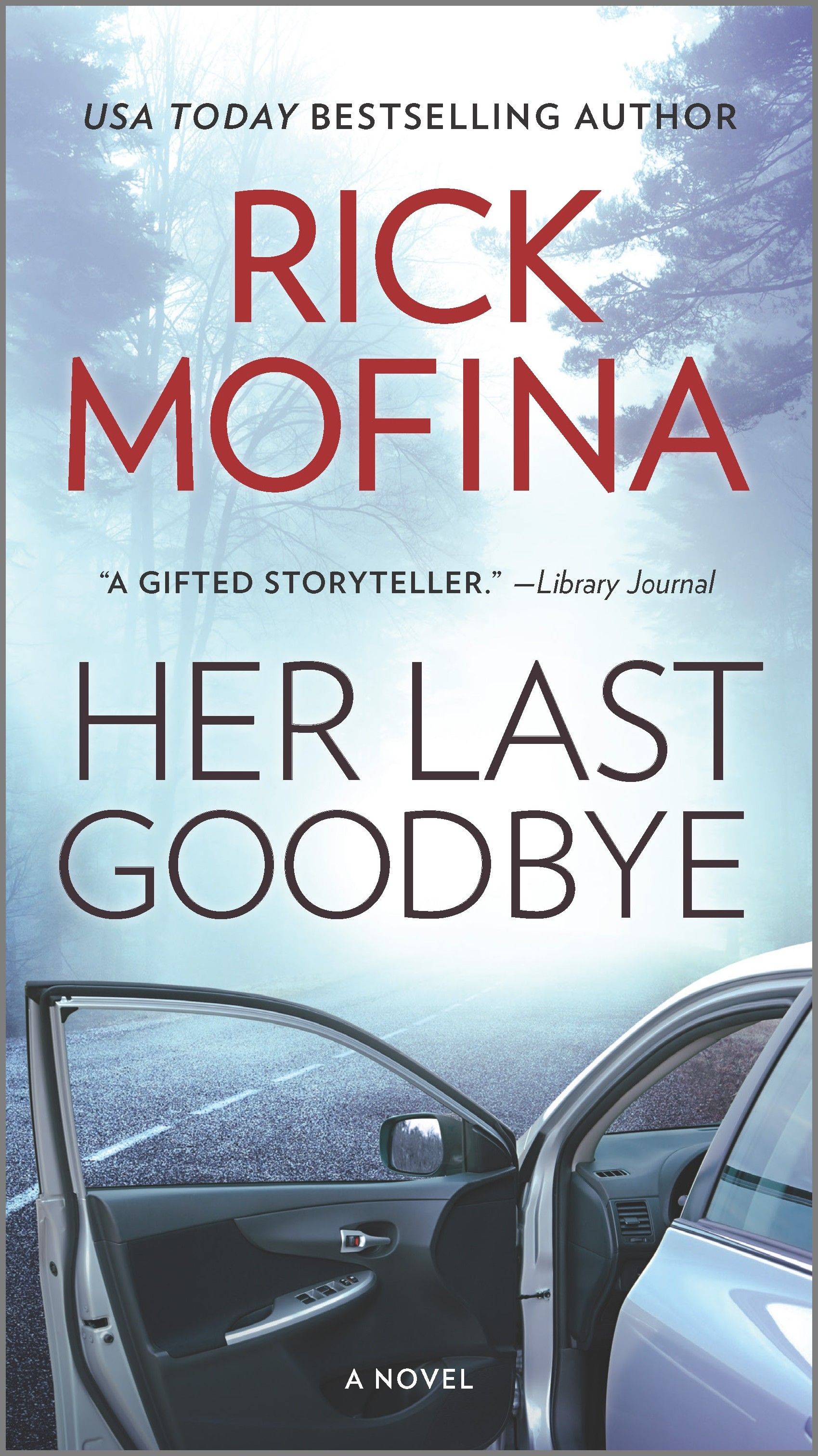 Family ties run deep. Family secrets run deeper.
Perfect wife. Doting mom. Jennifer Griffin was loved by everyone, including the women in her suburban-neighborhood book club. Their meetings sometimes went late, but Jenn always came home.
Until that night.
When Greg Griffin wakes to find his wife is not in bed, his blood runs cold. Her book club friends say Jenn left for home hours ago. But she's missing. Greg tells detectives their marriage is good, but his alibi is razor-thin. With their young son away at a sleepover, Greg had all night to commit a crime. And there are scrapes on his hands…
Investigators discover Jenn has troubling secrets, but she isn't the only one. With the threads of their picture-perfect life unraveling, Greg is forced to confront the lies that hold their marriage together—and a dark past that refuses to stay buried.
Available on January 25, 2022:
Amazon | Barnes & Noble | Google Play | Kobo | Apple Books | Indiebound | Indigo | Goodreads
The Broken Tower by Kelly Braffet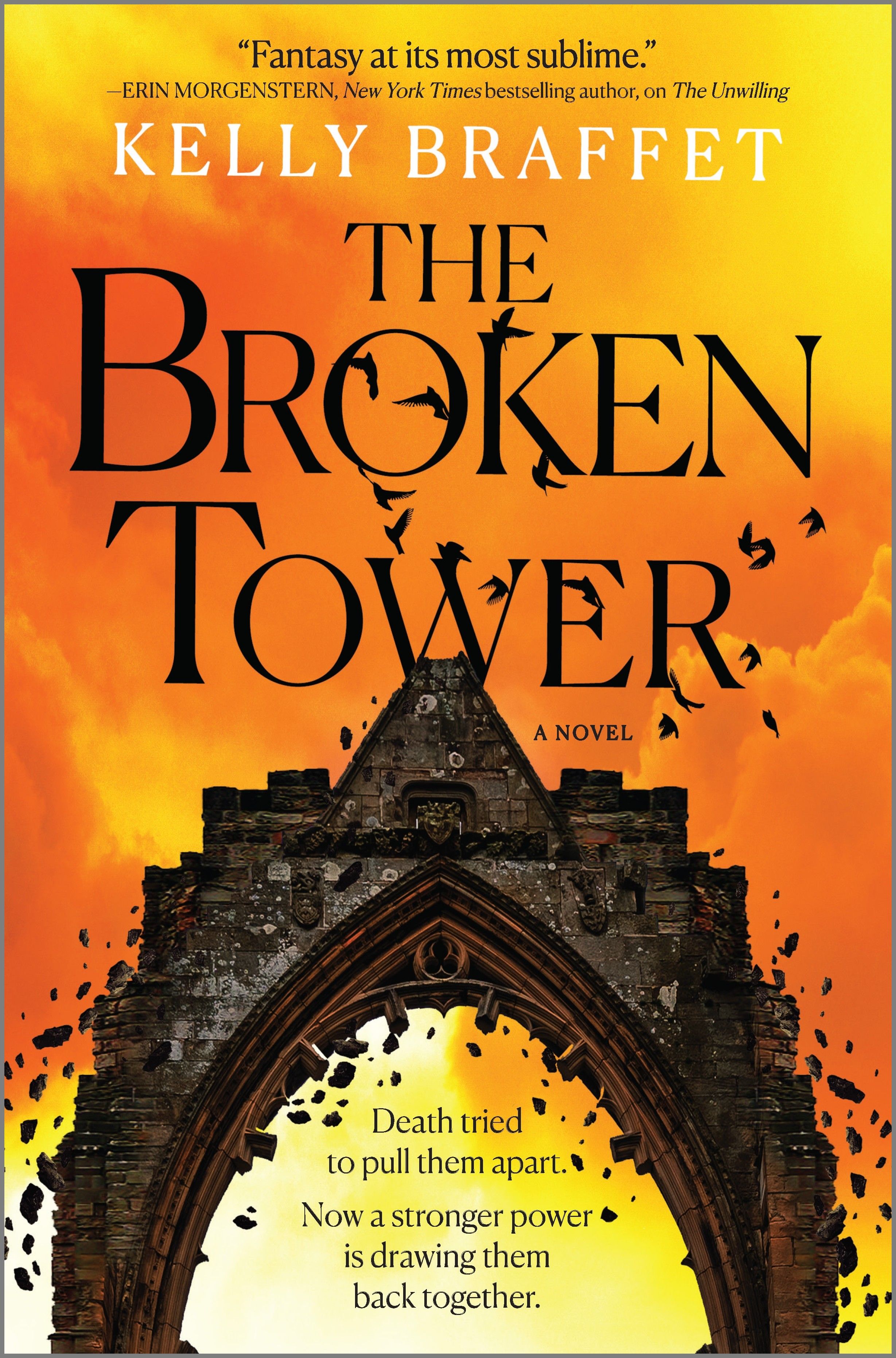 "Fantasy at its most sublime."–Erin Morgenstern, NYT bestselling author, on The Unwilling
"An essential addition to all epic-fantasy collections." –Booklist, STARRED Review
Deeply immersive, this penetrating tale of magic, faith and self-determination is the brilliant sequel to Kelly Braffet's The Unwilling
Judah the Foundling chose freedom over betrayal when she leaped from the top of the castle tower. Now she finds herself wandering an unknown forest, far from everything and everyone she loves. For the first time in her life, she's beyond the great Wall that surrounds Highfall castle; for the first time, she's alone. Away from the Seneschal, the power behind the throne; away from Nate Clare, the House Magus who was her teacher, friend, betrayer. Away from her foster brother, Gavin, with whom she has a mysterious bond that has kept them together—and kept her alive.
But Judah isn't free. Fiercely sought by those who believe she holds the key to unlocking the power trapped in the world, she must learn to navigate the dangers of an unfamiliar place. She knows that somewhere, Gavin is in peril. To save him, she not only must learn to use the new power she discovers inside herself, she must survive.
Available on January 25, 2022:
Amazon | Barnes & Noble | Google Play | Kobo | Apple Books | Indiebound | Indigo | Audible | Goodreads
Notes on an Execution by Danya Kukafka
In the tradition of Long Bright River and The Mars Room, a gripping and atmospheric work of literary suspense that deconstructs the story of a serial killer on death row, told primarily through the eyes of the women in his life—from the bestselling author of Girl in Snow.
Ansel Packer is scheduled to die in twelve hours. He knows what he's done, and now awaits execution, the same chilling fate he forced on those girls, years ago. But Ansel doesn't want to die; he wants to be celebrated, understood.
Through a kaleidoscope of women—a mother, a sister, a homicide detective—we learn the story of Ansel's life. We meet his mother, Lavender, a seventeen-year-old girl pushed to desperation; Hazel, twin sister to Ansel's wife, inseparable since birth, forced to watch helplessly as her sister's relationship threatens to devour them all; and finally, Saffy, the detective hot on his trail, who has devoted herself to bringing bad men to justice but struggles to see her own life clearly. As the clock ticks down, these three women sift through the choices that culminate in tragedy, exploring the rippling fissures that such destruction inevitably leaves in its wake.
Blending breathtaking suspense with astonishing empathy, Notes on an Execution presents a chilling portrait of womanhood as it simultaneously unravels the familiar narrative of the American serial killer, interrogating our system of justice and our cultural obsession with crime stories, asking readers to consider the false promise of looking for meaning in the psyches of violent men.
Available on January 25, 2022:
Amazon | Barnes & Noble | Google Play | Kobo | Apple Books | Indiebound | Indigo | Audible | Goodreads
Violeta by Isabel Allende
This sweeping novel from the New York Times bestselling author of A Long Petal of the Sea tells the epic story of Violeta Del Valle, a woman whose life spans one hundred years and bears witness to the greatest upheavals of the twentieth century.

Violeta comes into the world on a stormy day in 1920, the first girl in a family with five boisterous sons. From the start, her life is marked by extraordinary events, for the ripples of the Great War are still being felt, even as the Spanish flu arrives on the shores of her South American homeland almost at the moment of her birth.

Through her father's prescience, the family will come through that crisis unscathed, only to face a new one as the Great Depression transforms the genteel city life she has known. Her family loses everything and is forced to retreat to a wild and beautiful but remote part of the country. There, she will come of age, and her first suitor will come calling.

She tells her story in the form of a letter to someone she loves above all others, recounting times of devastating heartbreak and passionate affairs, poverty and wealth, terrible loss and immense joy. Her life is shaped by some of the most important events of history: the fight for women's rights, the rise and fall of tyrants, and ultimately not one, but two pandemics.

Through the eyes of a woman whose unforgettable passion, determination, and sense of humor carry her through a lifetime of upheaval, Isabel Allende once more brings us an epic that is both fiercely inspiring and deeply emotional.
Available on January 25, 2022:
Amazon | Barnes & Noble | Google Play | Kobo | Apple Books | Indiebound | Indigo | Audible | Goodreads
What books have made it onto your TBR this January? Share them in the comments.