Believe it or not: we're a quarter of the way through 2021 (yes!). If you've been slipping on your reading goals (I mean, face it, who isn't?), cut yourself some slack and browse these new releases to find your next great read. The Last Bookshop in London by Madeline Martin is sure to get a spot on any book lover's TBR list. Thriller fans are going to love Just My Luck by Adele Parks. And if you're in the mood for a feel-good romance, then Naima Simone's got you covered with The Road to Rose Bend.
The Last Bookshop in London by Madeline Martin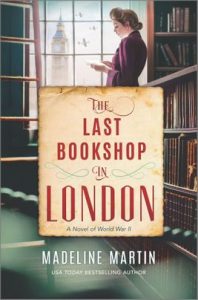 Inspired by the true World War II history of the few bookshops to survive the Blitz, The Last Bookshop in London is a timeless story of wartime loss, love and the enduring power of literature.
August 1939: London prepares for war as Hitler's forces sweep across Europe. Grace Bennett has always dreamed of moving to the city, but the bunkers and blackout curtains that she finds on her arrival were not what she expected. And she certainly never imagined she'd wind up working at Primrose Hill, a dusty old bookshop nestled in the heart of London.
Through blackouts and air raids as the Blitz intensifies, Grace discovers the power of storytelling to unite her community in ways she never dreamed—a force that triumphs over even the darkest nights of the war.
Available April 6:
Amazon | Barnes & Noble | Google Play | Kobo | Apple Books | Indiebound | Indigo | Audible | Goodreads
Just My Luck by Adele Parks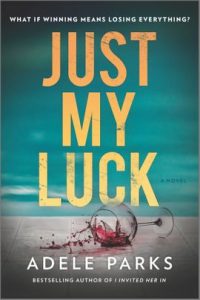 It was supposed to be the lottery win they'd always dreamed of…
For fifteen years, Lexi and Jake have played the same six numbers with their friends. Over drinks, dinner parties and summer barbecues, the three couples have discussed the important stuff—kids, marriages, careers—and they've laughed off their disappointment when they failed to win anything.
But then the unthinkable happens. There's a rift in the group. Someone is caught in a lie. And soon after, six numbers come up that change everything forever.
Lexi and Jake have a ticket worth millions. And their friends are determined to claim a share.
#1 Sunday Times bestselling author Adele Parks returns with a riveting look at the dark side of wealth in this gripping tale of friendship, money, betrayal and good luck gone bad…
Available April 6:
Amazon | Barnes & Noble | Google Play | Kobo | Apple Books | Indiebound | Indigo | Audible | Goodreads
The Last Exiles by Ann Shin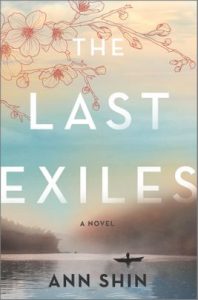 An unforgettable saga inspired by true events, The Last Exiles is a searing portrait of a young couple in Pyongyang and their fight for love and freedom
Jin and Suja met and fell in love while studying at university in Pyongyang. She was a young journalist from a prominent family, while he was from a small village of little means. Outside the school, North Korea has fallen under great political upheaval, plunged into chaos and famine. When Jin returns home to find his family starving, their food rations all but gone, he makes a rash decision that will haunt him for the rest of his life.
Meanwhile, miles away, Suja has begun to feel the tenuousness of her privilege when she learns that Jin has disappeared. Risking everything, and defying her family, Suja sets out to find him, embarking on a dangerous journey that leads her into a dark criminal underbelly and tests their love and will to survive.
In this vivid and moving story, award-winning filmmaker Ann Shin offers a rare glimpse at life inside the guarded walls of North Korea and the harrowing experiences of those who are daring enough to attempt escape. Inspired by real stories of incredible bravery, The Last Exiles is a stunning debut about love, sacrifice and the price of liberty.
Available April 6:
Amazon | Barnes & Noble | Google Play | Kobo | Apple Books | Indiebound | Indigo | Audible | Goodreads
The Bookstore on the Beach by Brenda Novak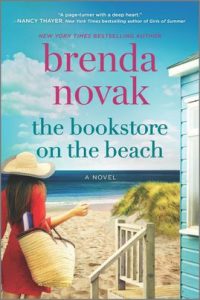 How do you start a new chapter of your life when you haven't closed the book on the previous one?
Eighteen months ago, Autumn Divac's husband went missing. Her desperate search has yielded no answers, and she can't imagine moving forward without him. But for the sake of their two teenage children, she has to try.
Autumn takes her kids home for the summer to the charming beachside town where she was raised. She seeks comfort working alongside her mother and aunt at their bookshop, only to learn that her daughter is facing a huge life change and her mother has been hiding a terrible secret for years. And when she runs into the boy who stole her heart in high school, old feelings start to bubble up again. Is she free to love him, or should she hold out hope for her husband's return? She can only trust her heart…and hope it won't lead her astray.
Available April 6:
Amazon | Barnes & Noble | Google Play | Kobo | Apple Books | Indiebound | Indigo | Audible | Goodreads
Summertime Guests by Wendy Francis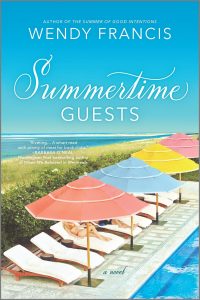 The Seafarer is the place to see and be seen in the summer…
With its rich history and famous guests, the glamorous Boston hotel is no stranger to drama. But the bustle at the iconic property reaches new heights one weekend in mid-June when someone falls tragically to her death, the event rippling through the lives of four very different people.
Bride-to-be Riley is at the hotel to plan her wedding. She would have preferred a smaller, more intimate celebration, but her bossy mother-in-law has taken charge and her fiancé hasn't seemed to notice. Jean-Paul, the hotel's manager, is struggling to keep his marriage and new family afloat, but now he must devote all his energy to this latest scandal at work. Claire, recently widowed, comes to town to connect with a long-lost love, but has too much changed in the last thirty years? And then there's Jason, whose romantic getaway with his girlfriend has not exactly gone the way he'd hoped and instead has him facing questions he can't bring himself to answer.
Over three sun-drenched days, as the truth about the woman who died—and the secret she was hiding—is uncovered, these four strangers become linked in the most unexpected of ways. Together, they just might find the strength they need to turn their own lives around.
Available April 6:
Amazon | Barnes & Noble | Google Play | Kobo | Apple Books | Indiebound | Indigo | Audible | Goodreads
Hype by Gabrielle Bluestone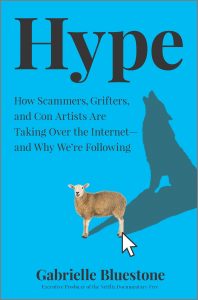 From former Vice journalist and executive producer of hit Netflix documentary Fyre comes an eye-opening look at the con artists, grifters and snake oil salesmen of the digital age—and why we can't stop falling for them.

We live in an age where scams are the new normal. A charismatic entrepreneur sells thousands of tickets to a festival that never happened. Respected investors pour millions into a start-up centered around fake blood tests. Reviewers and celebrities flock to London's top-rated restaurant that's little more than a backyard shed. These unsettling stories of today's viral grifters have risen to fame and hit the front-page headlines, yet the curious conundrum remains: Why do these scams happen?
Drawing from scientific research, marketing campaigns, and exclusive documents and interviews, former Vice reporter Gabrielle Bluestone delves into the irresistible hype that fuels our social media ecosystem, whether it's from the trusted influencers that peddled Fyre or the consumer reviews that sold Juicero. A cultural examination that is as revelatory as it is relevant, Hype pulls back the curtain on the manipulation game behind the never-ending scam season—and how we as consumers can stop getting played.
Available April 6:
Amazon | Barnes & Noble | Google Play | Kobo | Apple Books | Indiebound | Indigo | Audible | Goodreads
Good Company by Cynthia D'Aprix Sweeney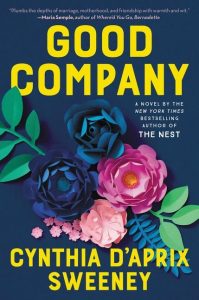 A warm, incisive new novel about the enduring bonds of marriage and friendship from Cynthia D'Aprix Sweeney, author of the instant New York Times bestseller The Nest

Flora Mancini has been happily married for more than twenty years. But everything she thought she knew about herself, her marriage, and her relationship with her best friend, Margot, is upended when she stumbles upon an envelope containing her husband's wedding ring—the one he claimed he lost one summer when their daughter, Ruby, was five.
Flora and Julian struggled for years, scraping together just enough acting work to raise Ruby in Manhattan and keep Julian's small theater company—Good Company—afloat. A move to Los Angeles brought their first real career successes, a chance to breathe easier, and a reunion with Margot, now a bona fide television star. But has their new life been built on lies? What happened that summer all those years ago? And what happens now?
With Cynthia D'Aprix Sweeney's signature tenderness, humor, and insight, Good Company tells a bighearted story of the lifelong relationships that both wound and heal us. 
Available April 6:
Amazon | Barnes & Noble | Google Play | Kobo | Apple Books | Indiebound | Indigo | Audible | Goodreads
Mother May I by Joshilyn Jackson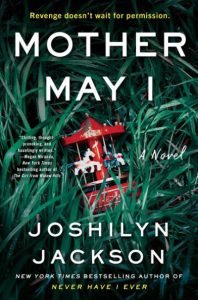 Revenge doesn't wait for permission.
Growing up poor in rural Georgia, Bree Cabbat was warned by her single mother that the world was a dark and scary place. Bree rejected her mother's fearful outlook, and life has proved her right. Having married into a family with wealth, power, and connections, Bree now has all a woman could ever dream of: a loving lawyer husband, two talented teenage daughters, a new baby boy, a gorgeous home, and every opportunity in the world.
Until the day she awakens and sees a witch peering into her bedroom window—an old gray-haired woman dressed all in black who vanishes as quickly as she appears. It must be a play of the early morning light or the remnant of a waking dream, Bree tells herself, shaking off the bad feeling that overcomes her.
Later that day though, she spies the old woman again, in the parking lot of her daugh­ters' private school . . . just minutes before Bree's infant son, asleep in his car seat only a few feet away, vanishes. It happened so quickly—Bree looked away only for a second. There is a note left in his place, warning her that she is being is being watched; if she wants her baby back, she must not call the police or deviate in any way from the instructions that will follow.
Available April 6:
Amazon | Barnes & Noble | Google Play | Kobo | Apple Books | Indiebound | Indigo | Audible | Goodreads
The Light of Days by Judy Batalion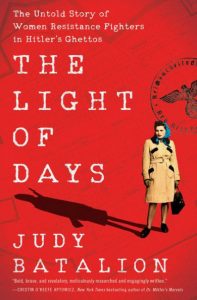 One of the most important stories of World War II, already optioned by Steven Spielberg for a major motion picture: a spectacular, searing history that brings to light the extraordinary accomplishments of brave Jewish women who became resistance fighters—a group of unknown heroes whose exploits have never been chronicled in full, until now.

Witnesses to the brutal murder of their families and neighbors and the violent destruction of their communities, a cadre of Jewish women in Poland—some still in their teens—helped transform the Jewish youth groups into resistance cells to fight the Nazis. With courage, guile, and nerves of steel, these "ghetto girls" paid off Gestapo guards, hid revolvers in loaves of bread and jars of marmalade, and helped build systems of underground bunkers. They flirted with German soldiers, bribed them with wine, whiskey, and home cooking, used their Aryan looks to seduce them, and shot and killed them. They bombed German train lines and blew up a town's water supply. They also nursed the sick and taught children.
Yet the exploits of these courageous resistance fighters have remained virtually unknown.
As propulsive and thrilling as Hidden Figures, In the Garden of Beasts, Band of Brothers, and A Train in Winter, The Light of Days at last tells the true story of these incredible women whose courageous yet little-known feats have been eclipsed by time. Judy Batalion—the granddaughter of Polish Holocaust survivors—takes us back to 1939 and introduces us to Renia Kukielka, a weapons smuggler and messenger who risked death traveling across occupied Poland on foot and by train. Joining Renia are other women who served as couriers, armed fighters, intelligence agents, and saboteurs, all who put their lives in mortal danger to carry out their missions. Batalion follows these women through the savage destruction of the ghettos, arrest and internment in Gestapo prisons and concentration camps, and for a lucky few—like Renia, who orchestrated her own audacious escape from a brutal Nazi jail—into the late 20th century and beyond.
Available April 6:
Amazon | Barnes & Noble | Google Play | Kobo | Apple Books | Indiebound | Indigo | Audible | Goodreads
Other People's Children by R.J. Hoffman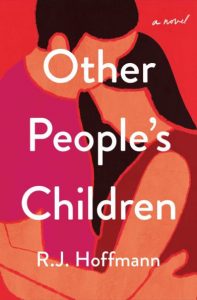 A riveting debut novel about a couple whose dream of adopting a baby is shattered when the teenage mother reclaims her child.
What makes a family?
Gail and Jon Durbin moved to the Chicago suburbs to set up house as soon as Gail got pregnant. But then she miscarried—once, twice, three times. Determined to expand their family, the Durbins turn to adoption. When several adoptions fall through, Gail's desire for a child overwhelms her.
Carli is a pregnant teenager from a blue-collar town nearby, with dreams of going to college and getting out of her mother's home. When she makes the gut-wrenching decision to give her baby up for adoption, she chooses the Durbins. But Carli's mother, Marla, has other plans for her grandbaby.
In Other People's Children, three mothers make excruciating choices to protect their families and their dreams—choices that put them at decided odds against one another. You will root for each one of them and wonder just how far you'd go in the same situation. This riveting debut is a thoughtful exploration of love and family, and a heart-pounding page-turner you'll find impossible to put down.
Available April 6:
Amazon | Barnes & Noble | Google Play | Kobo | Apple Books | Indiebound | Indigo | Audible | Goodreads
The Drowning Kind by Jennifer McMahon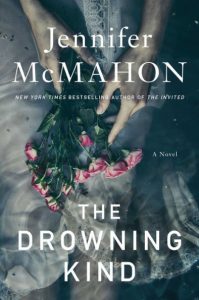 From the New York Times bestselling author of The Invited and The Winter People comes a chilling new novel about a woman who returns to the old family home after her sister mysteriously drowns in its swimming pool…but she's not the pool's only victim.
Be careful what you wish for.
When social worker Jax receives nine missed calls from her older sister, Lexie, she assumes that it's just another one of her sister's episodes. Manic and increasingly out of touch with reality, Lexie has pushed Jax away for over a year. But the next day, Lexie is dead: drowned in the pool at their grandmother's estate. When Jax arrives at the house to go through her sister's things, she learns that Lexie was researching the history of their family and the property. And as she dives deeper into the research herself, she discovers that the land holds a far darker past than she could have ever imagined.
In 1929, thirty-seven-year-old newlywed Ethel Monroe hopes desperately for a baby. In an effort to distract her, her husband whisks her away on a trip to Vermont, where a natural spring is showcased by the newest and most modern hotel in the Northeast. Once there, Ethel learns that the water is rumored to grant wishes, never suspecting that the spring takes in equal measure to what it gives.
Available April 6:
Amazon | Barnes & Noble | Google Play | Kobo | Apple Books | Indiebound | Indigo | Audible | Goodreads
Broken by Jenny Lawson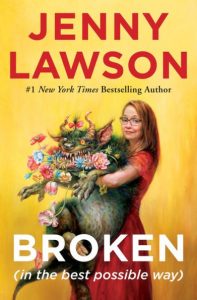 From the #1 New York Times bestselling author of Furiously Happy and Let's Pretend This Never Happened comes a deeply relatable book filled with humor and honesty about depression and anxiety.
As Jenny Lawson's hundreds of thousands of fans know, she suffers from depression. In Broken, Jenny brings readers along on her mental and physical health journey, offering heartbreaking and hilarious anecdotes along the way.
With people experiencing anxiety and depression now more than ever, Jenny humanizes what we all face in an all-too-real way, reassuring us that we're not alone and making us laugh while doing it. From the business ideas that she wants to pitch to Shark Tank to the reason why Jenny can never go back to the post office, Broken leaves nothing to the imagination in the most satisfying way. And of course, Jenny's long-suffering husband Victor—the Ricky to Jenny's Lucille Ball—is present throughout.
A treat for Jenny Lawson's already existing fans, and destined to convert new ones, Broken is a beacon of hope and a wellspring of laughter when we all need it most.
Available April 6:
Amazon | Barnes & Noble | Google Play | Kobo | Apple Books | Indiebound | Indigo | Audible | Goodreads
The Funny Thing About Norman Foreman by Julietta Henderson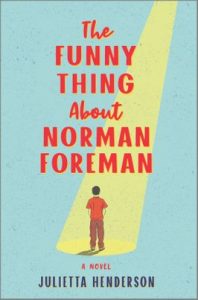 A triumphant and touching debut about the unlikeliest superstar you'll ever meet.
Twelve-year-old Norman Foreman and his best friend, Jax, are a legendary comedic duo in waiting, with a plan to take their act all the way to the Edinburgh Fringe. But when Jax dies, Norman decides the only fitting tribute is to perform at the festival himself. The problem is, Norman's not the funny one. Jax was.
There's also another, far more colossal objective on Norman's new plan that his single mom, Sadie, wasn't ready for: he wants to find the father he's never known. Determined to put a smile back on her boy's face, Sadie resolves to face up to her own messy past, get Norman to the Fringe and help track down a man whose identity is a mystery, even to her.
Julietta Henderson's delightfully funny and tender debut takes us on a road trip with a mother and son who will live in the reader's heart for a long time to come, and teaches us that—no matter the odds—we must always reach for the stars.
Available April 13:
Amazon | Barnes & Noble | Google Play | Kobo | Apple Books | Indiebound | Indigo | Audible | Goodreads
Just Get Home by Bridget Foley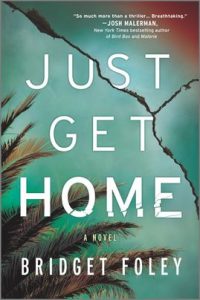 When a devastating earthquake—the Big One—hits Los Angeles, two strangers are brought together by an act of violence and must help each other survive the wrecked city.

Beegie is riding the bus when the quake hits. The teenager was heading back to her unhappy foster home, but then she's thrown into a broken world. Roads crumble, storefronts shatter and people run wild.
Dessa, a single mom, is enjoying a rare night out when it strikes. Cell towers are down, so without even knowing if her three-year-old daughter is dead or alive, she races to get back across town.
As danger escalates in the chaotic streets, Beegie and Dessa meet by a twist of fate. The two form a fragile partnership, relying on each other in ways they never thought possible, and learn who they really are when there's only one goal: just get home.
Available April 13:
Amazon | Barnes & Noble | Google Play | Kobo | Apple Books | Indiebound | Indigo | Audible | Goodreads
Second First Impressions by Sally Thorne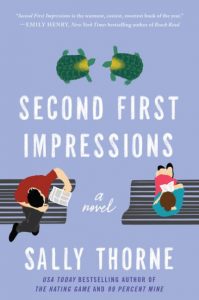 From the USA Today bestselling author of The Hating Game and 99 Percent Mine comes the clever, funny, and unforgettable story of a muscular, tattooed man hired as an assistant to two old women—under the watchful eye of a beautiful retirement home manager.
Dazzle (n): Brightness that blinds someone temporarily.
Position Vacant: Two ancient old women residing at Providence Retirement Villa seek male assistant for casual exploitation and good-natured humiliation. Duties include boutique shopping, fast-food fetching, and sincerely rendered flattery. Good looks a bonus—but we aren't picky.
An advertisement has been placed (again!) by the wealthy and eccentric Parloni Sisters. The salary is generous and the employers are 90 years old, so how hard could the job be? Well, none have lasted longer than a week. Most boys leave in tears.
Ruthie Midona will work in Providence's front office, and be at the Parloni's beck and call, forever. That's sort of her life plan. If Ruthie can run the place in her almost-retired bosses' absence, with no hijinks/hiccups, she has a shot at becoming the new manager. She might also be able to defend her safe little world from Prescott Development, the new buyer of the prime site. Maybe after all that, she can find a cute guy to date. All she needs to do is stay serious—and that's what she does best.
Until, one day, someone dazzling blows in to town.
Teddy Prescott devotes his life to sleeping, tattooing, and avoiding seriousness. When Teddy needs a place to crash, he makes a deal with his developer dad. Teddy can stay in one of Providence's on-site maintenance cottages—right next door to an unimpressed Ruthie—but only if he works there and starts to grow up.
Ruthie knows how this sweetly selfish rich boy can earn his keep—and be out of her hair in under a week. After all, there is a position vacant…
Available April 13:
Amazon | Barnes & Noble | Google Play | Kobo | Apple Books | Indiebound | Indigo | Audible | Goodreads
When the Stars Go Dark by Paula McLain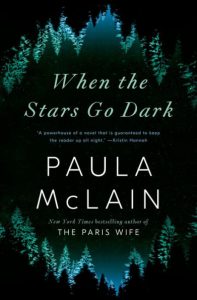 From the New York Times bestselling author of The Paris Wife comes an atmospheric novel of intertwined destinies and heart-wrenching suspense: A detective hiding away from the world. A series of disappearances that reach into her past. Can solving them help her heal?
Anna Hart is a seasoned missing persons detective in San Francisco with far too much knowledge of the darkest side of human nature. When tragedy strikes her personal life, Anna, desperate and numb, flees to the Northern California village of Mendocino to grieve. She lived there as a child with her beloved foster parents, and now she believes it might be the only place left for her. Yet the day she arrives, she learns that a local teenage girl has gone missing.
The crime feels frighteningly reminiscent of the most crucial time in Anna's childhood, when the unsolved murder of a young girl touched Mendocino and changed the community forever. As past and present collide, Anna realizes that she has been led to this moment. The most difficult lessons of her life have given her insight into how victims come into contact with violent predators. As Anna becomes obsessed with saving the missing girl, she must accept that true courage means getting out of her own way and learning to let others in.
Weaving together actual cases of missing persons, trauma theory, and a hint of the metaphysical, this propulsive and deeply affecting novel tells a story of fate, necessary redemption, and what it takes, when the worst happens, to reclaim our lives—and our faith in one another.
Available April 13:
Amazon | Barnes & Noble | Google Play | Kobo | Apple Books | Indiebound | Indigo | Audible | Goodreads
The Good Sister by Sally Hepworth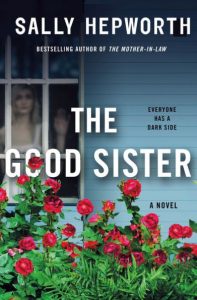 Sally Hepworth, the author of The Mother-In-Law delivers a knock-out of a novel about the lies that bind two sisters in The Good Sister.
There's only been one time that Rose couldn't stop me from doing the wrong thing and that was a mistake that will haunt me for the rest of my life.
Fern Castle works in her local library. She has dinner with her twin sister Rose three nights a week. And she avoids crowds, bright lights and loud noises as much as possible. Fern has a carefully structured life and disrupting her routine can be…dangerous.
When Rose discovers that she cannot get pregnant, Fern sees her chance to pay her sister back for everything Rose has done for her. Fern can have a baby for Rose. She just needs to find a father. Simple.
Fern's mission will shake the foundations of the life she has carefully built for herself and stir up dark secrets from the past, in this quirky, rich and shocking story of unexpected love.
Available April 13:
Amazon | Barnes & Noble | Google Play | Kobo | Apple Books | Indiebound | Indigo | Audible | Goodreads
The Road to Rose Bend by Naima Simone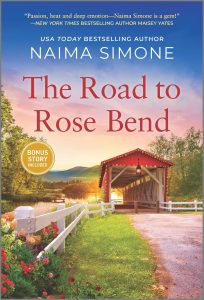 If it was only about her, she might never have come back to Rose Bend.

But it's not only about her anymore.
Sydney Collins left the small Berkshires town of Rose Bend eight years ago, grieving her sister's death—and heartbroken over her parents' rejection. But now the rebel is back—newly divorced and pregnant—ready to face her fears and make a home for her child in the caring community she once knew. The last thing she needs is trouble. But trouble just set her body on fire with one hot, hot smile.
Widower and Rose Bend mayor Coltrane Dennison hasn't smiled in ages. Until a chance run-in with Sydney Collins, who's all grown-up and making him want what he knows he can't have. Grief is his only connection to the wife and son he lost, and he won't give it up. Not for Sydney, not for her child, not for his heart. But when Sydney's ex threatens to upend everything she's rebuilt in Rose Bend, Cole and Sydney may find that a little trouble will take them where they never expected to go.
Rose Bend

Book 1: The Road to Rose Bend
Available April 27:
Amazon | Barnes & Noble | Google Play | Kobo | Apple Books | Indiebound | Indigo | Audible | Goodreads
Sunset on Moonlight Beach by Sheila Roberts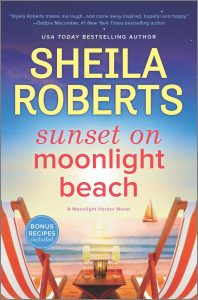 From USA TODAY bestselling author Sheila Roberts comes a sweetly poignant new novel in her irresistible Moonlight Harbor series.
Jenna Jones has been standing on the shore of the Sea of Love for too long. Even with two good men interested in her, she's been afraid to wade in. According to her best friend, Courtney, she should. The water's fine. Life is great! Practically perfect, if you don't count Courtney's problems with her cranky ex-boss. Maybe Courtney's right. It's time to dive in.
When tragedy strikes, everything changes and Jenna's more confused than ever. But this fresh heartache might help her figure out at last who she can turn to when times get tough.
Full of warmth and humor, Sunset on Moonlight Beach proves that every ending can be the beginning of a beautiful new story.
Available April 27:
Amazon | Barnes & Noble | Google Play | Kobo | Apple Books | Indiebound | Indigo | Audible | Goodreads
Meet Me in Another Life by Catriona Silvey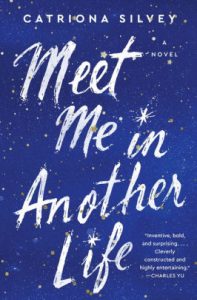 A powerful and poignant speculative love story about a man and woman whose paths continue to cross in different lifetimes—a thrilling and imaginative exploration of what truly defines us and how our choices can change everything, perfect for fans of The Time Traveler's Wife and Life After Life.
Two people. Infinite lifetimes. One impossible choice.
Thora and Santi are strangers in a foreign city when a chance encounter intertwines their fates. At once, they recognize in each other a kindred spirit—someone who shares their insatiable curiosity, who is longing for more in life than the cards they've been dealt. Only days later, though, a tragic accident cuts their story short.
But this is only one of the many connections they share. Like satellites trapped in orbit around each other, Thora and Santi are destined to meet again: as a teacher and brilliant student; a caretaker and dying patient; a cynic and believer. In numerous lives they become friends, colleagues, lovers, and enemies. As blurred memories and strange patterns compound, Thora and Santi come to a shocking revelation—they must discover the truth of their mysterious attachment before their many lives come to one, final end.
By turns joyful, devastating, and quietly profound, Meet Me in Another Life is a spectacularly compelling page-turner filled with astonishing twists that affirms the power of love to connect us beyond time and space.
Available April 27:
Amazon | Barnes & Noble | Google Play | Kobo | Apple Books | Indiebound | Indigo | Audible | Goodreads
Dial A for Aunties by Jesse Q. Sutanto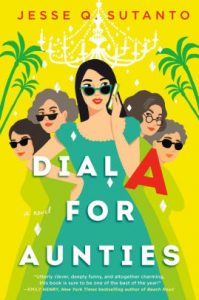 What happens when you mix 1 (accidental) murder with 2 thousand wedding guests, and then toss in a possible curse on 3 generations of an immigrant Chinese-Indonesian family?
You get 4 meddling Asian aunties coming to the rescue!

When Meddelin Chan ends up accidentally killing her blind date, her meddlesome mother calls for her even more meddlesome aunties to help get rid of the body. Unfortunately, a dead body proves to be a lot more challenging to dispose of than one might anticipate, especially when it is inadvertently shipped in a cake cooler to the over-the-top billionaire wedding Meddy, her Ma, and aunties are working at an island resort on the California coastline. It's the biggest job yet for the family wedding business—"Don't leave your big day to chance, leave it to the Chans!"—and nothing, not even an unsavory corpse, will get in the way of her auntie's perfect buttercream flowers.
But things go from inconvenient to downright torturous when Meddy's great college love—and biggest heartbreak—makes a surprise appearance amid the wedding chaos. Is it possible to escape murder charges, charm her ex back into her life, and pull off a stunning wedding all in one weekend?
Available April 27:
Amazon | Barnes & Noble | Google Play | Kobo | Apple Books | Indiebound | Indigo | Audible | Goodreads
What books are you most excited for this April?