April showers bring May flowers…and these new releases! Dive into must-read historical fiction by Pam Jenoff, thrilling suspense by Mary Kubica and Hannah Mary McKinnon, and women's contemporary fiction from the likes of Susan Mallery, Viola Shipman, Sarah Morgan, and more. Throw in a couple of highly anticipated debuts from Kate Bromley, Damhnait Monaghan and Lara Bazelon and we know your reading list is going to be PACKED this month!
The Woman with the Blue Star by Pam Jenoff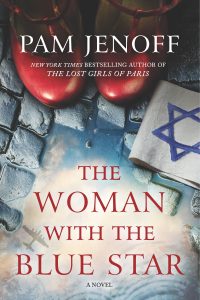 From the New York Times bestselling author of The Lost Girls of Paris comes a riveting tale of unfathomable sacrifice and unlikely friendship during World War II.

1942. Sadie Gault is eighteen and living with her parents amid the horrors of the Kraków Ghetto during World War II. When the Nazis liquidate the ghetto, Sadie and her pregnant mother are forced to seek refuge in the perilous sewers beneath the city. One day Sadie looks up through a grate and sees a girl about her own age buying flowers.
Ella Stepanek is an affluent Polish girl living a life of relative ease with her stepmother, who has developed close alliances with the occupying Germans. Scorned by her friends and longing for her fiancé, who has gone off to war, Ella wanders Kraków restlessly. While on an errand in the market, she catches a glimpse of something moving beneath a grate in the street. Upon closer inspection, she realizes it's a girl hiding.
Ella begins to aid Sadie and the two become close, but as the dangers of the war worsen, their lives are set on a collision course that will test them in the face of overwhelming odds. Inspired by harrowing true stories, The Woman with the Blue Star is an emotional testament to the power of friendship and the extraordinary strength of the human will to survive.
Available May 4:
Amazon | Barnes & Noble | Google Play | Kobo | Apple Books | Indiebound | Indigo | Audible | Goodreads
Confessions from the Quilting Circle by Maisey Yates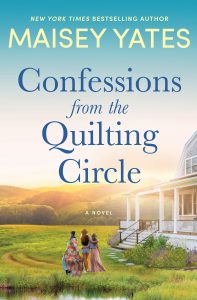 The Ashwood women don't have much in common…except their ability to keep secrets.
When Lark Ashwood's beloved grandmother dies, she and her sisters discover an unfinished quilt. Finishing it could be the reason Lark's been looking for to stop running from the past, but is she ever going to be brave enough to share her biggest secret with the people she ought to be closest to?
Hannah can't believe she's back in Bear Creek, the tiny town she sacrificed everything to escape from. The plan? Help her sisters renovate her grandmother's house and leave as fast as humanly possible. Until she comes face-to-face with a man from her past. But getting close to him again might mean confessing what really drove her away…
Stay-at-home mom Avery has built a perfect life, but at a cost. She'll need all her family around her, and all her strength, to decide if the price of perfection is one she can afford to keep paying.
This summer, the Ashwood women must lean on each other like never before, if they are to stitch their family back together, one truth at a time…
Available May 4:
Amazon | Barnes & Noble | Google Play | Kobo | Apple Books | Indiebound | Indigo | Audible | Goodreads
The Forgotten Orphan by Glynis Peters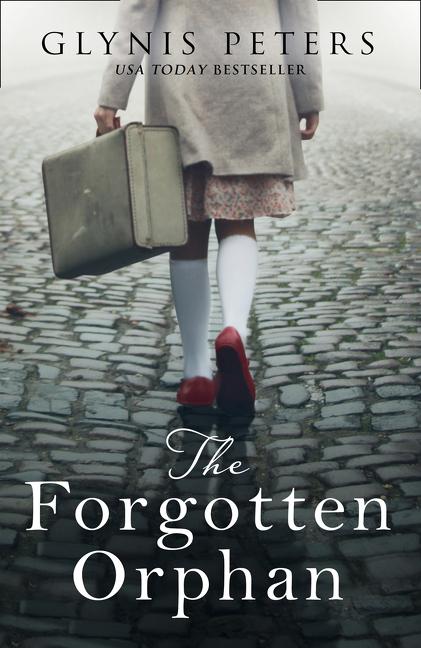 From the internationally bestselling author of The Secret Orphan
A world at war
A secret from her past
A chance to be together…
A moving and compelling historical novel about love, second chances and resilience in the darkest of times.
Southampton 1940
Abandoned when she was tiny, Maisie Reynolds was separated from her twin brother and forced to grow up in Holly Bush orphanage – a place where she has never known love or kindness.
But with the world at war and Hitler's devastating bombs coming ever closer, fate has other plans for Maisie and a secret from her past changes everything.
When she meets handsome Canadian paratrooper, Cam, Maisie learns that love might not be lost to her after all – but not before her past life and D Day bring a tragic twist to her happiness.
Available May 4:
Amazon | Barnes & Noble | Google Play | Kobo | Apple Books | Indiebound | Indigo | Audible | Goodreads
The Newcomer by Mary Kay Andrews
Mary Kay Andrews, the New York Times bestselling author and Queen of the Beach Reads delivers her next page-turner for the summer with The Newcomer.
In trouble and on the run…
After she discovers her sister Tanya dead on the floor of her fashionable New York City townhouse, Letty Carnahan is certain she knows who did it: Tanya's ex; sleazy real estate entrepreneur Evan Wingfield. Even in the grip of grief and panic Letty heeds her late sister's warnings: "If anything bad happens to me—it's Evan. Promise me you'll take Maya and run. Promise me." So Letty grabs her sister's Mercedes and hits the road . . .
With a trunkful of emotional baggage…
and her wailing four-year-old niece Maya. Letty is determined to out-run Evan and the law, but run to where? Tanya, a woman with a past shrouded in secrets, left behind a "go-bag" of cash and a big honking diamond ring—but only one clue: a faded magazine story about a sleepy mom-and-pop motel in a Florida beach town with the improbable name of Treasure Island. She sheds her old life and checks into an uncertain future at The Murmuring Surf Motel.
The No Vacancy sign is flashing & the sharks are circling…
And that's the good news. Because The Surf, as the regulars call it, is the winter home of a close-knit flock of retirees and snowbirds who regard this odd-duck newcomer with suspicion and down-right hostility. As Letty settles into the motel's former storage room, she tries to heal Maya's heartache and unravel the key to her sister's shady past, all while dodging the attention of the owner's dangerously attractive son Joe, who just happens to be a local police detective. Can Letty find romance as well as a room at the inn—or will Joe betray her secrets and put her behind bars? With danger closing in, it's a race to find the truth and right the wrongs of the past.
Available May 4:
Amazon | Barnes & Noble | Google Play | Kobo | Apple Books | Indiebound | Indigo | Audible | Goodreads
Ariadne by Jennifer Saint
A mesmerizing debut novel for fans of Madeline Miller's Circe.
Ariadne, Princess of Crete, grows up greeting the dawn from her beautiful dancing floor and listening to her nursemaid's stories of gods and heroes. But beneath her golden palace echo the ever-present hoofbeats of her brother, the Minotaur, a monster who demands blood sacrifice.
When Theseus, Prince of Athens, arrives to vanquish the beast, Ariadne sees in his green eyes not a threat but an escape. Defying the gods, betraying her family and country, and risking everything for love, Ariadne helps Theseus kill the Minotaur. But will Ariadne's decision ensure her happy ending? And what of Phaedra, the beloved younger sister she leaves behind?
Hypnotic, propulsive, and utterly transporting, Jennifer Saint's Ariadne forges a new epic, one that puts the forgotten women of Greek mythology back at the heart of the story, as they strive for a better world.
Available May 4:
Amazon | Barnes & Noble | Google Play | Kobo | Apple Books | Indiebound | Indigo | Audible | Goodreads
Project Hail Mary by Andy Weir
A lone astronaut must save the earth from disaster in this incredible new science-based thriller from the #1 New York Times bestselling author of The Martian.
Ryland Grace is the sole survivor on a desperate, last-chance mission—and if he fails, humanity and the earth itself will perish.

Except that right now, he doesn't know that. He can't even remember his own name, let alone the nature of his assignment or how to complete it.

All he knows is that he's been asleep for a very, very long time. And he's just been awakened to find himself millions of miles from home, with nothing but two corpses for company.

His crewmates dead, his memories fuzzily returning, Ryland realizes that an impossible task now confronts him. Hurtling through space on this tiny ship, it's up to him to puzzle out an impossible scientific mystery—and conquer an extinction-level threat to our species.

And with the clock ticking down and the nearest human being light-years away, he's got to do it all alone.

Or does he?

An irresistible interstellar adventure as only Andy Weir could deliver, Project Hail Mary is a tale of discovery, speculation, and survival to rival The Martian—while taking us to places it never dreamed of going.
Available May 4:
Amazon | Barnes & Noble | Google Play | Kobo | Apple Books | Indiebound | Indigo | Audible | Goodreads
Hour of the Witch by Chris Bohjalian
A young Puritan woman–faithful, resourceful, but afraid of the demons that dog her soul–plots her escape from a violent marriage in this riveting and propulsive novel of historical suspense from the #1 New York Times bestselling author of The Flight Attendant.

Boston, 1662. Mary Deerfield is twenty-four-years-old. Her skin is porcelain, her eyes delft blue, and in England she might have had many suitors. But here in the New World, amid this community of saints, Mary is the second wife of Thomas Deerfield, a man as cruel as he is powerful. When Thomas, prone to drunken rage, drives a three-tined fork into the back of Mary's hand, she resolves that she must divorce him to save her life. But in a world where every neighbor is watching for signs of the devil, a woman like Mary–a woman who harbors secret desires and finds it difficult to tolerate the brazen hypocrisy of so many men in the colony–soon becomes herself the object of suspicion and rumor. When tainted objects are discovered buried in Mary's garden, when a boy she has treated with herbs and simples dies, and when their servant girl runs screaming in fright from her home, Mary must fight to not only escape her marriage, but also the gallows. A twisting, tightly plotted novel of historical suspense from one of our greatest storytellers, Hour of the Witch is a timely and terrifying story of socially sanctioned brutality and the original American witch hunt.
Available May 4:
Amazon | Barnes & Noble | Google Play | Kobo | Apple Books | Indiebound | Indigo | Audible | Goodreads
The Last Thing He Told Me by Laura Dave
A gripping mystery about a woman who thinks she's found the love of her life—until he disappears.
Before Owen Michaels disappears, he smuggles a note to his beloved wife of one year: Protect her. Despite her confusion and fear, Hannah Hall knows exactly to whom the note refers—Owen's sixteen-year-old daughter, Bailey. Bailey, who lost her mother tragically as a child. Bailey, who wants absolutely nothing to do with her new stepmother.
As Hannah's increasingly desperate calls to Owen go unanswered, as the FBI arrests Owen's boss, as a US marshal and federal agents arrive at her Sausalito home unannounced, Hannah quickly realizes her husband isn't who he said he was. And that Bailey just may hold the key to figuring out Owen's true identity—and why he really disappeared.
Hannah and Bailey set out to discover the truth. But as they start putting together the pieces of Owen's past, they soon realize they're also building a new future—one neither of them could have anticipated.
With its breakneck pacing, dizzying plot twists, and evocative family drama, The Last Thing He Told Me is a riveting mystery, certain to shock you with its final, heartbreaking turn.
Available May 4:
Amazon | Barnes & Noble | Google Play | Kobo | Apple Books | Indiebound | Indigo | Audible | Goodreads
Six Weeks to Live by Catherine McKenzie
A gripping psychological suspense novel about a woman diagnosed with cancer who sets out to discover if someone poisoned her before her time is up, from the bestselling author of the "addictive and fast-paced" (Mary Kubica, New York Times bestselling author) thriller You Can't Catch Me.
Jennifer Barnes never expected the shocking news she received at a routine doctor's appointment: she has a terminal brain tumor—and only six weeks left to live.
While stunned by the diagnosis, the forty-eight-year-old mother decides to spend what little time she has left with her family—her adult triplets and twin grandsons—close by her side. But when she realizes she was possibly poisoned a year earlier, she's determined to discover who might have tried to get rid of her before she's gone for good.
Separated from her husband and with a contentious divorce in progress, Jennifer focuses her suspicions on her soon-to-be ex. Meanwhile, her daughters are each processing the news differently. Calm medical student Emily is there for whatever Jennifer needs. Moody scientist Aline, who keeps her mother at arm's length, nonetheless agrees to help with the investigation. Even imprudent Miranda, who has recently had to move back home, is being unusually solicitous.
But with her daughters doubting her campaign against their father, Jennifer can't help but wonder if the poisoning is all in her head—or if there's someone else who wanted her dead.
Available May 4:
Amazon | Barnes & Noble | Google Play | Kobo | Apple Books | Indiebound | Indigo | Audible | Goodreads
A Good Mother by Lara Bazelon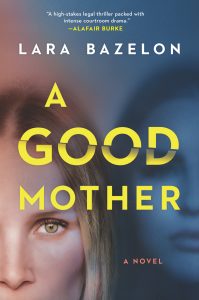 A high-stakes legal thriller packed with intense courtroom drama." -Alafair Burke
A gripping debut thriller about two young mothers, one shocking murder and a court case that puts them both on trial.
When a soldier is found stabbed through the heart at a US Army base, there is no doubt that his wife, Luz, is to blame. But was it an act of self-defense? An attempt to save her infant daughter? Or the cold-blooded murder of an innocent man?
Ambitious public defender Abby is determined to win at all costs. As a new mother herself, she wants to keep Luz out of prison and with her daughter. But when the surprises stack up and shocking new evidence emerges, Abby realizes the task proves far more difficult than she suspected and will require a terrible sacrifice.
As the trial hurtles toward an outcome no one expects, Abby, Luz and a captivated jury are forced to answer the question that will decide everything—what does it mean to be a good mother?
Available May 11:
Amazon | Barnes & Noble | Google Play | Kobo | Apple Books | Indiebound | Indigo | Audible | Goodreads
New Girl in Little Cove by Damhnait Monaghan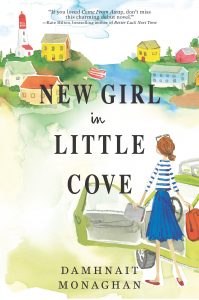 "If you loved Come From Away, don't miss this charming debut novel."—Kate Hilton, bestselling author of Better Luck Next Time
After the local French teacher scandalizes the fishing village of Little Cove, Newfoundland, by running off with a priest, the school looks to the mainland to fill the job quickly. They want someone who can uphold their Catholic values and keep a motley group of largely unwilling students in line.
The position is filled by mainlander Rachel O'Brien—technically a Catholic (baptized!), technically a teacher (honors degree!)—who's desperate to leave her current mess of a life behind. She isn't surprised that her students don't see the value of learning French. But she is surprised that she can barely understand their English… Is it a compliment or insult to be called a sleeveen? (Insult.) And the anonymous notes left on her car, telling her to go home, certainly don't help to make her feel welcome.
Still, she is quickly drawn into the island's traditional music and culture, and into the personal lives of her crusty but softhearted landlady, Lucille, her reluctant students and her fellow teacher Doug Bishop. But when her beliefs clash with church and community, she makes a decision that throws her career into jeopardy. In trying to help a student, has she gone too far?
Full of warmth, humor, romance and the quirkiest community of characters… Get ready to be charmed by this impossibly delightful debut, perfect for fans of Kristan Higgins and Susan Elizabeth Phillips.
Available May 11:
Amazon | Barnes & Noble | Google Play | Kobo | Apple Books | Indiebound | Indigo | Audible | Goodreads
Mary Jane by Jessica Anya Blau
Almost Famous meets Daisy Jones and the Six in this funny, wise, and tender novel about a fourteen-year-old girl's coming of age in 1970s Baltimore, caught between her straight-laced family and the progressive family she nannies for—who happen to be secretly hiding a famous rock star and his movie star wife for the summer.
In 1970s Baltimore, fourteen-year-old Mary Jane loves cooking with her mother, singing in her church choir, and enjoying her family's subscription to the Broadway Showtunes of the Month record club. Shy, quiet, and bookish, she's glad when she lands a summer job as a nanny for the daughter of a local doctor. A respectable job, Mary Jane's mother says. In a respectable house.
The house may look respectable on the outside, but inside it's a literal and figurative mess: clutter on every surface, Impeachment: Now More Than Ever bumper stickers on the doors, cereal and takeout for dinner. And even more troublesome (were Mary Jane's mother to know, which she does not): the doctor is a psychiatrist who has cleared his summer for one important job—helping a famous rock star dry out. A week after Mary Jane starts, the rock star and his movie star wife move in.
Over the course of the summer, Mary Jane introduces her new household to crisply ironed clothes and a family dinner schedule, and has a front-row seat to a liberal world of sex, drugs, and rock and roll (not to mention group therapy). Caught between the lifestyle she's always known and the future she's only just realized is possible, Mary Jane will arrive at September with a new idea about what she wants out of life, and what kind of person she's going to be.
Available May 11:
Amazon | Barnes & Noble | Google Play | Kobo | Apple Books | Indiebound | Indigo | Audible | Goodreads
How Lucky by Will Leitch
For readers of The Curious Incident of the Dog in the Night-Time and Nothing to See Here, a first novel as suspenseful and funny as it is moving, the unforgettable story of a fiercely resilient young man grappling with a physical disability, and his efforts to solve a mystery unfolding right outside his door.
Daniel leads a rich life in the university town of Athens, Georgia. He's got a couple close friends, a steady paycheck working for a regional airline, and of course, for a few glorious days each Fall, college football tailgates. He considers himself to be a mostly lucky guy—despite the fact that he's suffered from a debilitating disease since he was a small child, one that has left him unable to speak or to move without a wheelchair.
Largely confined to his home, Daniel spends the hours he's not online communicating with irate air travelers observing his neighborhood from his front porch. One young woman passes by so frequently that spotting her out the window has almost become part of his daily routine. Until the day he's almost sure he sees her being kidnapped…
Available May 11:
Amazon | Barnes & Noble | Google Play | Kobo | Apple Books | Indiebound | Indigo | Audible | Goodreads
People We Meet on Vacation by Emily Henry
Two best friends. Ten summer trips. One last chance to fall in love.

From the New York Times bestselling author of Beach Read, a sparkling new novel that will leave you with the warm, hazy afterglow usually reserved for the best vacations.

Poppy and Alex. Alex and Poppy. They have nothing in common. She's a wild child; he wears khakis. She has insatiable wanderlust; he prefers to stay home with a book. And somehow, ever since a fateful car share home from college many years ago, they are the very best of friends. For most of the year they live far apart—she's in New York City, and he's in their small hometown—but every summer, for a decade, they have taken one glorious week of vacation together.

Until two years ago, when they ruined everything. They haven't spoken since.

Poppy has everything she should want, but she's stuck in a rut. When someone asks when she was last truly happy, she knows, without a doubt, it was on that ill-fated, final trip with Alex. And so, she decides to convince her best friend to take one more vacation together—lay everything on the table, make it all right. Miraculously, he agrees.

Now she has a week to fix everything. If only she can get around the one big truth that has always stood quietly in the middle of their seemingly perfect relationship. What could possibly go wrong?
Available May 11:
Amazon | Barnes & Noble | Google Play | Kobo | Apple Books | Indiebound | Indigo | Audible | Goodreads
That Summer by Jennifer Weiner
From the #1 New York Times bestselling author of Big Summer comes another timely and deliciously twisty novel of intrigue, secrets, and the transformative power of female friendship.
Daisy Shoemaker can't sleep. With a thriving cooking business, full schedule of volunteer work, and a beautiful home in the Philadelphia suburbs, she should be content. But her teenage daughter can be a handful, her husband can be distant, her work can feel trivial, and she has lots of acquaintances, but no real friends. Still, Daisy knows she's got it good. So why is she up all night?
While Daisy tries to identify the root of her dissatisfaction, she's also receiving misdirected emails meant for a woman named Diana Starling, whose email address is just one punctuation mark away from her own. While Daisy's driving carpools, Diana is chairing meetings. While Daisy's making dinner, Diana's making plans to reorganize corporations. Diana's glamorous, sophisticated, single-lady life is miles away from Daisy's simpler existence. When an apology leads to an invitation, the two women meet and become friends. But, as they get closer, we learn that their connection was not completely accidental. Who IS this other woman, and what does she want with Daisy?
From the manicured Main Line of Philadelphia to the wild landscape of the Outer Cape, written with Jennifer Weiner's signature wit and sharp observations, That Summer is a story about surviving our pasts, confronting our futures, and the sustaining bonds of friendship.
Available May 11:
Amazon | Barnes & Noble | Google Play | Kobo | Apple Books | Indiebound | Indigo | Audible | Goodreads
Local Woman Missing by Mary Kubica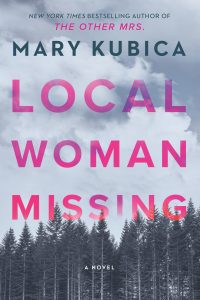 People don't just disappear without a trace…

Shelby Tebow is the first to go missing. Not long after, Meredith Dickey and her six-year-old daughter, Delilah, vanish just blocks away from where Shelby was last seen, striking fear into their once-peaceful community. Are these incidents connected? After an elusive search that yields more questions than answers, the case eventually goes cold.
Now, eleven years later, Delilah shockingly returns. Everyone wants to know what happened to her, but no one is prepared for what they'll find…
In this smart and chilling thriller, master of suspense and New York Times bestselling author Mary Kubica takes domestic secrets to a whole new level, showing that some people will stop at nothing to keep the truth buried.
Available May 18:
Amazon | Barnes & Noble | Google Play | Kobo | Apple Books | Indiebound | Indigo | Audible | Goodreads
The Clover Girls by Viola Shipman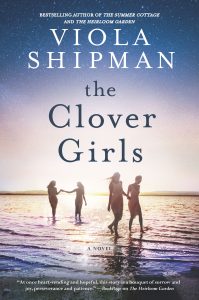 Elizabeth, Veronica, Rachel and Emily met at Camp Birchwood as girls in 1985, where over four summers they were the Clover Girls—inseparable for those magical few weeks of freedom—until the last summer that pulled them apart. Now approaching middle age, the women are facing challenges they never imagined as teens, struggles with their marriages, their children, their careers, and wondering who it is they see when they look in the mirror.
Then Liz, V and Rachel each receive a letter from Emily with devastating news. She implores the girls who were once her best friends to reunite at Camp Birchwood one last time, to spend a week together revisiting the dreams they'd put aside and repair the relationships they'd allowed to sour. But the women are not the same idealistic, confident girls who once ruled Camp Birchwood, and perhaps some friendships aren't meant to last forever…
Available May 18:
Amazon | Barnes & Noble | Google Play | Kobo | Apple Books | Indiebound | Indigo | Audible | Goodreads
The Soulmate Equation by Christina Lauren
The New York Times bestselling author of The Unhoneymooners returns with a witty and effervescent novel about what happens when two people with everything on the line are thrown together by science—or is it fate? Perfect for fans of The Rosie Project and One Plus One.
Single mom Jess Davis is a data and statistics wizard, but no amount of number crunching can convince her to step back into the dating world. Raised by her grandparents—who now help raise her seven-year-old daughter, Juno—Jess has been left behind too often to feel comfortable letting anyone in. After all, her father's never been around, her hard-partying mother disappeared when she was six, and her ex decided he wasn't "father material" before Juno was even born. Jess holds her loved ones close, but working constantly to stay afloat is hard…and lonely.
But then Jess hears about GeneticAlly, a buzzy new DNA-based matchmaking company that's predicted to change dating forever. Finding a soulmate through DNA? The reliability of numbers:This Jess understands.
At least she thought she did, until her test shows an unheard-of 98% compatibility with another subject in the database: GeneticAlly's founder, Dr. River Peña. This is one number she can't wrap her head around, because she already knows Dr. Peña. The stuck-up, stubborn man is without a doubt not her soulmate. But GeneticAlly has a proposition: Get to know him and we'll pay you. Jess—who is barely making ends meet—is in no position to turn it down, despite her skepticism about the project and her dislike for River. As the pair are dragged from one event to the next as the "Diamond" pairing that could make GeneticAlly a mint in stock prices, Jess begins to realize that there might be more to the scientist—and the science behind a soulmate—than she thought.
Funny, warm, and full of heart, The Soulmate Equation proves that the delicate balance between fate and choice can never be calculated.
Available May 18:
Amazon | Barnes & Noble | Google Play | Kobo | Apple Books | Indiebound | Indigo | Audible | Goodreads
Talk Bookish to Me by Kate Bromley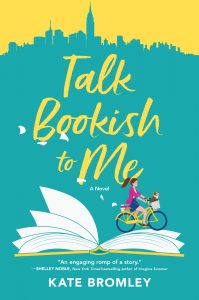 Inspiration can come from the most unlikely—and inconvenient—sources.
Kara Sullivan's life is full of love—albeit fictional. As a bestselling romance novelist and influential Bookstagrammer, she's fine with getting her happily-ever-after fix between the covers of a book.
But right now? Not only is Kara's best friend getting married next week—which means big wedding stress—but the deadline for her next novel is looming, and she hasn't written a single word. The last thing she needs is for her infuriating first love, Ryan Thompson, to suddenly appear in the wedding party. But Ryan's unexpected arrival sparks a creative awakening in Kara that inspires the steamy historical romance she desperately needs to deliver.
With her wedding duties intensifying, her deadline getting closer by the second and her bills not paying themselves, Kara knows there's only one way for her to finish her book and to give her characters the ever-after they deserve. But can she embrace the unlikely, ruggedly handsome muse—who pushes every one of her buttons—to save the wedding, her career and, just maybe, write her own happy ending?
Available May 25:
Amazon | Barnes & Noble | Google Play | Kobo | Apple Books | Indiebound | Indigo | Audible | Goodreads
The Summer Seekers by Sarah Morgan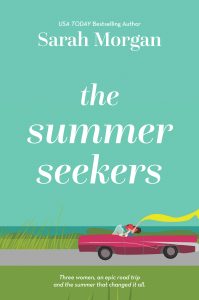 Get swept into a summer of sunshine, soul-searching and shameless matchmaking with this delightfully bighearted road-trip adventure by USA TODAY bestselling author Sarah Morgan!
Kathleen is eighty years old. After she has a run-in with an intruder, her daughter wants her to move into a residential home. But she's not having any of it. What she craves—what she needs—is adventure.
Liza is drowning in the daily stress of family life. The last thing she needs is her mother jetting off on a wild holiday, making Liza long for a solo summer of her own.
Martha is having a quarter-life crisis. Unemployed, unloved and uninspired, she just can't get her life together. But she knows something has to change.
When Martha sees Kathleen's advertisement for a driver and companion to share an epic road trip across America with, she decides this job might be the answer to her prayers. She's not the world's best driver, but anything has to be better than living with her parents. And traveling with a stranger? No problem. Anyway, how much trouble can one eighty-year-old woman be?
As these women embark on the journey of a lifetime, they all discover it's never too late to start over…
Available May 25:
Amazon | Barnes & Noble | Google Play | Kobo | Apple Books | Indiebound | Indigo | Audible | Goodreads
The Stepsisters by Susan Mallery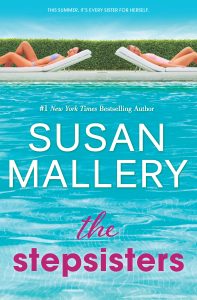 #1 New York Times bestselling author Susan Mallery pens a love story of a different sort…a heartfelt tale of friendship between two women who used to be sisters.
Once upon a time, when her dad married Sage's mom, Daisy was thrilled to get a bright and shiny new sister. But Sage was beautiful and popular, everything Daisy was not, and she made sure Daisy knew it.
Sage didn't have Daisy's smarts—she had to go back a grade to enroll in the fancy rich-kid school. So she used her popularity as a weapon, putting Daisy down to elevate herself. After the divorce, the stepsisters' rivalry continued until the final, improbable straw: Daisy married Sage's first love, and Sage fled California.
Eighteen years, two kids and one troubled marriage later, Daisy never expects—or wants—to see Sage again. But when the little sister they have in common needs them both, they put aside their differences to care for Cassidy. As long-buried truths are revealed, no one is more surprised than they when friendship blossoms.
Their fragile truce is threatened by one careless act that could have devastating consequences. They could turn their backs on each other again…or they could learn to forgive once and for all and finally become true sisters of the heart.
Available May 25:
Amazon | Barnes & Noble | Google Play | Kobo | Apple Books | Indiebound | Indigo | Audible | Goodreads
You Will Remember Me by Hannah Mary McKinnon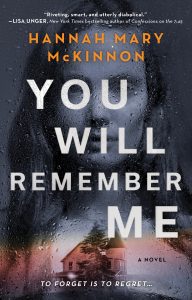 An unputdownable amnesia thriller that begs the question: how can you trust anyone when you can't even trust yourself?
Forget the truth.
Remember the lies.
He wakes up on a deserted beach in Maryland with a gash on his head and wearing only swim trunks. He can't remember who he is. Everything—his identity, his life, his loved ones—has been replaced by a dizzying fog of uncertainty. But returning to his Maine hometown in search of the truth uncovers more questions than answers.
Lily Reid thinks she knows her boyfriend, Jack. Until he goes missing one night, and her frantic search reveals that he's been lying to her since they met, desperate to escape a dark past he'd purposely left behind.
Maya Scott has been trying to find her estranged stepbrother, Asher, since he disappeared without a trace. Having him back, missing memory and all, feels like a miracle. But with a mutual history full of devastating secrets, how far will Maya go to ensure she alone takes them to the grave?
Shared fates intertwine in a twisty, explosive novel of suspense, where unearthing the past might just mean being buried beneath it.
Available May 25:
Amazon | Barnes & Noble | Google Play | Kobo | Apple Books | Indiebound | Indigo | Audible | Goodreads
The Rooftop Party by Ellen Meister
A Host of Trouble…
In this witty and engaging novel, Dana Barry, the Shopping Channel's star host, stops by the company's rooftop party to pitch the new CEO her brilliant idea that just might save the flagging business, her job and possibly her love life.
As she chats with the smarmy executive, he backs her into a dark corner. For Dana, it's a quid pro oh-hell-no. She escapes his lecherous grasp and grabs her drink on her way to the dance floor. Woozy, she blacks out.
When she comes to, the CEO is dead, fallen from the roof. Or was he pushed? And if so, by whom? It's hard to know, but one thing is certain: Dana was close enough to be suspect.
Sure, she loathed how the creep moved in on her, but she's no killer. Or is she? Truth is, Dana can't remember much about those minutes. Now she has to use all her skills to prove her innocence to everyone, including her police detective boyfriend—and herself.
Meister's latest is fun and breezy, a compelling, suspenseful read that entertains and keeps you guessing.
Available May 25:
Amazon | Barnes & Noble | Google Play | Kobo | Apple Books | Indiebound | Indigo | Goodreads
What books are you most looking forward to this May? Let us know in the comments below!