Are you finding yourself cozying up to a book every night now that fall has set in? Us, too! Don't worry about blowing through the rest of your TBR list, though, as we've got fresh new releases to share. A new thriller from Lisa Unger, a sequel to Before the Coffee Gets Cold by Toshikazu Kawaguchi, and lots of sweet holiday romances are just some highlights for the month.
Last Girl Ghosted by Lisa Unger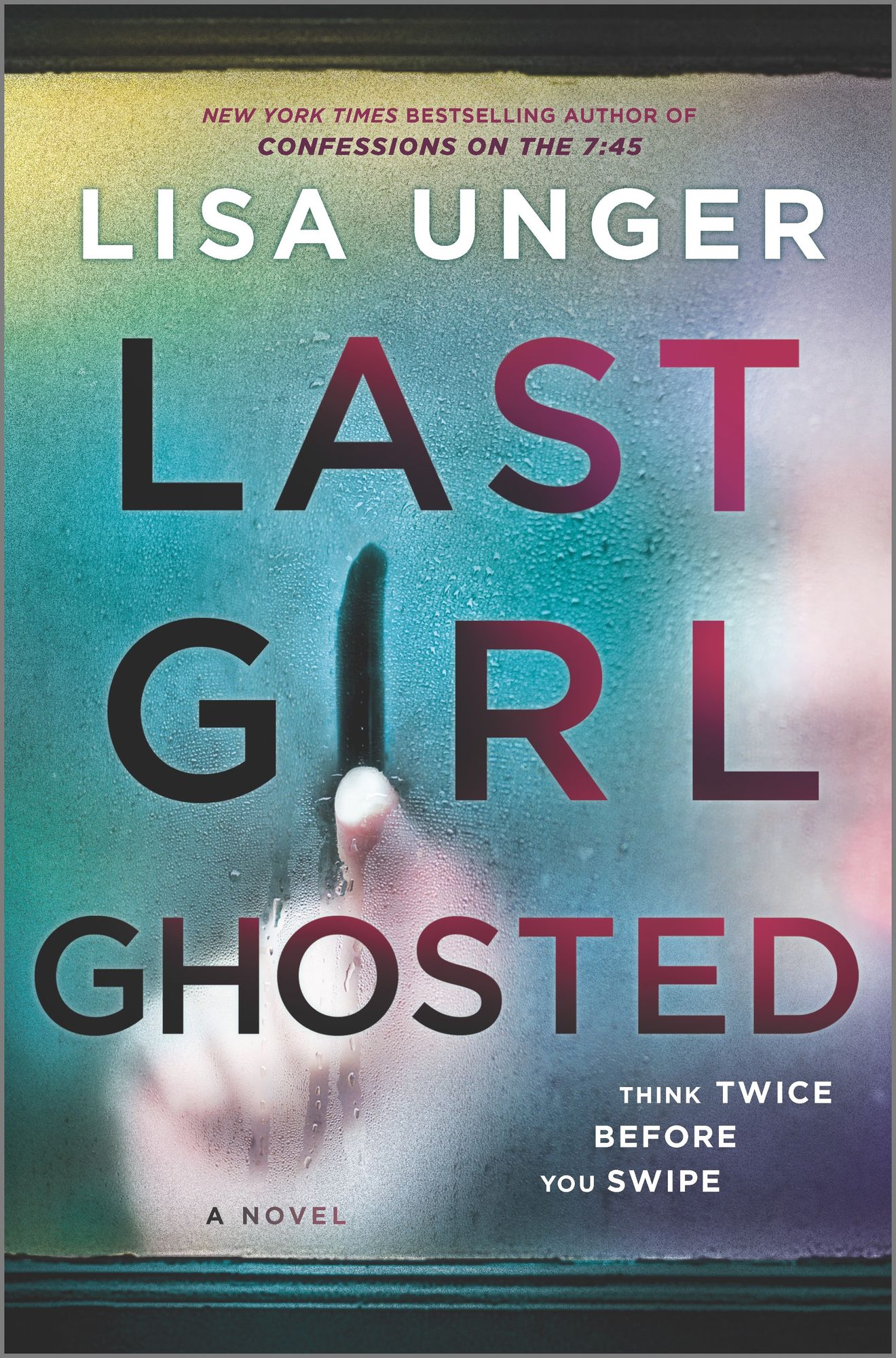 "You won't be able to stop turning the pages!" —Shari Lapena, New York Times bestselling author of The Couple Next Door
Think twice before you swipe.
Secrets, obsession and vengeance converge in this riveting thriller about an online dating match turned deadly cat-and-mouse game, from the New York Times bestselling author of Confessions on the 7:45
She met him through a dating app. An intriguing picture on a screen, a date at a downtown bar. What she thought might be just a quick hookup quickly became much more. She fell for him—hard. It happens sometimes, a powerful connection with a perfect stranger takes you by surprise. Could it be love?
But then, just as things were getting real, he stood her up. Then he disappeared—profiles deleted, phone disconnected. She was ghosted.
Maybe it was her fault. She shared too much, too fast. But isn't that always what women think—that they're the ones to blame? Soon she learns there were others. Girls who thought they were in love. Girls who later went missing. She had been looking for a connection, but now she's looking for answers. Chasing a digital trail into his dark past—and hers—she finds herself on a dangerous hunt. And she's not sure whether she's the predator—or the prey.
Available October 5:
Amazon | Barnes & Noble | Google Play | Kobo | Apple Books | Indiebound | Indigo | Audible | Goodreads
April in Spain by John Banville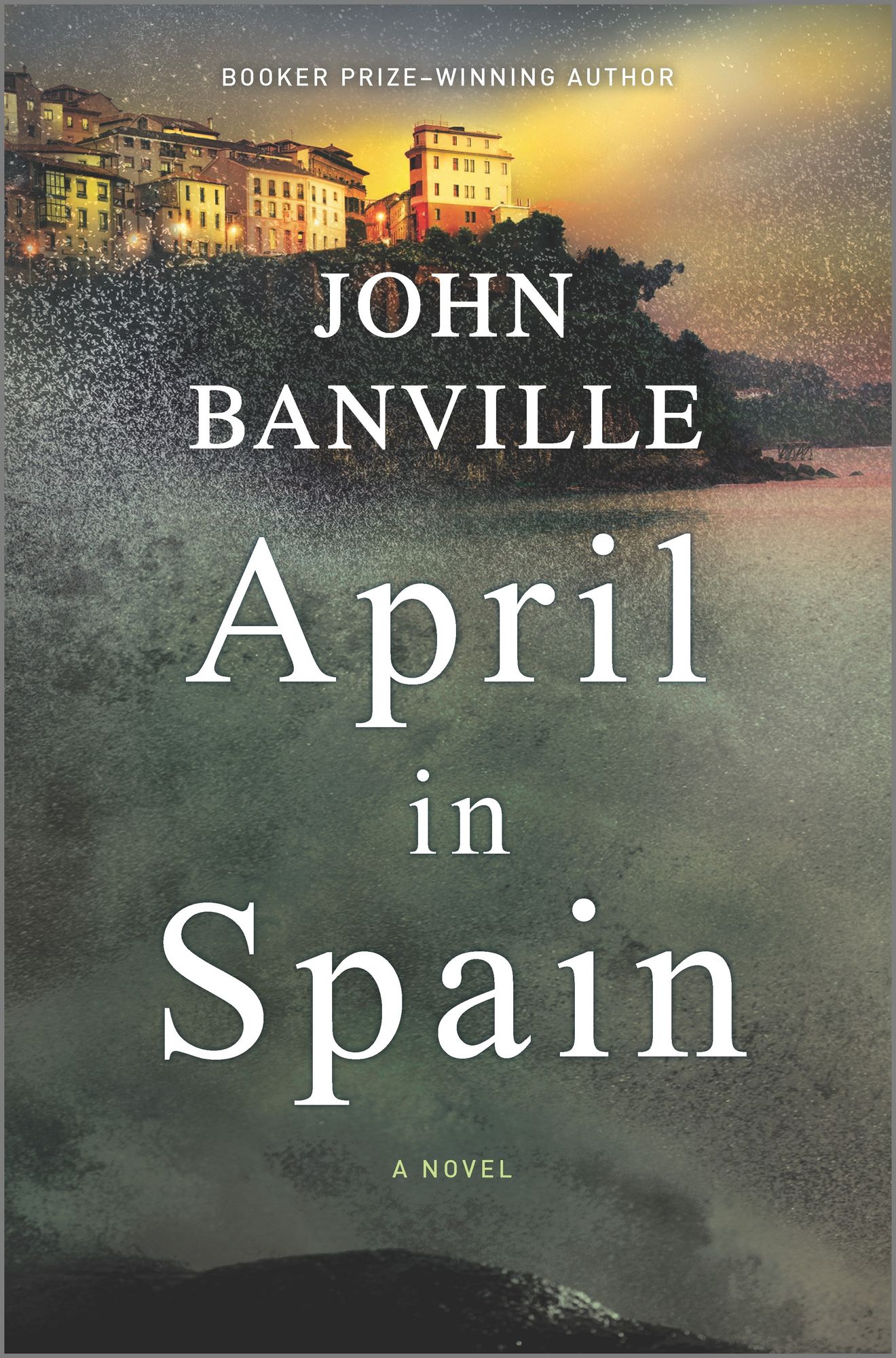 Booker Prize winner John Banville returns with a dark and evocative new mystery set on the Spanish coast
Don't disturb the dead…
On the idyllic coast of San Sebastian, Spain, Dublin pathologist Quirke is struggling to relax, despite the beaches, cafés and the company of his disarmingly lovely wife. When he glimpses a familiar face in the twilight at Las Acadas bar, it's hard at first to tell whether his imagination is just running away with him.
Because this young woman can't be April Latimer. She was murdered by her brother, years ago—the conclusion to an unspeakable scandal that shook one of Ireland's foremost political dynasties.
Unable to ignore his instincts, Quirke makes a call back home to Ireland and soon Detective St. John Strafford is dispatched to Spain. But he's not the only one en route. A relentless hit man is on the hunt for his latest prey, and the next victim might be Quirke himself.
Sumptous, propulsive and utterly transporting, April in Spain is the work of a master writer at the top of his game.
Available October 5:
Amazon | Barnes & Noble | Google Play | Kobo | Apple Books | Indiebound | Indigo | Audible | Goodreads
Reprieve by James Han Mattson
A chilling and blisteringly relevant literary novel of social horror centered around a brutal killing that takes place in a full-contact haunted escape room—a provocative exploration of capitalism, hate politics, racial fetishism, and our obsession with fear as entertainment.
On April 27, 1997, four contestants make it to the final cell of the Quigley House, a full-contact haunted escape room in Lincoln, Nebraska, made famous for its monstrosities, booby-traps, and ghoulishly costumed actors. If the group can endure these horrors without shouting the safe word, "reprieve," they'll win a substantial cash prize—a startling feat accomplished only by one other group in the house's long history. But before they can complete the challenge, a man breaks into the cell and kills one of the contestants.
Those who were present on that fateful night lend their points of view: Kendra Brown, a teenager who's been uprooted from her childhood home after the sudden loss of her father; Leonard Grandton, a desperate and impressionable hotel manager caught in a series of toxic entanglements; and Jaidee Charoensuk, a gay international student who came to the United States in a besotted search for his former English teacher. As each character's journey unfurls and overlaps, deceit and misunderstandings fueled by obsession and prejudice are revealed, forcing all to reckon with the ways in which their beliefs and actions contributed to a horrifying catastrophe.
An astonishingly soulful exploration of complicity and masquerade, Reprieve combines the psychological tension of classic horror with searing social criticism to present an unsettling portrait of this tangled American life.
Available October 5:
Amazon | Barnes & Noble | Google Play | Kobo | Apple Books | Indiebound | Indigo | Audible | Goodreads
Three Sisters by Heather Morris
From Heather Morris, the New York Times bestselling author of the multi-million copy bestseller The Tattooist of Auschwitz and Cilka's Journey: a story of family, courage, and resilience, inspired by a true story.
Against all odds, three Slovakian sisters have survived years of imprisonment in the most notorious death camp in Nazi Germany: Auschwitz. Livia, Magda, and Cibi have clung together, nearly died from starvation and overwork, and the brutal whims of the guards in this place of horror. But now, the allies are closing in and the sisters have one last hurdle to face: the death march from Auschwitz, as the Nazis try to erase any evidence of the prisoners held there. Due to a last minute stroke of luck, the three of them are able to escape formation and hide in the woods for days before being rescued.
And this is where the story begins. From there, the three sisters travel to Israel, to their new home, but the battle for freedom takes on new forms. Livia, Magda, and Cibi must face the ghosts of their past—and some secrets that they have kept from each other—to find true peace and happiness.
Inspired by a true story, and with events that overlap with those of Lale, Gita, and Cilka, The Three Sisters will hold a place in readers' hearts and minds as they experience what true courage really is.
Available October 5:
Amazon | Barnes & Noble | Google Play | Kobo | Apple Books | Indiebound | Indigo | Audible | Goodreads
The Book of Magic by Alice Hoffman
Master storyteller Alice Hoffman brings us the conclusion of the Practical Magic series in a spellbinding and enchanting final Owens novel brimming with lyric beauty and vivid characters.
The Owens family has been cursed in matters of love for over three-hundred years but all of that is about to change. The novel begins in a library, the best place for a story to be conjured, when beloved aunt Jet Owens hears the deathwatch beetle and knows she has only seven days to live. Jet is not the only one in danger—the curse is already at work.
A frantic attempt to save a young man's life spurs three generations of the Owens women, and one long-lost brother, to use their unusual gifts to break the curse as they travel from Paris to London to the English countryside where their ancestor Maria Owens first practiced the Unnamed Art. The younger generation discovers secrets that have been hidden from them in matters of both magic and love by Sally, their fiercely protective mother. As Kylie Owens uncovers the truth about who she is and what her own dark powers are, her aunt Franny comes to understand that she is ready to sacrifice everything for her family, and Sally Owens realizes that she is willing to give up everything for love.
The Book of Magic is a breathtaking conclusion that celebrates mothers and daughters, sisters and brothers, and anyone who has ever been in love.
Available October 5:
Amazon | Barnes & Noble | Google Play | Kobo | Apple Books | Indiebound | Indigo | Audible | Goodreads
The Death of Jane Lawrence by Caitlin Starling
From the Bram Stoker-nominated author of The Luminous Dead comes a gothic fantasy horror–The Death of Jane Lawrence.
"Intense and amazing! It's like Jonathan Strange and Mr. Norrell meets Mexican Gothic meets Crimson Peak." —BookRiot
Practical, unassuming Jane Shoringfield has done the calculations, and decided that the most secure path forward is this: a husband, in a marriage of convenience, who will allow her to remain independent and occupied with meaningful work. Her first choice, the dashing but reclusive doctor Augustine Lawrence, agrees to her proposal with only one condition: that she must never visit Lindridge Hall, his crumbling family manor outside of town.
Yet on their wedding night, an accident strands her at his door in a pitch-black rainstorm, and she finds him changed. Gone is the bold, courageous surgeon, and in his place is a terrified, paranoid man—one who cannot tell reality from nightmare, and fears Jane is an apparition, come to haunt him. By morning, Augustine is himself again, but Jane knows something is deeply wrong at Lindridge Hall, and with the man she has so hastily bound her safety to.
Set in a dark-mirror version of post-war England, Caitlin Starling crafts a new kind of gothic horror from the bones of the beloved canon. This Crimson Peak-inspired story assembles, then upends, every expectation set in place by Shirley Jackson and Rebecca, and will leave readers shaken, desperate to begin again as soon as they are finished.
Available October 5:
Amazon | Barnes & Noble | Google Play | Kobo | Apple Books | Indiebound | Indigo | Audible | Goodreads
We Are Not Like Them by Christine Pride & Jo Piazza
Told from alternating perspectives, an evocative and riveting novel about the lifelong bond between two women, one Black and one white, whose friendship is indelibly altered by a tragic event—a powerful and poignant exploration of race in America today and its devastating impact on ordinary lives.
Jen and Riley have been best friends since kindergarten. As adults, they remain as close as sisters, though their lives have taken different directions. Jen married young, and after years of trying, is finally pregnant. Riley pursued her childhood dream of becoming a television journalist and is poised to become one of the first Black female anchors of the top news channel in their hometown of Philadelphia.
But the deep bond they share is severely tested when Jen's husband, a city police officer, is involved in the shooting of an unarmed Black teenager. Six months pregnant, Jen is in freefall as her future, her husband's freedom, and her friendship with Riley are thrown into uncertainty. Covering this career-making story, Riley wrestles with the implications of this tragic incident for her Black community, her ambitions, and her relationship with her lifelong friend.
Like Tayari Jones's An American Marriage and Jodi Picoult's Small Great Things, We Are Not Like Them explores complex questions of race and how they pervade and shape our most intimate spaces in a deeply divided world. But at its heart, it's a story of enduring friendship—a love that defies the odds even as it faces its most difficult challenges.
Available October 5:
Amazon | Barnes & Noble | Google Play | Kobo | Apple Books | Indiebound | Indigo | Audible | Goodreads
Tales from the Cafe by Toshikazu Kawaguchi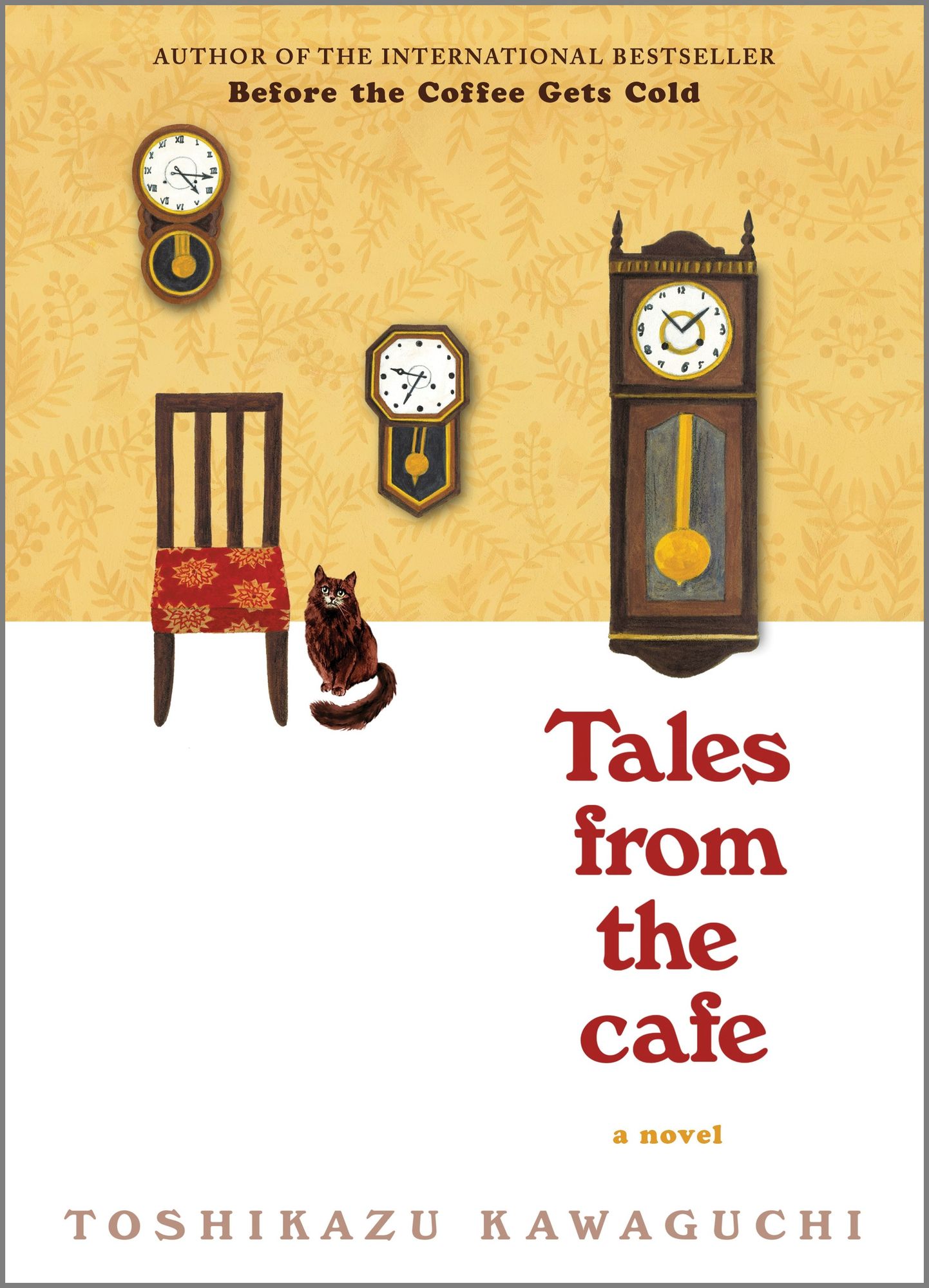 From the author of the international bestseller Before the Coffee Gets Cold, this book follows four new customers who hope to travel back in time in a little Japanese café.
In a back alley in Tokyo, there is a café that has been serving carefully brewed coffee for more than one hundred years. Local legend says that this shop offers something else besides coffee—the chance to travel back in time.
With faces both familiar and new, Tales from the Cafe follows the story of four patrons who visit to take advantage of café Funiculi Funicula's time-traveling offer and revisit moments with family, friends and lovers. Each one must face up to the past to move on with their lives.
Kawaguchi's wistful and heartwarming new novel once again invites the reader to ask themselves, "What would you do if you could travel back in time?"
Available October 12:
Amazon | Barnes & Noble | Google Play | Kobo | Apple Books | Indiebound | Indigo | Audible | Goodreads
The Mother Next Door by Tara Laskowski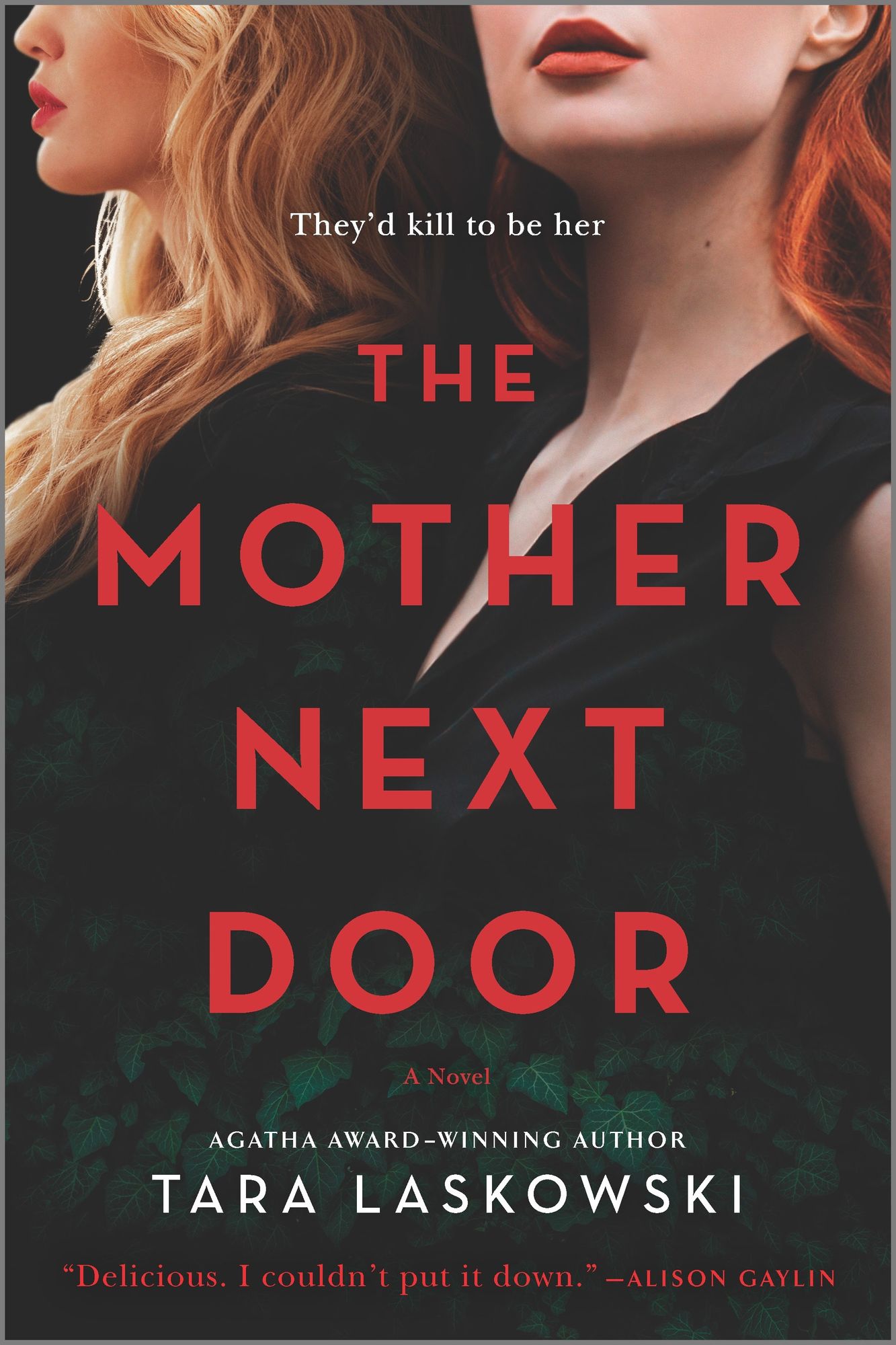 "If the women of Big Little Lies were the moms of East Coast high schoolers, they'd be right at home in The Mother Next Door—a witty, wicked thriller packed with hidden agendas, juicy secrets, and pitch-perfect satire of the suburban dream."—Andrea Bartz, New York Times bestselling author of We Were Never Here
GOOD MOTHERS…
Never show their feelings.
Never spill their secrets.
Never admit to murder.
The annual Halloween block party is the pinnacle of the year on idyllic suburban cul-de-sac Ivy Woods Drive. An influential group of neighborhood moms—known as the Ivy Five—plans the event for months.
Except the Ivy Five has been four for a long time.
When a new mother moves to town, eager to fit in, the moms see it as an opportunity to make the group whole again. This year's block party should be the best yet… until the women start receiving anonymous messages threatening to expose the quiet neighborhood's dark past—and the lengths they've gone to hide it.
As secrets seep out and the threats intensify, the Ivy Five must sort the loyal from the disloyal, the good from the bad. They'll do anything to protect their families. But when a twisted plot is revealed, with dangerous consequences, their steady foundation begins to crumble, leaving only one certainty: after this year's block party, Ivy Woods Drive will never be the same.
From award-winning author Tara Laskowski, The Mother Next Door is an atmospheric novel of domestic suspense in which the strive for perfection ends in murder…
"Trust no one, absolutely no one while reading The Mother Next Door because everyone has secrets, all of them are liars, and everybody has at least one thing to lose. Tara Laskowski's brilliantly paced tale of perfect-suburbia-until-you-scratch-the-surface is as compelling as it is twisted."—Hannah Mary McKinnon, bestselling author of You Will Remember Me
Available October 12:
Amazon | Barnes & Noble | Google Play | Kobo | Apple Books | Indiebound | Indigo | Audible | Goodreads
The Brides of Maracoor by Gregory Macguire
Multimillion-copy bestselling author Gregory Maguire unveils the first in a three-book series spun off the iconic Wicked Years, featuring Elphaba's granddaughter, the green-skinned Rain.

Ten years ago this season, Gregory Maguire wrapped up the series he began with Wicked by giving us the fourth and final volume of the Wicked Years, his elegiac Out of Oz.
But "out of Oz" isn't "gone for good." Maguire's new series, Another Day, is here, twenty-five years after Wicked first flew into our lives.
Volume one, The Brides of Maracoor, finds Elphaba's granddaughter, Rain, washing ashore on a foreign island. Comatose from crashing into the sea, Rain is taken in by a community of single women committed to obscure devotional practices.
As the mainland of Maracoor sustains an assault by a foreign navy, the island's civil-servant overseer struggles to understand how an alien arriving on the shores of Maracoor could threaten the stability and wellbeing of an entire nation. Is it myth or magic at work, for good or for ill?
The trilogy Another Day will follow this green-skinned girl from the island outpost into the unmapped badlands of Maracoor before she learns how, and becomes ready, to turn her broom homeward, back to her family and her lover, back to Oz, which—in its beauty, suffering, mystery, injustice, and possibility—reminds us all too clearly of the troubled yet sacred terrain of our own lives.
Available October 12:
Amazon | Barnes & Noble | Google Play | Kobo | Apple Books | Indiebound | Indigo | Audible | Goodreads
No One Will Miss Her by Kat Rosenfield
"Clever and surprising…The superb character-driven plot delivers an astonishing, believable jolt."—Publishers Weekly (starred review)
A smart, witty, crackling novel of psychological suspense in which a girl from a hardscrabble small town meets a gorgeous Instagram influencer from the big city, with a murderous twist that will shock even the most savvy reader.
On a beautiful October morning in rural Maine, a homicide investigator from the state police pulls into the hard-luck town of Copper Falls. The local junkyard is burning, and the town pariah Lizzie Oullette is dead—with her husband, Dwayne, nowhere to be found. As scandal ripples through the community, Detective Ian Bird's inquiries unexpectedly lead him away from small-town Maine to a swank city townhouse several hours south. Adrienne Richards, blonde and fabulous social media influencer and wife of a disgraced billionaire, had been renting Lizzie's tiny lake house as a country getaway…even though Copper Falls is anything but a resort town.
As Adrienne's connection to the case becomes clear, so too does her connection to Lizzie, who narrates their story from beyond the grave. Each woman is desperately lonely in her own way, and they navigate a relationship that cuts across class boundaries: transactional, complicated, and, finally, deadly. A Gone Girl for the gig economy, this is a story of privilege, identity, and cunning, as two devious women from opposite worlds discover the dangers of coveting someone else's life.
Available October 12:
Amazon | Barnes & Noble | Google Play | Kobo | Apple Books | Indiebound | Indigo | Audible | Goodreads
State of Terror by Hillary Rodham Clinton & Louise Penny
From the#1 bestselling authors Hillary Clinton and Louise Penny comes a novel of unsurpassed thrills and incomparable insider expertise—State of Terror.
After a tumultuous period in American politics, a new administration has just been sworn in, and to everyone's surprise the president chooses a political enemy for the vital position of secretary of state.
There is no love lost between the president of the United States and Ellen Adams, his new secretary of state. But it's a canny move on the part of the president. With this appointment, he silences one of his harshest critics, since taking the job means Adams must step down as head of her multinational media conglomerate.
As the new president addresses Congress for the first time, with Secretary Adams in attendance, Anahita Dahir, a young foreign service officer (FSO) on the Pakistan desk at the State Department, receives a baffling text from an anonymous source.
Too late, she realizes the message was a hastily coded warning.
What begins as a series of apparent terrorist attacks is revealed to be the beginning of an international chess game involving the volatile and Byzantine politics of Pakistan, Afghanistan, and Iran; the race to develop nuclear weapons in the region; the Russian mob; a burgeoning rogue terrorist organization; and an American government set back on its heels in the international arena.
As the horrifying scale of the threat becomes clear, Secretary Adams and her team realize it has been carefully planned to take advantage of four years of an American government out of touch with international affairs, out of practice with diplomacy, and out of power in the places where it counts the most.
To defeat such an intricate, carefully constructed conspiracy, it will take the skills of a unique team: a passionate young FSO; a dedicated journalist; and a smart, determined, but as yet untested new secretary of state.
State of Terror is a unique and utterly compelling international thriller cowritten by Hillary Rodham Clinton, the 67th secretary of state, and Louise Penny, a multiple award-winning #1 New York Times bestselling novelist.
Available October 12:
Amazon | Barnes & Noble | Google Play | Kobo | Apple Books | Indiebound | Indigo | Audible | Goodreads
Girly Drinks by Mallory O'Meara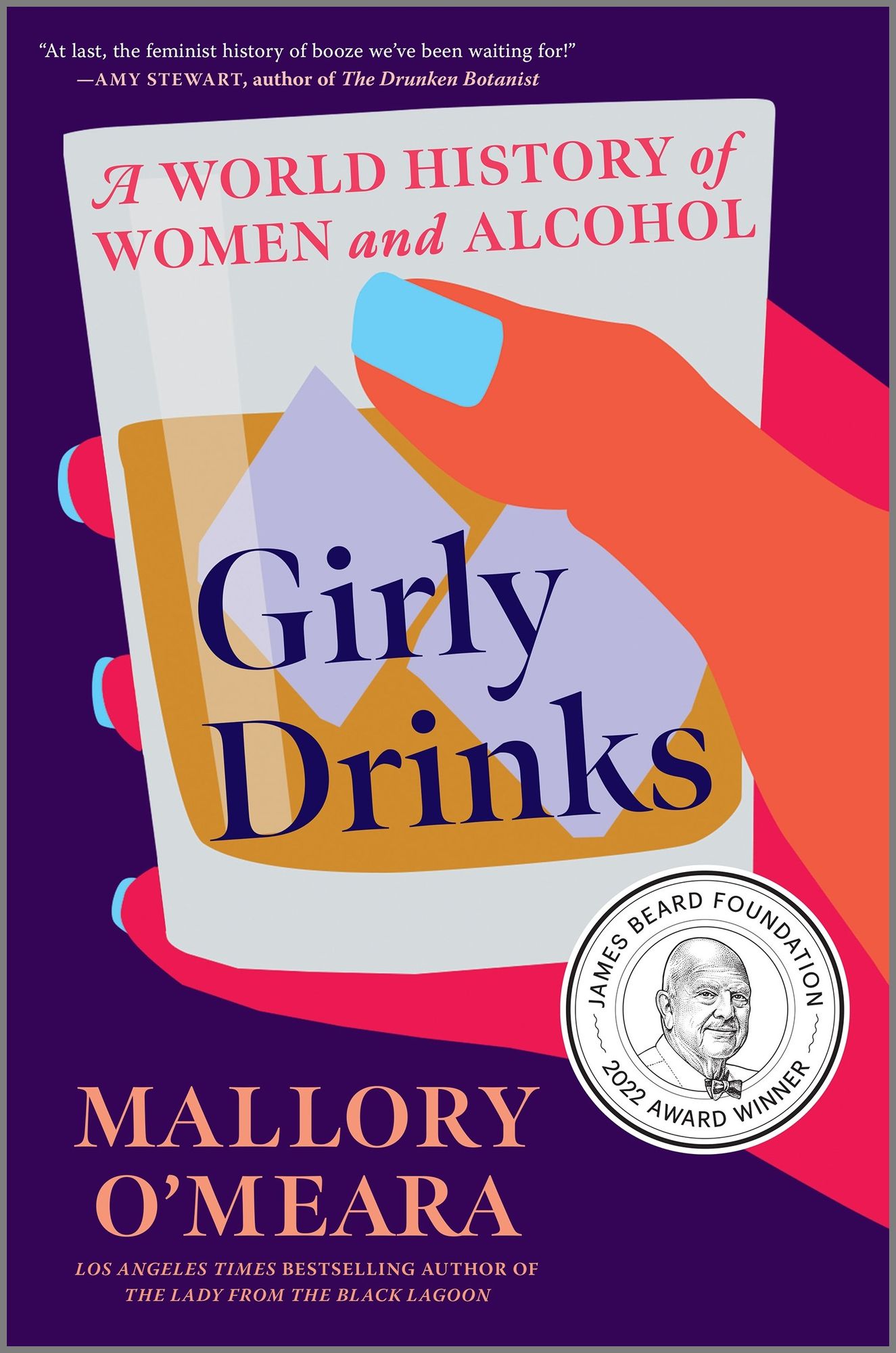 "At last, the feminist history of booze we've been waiting for!"—Amy Stewart, author of The Drunken Botanist
FromLos Angeles Times bestselling author Mallory O'Meara comes a lively and engrossing feminist history of women drinking through the ages
Strawberry daiquiris. Skinny martinis. Vodka sodas with lime. These are the cocktails that come in sleek-stemmed glasses, bright colors and fruity flavors—these are the Girly Drinks.
From the earliest days of civilization, alcohol has been at the center of social rituals and cultures worldwide. But when exactly did drinking become a gendered act? And why have bars long been considered "places for men" when, without women, they might not even exist?
With whip-smart insight and boundless curiosity, Girly Drinks unveils an entire untold history of the female distillers, drinkers and brewers who have played a vital role in the creation and consumption of alcohol, from ancient Sumerian beer goddess Ninkasi to iconic 1920s bartender Ada Coleman. Filling a crucial gap in culinary history, O'Meara dismantles the long-standing patriarchal traditions at the heart of these very drinking cultures, in the hope that readers everywhere can look to each celebrated woman in this book—and proudly have what she's having.
Available October 19:
Amazon | Barnes & Noble | Google Play | Kobo | Apple Books | Indiebound | Indigo | Audible | Goodreads
The Last Checkmate by Gabriella Saab
Readers of Heather Morris's The Tattooist of Auschwitz and watchers of The Queen's Gambit won't want to miss this amazing debut set during World War II. A young Polish resistance worker, imprisoned in Auschwitz as a political prisoner, plays chess in exchange for her life, and in doing so fights to bring the man who destroyed her family to justice.
Maria Florkowska is many things: daughter, avid chess player, and, as a member of the Polish underground resistance in Nazi-occupied Warsaw, a young woman brave beyond her years. Captured by the Gestapo, she is imprisoned in Auschwitz, but while her family is sent to their deaths, she is spared. Realizing her ability to play chess, the sadistic camp deputy, Karl Fritzsch, decides to use her as a chess opponent to entertain the camp guards. However, once he tires of exploiting her skills, he has every intention of killing her.
Befriended by a Catholic priest, Maria attempts to overcome her grief, vows to avenge the murder of her family, and plays for her life. For four grueling years, her strategy is simple: Live. Fight. Survive. By cleverly provoking Fritzsch's volatile nature in front of his superiors, Maria intends to orchestrate his downfall. Only then will she have a chance to evade the fate awaiting her and see him punished for his wickedness.
As she carries out her plan and the war nears its end, she challenges her former nemesis to one final game, certain to end in life or death, in failure or justice. If Maria can bear to face Fritzsch—and her past—one last time.
Available October 19:
Amazon | Barnes & Noble | Google Play | Kobo | Apple Books | Indiebound | Indigo | Audible | Goodreads
Oh William! by Elizabeth Strout
I would like to say a few things about my first husband, William.

Lucy Barton is a writer, but her ex-husband, William, remains a hard man to read. William, she confesses, has always been a mystery to me. Another mystery is why the two have remained connected after all these years. They just are.

So Lucy is both surprised and not surprised when William asks her to join him on a trip to investigate a recently uncovered family secret—one of those secrets that rearrange everything we think we know about the people closest to us. What happens next is nothing less than another example of what Hilary Mantel has called Elizabeth Strout's "perfect attunement to the human condition." There are fears and insecurities, simple joys and acts of tenderness, and revelations about affairs and other spouses, parents and their children. On every page of this exquisite novel we learn more about the quiet forces that hold us together—even after we've grown apart.

At the heart of this story is the indomitable voice of Lucy Barton, who offers a profound, lasting reflection on the very nature of existence. "This is the way of life," Lucy says: "the many things we do not know until it is too late."
Available October 19:
Amazon | Barnes & Noble | Google Play | Kobo | Apple Books | Indiebound | Indigo | Audible | Goodreads
The Christmas Escape by Sarah Morgan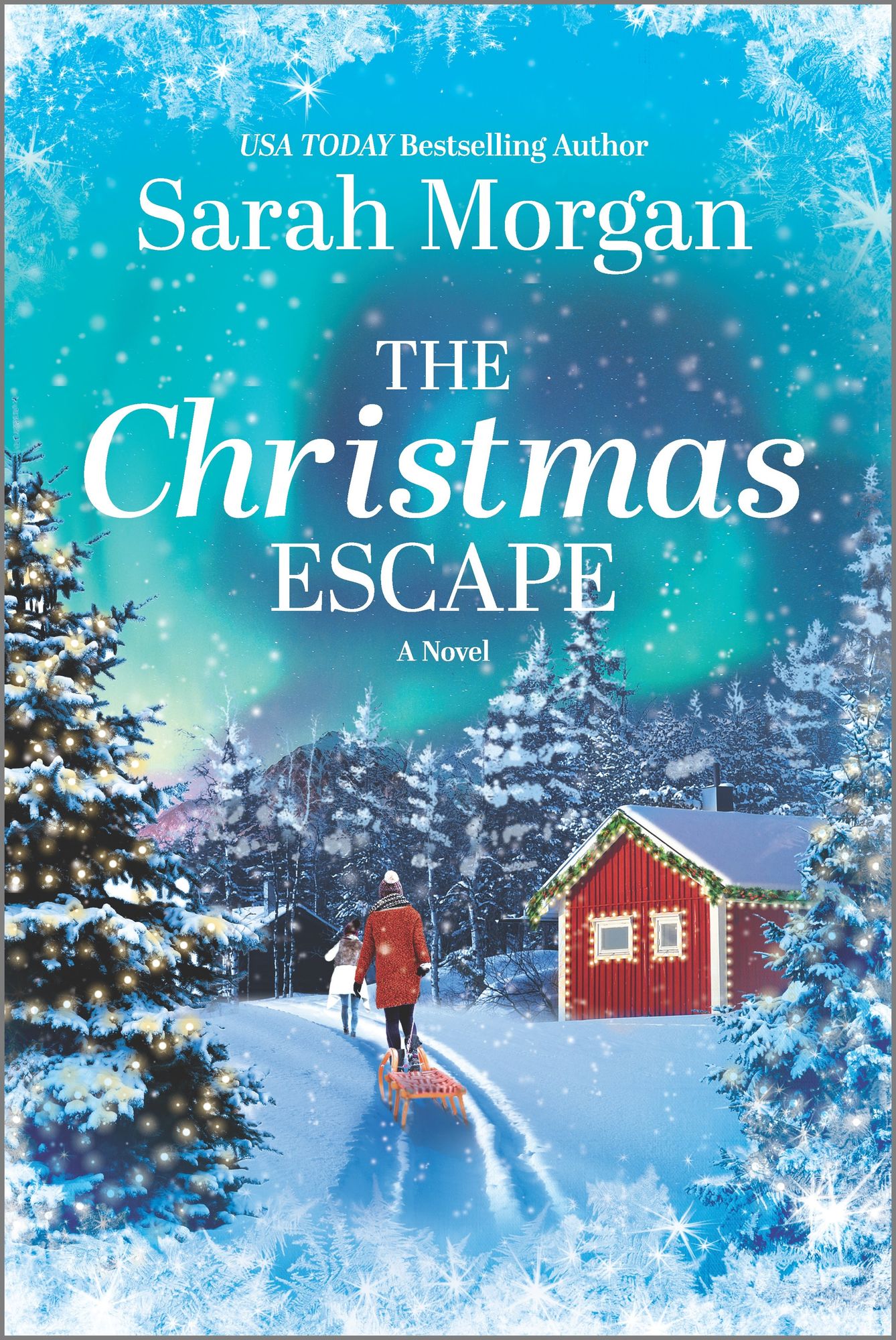 Morgan is a masterful storyteller…. For fans of Jojo Moyes and Taylor Jenkins Reid." —Booklist
It was supposed to be Christy Sullivan's perfect Christmas getaway—a trip to Lapland with her family and best friend, Alix. But facing a make-or-break marriage crisis, Christy desperately needs time alone with her husband. Her solution? Alix can take Christy's little daughter to Lapland, and they will reunite there for Christmas Day. It's a big ask, but what else are friends for?
There's nothing Alix won't do for Christy. But Christy's request to save Christmas is giving Alix sleepless nights. She knows something is wrong, but for the first time ever, Christy isn't talking. And even the Arctic temperatures in Lapland aren't enough to dampen the seriously inconvenient sizzle Alix is developing for Zac, a fellow guest and nemesis from her past.
As secrets unravel and unexpected romance shines under the northern lights, can Christy and Alix's Christmas escape give them the courage to fight for the relationships they really want, and save the precious gift of each other's friendship?
Available October 26:
Amazon | Barnes & Noble | Google Play | Kobo | Apple Books | Indiebound | Indigo | Audible | Goodreads
Fan Club by Erin Mayer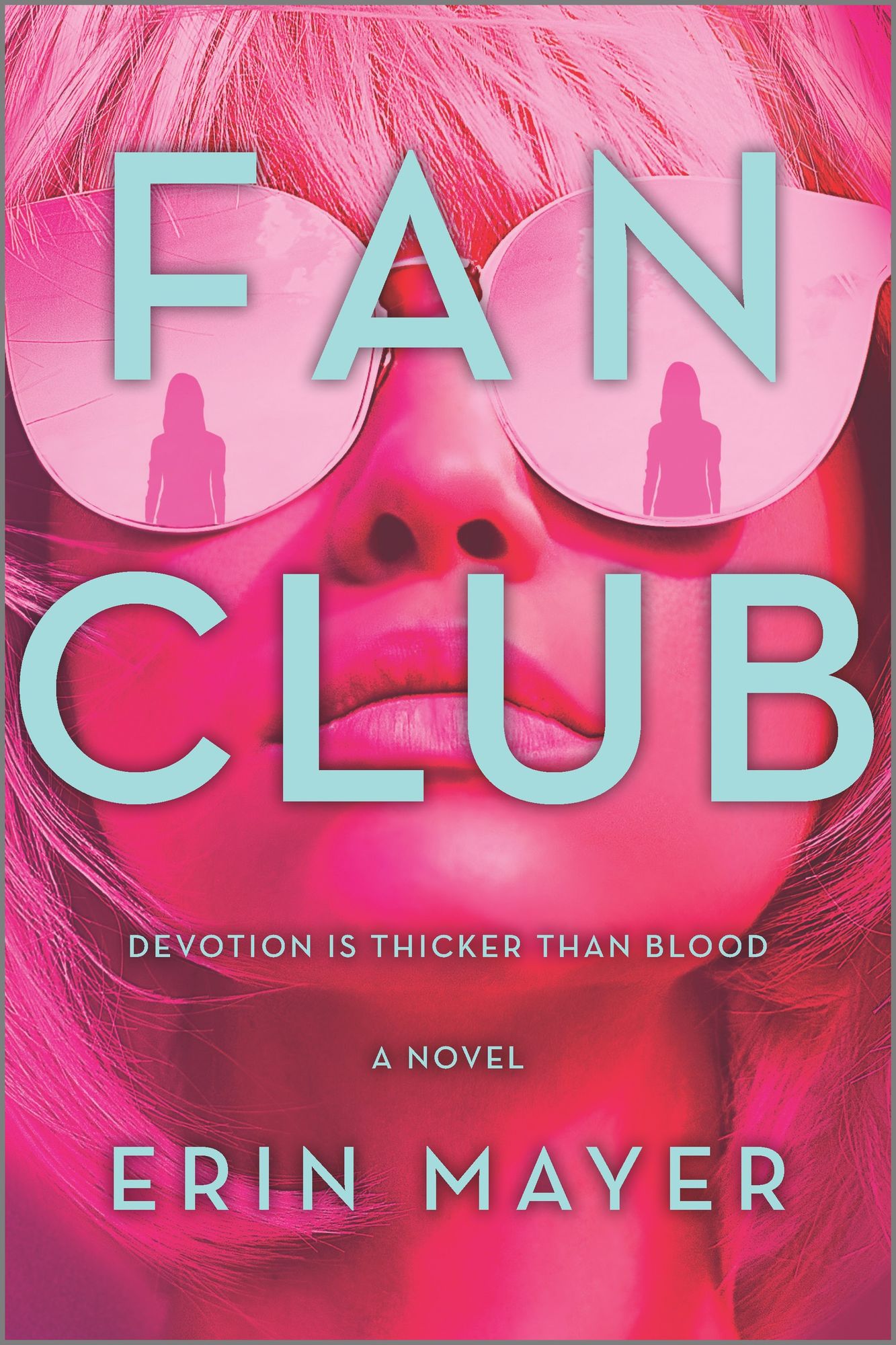 "Mayer lays bare the terrible destiny of a society obsessed with social media stalking and celebrity relationships." —Julia Heaberlin, bestselling author of We Are All the Same in the Dark
In this raucous psychological thriller, a disillusioned millennial joins a cliquey fan club, only to discover that the group is bound together by something darker than devotion
Day after day our narrator searches for meaning beyond her vacuous job at a women's lifestyle website—entering text into a computer system while she watches their beauty editor unwrap box after box of perfectly packaged bits of happiness. Then, one night at a dive bar, she hears a message in the newest single by international pop star Adriana Argento, and she is struck. Soon she loses herself to the online fandom, a community whose members feverishly track Adriana's every move.
When a colleague notices her obsession, she's invited to join an enigmatic group of adult Adriana superfans who call themselves the Ivies and worship her music in witchy candlelit listening parties. As the narrator becomes more entrenched in the group, she gets closer to uncovering the sinister secrets that bind them together—while simultaneously losing her grip on reality.
With caustic wit and hypnotic writing, this unsparingly critical thrill ride through millennial life examines all that is wrong in our celebrity-obsessed internet age, and how easy it is to lose yourself in it.
Available October 26:
Amazon | Barnes & Noble | Google Play | Kobo | Apple Books | Indiebound | Indigo | Audible | Goodreads
The Secret of Snow by Viola Shipman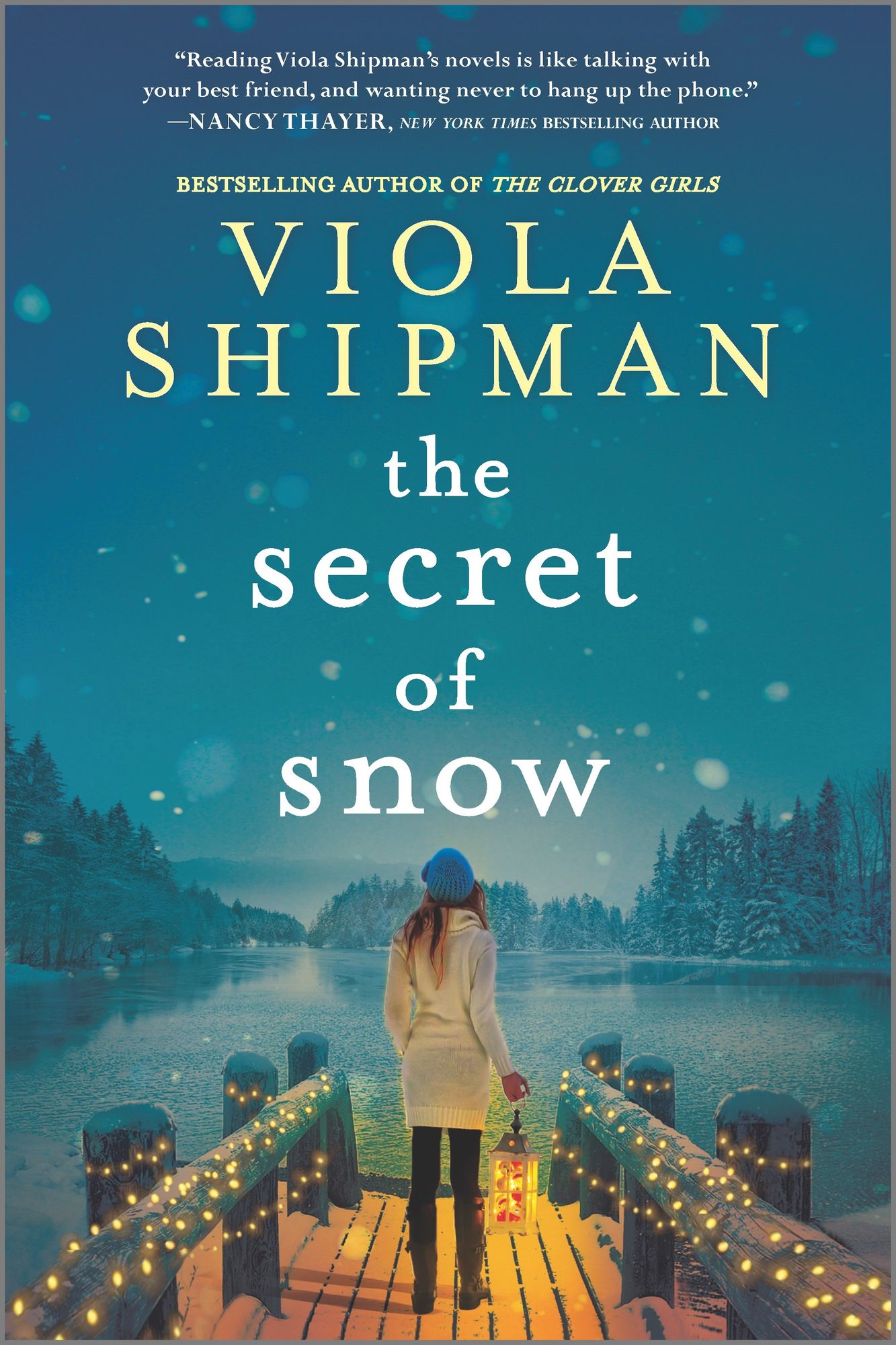 The forecast is calling for a reluctant homecoming and regrettable decisions with a strong chance of romance…
When Sonny Dunes, a SoCal meteorologist whose job is all sunshine and seventy-two-degree days, is replaced by a virtual meteorologist that will never age, gain weight or renegotiate its contract, the only station willing to give the fifty-year-old another shot is the very place Sonny's been avoiding since the day she left for college—her northern Michigan hometown.
Sonny grudgingly returns to the long, cold, snowy winters of her childhood…with the added humiliation of moving back in with her mother. Not quite an outsider but no longer a local, Sonny finds her past blindsiding her everywhere: from the high school friends she ghosted, to the former journalism classmate and mortal frenemy who's now her boss, to, most keenly, the death years ago of her younger sister, who loved the snow.
To distract herself from the memories she's spent her life trying to outrun, Sonny throws herself headfirst into covering every small-town winter event to woo a new audience, made more bearable by a handsome widower with optimism to spare. But with someone trying to undermine her efforts to rebuild her career, Sonny must make peace with who she used to be and allow her heart to thaw if she's ever going to find a place she can truly call home.
Available October 26:
Amazon | Barnes & Noble | Google Play | Kobo | Apple Books | Indiebound | Indigo | Audible | Goodreads
Sisters of the Great War by Suzanne Feldman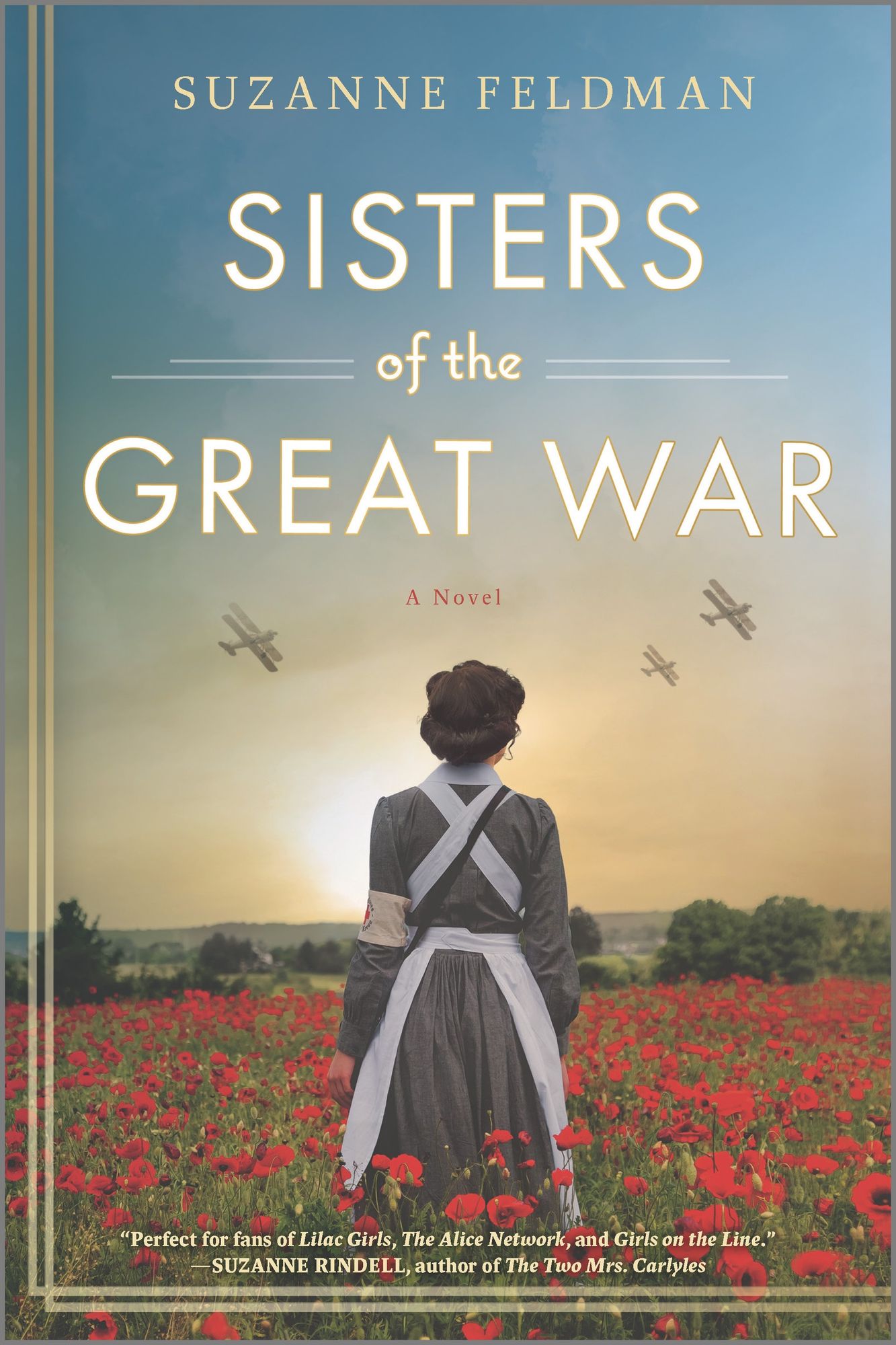 Inspired by real women, this powerful novel tells the story of two unconventional American sisters who volunteer at the front during World War I

August 1914. While Europe enters a brutal conflict unlike any waged before, the Duncan household in Baltimore, Maryland, is the setting for a different struggle. Ruth and Elise Duncan long to escape the roles that society, and their controlling father, demand they play. Together, the sisters volunteer for the war effort—Ruth as a nurse, Elise as a driver.
Stationed at a makeshift hospital in Ypres, Belgium, Ruth soon confronts war's harshest lesson: not everyone can be saved. Rising above the appalling conditions, she seizes an opportunity to realize her dream to practice medicine as a doctor. Elise, an accomplished mechanic, finds purpose and an unexpected kinship within the all-female Ambulance Corps. Through bombings, heartache and loss, Ruth and Elise cherish an independence rarely granted to women, unaware that their greatest challenges are still to come.
Illuminating the critical role women played in the Great War, this is a remarkable story of resilience, sacrifice and the bonds that can never be vanquished.
Available October 26:
Amazon | Barnes & Noble | Google Play | Kobo | Apple Books | Indiebound | Indigo | Audible | Goodreads
Sleigh Bells Ring by RaeAnne Thayne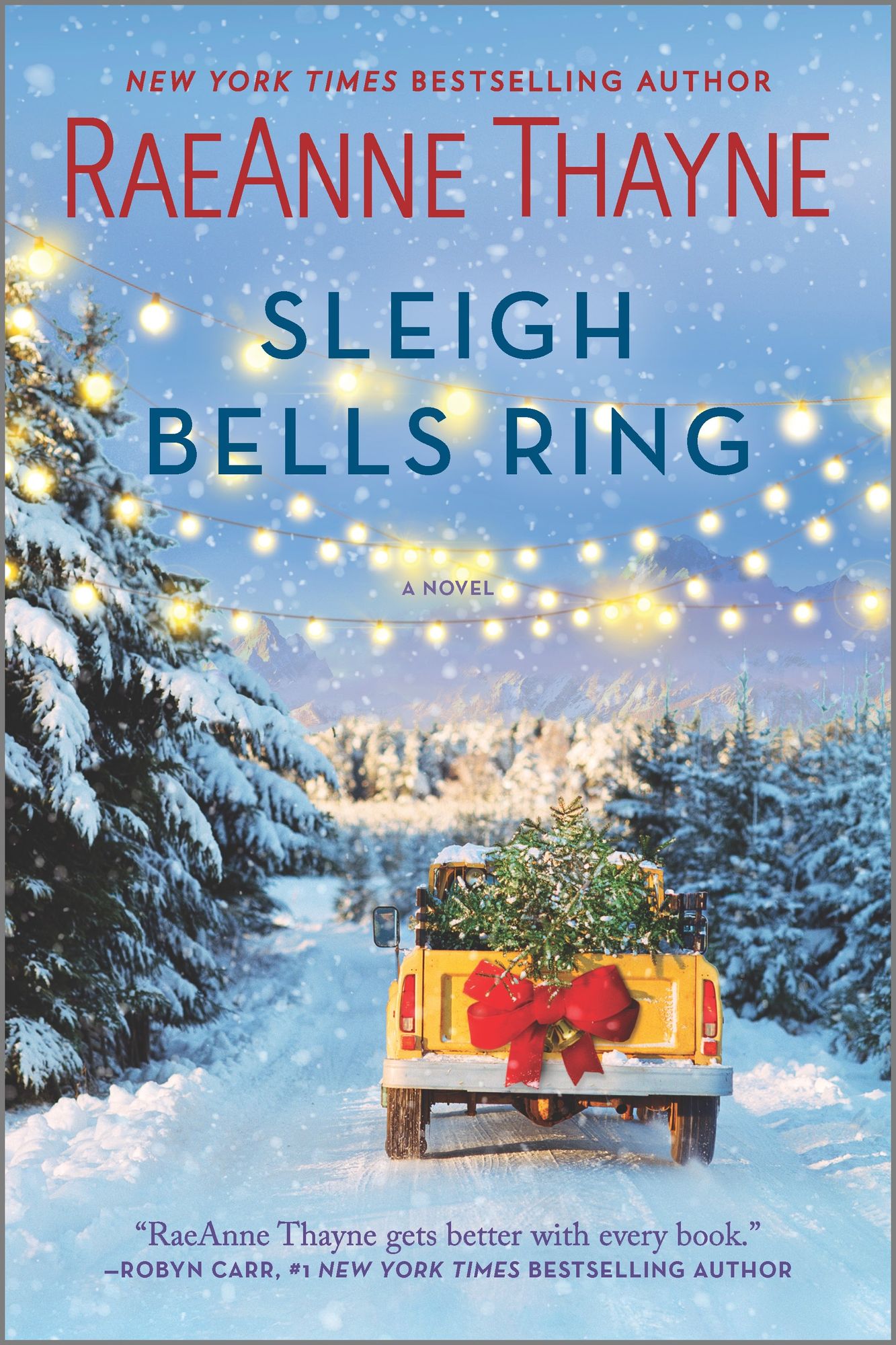 "[Thayne's] books are wonderfully romantic, feel-good reads that end with me sighing over the last pages."—Debbie Macomber, #1 New York Times bestselling author.
Celebrate the season with this sparkling and heartwarming holiday romance that proves sometimes all you need is a little Christmas magic…
Angel's View Ranch has always been special to Annelise McCade. Once upon a time, it was her family's land, until her grandfather sold it to billionaire Wallace Sheridan. Now employed as the live-in caretaker, Annie is just trying to make it through the holidays with both her sanity and her niece's and nephew's faith in the magic of Christmas intact.
The six-year-old twins recently lost their mother, so Annie tells herself it wouldn't be a problem to bring them to Angel's View. Why should it be? The Sheridans haven't visited in years, not since Wallace died. They would never know the twins were there…until Tate Sheridan shows up out of the blue two weeks before Christmas.
Crushed to learn that Tate is there to sell his grandfather's property—and mortified that her secret guests have been discovered—Annie offers her resignation. But Tate asks them to stay and help him get the house ready for one last family Christmas before it's put on the market.
Annie and Tate have three days to work their magic before the Sheridan clan arrives—and to work through the growing attraction between them. But Annie simply can't fall for the man who will put her out of a job and a home. Still, the sparkle of the season is impossible to deny…and this Christmas has surprises in store for everyone.
Available October 26:
Amazon | Barnes & Noble | Google Play | Kobo | Apple Books | Indiebound | Indigo | Audible | Goodreads
Trashlands by Alison Stine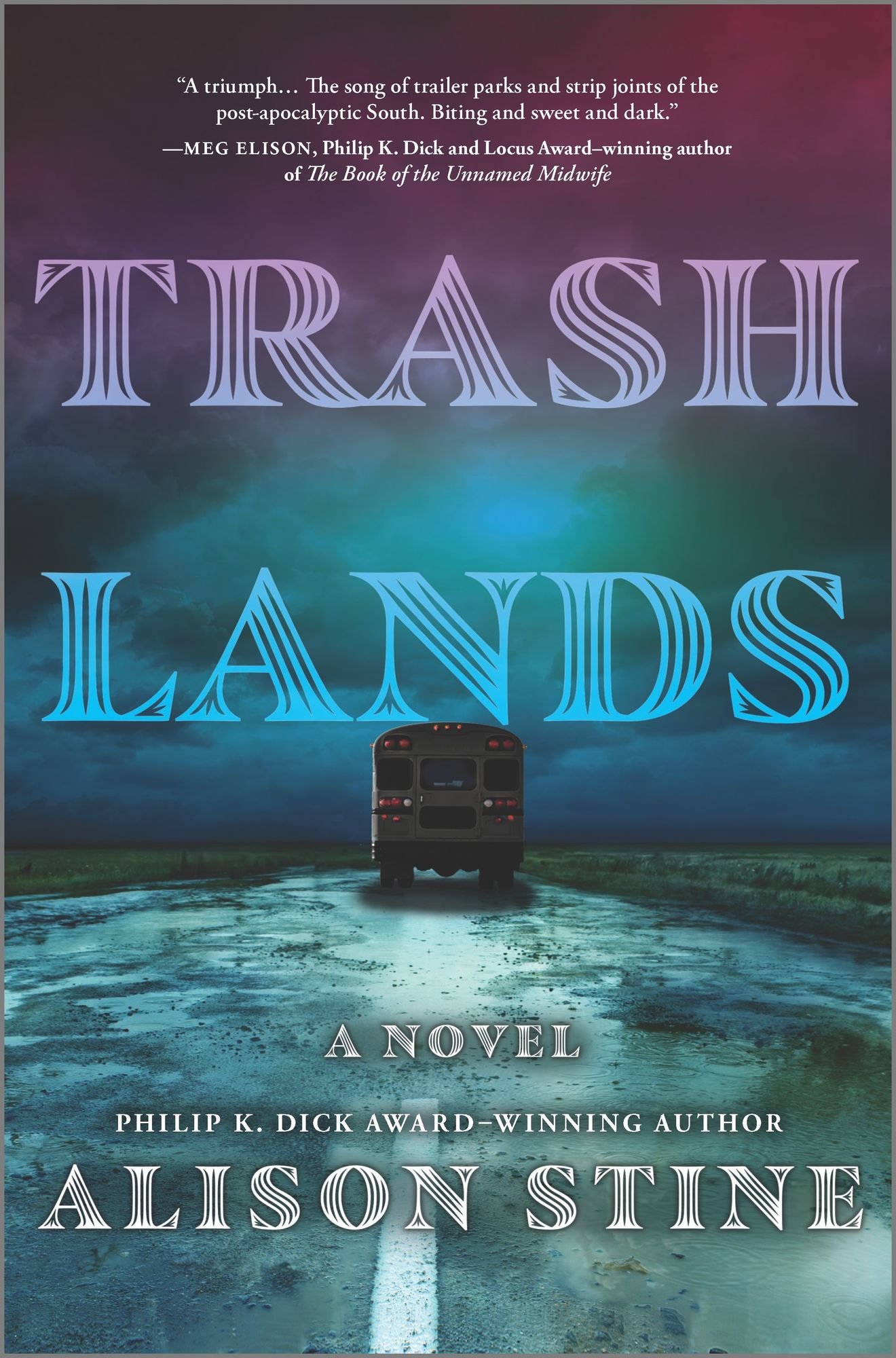 "This thought-provoking apocalypse noir fires on all cylinders." –Publishers Weekly starred review

From the author of Road Out of Winter, winner of the 2021 Philip K. Dick Award, a resonant, visionary novel about the power of art and the sacrifices we are willing to make for the ones we love
A few generations from now, the coastlines of the continent have been redrawn by floods and tides. Global powers have agreed to not produce any new plastics, and what is left has become valuable: garbage is currency.
In the region-wide junkyard that Appalachia has become, Coral is a "plucker," pulling plastic from the rivers and woods. She's stuck in Trashlands, a dump named for the strip club at its edge, where the local women dance for an endless loop of strangers and the club's violent owner rules as unofficial mayor.
Amid the polluted landscape, Coral works desperately to save up enough to rescue her child from the recycling factories, where he is forced to work. In her stolen free hours, she does something that seems impossible in this place: Coral makes art.
When a reporter from a struggling city on the coast arrives in Trashlands, Coral is presented with an opportunity to change her life. But is it possible to choose a future for herself?
Told in shifting perspectives, Trashlands is a beautifully drawn and wildly imaginative tale of a parent's journey, a story of community and humanity in a changed world.
Available October 26:
Amazon | Barnes & Noble | Google Play | Kobo | Apple Books | Indiebound | Indigo | Audible | Goodreads
Christmas in Rose Bend by Naima Simone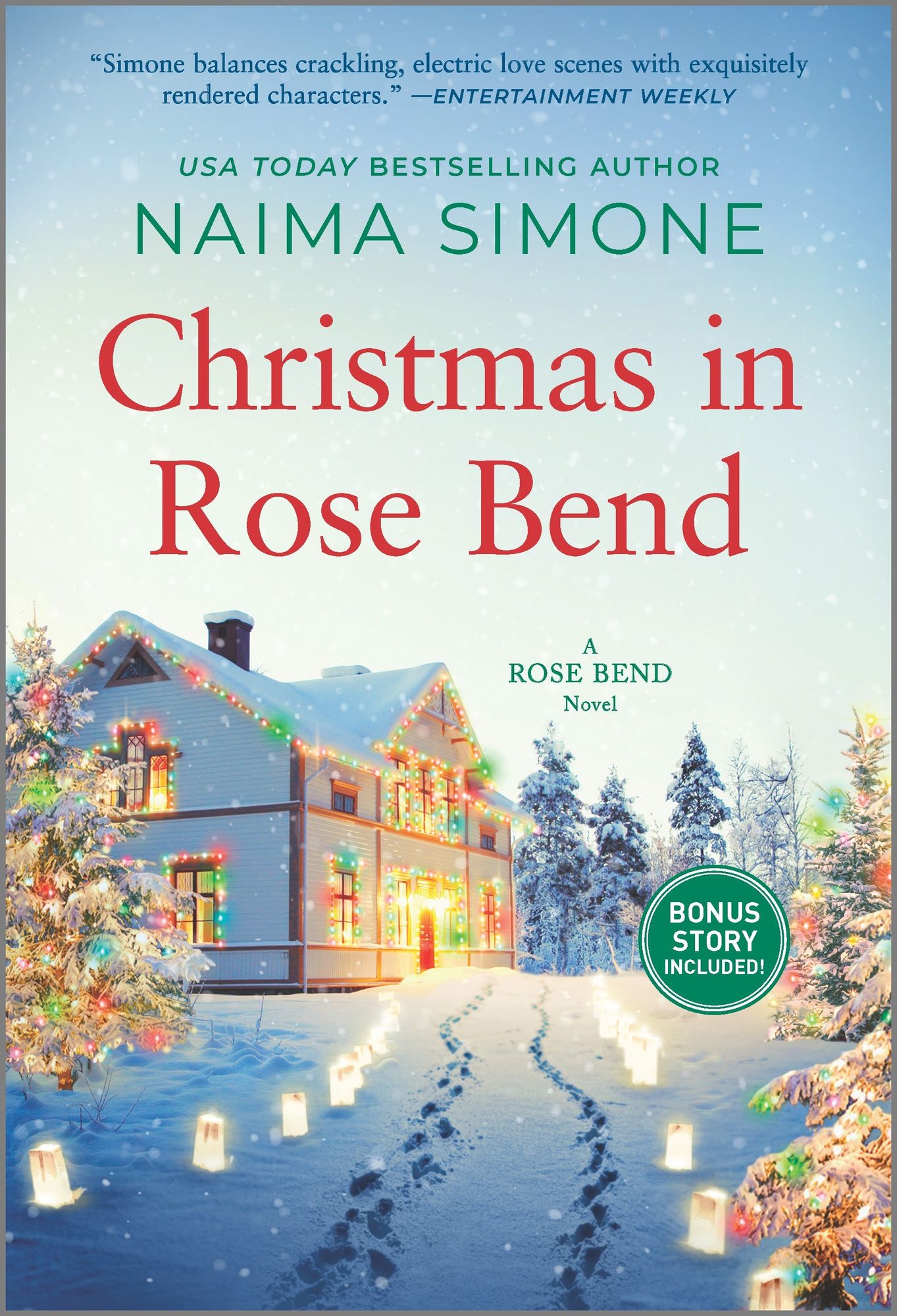 "Simone balances crackling, electric love scenes with exquisitely rendered characters." —Entertainment Weekly
The holidays have never been her thing. But Christmas in Rose Bend has more than one surprise in store…
Grieving ER nurse Nessa Hunt is on a road trip with her sullen teen half sister, Ivy, and still reeling from her mother's deathbed confession: Nessa's dad wasn't really her dad. Seeking answers, they arrive in Rose Bend to find a small town teeming with the kind of Christmas cheer Nessa usually avoids. But then she meets the innkeeper's ruggedly sexy son, Wolfgang Dennison.
Wolf's big, boisterous family is like a picture-perfect holiday card. Nessa has too much weighing on her to feel like she fits—even though the heat between her and Wolf is undeniable. And the merriment bringing an overdue smile to Ivy's face is almost enough to make Nessa believe in the Christmas spirit. But with all her parental baggage, including lingering questions about her birth father, is there room in Nessa's life for happy holidays and happily-ever-after?
Available October 26:
Amazon | Barnes & Noble | Google Play | Kobo | Apple Books | Indiebound | Indigo | Audible | Goodreads
Rodeo Christmas at Evergreen Ranch by Maisey Yates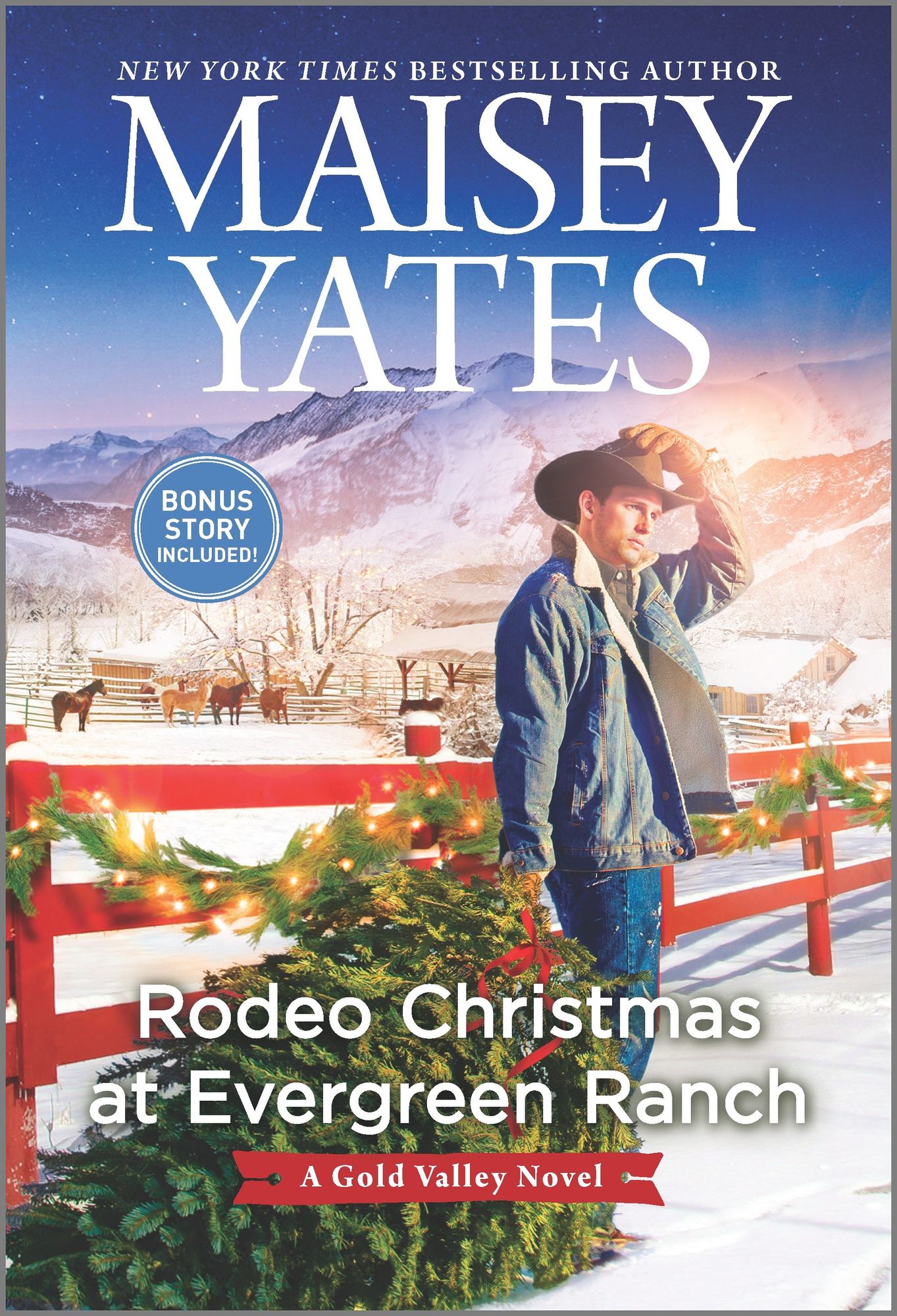 Gold Valley's rodeo champion is facing the toughest challenge of his life—a Christmas wedding!
Legendary bull rider Jake Daniels has only one plan this Christmas—to ignore the pain the season always brings. Until his best friend, Callie Carson, shows up on his ranch with a marriage proposal! Jake has lived so close to the edge it's a miracle he's still alive—he knows all about risk. But marrying the woman he craves more than anything feels like the biggest risk of all.
Callie Carson may be rodeo royalty, but to fulfill her dreams of riding saddle bronc, she needs her inheritance. And to access that, she needs a husband. But Jake the husband is deliciously different from Jake the friend, especially after the wild heat of their wedding night. He was only supposed to be her cowboy for Christmas, but Jake's every heart-stopping touch has Callie questioning how she'll ever be able to walk away…
Available October 26:
Amazon | Barnes & Noble | Google Play | Kobo | Apple Books | Indiebound | Indigo | Audible | Goodreads
One Christmas Wish by Brenda Jackson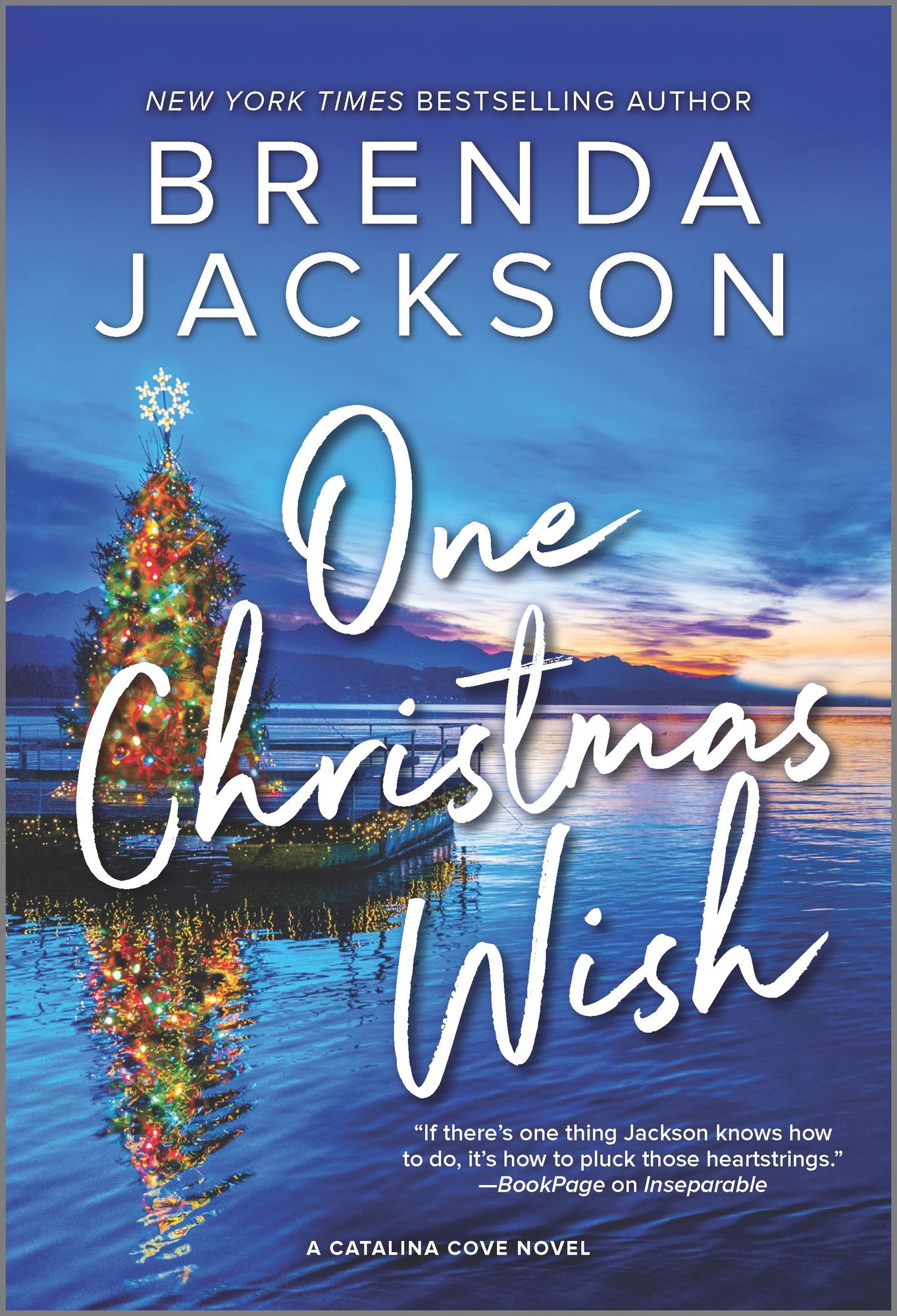 "Brenda Jackson writes romance that sizzles and characters you fall in love with."—Lori Foster, New York Times bestselling author
It's Christmas in Catalina Cove, a time of promise and second chances. But when you're starting over, love is the last thing you're wishing for…
Vaughn Miller's Wall Street career was abruptly ended by a wrongful conviction and two years in prison. Since then, he's returned to his hometown, kept his head down and forged a way forward. When he is exonerated and his name cleared, he feels he can hold his head up once again, maybe even talk to the beautiful café owner who sets his blood to simmering.
Sierra Crane escaped a disastrous marriage—barely. She and her six-year-old goddaughter have returned to the only place that feels like home. Determined to make it on her own, Sierra opens a soup café. Complication is the last thing she needs, but the moment Vaughn walks into her café, she can't keep her eyes off the smoldering loner.
When they give in to their attraction, what Sierra thought would be a onetime thing becomes so much more. Vaughn knows she's the one. Sierra can't deny the way Vaughn makes her feel, but she's been burned before. With Christmas approaching, Vaughn takes a chance to prove his love, and it will be up to Sierra to decide if her one Christmas wish—true happiness—will come true.
Available October 26:
Amazon | Barnes & Noble | Google Play | Kobo | Apple Books | Indiebound | Indigo | Audible | Goodreads
Which books are you most looking forward to reading this month?