While we've been saying goodbye to warm weather, we've been saying hello to a lot of books and entertainment as a whole. There really never is enough to read or watch…even when it comes to Netflix series. Looking for some new inspiration? Pick up a pumpkin spice latte and settle in with these six binge-worthy reads.
Return to Virgin River by Robyn Carr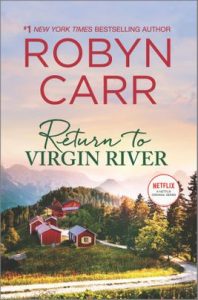 #1 New York Times bestselling author Robyn Carr returns to the beloved town of Virgin River with a brand-new story about fresh starts, new friends and the magic of Christmas.

Kaylee Sloan's home in Southern California is full of wonderful memories of the woman who raised her. But the memories are prolonging her grief over her mother's recent death. A successful author, Kaylee hoped she could pour herself into her work. Instead she has terrible writer's block and a looming deadline.
Determined to escape distractions and avoid the holiday season, Kaylee borrows a cabin in Virgin River. She knows the isolation will help her writing, and as she drives north through the mountains and the majestic redwoods, she immediately feels inspired. Until she arrives at a building that has just gone up in flames. Devastated, she heads to Jack's Bar to plan her next steps. The local watering hole is the heart of the town, and once she crosses the threshold, she's surprised to be embraced by people who are more than willing to help a friend—or a stranger—in need.
Kaylee's world is expanding in ways she never dreamed possible. And when she rescues a kitten followed by a dog with a litter of puppies, she finds her heart opening up to the animals who need her. And then there's the dog trainer who knows exactly how to help her. As the holidays approach, Kaylee's dread turns to wonder. Because there's no better place to spend Christmas than Virgin River.
Available at:
Amazon | Barnes & Noble | Google Play | Kobo | Apple Books | Indiebound | Audible | Goodreads
The Henna Artist by Alka Joshi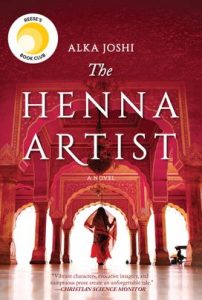 A NEW YORK TIMES BEST SELLER
A REESE WITHERSPOON x HELLO SUNSHINE BOOK CLUB PICK

Vivid and compelling in its portrait of one woman's struggle for fulfillment in a society pivoting between the traditional and the modern, The Henna Artist opens a door into a world that is at once lush and fascinating, stark and cruel.
Escaping from an abusive marriage, seventeen-year-old Lakshmi makes her way alone to the vibrant 1950s pink city of Jaipur. There she becomes the most highly requested henna artist—and confidante—to the wealthy women of the upper class. But trusted with the secrets of the wealthy, she can never reveal her own…
Known for her original designs and sage advice, Lakshmi must tread carefully to avoid the jealous gossips who could ruin her reputation and her livelihood. As she pursues her dream of an independent life, she is startled one day when she is confronted by her husband, who has tracked her down these many years later with a high-spirited young girl in tow—a sister Lakshmi never knew she had. Suddenly the caution that she has carefully cultivated as protection is threatened. Still she perseveres, applying her talents and lifting up those that surround her as she does.
Available at:
Amazon | Barnes & Noble | Google Play | Kobo | Apple Books | Indiebound | Audible | Goodreads
A Slice of Heaven by Sherryl Woods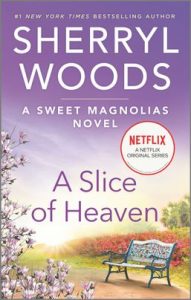 The Sweet Magnolias is now a Netflix Original Series!

From #1 New York Times Bestselling Author Sherryl Woods

Return to the world of the Sweet Magnolias, where friends are closer than family, and fun and scandal are always part of the mix.

Ever since she discovered her ex-husband's affair, Dana Sue Sullivan decided to put down new roots and create the best restaurant in Serenity, South Carolina. After years of hard labor, her dream has become a reality. Sullivan's provides more than just Southern comfort food—it's become a haven for the whole town—and Dana Sue knows better than anyone that relying on friendship can get you through the toughest times.
But when her teenage daughter, Annie, develops an eating disorder that lands her in the hospital, Dana Sue's perfect life comes crumbling down. On top of it all, her own health starts to deteriorate. Dana Sue knows she needs to change habits now to help them both get better—even if that means letting Ronnie Sullivan back into their lives.
And who knows, his return might end up being a recipe for a new beginning…
Available at:
Amazon | Barnes & Noble | Google Play | Kobo | Apple Books | Indiebound | Goodreads
The Other Mrs. by Mary Kubica
NEW YORK TIMES BESTSELLER
Coming to Netflix!
"Altogether unpredictable." —Karin Slaughter, New York Times bestselling author
Propulsive and addictive, and perfect for fans of "You," The Other Mrs.is the twisty new psychological thriller from Mary Kubica, the New York Times bestselling author of The Good Girl
Sadie and Will Foust have only just moved their family from bustling Chicago to small-town Maine when their neighbor Morgan Baines is found dead in her home. The murder rocks their tiny coastal island, but no one is more shaken than Sadie.
But it's not just Morgan's death that has Sadie on edge. And as the eyes of suspicion turn toward the new family in town, Sadie is drawn deeper into the mystery of what really happened that dark and deadly night. But Sadie must be careful, for the more she discovers about Mrs. Baines, the more she begins to realize just how much she has to lose if the truth ever comes to light.
Available at:
Amazon | Barnes & Noble | Google Play | Kobo | Apple Books | Indiebound | Audible | Goodreads
The One by John Marrs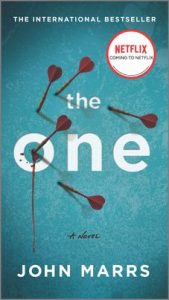 How far would you go to find The One?

A simple DNA test is all it takes—just a quick mouth swab, and soon you'll be paired with your perfect partner. At least, that was the promise made when scientists found the gene that can determine your ideal match.
"A shock on every other page." —Wall Street Journal
But the discovery has its downsides: test results have led to countless breakups and changed the traditional ideas of dating, romance and love.
"A dark thriller for the Valentine's Day skeptic.'' —The New York Post
Now five very different people have received their match. But "happily-ever-after" isn't guaranteed for everyone, because even soul mates have secrets. And some are more shocking than others…
"Just try to put this gripping thriller down once you pick it up.'' —AARP
Available at:
Amazon | Barnes & Noble | Google Play | Kobo | Apple Books | Indiebound | Audible | Goodreads
The Cactus by Sarah Haywood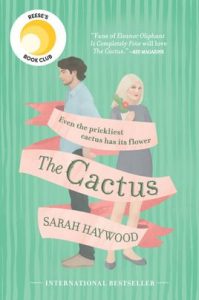 A REESE WITHERSPOON x HELLO SUNSHINE BOOK CLUB PICK
New York Times Bestseller
"Fans of Eleanor Oliphant Is Completely Fine will love The Cactus." —Red magazine
In this charming and poignant debut, one woman's unconventional journey to finding love means learning to embrace the unexpected.
For Susan Green, messy emotions don't fit into the equation of her perfectly ordered life. She has a flat that is ideal for one, a job that suits her passion for logic, and an "interpersonal arrangement" that provides cultural and other, more intimate, benefits. But suddenly confronted with the loss of her mother and the news that she is about to become a mother herself, Susan's greatest fear is realized. She is losing control.
Enter Rob, the dubious but well-meaning friend of her indolent brother. As Susan's due date draws near and her dismantled world falls further into a tailspin, Susan finds an unlikely ally in Rob. She might have a chance at finding real love and learning to love herself, if only she can figure out how to let go.
Available at:
Amazon | Barnes & Noble | Google Play | Kobo | Apple Books | Indiebound | Audible | Goodreads
Have any of these books made it on your TBR list? Let us know in the comments below.