Running out of topics for your Zoom calls with dad? Don't worry — we've got you covered. These six books not only make a perfect Father's Day gift but they also lend to great discussions. Make June 21 the day you talk books with dad!
Grand by Charles Johnson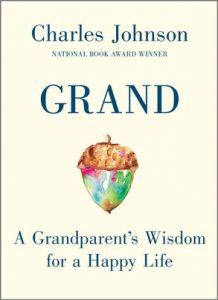 National Book Award winner and MacArthur Genius Fellow Charles Johnson reflects on the joys of being a grandparent in this warm, inspiring collection of wisdom and life lessons—the ideal gift for any new parent or grandparent
An award-winning novelist, philosopher, essayist, screenwriter, professor and cartoonist, Charles Johnson has held numerous impressive titles over the course of his incomparable career. Now, for the first time, with his trademark wisdom and philosophical generosity, he turns his attention to his most important role yet: grandparent.
In Grand, Johnson shares stories from his life with his six-year-old grandson, Emery, weaving in advice and life lessons that stand the test of time. "Looking at the problems I see in the world around me," Johnson writes, "I realize that there are so many things I want to say to him about the goodness and beauty that life offers. What are the perennial truths that I can impart to Emery that might make his journey through life easier or more rewarding?" Johnson shares these truths and more, offering profound meditations on family, race, freedom and creativity.
Joyful, lucid and deeply comforting, Grand is Johnson at his most accessible and profound, an indispensable compendium for new grandparents and growing grandchildren alike, from one of America's most revered thinkers.
Available at:
Amazon | Barnes & Noble | Google Play | Kobo | Apple Books | Indiebound | Audible | Goodreads
John Adams Under Fire by Dan Abrams and David Fisher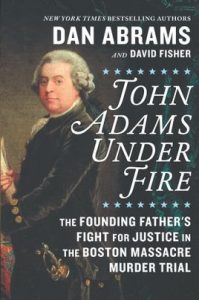 The New York Times bestselling author of Lincoln's Last Trial and host of LivePD Dan Abrams and David Fisher tell the story of a trial that would change history.
History remembers John Adams as a Founding Father and our country's second president. But in the tense years before the American Revolution, he was still just a lawyer, fighting for justice in one of the most explosive murder trials of the era.
On the night of March 5, 1770, shots were fired by British soldiers on the streets of Boston, killing five civilians. The Boston Massacre has often been called the first shots of the American Revolution. As John Adams would later remember, "On that night the formation of American independence was born." Yet when the British soldiers faced trial, the young lawyer Adams was determined that they receive a fair one. He volunteered to represent them, keeping the peace in a powder keg of a colony, and in the process created some of the foundations of what would become United States law.
In this book, New York Times bestselling authors Dan Abrams and David Fisher draw on the trial transcript, using Adams's own words to transport readers to colonial Boston, a city roiling with rebellion, where British military forces and American colonists lived side by side, waiting for the spark that would start a war.
Available at:
Amazon | Barnes & Noble | Google Play | Kobo | Apple Books | Indiebound | Audible | Goodreads
Broken Faith by Mitch Weiss and Holbrook Mohr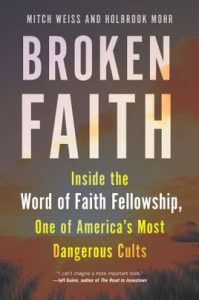 A PopSugar Best True Crime Book of 2020

"I can't imagine a more important book."—Jeff Guinn, New York Times bestselling author

An explosive investigation into Word of Faith Fellowship, a secretive evangelical cult whose charismatic female leader is a master of manipulation
In 1979, a fiery preacher named Jane Whaley attracted a small group of followers with a promise that she could turn their lives around.
In the years since, Whaley's following has expanded to include thousands of congregants across three continents. In their eyes she's a prophet. And to disobey her means eternal damnation.
The control Whaley exerts is absolute: she decides what her followers study, where they work, whom they can marry—even when they can have sex.
Based on hundreds of interviews, secretly recorded conversations, and thousands of pages of documents, Pulitzer Prize winner Mitch Weiss and Holbrook Mohr's Broken Faith is a terrifying portrait of life inside the Word of Faith Fellowship, and the harrowing account of one family who escaped after two decades.
Available at:
Amazon | Barnes & Noble | Google Play | Kobo | Apple Books | Indiebound | Audible | Goodreads
Truth: A Brief History of Total Bullsh*t by Tom Phillips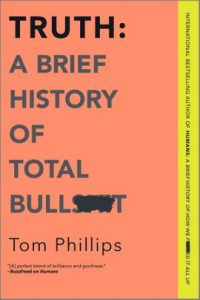 This is a book about TRUTH—and all the ways we try to avoid it—from the bestselling author of Humans: A Brief History of How We F*cked It All Up.
We live in a "post-truth" world, we're told. But was there ever really a golden age of truth-telling? Or have people been lying, fibbing and just plain bullsh*tting since the beginning of time?
Tom Phillips, editor of a leading independent fact-checking organization, deals with this question every day. In Truth, he tells the story of how we humans have spent history lying to each other—and ourselves—about everything from business to politics to plain old geography. Along the way, he chronicles the world's oldest customer service complaint, the Great Moon Hoax of 1835 and the surprisingly dishonest career of Benjamin Franklin.
Sharp, witty and with a clear-eyed view of humanity's checkered past, Truth reveals why people lie—and how we can cut through the bullsh*t.
Available at:
Amazon | Barnes & Noble | Google Play | Kobo | Apple Books | Indiebound | Audible | Goodreads
Deadly Anniversaries by Marcia Muller and Bill Pronzini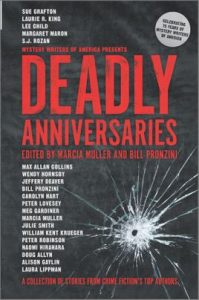 Mystery Writers of America is proud to present Deadly Anniversaries, a collection of crime and mystery stories from some of the best contemporary authors, all of whom have been invited to put their own unique spin on what it means to recognize a certain day or event every year. An anniversary can take many forms, and by the time this group of bestsellers and award winners is through, none of us will ever look at anniversaries the same way again.
Edited by Marcia Muller and Bill Pronzini, this collection features original stories from twenty industry giants. Deadly Anniversaries is sure to shock, scare and delight mystery and suspense fans of all kinds.
Available at:
Amazon | Barnes & Noble | Google Play | Kobo | Apple Books | Indiebound | Audible | Goodreads
No Shadows in the Desert by Samuel M. Katz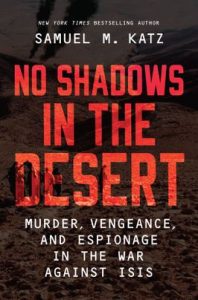 The inside story of the covert operation that took down the heads of ISIS
No Shadows in the Desert reveals the untold story of the behind-the-scenes fight against ISIS—one coordinated by heads of state and ultimately fought in the alleyways and open deserts of the Middle Eastern battlefield by spies and soldiers. Samuel M. Katz draws upon his sources within the global intelligence and counterterrorism community, as well as the international special operations and espionage fraternity, to tell the story of the covert campaign against ISIS by the operatives who ventured deeply and secretly into enemy territory.
In this first-ever look at the secret inner workings of an Arab secret service, Katz tells the story of Jordan's GID, the masters of human intelligence on the espionage battlefields of the Middle East, who proved pivotal and crucial go-to allies of the CIA and America's other intelligence agencies in the war against ISIS and the war on terror. With the revealing and intimate insight of the intelligence officers who fought ISIS, No Shadows in the Desert is a rare glimpse into how a strategic partnership helped change how terrorism is fought in the Middle East and beyond.
Available at:
Amazon | Barnes & Noble | Google Play | Kobo | Apple Books | Indiebound | Audible | Goodreads
What book do you think your dad would love this Father's Day? Let us know in the comments below!