If one of your 2022 goals was to read more books, then we've got you covered! Especially if you love a fast paced, can't put it down, thriller. There's nothing quite like flipping the pages in a fury trying to figure out who did it or who's to blame. Here are seven suspense books that should be on the top of your reading pile this year!
The Good Son by Jacquelyn Mitchard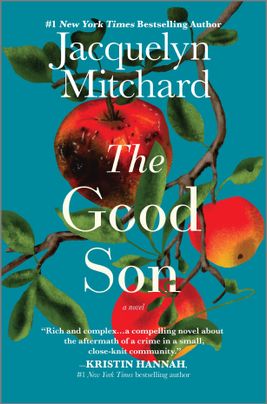 "Rich and complex, The Good Son is a compelling novel about the aftermath of a crime in a small, close-knit community."—Kristin Hannah, New York Times bestselling author

From #1 New York Times bestselling author Jacquelyn Mitchard comes the gripping, emotionally charged novel of a mother who must help her son after he is convicted of a devastating crime.
What do you do when the person you love best becomes unrecognizable to you? For Thea Demetriou, the answer is both simple and agonizing: you keep loving him somehow.
Stefan was just seventeen when he went to prison for the drug-fueled murder of his girlfriend, Belinda. Three years later, he's released to a world that refuses to let him move on. Belinda's mother, once Thea's good friend, galvanizes the community to rally against him to protest in her daughter's memory. The media paints Stefan as a symbol of white privilege and indifferent justice. Neighbors, employers, even some members of Thea's own family turn away.
Meanwhile Thea struggles to understand her son. At times, he is still the sweet boy he has always been; at others, he is a young man tormented by guilt and almost broken by his time in prison. But as his efforts to make amends meet escalating resistance and threats, Thea suspects more forces are at play than just community outrage. And if there is so much she never knew about her own son, what other secrets has she yet to uncover—especially about the night Belinda died?
Available at:
Amazon | Barnes & Noble | Google Play | Kobo | Apple Books | Indiebound | Indigo | Audible | Goodreads
Cry Wolf by Hans Rosenfeldt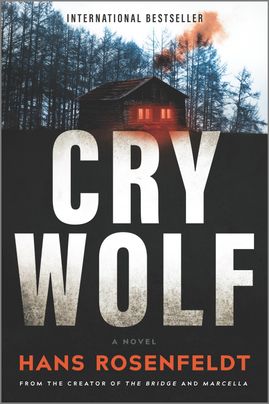 A DEAD WOLF

A DRUG DEAL GONE WRONG

A LETHAL FEMALE ASSASSIN
The first book in a new series by Hans Rosenfeldt, creator of the TV series The Bridge as well as Netflix's Emmy Award–winning Marcella.
Hannah Wester, a policewoman in the remote northern town of Haparanda, Sweden, finds herself on the precipice of chaos.
When human remains are found in the stomach of a dead wolf, Hannah knows that this summer won't be like any other. The remains are linked to a bloody drug deal across the border in Finland. But how did the victim end up in the woods outside of Haparanda? And where have the drugs and money gone?
Hannah and her colleagues leave no stone unturned. But time is scarce and they aren't the only ones looking. When the secretive and deadly Katja arrives, unexpected and brutal events start to pile up. In just a few days, life in Haparanda is turned upside down. Not least for Hannah, who is finally forced to confront her own past.
Available at:
Amazon | Barnes & Noble | Google Play | Kobo | Apple Books | Indiebound | Indigo | Audible | Goodreads
Woman Last Seen by Adele Parks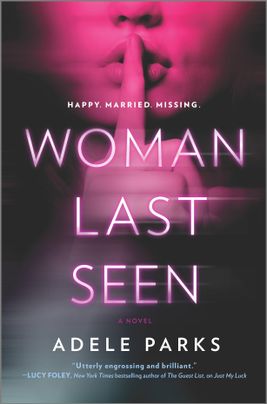 HAPPY. MARRIED. MISSING.
"A gripping story of greed, lies and dark family secrets."
—Lisa Jewell, New York Times bestselling author, on Just My Luck
Leigh Fletcher: happily married stepmom to two gorgeous boys goes missing on Monday. Her husband, Mark, says he knows nothing of her whereabouts. She went to work and just never came home. Their family is shattered.
Kai Janssen: married to wealthy Dutch businessman Daan and vanishes the same week. Kai left their luxurious penthouse and glamorous world without a backward glance. She seemingly evaporated into thin air. Daan is distraught.
Detective Clements knows that people disappear all the time—far too frequently. Most run away from things, some run toward and others are taken but find their way back. A sad few never return. These two women are from very different worlds. Their disappearances are unlikely to be connected. And yet, at a gut level, the detective believes they might be.
How could these women walk away from their families, husbands and homes willingly? Clements is determined to unearth the truth, no matter how shocking and devastating it may be.
#1 Sunday Times bestselling author Adele Parks returns with her most provocative, compelling book to date.
Available at:
Amazon | Barnes & Noble | Google Play | Kobo | Apple Books | Indiebound | Indigo | Audible | Goodreads
The Sorority Murder by Allison Brennan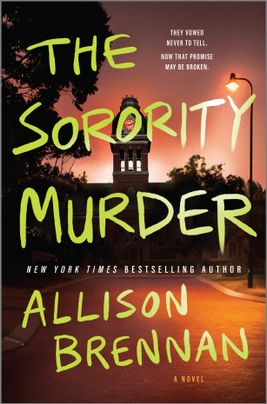 A popular sorority girl. An unsolved murder. A campus podcast with chilling repercussions.
Lucas Vega is obsessed with the death of Candace Swain, who left a sorority party one night and never came back. Her body was found after two weeks, but the case has grown cold. Three years later while interning at the medical examiner's, Lucas discovers new information, but the police are not interested.
Lucas knows he has several credible pieces of the puzzle. He just isn't sure how they fit together. So he creates a podcast to revisit Candace's last hours. Then he encourages listeners to crowdsource what they remember and invites guest lecturer Regan Merritt, a former US marshal, to come on and share her expertise.
New tips come in that convince Lucas and Regan they are onto something. Then shockingly one of the podcast callers turns up dead. Another hints at Candace's secret life, a much darker picture than Lucas imagined—and one that implicates other sorority sisters. Regan uses her own resources to bolster their theory and learns that Lucas is hiding his own secret. The pressure is on to solve the murder, but first Lucas must come clean about his real motives in pursuing this podcast—before the killer silences him forever.
Available at:
Amazon | Barnes & Noble | Google Play | Kobo | Apple Books | Indiebound | Indigo | Audible | Goodreads
My Darling Husband by Kimberly Belle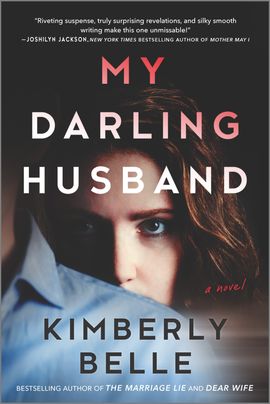 Bestselling author of DEAR WIFE and THE MARRIAGE LIE, Kimberly Belle returns with her most heart-pounding thriler to date, as a masked home invader reveals the cracks in a marriage.
Everyone is about to know what her husband isn't telling her…
Jade and Cam Lasky are by all accounts a happily married couple with two adorable kids, a spacious home and a rapidly growing restaurant business. But their world is tipped upside down when Jade is confronted by a masked home invader. As Cam scrambles to gather the ransom money, Jade starts to wonder if they're as financially secure as their lifestyle suggests, and what other secrets her husband is keeping from her.
Cam may be a good father, a celebrity chef and a darling husband, but there's another side he's kept hidden from Jade that has put their family in danger. Unbeknownst to Cam and Jade, the home invader has been watching them and is about to turn their family secrets into a public scandal.
With riveting twists and a breakneck pace, My Darling Husband is an utterly compelling thriller that once again showcases Kimberly Belle's exceptional talent for domestic suspense.
Available at:
Amazon | Barnes & Noble | Google Play | Kobo | Apple Books | Indiebound | Indigo | Audible | Goodreads
The Ex-Husband by Karen Hamilton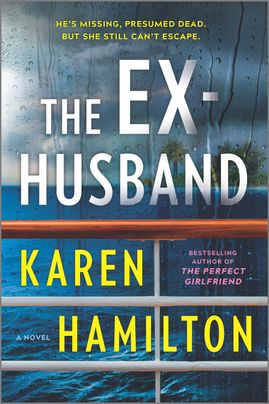 It's an offer she can't refuse…and can't escape.
True: Charlotte has an unsavory past. She married the wrong man, got caught up in his con artist games, took what wasn't hers. She got out, though: divorced Sam, started fresh.
False: She left him before things went too far. Nothing bad happened.
True: Sam is missing, and before he disappeared, he left cryptic messages about someone threatening him—someone who has been threatening Charlotte, too.
True: She's on the straight and narrow, has accepted a job as a personal assistant for an engagement party on board a private luxury cruise ship, the Cleobella.
False: No one on board knows about her past, and she's far away from anyone who means her harm.
As the Cleobella sails through its glittering destinations—the Bahamas, Barbados, Trinidad and Tobago—increasingly sinister events haunt the guests, and the turquoise waves and sun-drenched beaches give way to something darker. Someone knows what Charlotte did. Is it the blushing bride? The seemingly placid mother-in-law? Or the mysterious heiress?
Someone knows, and someone wants revenge—before the ship reaches its final port.
Available at:
Amazon | Barnes & Noble | Google Play | Kobo | Apple Books | Indiebound | Indigo | Audible | Goodreads
The Overnight Guest by Heather Gudenkauf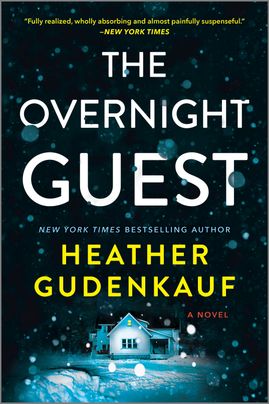 A woman receives an unexpected visitor during a deadly snowstorm in this chilling thriller from New York Times bestselling author Heather Gudenkauf
She thought she was alone…
True crime writer Wylie Lark doesn't mind being snowed in at the isolated farmhouse where she's retreated to write her new book. A cozy fire, complete silence. It would be perfect, if not for the fact that decades earlier, at this very house, two people were murdered in cold blood and a girl disappeared without a trace.
As the storm worsens, Wylie finds herself trapped inside the house, haunted by the secrets contained within its walls—haunted by secrets of her own. Then she discovers a small child in the snow just outside. After bringing the child inside for warmth and safety, she begins to search for answers. But soon it becomes clear that the farmhouse isn't as isolated as she thought, and someone is willing to do anything to find them.
Available at:
Amazon | Barnes & Noble | Google Play | Kobo | Apple Books | Indiebound | Indigo | Audible | Goodreads
Share with us in the comments what book you'll be reading first!