Never know what to gift Dad? We know the struggle! How about we get Dad TIE'd up with the right books this Fathers Day?
Here are a few of our best bets for finding something he'll like. Treat him to incredible nonfiction (hello, Kennedy's Avenger and Hurricanes), pulse-pounding suspense (hey, Michael Ledwidge and Tarryn Fisher), or even superhero fiction in the form of We Could Be Heroes by Mike Chen.
Kennedy's Avenger by Dan Abrams and David Fisher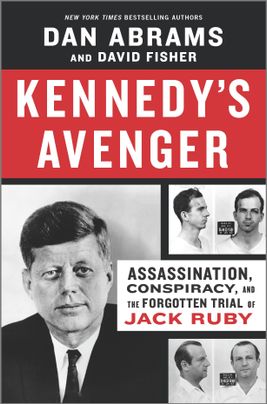 New York Times bestselling authors Dan Abrams and David Fisher bring to life the incredible story of one of America's most publicized—and most surprising—criminal trials in history.
No crime in history had more eyewitnesses. On November 24, 1963, two days after the killing of President Kennedy, a troubled nightclub owner named Jack Ruby quietly slipped into the Dallas police station and assassinated the assassin, Lee Harvey Oswald. Millions of Americans witnessed the killing on live television, and yet the event would lead to questions for years to come.
It also would help to spark the conspiracy theories that have continued to resonate today.
Under the long shadow cast by the assassination of America's beloved president, few would remember the bizarre trial that followed three months later in Dallas, Texas. How exactly does one defend a man who was seen pulling the trigger in front of millions? And, more important, how did Jack Ruby, who fired point-blank into Oswald live on television, die an innocent man?
Featuring a colorful cast of characters, including the nation's most flamboyant lawyer pitted against a tough-as-Texas prosecutor, award-winning authors Dan Abrams and David Fisher unveil the astonishing details behind the first major trial of the television century. While it was Jack Ruby who appeared before the jury, it was also the city of Dallas and the American legal system being judged by the world.
Available at:
Amazon | Barnes & Noble | Google Play | Kobo | Apple Books | Indiebound | Indigo | Audible | Goodreads
Run for Cover by Michael Ledwidge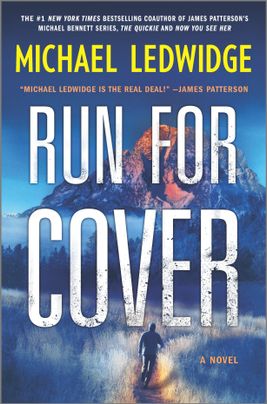 The next installment in the pulse-pounding Gannon series, featuring murder, intrigue and a deadly new mystery that may just be his last…

Fresh from a lethal entanglement with some of the deepest and darkest players in the global intelligence services, Michael Gannon heads to the safest place he can think of: deep in the wilds of Utah on the ranch of one of his oldest and closest war buddies.
But when his friend's brother is found dead in the rocky foothills of Grand Teton, Gannon realizes there are some things more important than keeping your head down. Is his death just one in a string of grisly murders mysteriously occurring around national parks—or a part of something even more sinister?
Flushed from cover, Gannon soon finds himself teamed up with tenacious FBI agent Kit Hagen on the trail of a dangerous mystery and a head-on collision course with a ruthless killer whose skills at war are as deadly as they come.
Available at:
Amazon | Barnes & Noble | Google Play | Kobo | Apple Books | Indiebound | Indigo | Audible | Goodreads
We Could Be Heroes by Mike Chen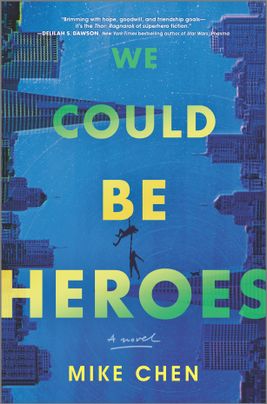 An extraordinary and emotional adventure about unlikely friends and the power of choosing who you want to be.
Jamie woke up in an empty apartment with no memory and only a few clues to his identity, but with the ability to read and erase other people's memories—a power he uses to hold up banks to buy coffee, cat food and books.
Zoe is also searching for her past, and using her abilities of speed and strength…to deliver fast food. And she'll occasionally put on a cool suit and beat up bad guys, if she feels like it.
When the archrivals meet in a memory-loss support group, they realize the only way to reveal their hidden pasts might be through each other. As they uncover an ongoing threat, suddenly much more is at stake than their fragile friendship. With countless people at risk, Zoe and Jamie will have to recognize that sometimes being a hero starts with trusting someone else—and yourself.
Available at:
Amazon | Barnes & Noble | Google Play | Kobo | Apple Books | Indiebound | Indigo | Audible | Goodreads
The Jigsaw Man by Nadine Matheson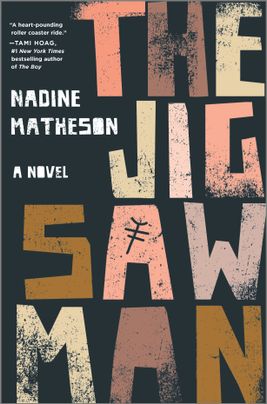 A serial killer and his copycat are locked in a violent game of cat and mouse. Can DI Anjelica Henley stop them before it's too late?

On the day she returns to active duty with the Serial Crimes Unit, Detective Inspector Anjelica Henley is called to a crime scene. Dismembered body parts from two victims have been found by the river.
The modus operandi bears a striking resemblance to Peter Olivier, the notorious Jigsaw Killer, who has spent the past two years behind bars. When he learns that someone is co-opting his grisly signature—the arrangement of victims' limbs in puzzle-piece shapes—he decides to take matters into his own hands.
As the body count rises, DI Anjelica Henley is faced with an unspeakable new threat. Can she apprehend the copycat killer before Olivier finds a way to get to him first? Or will she herself become the next victim?
Drawing on her experience as a criminal attorney, debut novelist Nadine Matheson delivers the page-turning crime novel of the year. Taut, vivid and addictively sinister, The Jigsaw Man will leave you breathless until the very last page.
Available at:
Amazon | Barnes & Noble | Google Play | Kobo | Apple Books | Indiebound | Indigo | Audible | Goodreads
The Wrong Family by Tarryn Fisher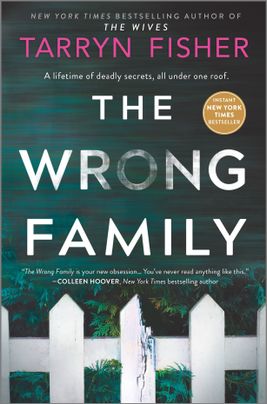 An Instant Bestseller!
From the author of the instant New York Times bestseller The Wives comes another twisted psychological thriller guaranteed to turn your world upside down.
Have you ever been wrong about someone?
Juno was wrong about Winnie Crouch.
Before moving in with the Crouch family, Juno thought Winnie and her husband, Nigel, had the perfect marriage, the perfect son—the perfect life. Only now that she's living in their beautiful house, she sees the cracks in the crumbling facade are too deep to ignore.
Still, she isn't one to judge. After her grim diagnosis, the retired therapist simply wants a place to live out the rest of her days in peace. But that peace is shattered the day Juno overhears a chilling conversation between Winnie and Nigel…
She shouldn't get involved.
She really shouldn't.
But this could be her chance to make a few things right.
Because if you thought Juno didn't have a secret of her own, then you were wrong about her, too.
From the wickedly dark mind of bestselling author Tarryn Fisher, The Wrong Family is a taut new thriller that's riddled with twists in all the right places.
Available at:
Amazon | Barnes & Noble | Google Play | Kobo | Apple Books | Indiebound | Indigo | Audible | Goodreads
Stranger in the Lake by Kimberly Belle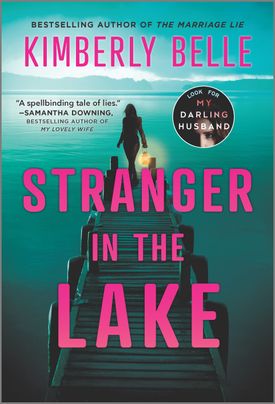 When Charlotte married the wealthy widower Paul, it caused a ripple of gossip in their small lakeside town. They have a charmed life together, despite the cruel whispers about her humble past and his first marriage. But everything starts to unravel when she discovers a young woman's body floating in the exact same spot where Paul's first wife tragically drowned.
At first, it seems like a horrific coincidence, but the stranger in the lake is no stranger. Charlotte saw Paul talking to her the day before, even though Paul tells the police he's never met the woman. His lie exposes cracks in their fragile new marriage, cracks Charlotte is determined to keep from breaking them in two.
As Charlotte uncovers dark mysteries about the man she married, she doesn't know what to trust—her heart, which knows Paul to be a good man, or her growing suspicion that there's something he's hiding in the water.
Available at:
Amazon | Barnes & Noble | Google Play | Kobo | Apple Books | Indiebound | Indigo | Audible | Goodreads
Hurricanes by Rick Ross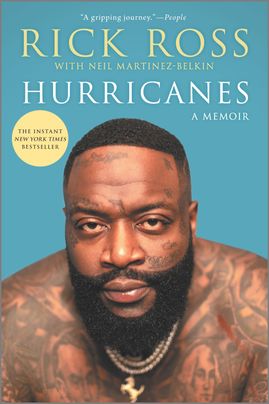 The highly anticipated memoir from hip-hop icon Rick Ross chronicles his coming of age amid Miami's crack epidemic, his star-studded controversies and his unstoppable rise to fame.
Rick Ross is an indomitable presence in the music industry, but few people know his full story. Now, for the first time, Ross offers a vivid, dramatic and unexpectedly candid account of his early childhood, his tumultuous adolescence and his dramatic ascendancy in the world of hip-hop.
Born William Leonard Roberts II, Ross grew up "across the bridge," in a Miami at odds with the glitzy beaches, nightclubs and yachts of South Beach. In the aftermath of the 1980 race riots and the Mariel boatlift, Ross came of age at the height of the city's crack epidemic, when home invasions and execution-style killings were commonplace. Still, in the midst of the chaos and danger that surrounded him, Ross flourished, first as a standout high school football player and then as a dope boy in Carol City's notorious Matchbox housing projects. All the while he honed his musical talent, overcoming setback after setback until a song called "Hustlin'" changed his life forever.
From the making of "Hustlin'" to his first major label deal with Def Jam, to the controversy surrounding his past as a correctional officer and the numerous health scares, arrests and feuds he had to transcend along the way, Hurricanes is a revealing portrait of one of the biggest stars in the rap game, and an intimate look at the birth of an artist.
Available at:
Amazon | Barnes & Noble | Google Play | Kobo | Apple Books | Indiebound | Indigo | Audible | Goodreads
Evolution Gone Wrong by Alex Bezzerides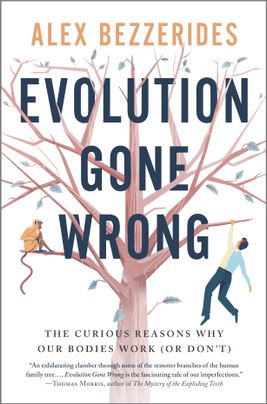 "An unforgettable journey through this twisted miracle of evolution we call 'our body.'" —Spike Carlsen, author of A Walk Around the Block
From blurry vision to crooked teeth, ACLs that tear at alarming rates and spines that seem to spend a lifetime falling apart, it's a curious thing that human beings have beaten the odds as a species.
After all, we're the only survivors on our branch of the tree of life. The flaws in our makeup raise more than a few questions, and this detailed foray into the many twists and turns of our ancestral past includes no shortage of curiosity and humor to find the answers.
Why is it that human mothers have such a life-endangering experience giving birth? Why are there entire medical specialties for teeth and feet? And why is it that human babies can't even hold their heads up, but horses are trotting around minutes after they're born?
In this funny, wide-ranging and often surprising book, biologist Alex Bezzerides tells us just where we inherited our adaptable, achy, brilliant bodies in the process of evolution.
Available at:
Amazon | Barnes & Noble | Google Play | Kobo | Apple Books | Indiebound | Indigo | Audible | Goodreads
What books do you think Dad will like? Let us know in the comments below!