Hey book lovers! Time to freshen that TBR with some amazing Pride-related reads. Read with Pride this June with our amazing selection of LGBTQIAP+ books! From heartfelt coming-of-age stories to futuristic space adventures, Pride books are here today, tomorrow, and all year round.
So Happy For You by Celia Laskey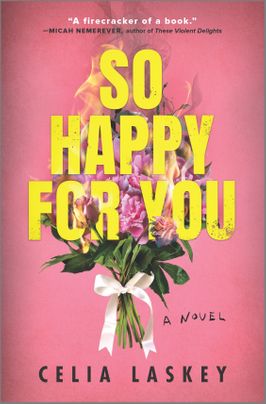 A wedding weekend spirals out of control in this bold, electrifying, hilarious novel about the complexities of female friendship
Robin and Ellie have been best friends since childhood. When Robin came out, Ellie was there for her. When Ellie's father died, Robin had her back. But when Ellie asks Robin to be her maid of honor, she is reluctant. A queer academic, Robin is dubious of the elaborate wedding rituals now sweeping the nation, which go far beyond champagne toasts and a bouquet toss. But loyalty wins out, and Robin accepts.
Yet, as the wedding weekend approaches, a series of ominous occurrences lead Robin to second-guess her decision. It seems that everyone in the bridal party is out to get her. Perhaps even Ellie herself.
Manically entertaining, viciously funny and eerily campy, So Happy for You is the ultimate send-up to our collective obsession with the wedding industrial complex and a riveting, unexpectedly poignant depiction of friendship in all its messy glory.
Available June 2022:
Amazon | Barnes & Noble | Google Play | Kobo | Apple Books | Indiebound | Indigo | Audible | Goodreads
Out There by Saundra Mitchell
Into the queer new yonder!
To conclude the trio of anthologies that started with critically acclaimed All Out and Out Now, Out There features seventeen original short stories set in the future from fantastic queer YA authors.
Explore new and familiar worlds where the human consciousness can be uploaded into a body on Mars…an alien helps a girl decide if she should tell her best friend how she feels…two teens get stuck in a time loop at a space station…people are forced to travel to the past or the future to escape the dying planet…only a nonbinary person can translate the binary code of a machine that predicts the future…everyone in the world vanishes except for two teen girls who are in love.
This essential and beautifully written collection immerses and surprises with each turn of the page.
Available June 2022:
Amazon | Barnes & Noble | Google Play | Kobo | Apple Books | Indiebound | Indigo | Goodreads
Florida Woman by Deb Rogers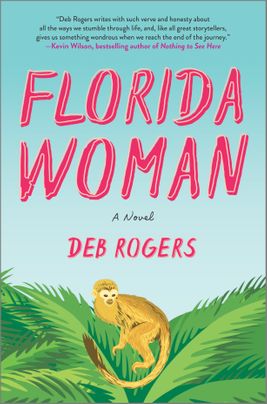 A gleefully dark and entertaining debut for fans of Kevin Wilson and Karen Russell, about one young woman's sensational summer at a Floridian wildlife center for exotic monkeys

Jamie is a Florida Woman. She grew up on the beach, thrives in humidity, has weathered more hurricanes than she can count, and now, after going viral for an outrageous crime she never meant to commit in the first place, she has the requisite headline to her name. But when the chance comes for her to escape viral infamy and imminent jail time by taking a community service placement at Atlas, a shelter for rescued monkeys, it seems like just the fresh start Jamie needs to finally get her life back on track — until it's not.
Something sinister stirs in the palmetto woods surrounding her cabin, and secrets lurk among the three beguiling women who run the shelter and affectionately take Jamie under their wing for the summer. She hears the distant screams of monkeys each night; the staff perform cryptic, lakeside sacrifices to honor Atlas; and the land, which has long been abandoned by citrus farmers and theme park developers alike, now proves to be dangerously, relentlessly untamed.
As Jamie ventures deeper into the offbeat world and rituals of Atlas, her summer is soon set to inspire an even stranger Florida headline than she ever could've imagined.
Available July 2022:
Amazon | Barnes & Noble | Google Play | Kobo | Apple Books | Indiebound | Indigo | Audible |Goodreads
The Witch King by H.E. Edgmon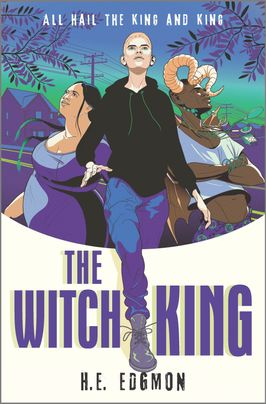 Wyatt would give anything to forget where he came from—but a kingdom demands its king.
In Asalin, fae rule and witches like Wyatt Croft…don't. Wyatt's betrothal to his best friend, fae prince Emyr North, was supposed to change that. But when Wyatt lost control of his magic one devastating night, he fled to the human world.
Now a coldly distant Emyr has hunted him down. Despite transgender Wyatt's newfound identity and troubling past, Emyr has no intention of dissolving their engagement. In fact, he claims they must marry now or risk losing the throne. Jaded, Wyatt strikes a deal with the enemy, hoping to escape Asalin forever. But as he gets to know Emyr, Wyatt realizes the boy he once loved may still exist. And as the witches face worsening conditions, he must decide once and for all what's more important—his people or his freedom.
Available at:
Amazon | Barnes & Noble | Google Play | Kobo | Apple Books | Indiebound | Indigo | Audible |Goodreads
If You Change Your Mind by Robby Weber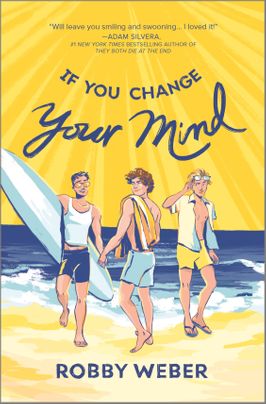 In this hilarious and heartfelt debut novel, an aspiring screenwriter learns sometimes love has its own script.

Harry wants nothing more than to write Hollywood screenplays. He knows the first step toward achieving that goal is winning a screenwriting competition that will seal his admission into the college of his dreams, so he's determined to spend his summer free of distractions—also known as boys—and finish his script. After last year, Harry is certain love only exists in the movies anyway.

But then the cause of his first heartbreak, Grant, returns with a secret that could change everything—not to mention, there's a new boy in town, Logan, who is so charming and sweet, he's making Harry question everything he knows about romance. As he tries to keep his emotions in check and stick to his perfect plan for the future, Harry's about to learn that life doesn't always follow a script.
Available at:
Amazon | Barnes & Noble | Google Play | Kobo | Apple Books | Indiebound | Indigo | Audible | Goodreads
Love, Hate & Clickbait by Liz Bowery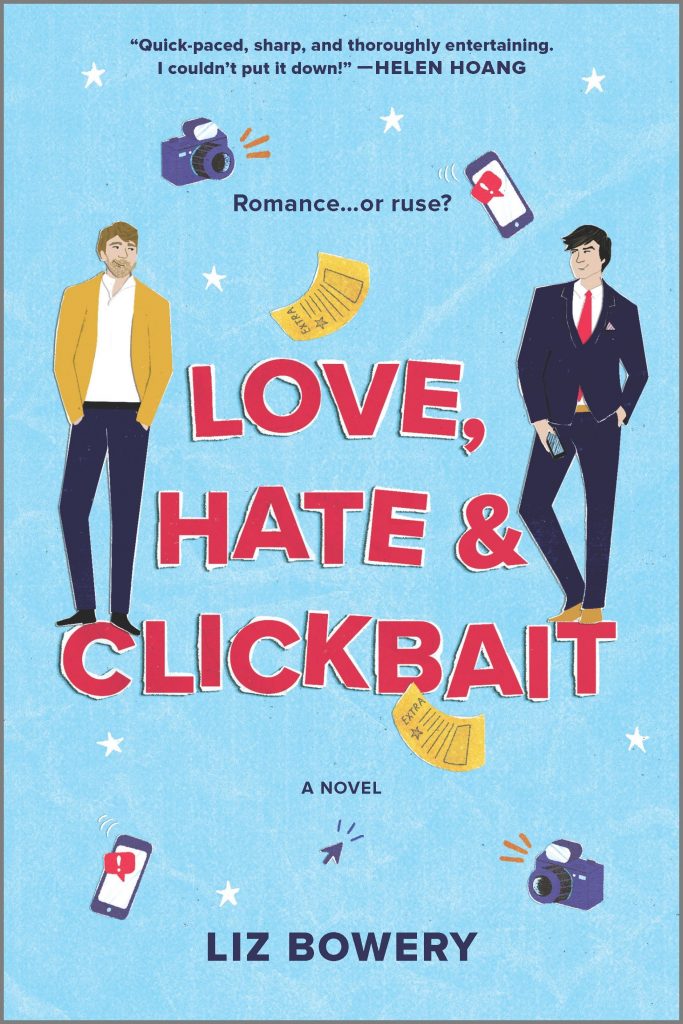 Shake some hands. Kiss some coworkers.
Cutthroat political consultant Thom Morgan is thriving, working on the governor of California's presidential campaign. If only he didn't have to deal with Clay Parker, the infuriatingly smug data analyst who gets under Thom's skin like it's his job. In the midst of one of their heated and very public arguments, a journalist snaps a photo, but the image makes it look like they're kissing. As if that weren't already worst-nightmare territory, the photo goes viral—and in a bid to secure the liberal vote, the governor asks them to lean into it. Hard.
Thom knows all about damage control—he practically invented it. Ever the professional, he'll grin and bear this challenge as he does all others. But as the loyal staffers push the boundaries of "giving the people what they want," the animosity between them blooms into something deeper and far more dangerous: desire. Soon their fake relationship is hurtling toward something very real, which could derail the campaign and cost them both their jobs…and their hearts.
Available at:
Amazon | Barnes & Noble | Google Play | Kobo | Apple Books | Indiebound | Indigo | Audible | Goodreads
It's Been a Pleasure, Noni Blake by Claire Christian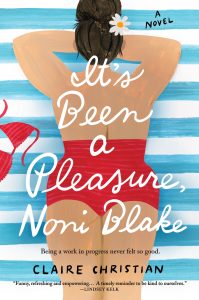 What if you made yourself your number one priority?

Of all the women and men Noni Blake has pleased in her life, there's one she's often overlooked—herself. After the end of a decade-long relationship, Noni decides it's time for that to change. She's finally going to prioritize her wants and desires and only do things (and people) that feel good in the moment.
As she embarks on a pleasure-seeking quest that takes her halfway around the world, she discovers that maybe she can have everything, and everyone, she's ever wanted.
Effortlessly hilarious and relatable, Claire Christian spins a fresh, feel-good tale about starting over as a thirtysomething woman who's been living life for everyone else. A story of self-discovery for the ages, Noni's journey serves as a sparkling reminder that life is what we make of it—so why not enjoy it?
Available at:
Amazon | Barnes & Noble | Google Play | Kobo | Apple Books | Indiebound | Indigo | Audible | Goodreads
Smash It! by Francina Simone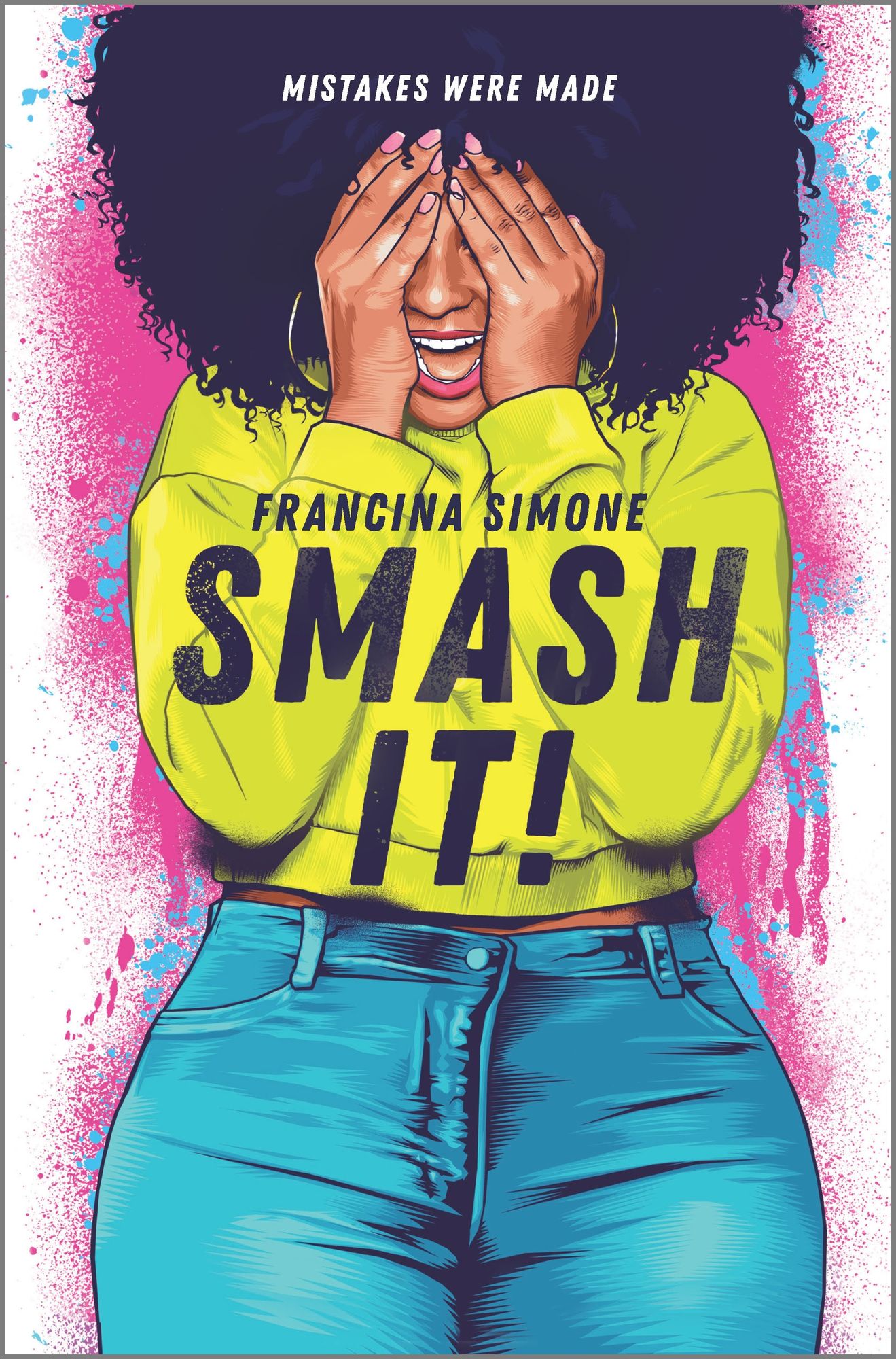 Refreshingly authentic and bold… Don't miss this smashing #ownvoices novel from Francina Simone, filled with heart, humor and a heroine to root for!
Olivia "Liv" James is done with letting her insecurities get the best of her. So she does what any self-respecting hot mess of a girl who wants to SMASH junior year does…
After Liv shows up to a Halloween party in khaki shorts—why, God, why?—she decides to set aside her wack AF ways. She makes a list—a F*ck-It list.
1. Be bold—do the thing that scares me.
2. Learn to take a compliment.
3. Stand out instead of back.
She kicks it off by trying out for the school musical, saying yes to a date and making new friends. Life is great when you stop punking yourself! However, with change comes a lot of missteps, and being bold means following her heart. So what happens when Liv's heart is interested in three different guys—and two of them are her best friends? What is she supposed to do when she gets dumped by a guy she's not even dating? How does one Smash It! after the humiliation of being friend-zoned?
In Liv's own words, "F*ck it. What's the worst that can happen?"
A lot, apparently.
#SMASHIT
Available at:
Amazon | Barnes & Noble | Google Play | Kobo | Apple Books | Indiebound | Indigo | Audible | Goodreads
Let us know how much taller your TBR just got!