It's winter: it's cold and it's blustery, so is there anything better than cozying up on the couch with a good book? Well, only if that book has some heat to it as well 😏. Oh the weather outside is frightful, but the fire is oh so delightful. 🌶
Keep the heat going this holiday season with these 8 spicy reads! Gift them to a friend, or keep them for yourself, we encourage both. Happy reading, friends! 🥵
A Proposal They Can't Refuse by Natalie Caña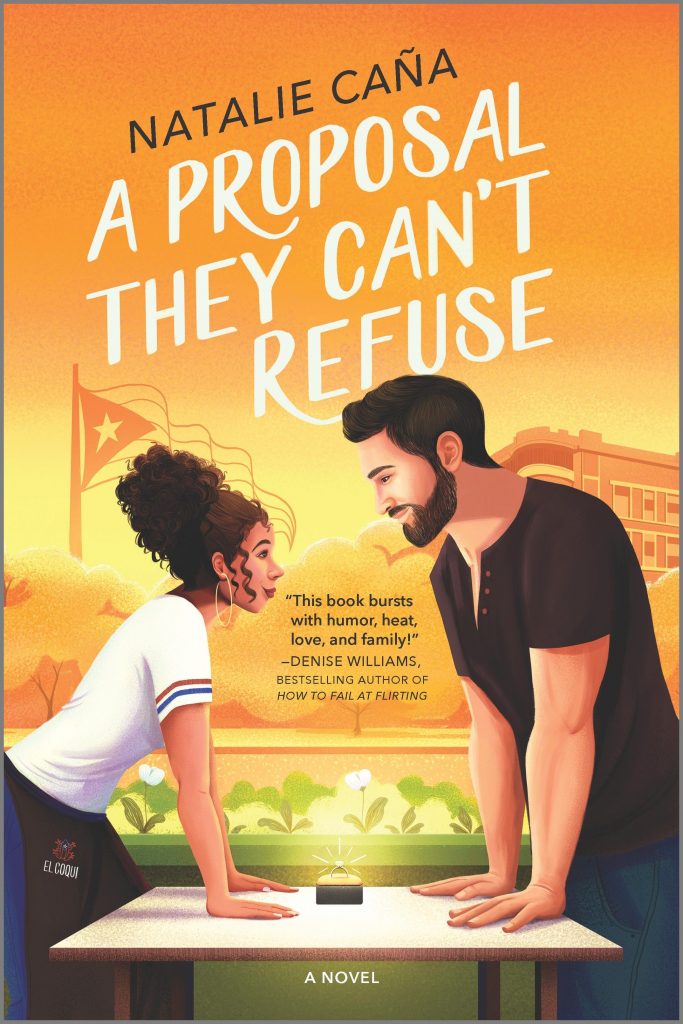 Natalie Caña turns up the heat, humor and heart in this debut rom-com about a Puerto Rican chef and an Irish American whiskey distiller forced into a fake engagement by their scheming octogenarian grandfathers.
Kamilah Vega is desperate to convince her family to update their Puerto Rican restaurant and enter it into the Fall Foodie Tour. With the gentrification of their Chicago neighborhood, it's the only way to save the place. The fly in her mofongo—her blackmailing abuelo says if she wants to change anything in his restaurant, she'll have to marry the one man she can't stand: his best friend's grandson.
Liam Kane spent a decade working to turn his family's distillery into a contender. But just as he and his grandfather are on the verge of winning a national competition, Granda hits him with a one-two punch: he has cancer and has his heart set on seeing Liam married before it's too late. And Granda knows just the girl…Kamilah Vega.
If they refuse, their grandfathers will sell the building that houses both their businesses. With their futures on the line, Kamilah and Liam plan to outfox the devious duo, faking an engagement until they both get what they want. But soon, they find themselves tangled up in more than either of them bargained for.
Available at:
Amazon | Barnes & Noble | Google Play | Kobo | Apple Books | Indiebound | Indigo | Audible | Goodreads
The Summer Getaway by Susan Mallery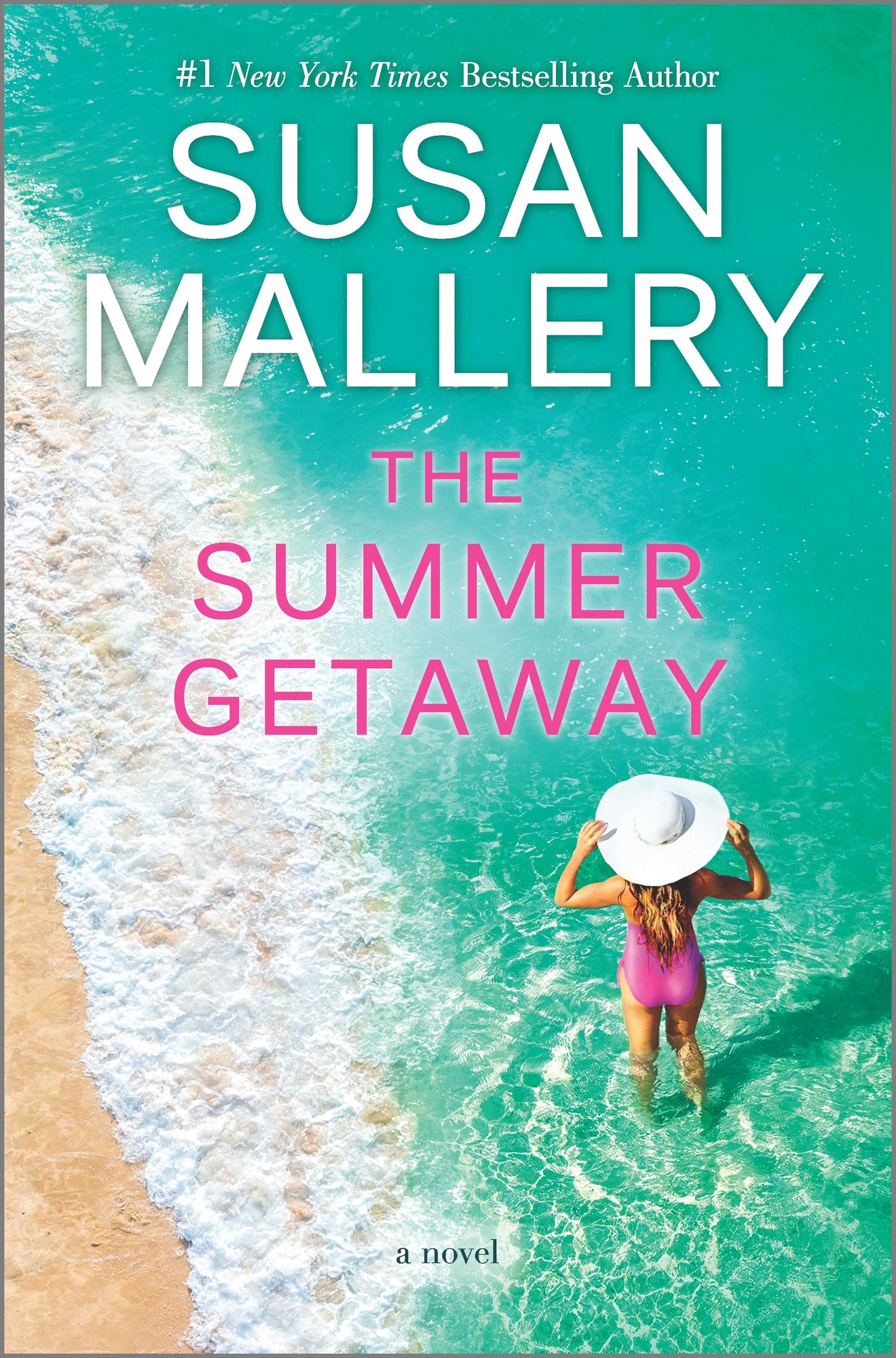 One woman discovers the beauty in chaos in this poignant and heartwarming story about the threads that hold family together from #1 New York Times bestselling author Susan Mallery.
With her divorce settlement about to run out and a mortgage she can't afford, Robyn Caldwell needs a plan for her future. She nurtured her family and neglected herself. But how's she supposed to think when her daughter has become the most demanding bride ever, her son won't even consider college, her best friend is on the brink of marital disaster and her ex is making a monumentally bad decision that could bring everything crashing down on Robyn's head? So when her great-aunt Lillian invites her to Santa Barbara for the summer, Robyn hops on the first plane.
But it's hard to run away when you're the heart of the family. One by one, everyone she left behind follows her across the country. Somehow, their baggage doesn't feel as heavy in the sun-drenched, mishmash mansion. The more time Robyn spends with free-spirited Lillian, the more she sees the appeal in taking chances—on dreams, on love, on family. Life is meant to be lived on purpose. All she has to do is muster the courage to take a chance on herself.
Available at:
Amazon | Barnes & Noble | Google Play | Kobo | Apple Books | Indiebound | Indigo | Audible | Goodreads
For Butter or Worse by Erin La Rosa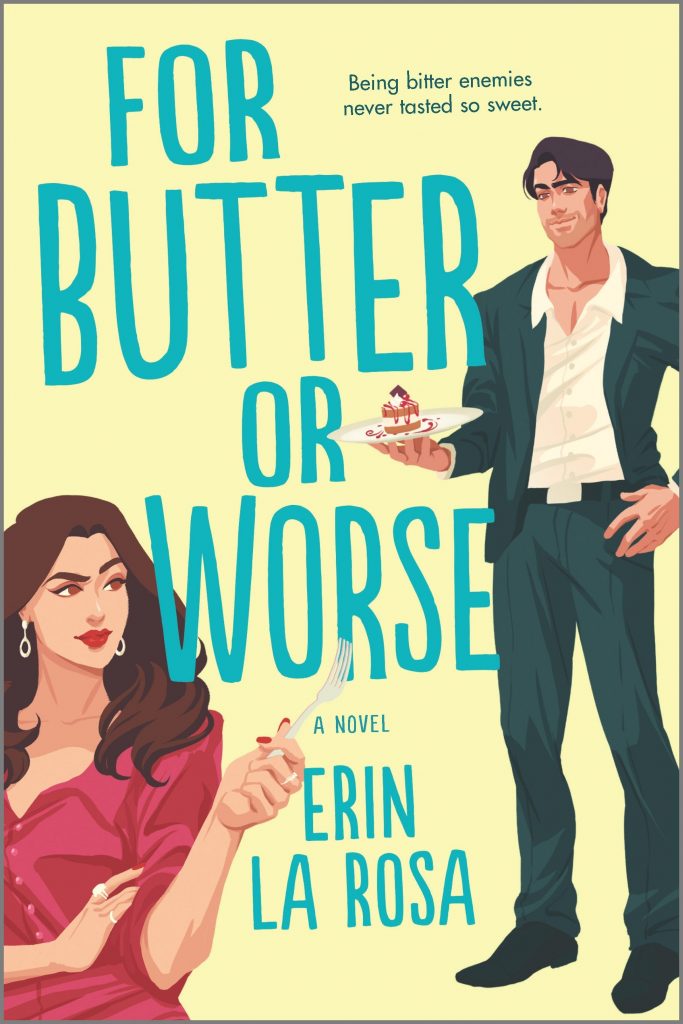 They go together like water and oil…
All chef Nina Lyon wants is to make a name for herself in the culinary world and inspire young women everywhere to do the same. For too long, she's been held back and underestimated by the male-dominated sphere of professional kitchens, and she's had enough. Now, as co-host of the competitive reality TV series The Next Cooking Champ!, she finally has a real shot at being top tier in the foodie scene.
Too bad her co-host happens to be Hollywood's smarmiest jerk.
Restaurateur Leo O'Donnell never means to get under Nina's skin. It just seems to happen, especially when the cameras are rolling. It's part of the anxiety and stress he has come to know all too well in this line of work. So nothing prepares him for the fallout after he takes one joke a smidge too far and Nina up and quits—on live TV.
To make matters worse, the two are caught in what looks like a compromising situation by the paparazzi…and fans of the show go absolutely nuts. Turns out, a "secret romance" between Nina and Leo may just be what their careers need most.
Now all they have to do is play along, without killing each other…and without catching feelings. Easy as artisanal shepherd's pie. Right?
Available at:
Amazon | Barnes & Noble | Google Play | Kobo | Apple Books | Indiebound | Indigo | Audible | Goodreads
Savvy Sheldon Feels Good As Hell by Taj McCoy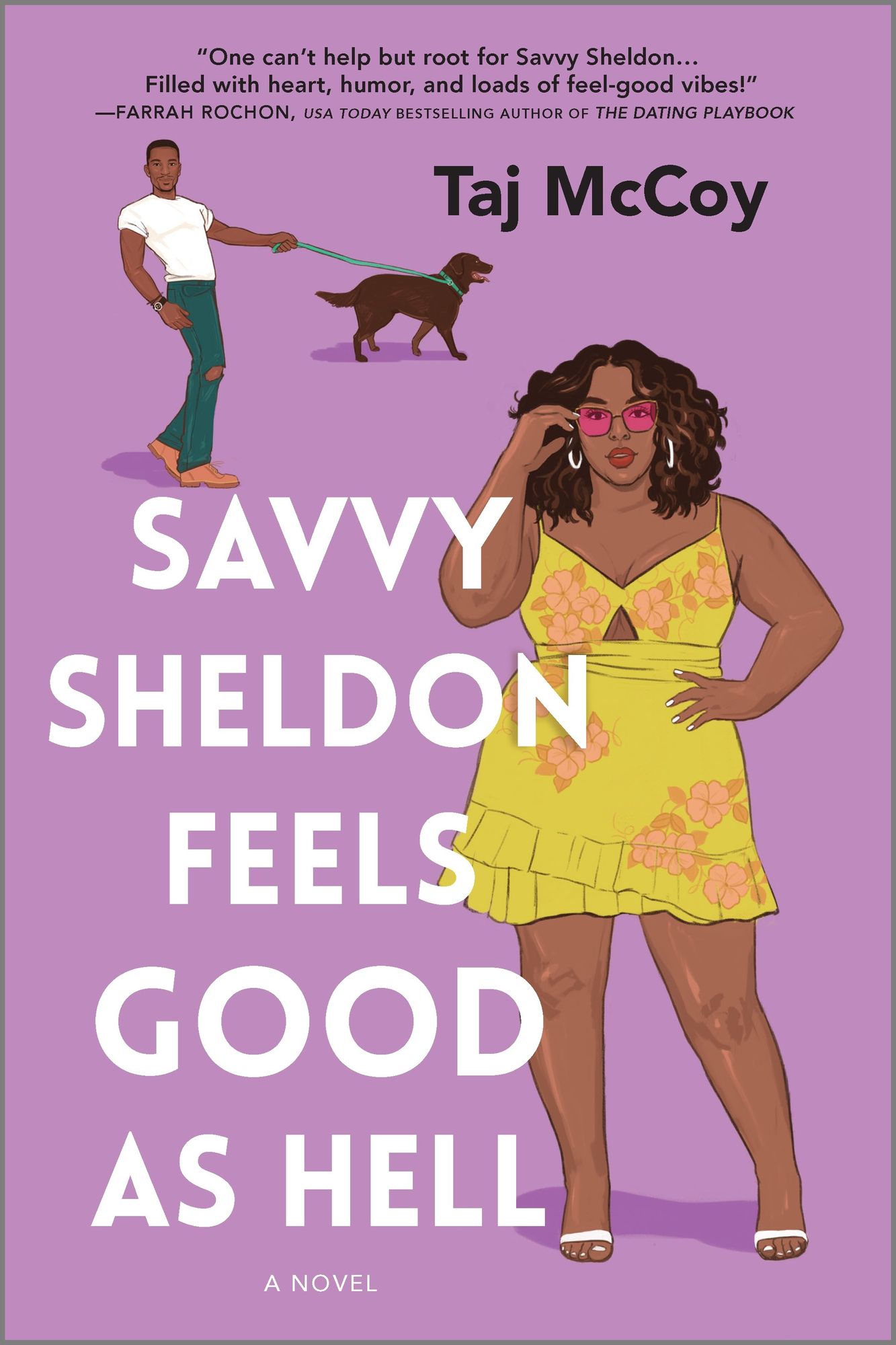 "This feel-good, empowering rom-com will blow you away, guaranteed." —Sarah Smith, author of Simmer Down
A delicious debut rom-com about a plus-size sweetheart who gets a full-life makeover after a brutal breakup.
Savvy Sheldon spends a lot of time tiptoeing around the cracks in her life: her high-stress and low-thanks job, her clueless boyfriend and the falling-apart kitchen she inherited from her beloved grandma—who taught her how to cook and how to love people by feeding them. But when Savvy's world starts to crash down around her, she knows it's time for some renovations.
Starting from the outside in, Savvy tackles her crumbling kitchen, her relationship with her body, her work–life balance (or lack thereof) and, last but not least, her love life. The only thing that doesn't seem to require effort is her ride-or-die squad of friends. But as any home-reno-show junkie can tell you, something always falls apart during renovations. First, Savvy passes out during hot yoga. Then it turns out that the contractor she hires is the same sexy stranger she unintentionally offended by judging based on appearances. Worst of all, Savvy can't seem to go anywhere without tripping over her ex and his latest "upgrade." Savvy begins to realize that maybe she should've started her renovations the other way around: beginning with how she sees herself before building a love that lasts.
Available at:
Amazon | Barnes & Noble | Google Play | Kobo | Apple Books | Indiebound | Indigo | Audible | Goodreads
Love, Hate & Clickbait by Liz Bowery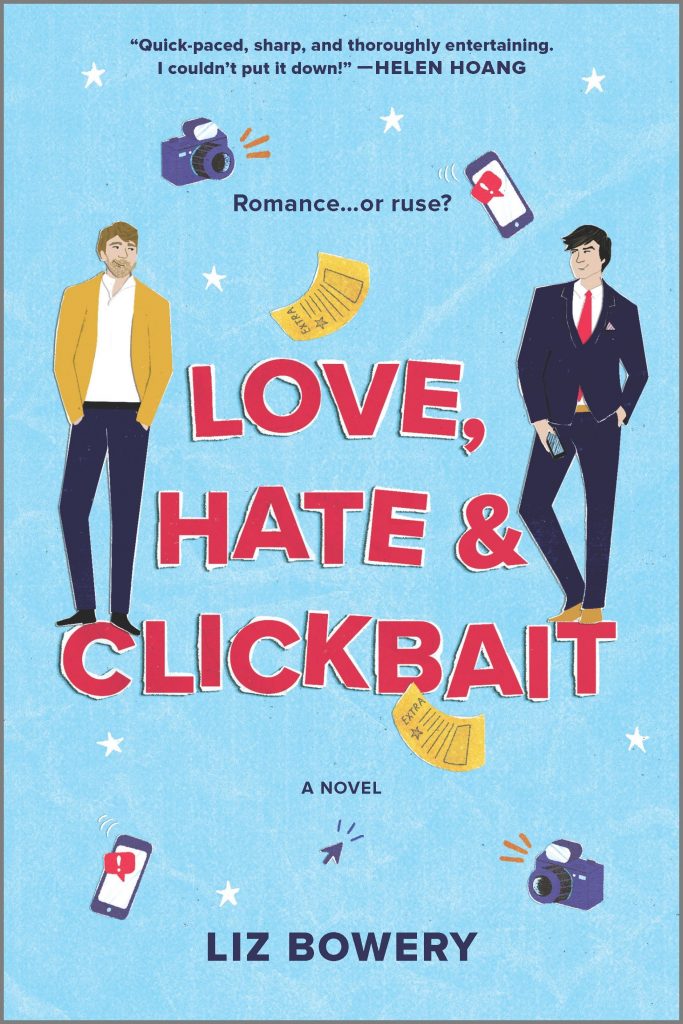 Shake some hands. Kiss some coworkers.
Cutthroat political consultant Thom Morgan is thriving, working on the governor of California's presidential campaign. If only he didn't have to deal with Clay Parker, the infuriatingly smug data analyst who gets under Thom's skin like it's his job. In the midst of one of their heated and very public arguments, a journalist snaps a photo, but the image makes it look like they're kissing. As if that weren't already worst-nightmare territory, the photo goes viral—and in a bid to secure the liberal vote, the governor asks them to lean into it. Hard.
Thom knows all about damage control—he practically invented it. Ever the professional, he'll grin and bear this challenge as he does all others. But as the loyal staffers push the boundaries of "giving the people what they want," the animosity between them blooms into something deeper and far more dangerous: desire. Soon their fake relationship is hurtling toward something very real, which could derail the campaign and cost them both their jobs…and their hearts.
Available at:
Amazon | Barnes & Noble | Google Play | Kobo | Apple Books | Indiebound | Indigo | Audible | Goodreads
Love at First Spite by Anna E. Collins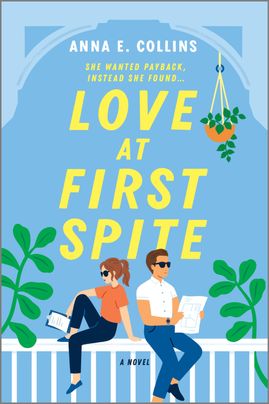 Falling in love is the ultimate payback in this delightful, breezy romcom about an interior designer who teams up with an enigmatic architect at her firm to get revenge on her ex the only way she knows how: by building a spite house next door
They say living well is the best revenge. But sometimes, spreading the misery seems a whole lot more satisfying. That's interior designer Dani Porter's justification for buying the vacant lot next to her ex-fiancé's house…the house they were supposed to live in together, before he cheated on her with their Realtor. Dani plans to build a vacation rental that will a) mess with his view and his peace of mind and b) prove that Dani is not someone to be stepped on. Welcome to project Spite House.
That plan quickly becomes complicated when Dani is forced to team up with Wyatt Montego, the handsome, haughty architect at her firm, and the only person available to draw up blueprints. Wyatt is terse and stern, the kind of man who eats his sandwich with a knife and fork. But as they spend time together on- and off-site, Dani glimpses something deeper beneath that hard veneer, something surprising, vulnerable, and real. And the closer she gets to her goal, the more she wonders if winning revenge could mean losing something infinitely sweeter…
Available at:
Amazon | Barnes & Noble | Google Play | Kobo | Apple Books | Indiebound | Indigo | Goodreads
Here For the Drama by Kate Bromley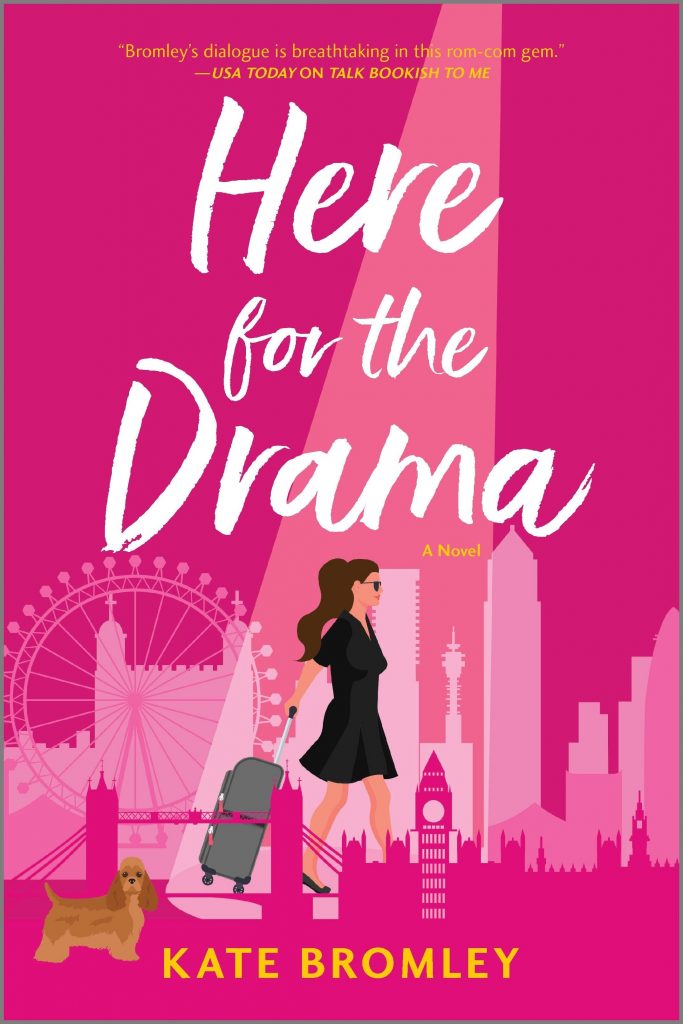 It wouldn't be the theater without a few theatrics…
Becoming a famous playwright is all Winnie ever dreamed about. For now, though, she'll have to settle for assisting the celebrated, sharp-witted feminist playwright Juliette Brassard. When an experimental theater company in London, England, decides to stage Juliette's most renowned play, The Lights of Trafalgar, Winnie and Juliette pack their bags and hop across the pond.
But the trip goes sideways faster than you can say "tea and crumpets." Juliette stubbornly butts heads with the play's director and Winnie is left stage-managing their relationship. Meanwhile, Winnie's own work seems to have stalled, and though Juliette keeps promising to read it, she always has some vague reason why she can't. Then, Juliette's nephew, Liam, enters stage left. He's handsome, he's smart, he is devastatingly British…and his family ties to Juliette pose a serious problem, forcing Winnie to keep their burgeoning relationship on the down-low. What could go wrong?
Balancing a production seemingly headed for disaster, a secret romance and the sweetest, most rambunctious rescue dog, will Winnie save the play, make her own dreams come true and find love along the way—or will the slings and arrows of outrageous fortune get the best of her?
Available at:
Amazon | Barnes & Noble | Google Play | Kobo | Apple Books | Indiebound | Indigo | Audible | Goodreads
Ben and Beatriz by Katalina Gamarra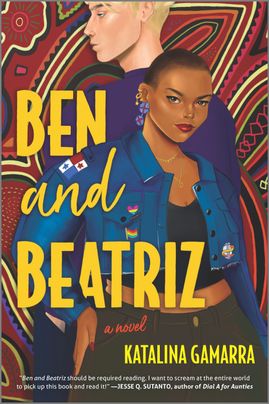 There's nothing like falling for your worst enemy.
Beatriz Herrera is a fierce woman who will take you down with her quick wit and keen intellect. And after the results of the 2016 election worked hard to erase her identity as a queer biracial woman, she'd be right to. Especially if you come for her sweet BFF cousin, Hero. Beatriz would do anything for her, a loyalty that lands Beatriz precisely where she doesn't want to be: spending a week at the ridiculous Cape Cod mansion of stupid-hot playboy Ben Montgomery. The same Ben Montgomery she definitely shouldn't have hooked up with that one time… The things we do for family.
White and wealthy, Ben talks the talk and walks the walk of privilege, but deep down, he's wrestling with the politics and expectations of a conservative family he can't relate to. Though Beatriz's caustic tongue drives him wild in the very best way, he's the last person she'd want, because she has zero interest in compromising her identity. But as her and Ben's assumptions begin to unravel and their hookups turn into something real, they start wondering if it's still possible to hold space for one another and the inescapable love that unites them.
This retelling of Shakespeare's Much Ado About Nothing is both razor-sharp and swoon-worthy: the perfect love story for our time.
Available at:
Amazon | Barnes & Noble | Google Play | Kobo | Apple Books | Indiebound | Indigo | Audible | Goodreads