This is not a drill! We have the perfect bunch of books for your Book Bestie (say that 5 times fast 😉) so never fear! Even if your bestie appears to have read every book, we promise, these 9 books won't let you down. From Witchy vibes, to thriller, to rom-coms, and inspirational reads, this list has them all! And when in doubt, add them all to your TBR as well! Your added surprise can be the gift of a buddy read!
The Witches of Moonshyne Manor by Bianca Marais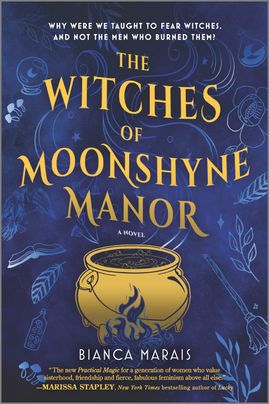 A coven of modern-day witches. A magical heist-gone-wrong. A looming threat.
Five octogenarian witches gather as an angry mob threatens to demolish Moonshyne Manor. All eyes turn to the witch in charge, Queenie, who confesses they've fallen far behind on their mortgage payments. Still, there's hope, since the imminent return of Ruby—one of the sisterhood who's been gone for thirty-three years—will surely be their salvation.
But the mob is only the start of their troubles. One man is hellbent on avenging his family for the theft of a legacy he claims was rightfully his. In an act of desperation, Queenie makes a bargain with an evil far more powerful than anything they've ever faced. Then things take a turn for the worse when Ruby's homecoming reveals a seemingly insurmountable obstacle instead of the solution to all their problems.
The witches are determined to save their home and themselves, but their aging powers are no match for increasingly malicious threats. Thankfully, they get a bit of help from Persephone, a feisty TikToker eager to smash the patriarchy. As the deadline to save the manor approaches, fractures among the sisterhood are revealed, and long-held secrets are exposed, culminating in a fiery confrontation with their enemies.
Funny, tender and uplifting, the novel explores the formidable power that can be discovered in aging, found family and unlikely friendships. Marais' clever prose offers as much laughter as insight, delving deeply into feminism, identity and power dynamics while stirring up intrigue and drama through secrets, lies and sex. Heartbreaking and heart-mending, it will make you grateful for the amazing women in your life.
Available at:
Amazon | Barnes & Noble | Google Play | Kobo | Apple Books | Indiebound | Indigo | Audible | Goodreads
Never Saw Me Coming by Vera Kurian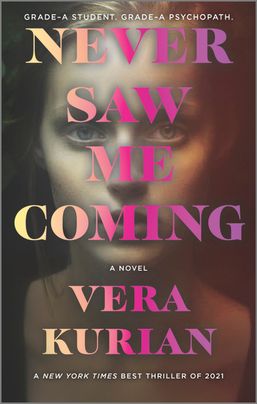 "Fresh, fast-paced and fiendishly clever! If you love watching true crime and wonder about the psychopaths among us, this is the book for you!" — Lisa Gardner, #1 New York Times bestselling author

Never Saw Me Coming is a compulsive, voice-driven thriller by an exciting new talent in fiction that will keep you pinned to the page and rooting for a would-be killer.

You should never trust a psychopath. But what if you had no choice?
It would be easy to underestimate Chloe Sevre… She's a freshman honor student, a legging-wearing hot girl next door, who also happens to be a psychopath. She spends her time on yogalates, frat parties and plotting to kill Will Bachman, a childhood friend who grievously wronged her.
Chloe is one of seven students at her DC-based college who are part of an unusual clinical study of psychopaths—students like herself who lack empathy and can't comprehend emotions like fear or guilt. The study, led by a renowned psychologist, requires them to wear smart watches that track their moods and movements.
When one of the students in the study is found murdered in the psychology building, a dangerous game of cat and mouse begins, and Chloe goes from hunter to prey. As she races to identify the killer and put her own plan for revenge into action, she'll be forced to decide if she can trust any of her fellow psychopaths—and everybody knows you should never trust a psychopath.
Available now:
Amazon | Barnes & Noble | Google Play | Kobo | Apple Books | Indiebound | Indigo | Audible | Goodreads
Small Town, Big Magic by Hazel Beck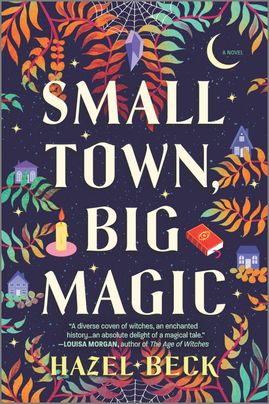 There's no such thing as witches…right?
Emerson Wilde has built the life of her dreams. Youngest Chamber of Commerce president in St. Cyprian history, successful indie bookstore owner, and lucky enough to have her best friends as found family? Done.
But when Emerson is attacked by creatures that shouldn't be real, and kills them with what can only be called magic, Emerson finds that the past decade of her life has been…a lie. St. Cyprian isn't your average Midwestern river town—it's a haven for witches. When Emerson failed a power test years ago, she was stripped of her magical memories. Turns out, Emerson's friends are all witches.
And so is she.
That's not all, though: evil is lurking in the charming streets of St. Cyprian. Emerson will need to learn to control what's inside of her, remember her magic, and deal with old, complicated feelings for her childhood friend–cranky-yet-gorgeous local farmer Jacob North—to defeat an enemy that hides in the rivers and shadows of everything she loves.
Even before she had magic, Emerson would have done anything for St. Cyprian, but now she'll have to risk not just her livelihood…but her life.
Available at:
Amazon | Barnes & Noble | Google Play | Kobo | Apple Books | Indiebound | Indigo | Audible | Goodreads
Listening In The Dark by Amber Tamblyn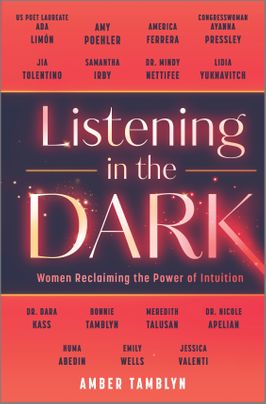 Listening in the Dark breathes new life into an ancient wisdom by taking a fresh and powerful look at our relationship to intuition and how we can harness it to change our everyday lives and the world.
This remarkable anthology includes essays from Jessica Valenti, Lidia Yuknavitch, Jia Tolentino, Samantha Irby, Meredith Talusan, Congresswoman Ayanna Pressley, Amy Poehler, America Ferrera, Ada Limón, Huma Abedin and many others, who all share how intuition has helped to shape and alter their life choices.
Have you ever had a feeling about something that you just couldn't explain, but knew was right or wrong? Something that was telling you in your gut what decision to make, which direction to go in, or what to believe? For generations, women have been taught to ignore their intuitive intelligence, whether in their personal lives or professional ones, in favor of making logical, evidence-based decisions. But what if that small voice or deeper knowing was our greatest gift, an untapped power we could use to affect positive change?
Edited by award-winning author, activist, and actress Amber Tamblyn, Listening in the Dark is a compilation of some of today's most striking women visionaries across industries—in literature, science, art, education, medicine, and politics—who share their experiences engaging with their own inner wisdom in pivotal, crossroad moments.
Filled with deeply personal and revelatory essays, Listening in the Dark will empower readers to reconnect with their own unique intuitive process, to see it as the precious resource it is, and to be unafraid to listen to all that it has to say and all that it has to offer.
Available October 18, 2022:
Amazon | Barnes & Noble | Google Play | Kobo | Apple Books | Indiebound | Indigo | Audible | Goodreads
When We Were Friends by Holly Bourne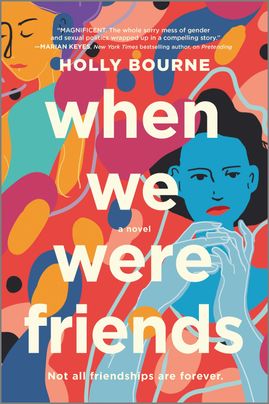 In this darkly funny novel, two women reunite after a decade of estrangement, only to confront the forces that destroyed their friendship in the first place.
From the day they first meet as teenagers, Fern and Jessica are best friends. Despite their differences, they are there for each other throughout everything, navigating the difficulties of growing up and fitting in. That is, until Jessica crosses a line that Fern can't forgive.
But now, more than ten years later, Jessica has unexpectedly reappeared in Fern's life.
A lot has changed for them both—but can their relationship be different now that they are older? Is it possible for either of them to rewrite the roles they've been cast in? Or will their shared history ultimately be doomed to repeat itself again?
Set between the present day and the early '00s, When We Were Friends is a blisteringly funny and devastating novel: both a joyful celebration of female friendship and a razor-sharp look at the damage we can all cause to those we claim to love the most.
Available at:
Amazon | Barnes & Noble | Google Play | Kobo | Apple Books | Indiebound | Indigo | Goodreads
Mr. Perfect On Paper by Jean Meltzer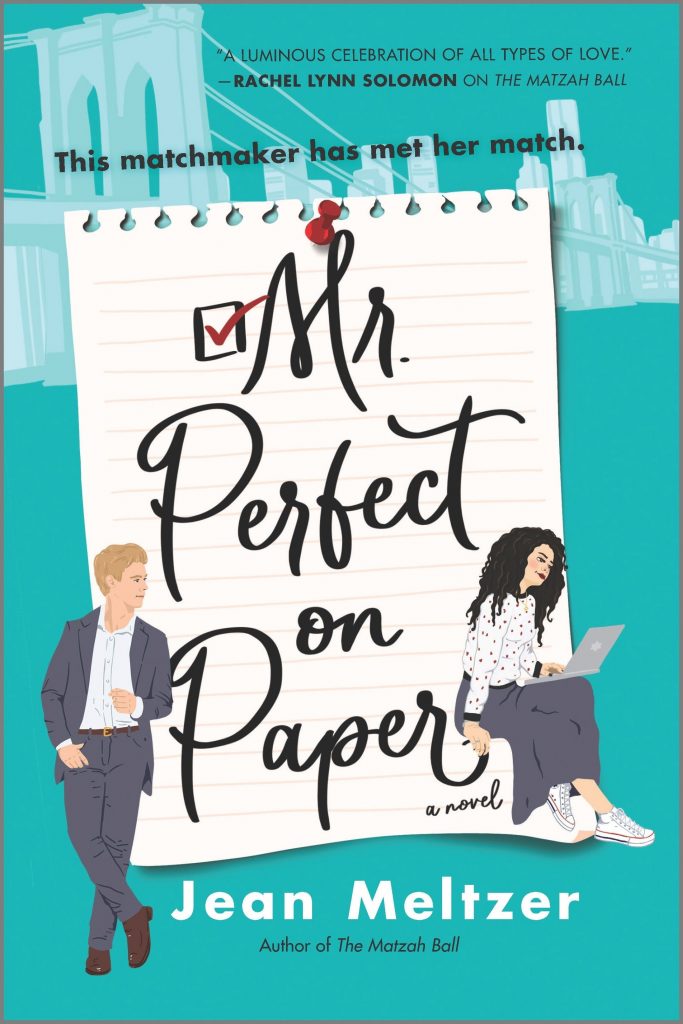 From the author of The Matzah Ball comes a pitch-perfect romcom following a third-generation Jewish matchmaker who unwittingly finds her own search for love thrust into the spotlight…

The perfect Jewish husband should be:
A doctor or lawyer (preferably a doctor)
Baggage-free (no previous marriages, no children)
And of course—he must be Jewish
As the creator and CEO of the popular Jewish dating app J-Mate, matchmaker Dara Rabinowitz knows the formula for lasting love—at least, for everyone else. When it comes to her own love life, she's been idling indefinitely. Until her beloved bubbe shares Dara's checklist for "The Perfect Jewish Husband" on national television and charming news anchor Chris Steadfast proposes they turn Dara's search into must-see TV.
As a non-Jewish single dad, Chris doesn't check any of Dara's boxes. But her hunt for Mr. Perfect is the ratings boost his show desperately needs. If only Chris could ignore his own pesky attraction to Dara—a task much easier said than done when Dara starts questioning if "perfect on paper" can compete with how hard she's falling for Chris…
Available at:
Amazon | Barnes & Noble | Google Play | Kobo | Apple Books | Indiebound | Indigo | Audible | Goodreads
Long Past Summer by Noué Kirwan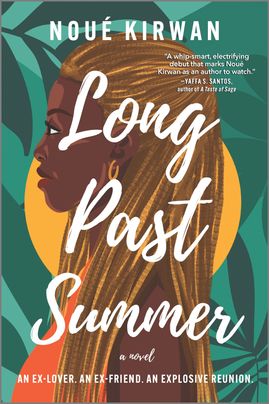 It's hard to move on from a broken heart–and harder to move on from a broken friendship.
Mikaela Marchand is living the polished life she always planned for: a successful New York lawyer, with a promotion in her sights and a devoted boyfriend by her side. She's come a long way from the meek teen she was growing up in small town Georgia, but the memory of her adolescence isn't far—in fact, it's splashed across a massive billboard in Times Square. An old photograph of Mikaela and her former best friend, Julie, has landed on the cover of a high-profile fashion magazine advertised all over the city. And when Julie files a lawsuit, Mikaela is caught in the middle as defense lawyer for the magazine.

Not only will she have to face Julie for the first time in years, Mikaela's forced to work closely with the photographer in question: the former love of her life–and Julie's ex-husband–Cameron Murphy. Mikaela needs to win the case to get her promotion–and as a junior partner, she has no margin for error. But unresolved feelings still exist between Cam and Mikaela, and jealousy always made Julie play dirty…

With flashbacks to summers of first loves and fragile friendships, Long Past Summer looks at the delicate and powerful thread that binds and breaks friends and flames.
Available at:
Amazon | Barnes & Noble | Google Play | Kobo | Apple Books | Indiebound | Indigo | Audible |Goodreads
So Happy For You by Celia Laskey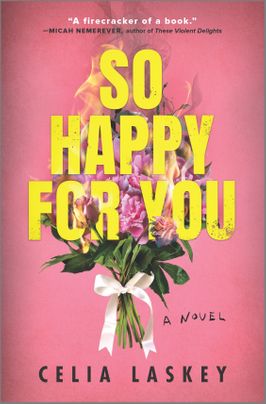 A wedding weekend spirals out of control in this bold, electrifying, hilarious novel about the complexities of female friendship
Robin and Ellie have been best friends since childhood. When Robin came out, Ellie was there for her. When Ellie's father died, Robin had her back. But when Ellie asks Robin to be her maid of honor, she is reluctant. A queer academic, Robin is dubious of the elaborate wedding rituals now sweeping the nation, which go far beyond champagne toasts and a bouquet toss. But loyalty wins out, and Robin accepts.
Yet, as the wedding weekend approaches, a series of ominous occurrences lead Robin to second-guess her decision. It seems that everyone in the bridal party is out to get her. Perhaps even Ellie herself.
Manically entertaining, viciously funny and eerily campy, So Happy for You is the ultimate send-up to our collective obsession with the wedding industrial complex and a riveting, unexpectedly poignant depiction of friendship in all its messy glory.
Available at:
Amazon | Barnes & Noble | Google Play | Kobo | Apple Books | Indiebound | Indigo | Audible | Goodreads
The Lost and Found Girl by Maisey Yates
New York Times bestselling author Maisey Yates dazzles with this powerful novel of sisterhood, secrets and how far you'd go to protect someone you love…
Ruby McKee is a miracle. Found abandoned on a bridge as a newborn baby by the McKee sisters, she's become the unofficial mascot of Pear Blossom, Oregon, a symbol of hope in the wake of a devastating loss. Ruby has lived a charmed life, and when she returns home after traveling abroad, she's expecting to settle into that charm. But an encounter with the town's black sheep makes her question the truth about her mysterious past.
Dahlia McKee knows it's not right to resent Ruby for being special. But uncovering the truth about Ruby's origins could allow Dahlia to carve her own place in Pear Blossom history.
Recently widowed Lydia McKee has enough on her plate without taking on Ruby's quest for answers. Especially when her husband's best friend, Chase, is beginning to become a complication she doesn't want or need.
Marianne Martin is glad her youngest sister is back in town, but it's hard to support Ruby's crusade when her own life is imploding.
When the quest for the truth about Ruby's origins uncovers a devastating secret, will the McKee sisters fall apart or band together?
Available at:
Amazon | Barnes & Noble | Google Play | Kobo | Apple Books | Indiebound | Indigo | Audible | Goodreads