If you were like us, we binged Stranger Things and then became obsessed. It was equal parts supernatural and bingeable! But now, as we (not-so) patiently wait season 5, we're left hanging. So, why don't you gift the Stranger Things lover in your life these 9 books? They will be the perfect past time in between seasons, and who knows, they may open up worlds you never expected this holiday season 😉.
(Chrissy wake up…I don't like this…Chrissy WAKE UP – sorry, we couldn't help ourselves)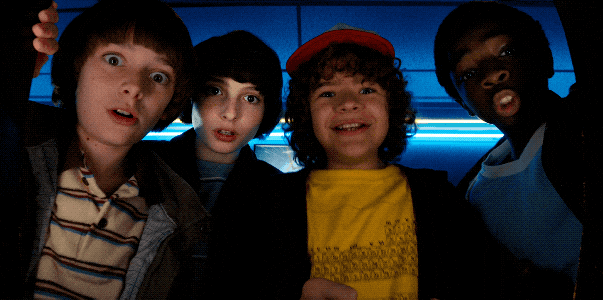 The Empress of Time by Kylie Lee Baker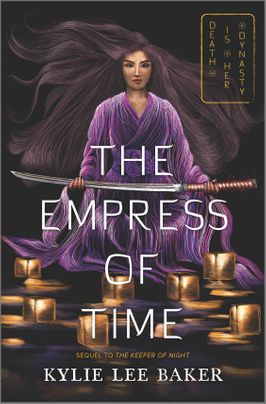 In this riveting sequel to The Keeper of Night, a half Reaper, half Shinigami soul collector must defend her title as Japan's Death Goddess from those who would see her—and all of Japan—destroyed.

Death is her dynasty.

Ren Scarborough is no longer the girl who was chased out of England—she is the Goddess of Death ruling Japan's underworld. But Reapers have recently been spotted in Japan, and it's only a matter of time before Ivy, now Britain's Death Goddess, comes to claim her revenge.

Ren's last hope is to appeal to the god of storms and seas, who can turn the tides to send Ivy's ship away from Japan's shores. But he'll only help Ren if she finds a sword lost thousands of years ago—an impossible demand.

Together with the moon god Tsukuyomi, Ren ventures across the country in a race against time. As her journey thrusts her in the middle of scheming gods and dangerous Yokai demons, Ren will have to learn who she can truly trust—and the fate of Japan hangs in the balance.
Available at:
Amazon | Barnes & Noble | Google Play | Kobo | Apple Books | Indiebound | Indigo | Goodreads
The Poison Season by Mara Rutherford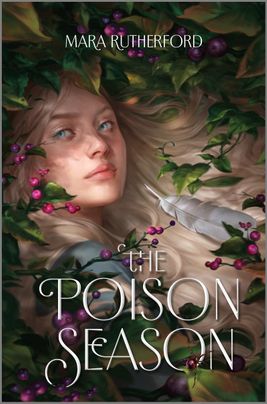 Outsiders are always given a choice: the Forest or the lake. Either way, they're never heard from again.
Leelo has spent her entire life on Endla, coexisting with the bloodthirsty Forest and respecting the poisonous lake that protects her island from outsiders who seek to destroy it. But as much as Leelo cares for her community, she struggles to accept that her younger brother will be exiled by his next birthday, unless he gains the magic of enchanted song so vital to Endla.
When Leelo sees a young outsider on the verge of drowning in the lake, she knows exactly what she's supposed to do. But in a moment that will change everything, Leelo betrays her family, her best friend, and Endla by making an unthinkable choice.
Discovery could lead to devastating consequences for both Leelo and the outsider, Jaren, but as they grow closer, Leelo realizes that not all danger comes from beyond the lake—and they can only survive if Leelo is willing to question the very fabric of her society, her people, and herself.
Available December 6, 2022:
Amazon | Barnes & Noble | Google Play | Kobo | Apple Books | Indiebound | Indigo | Audible | Goodreads
The Overnight Guest by Heather Gudenkauf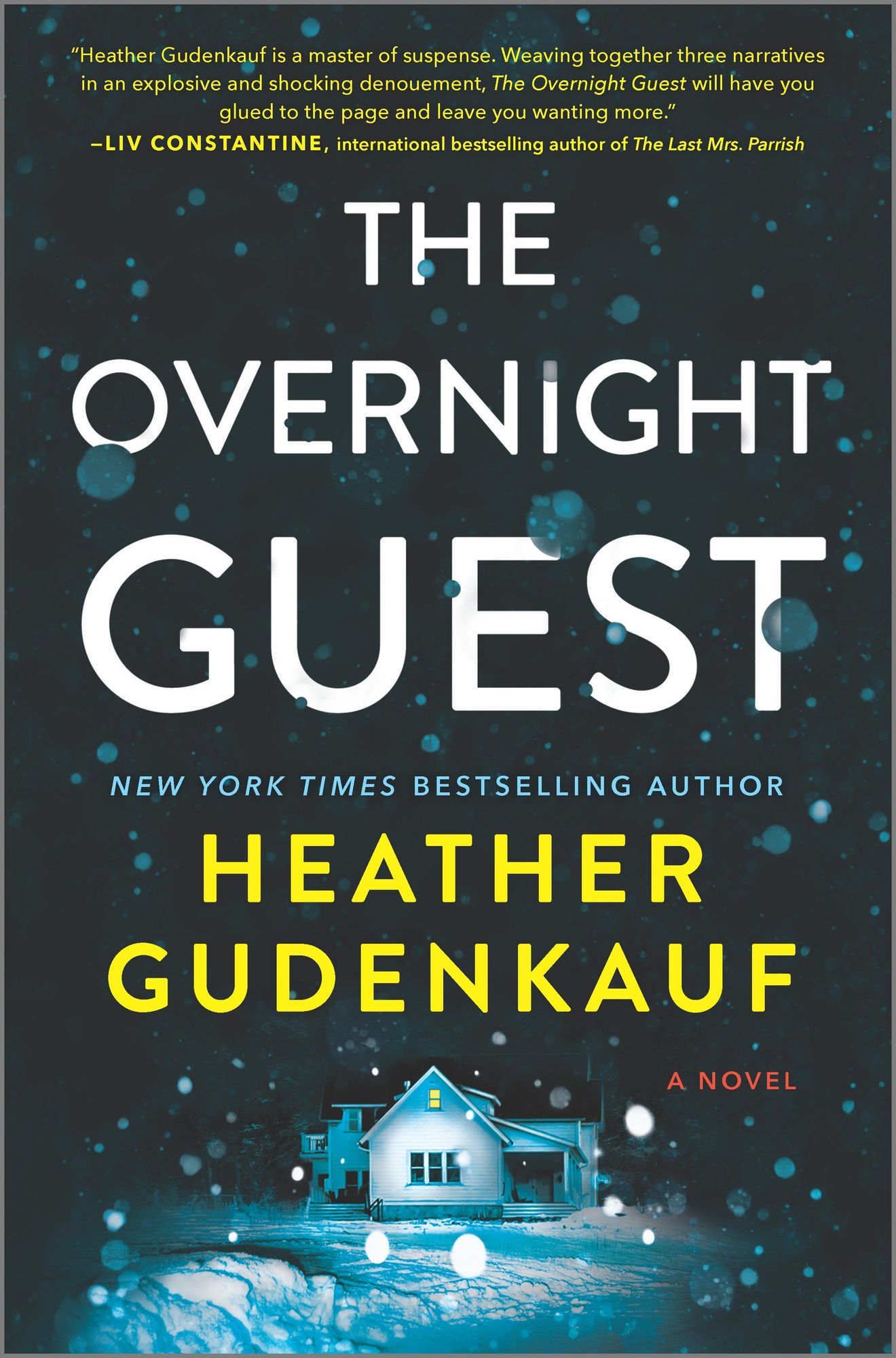 A woman receives an unexpected visitor during a deadly snowstorm in this chilling thriller from New York Times bestselling author Heather Gudenkauf
She thought she was alone…
True crime writer Wylie Lark doesn't mind being snowed in at the isolated farmhouse where she's retreated to write her new book. A cozy fire, complete silence. It would be perfect, if not for the fact that decades earlier, at this very house, two people were murdered in cold blood and a girl disappeared without a trace.
As the storm worsens, Wylie finds herself trapped inside the house, haunted by the secrets contained within its walls—haunted by secrets of her own. Then she discovers a small child in the snow just outside. After bringing the child inside for warmth and safety, she begins to search for answers. But soon it becomes clear that the farmhouse isn't as isolated as she thought, and someone is willing to do anything to find them.
Available at:
Amazon | Barnes & Noble | Google Play | Kobo | Apple Books | Indiebound | Indigo | Audible | Goodreads
Never Coming Home by Hannah Mary McKinnon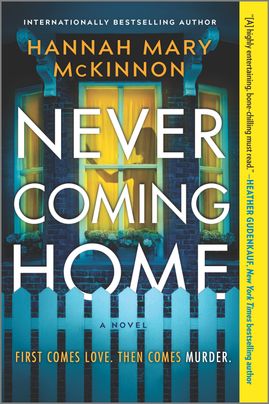 First comes love. Then comes murder.
Lucas Forester didn't hate his wife. Michelle was brilliant, sophisticated and beautiful. Sure, she had extravagant spending habits, that petty attitude, a total disregard for anyone below her status. But she also had a lot to offer. Most notably: wealth that only the one percent could comprehend.
For years, Lucas has been honing a flawless plan to inherit Michelle's fortune. Unfortunately, it involves taking a hit out on her.
Every track is covered, no trace left behind, and now Lucas plays the grieving husband so well he deserves an award. But when a shocking photo and cryptic note show up on his doorstep, Lucas goes from hunter to prey.
Someone is on to him. And they're closing in.
Told with dark wit and a sharply feminist sensibility, Never Coming Home is a terrifying tale of duplicity that will have you side-eyeing your spouse as you dash to the breathtaking end.
Available at:
Amazon | Barnes & Noble | Google Play | Kobo | Apple Books | Indiebound | Indigo | Audible | Goodreads
An Honest Lie by Tarryn Fisher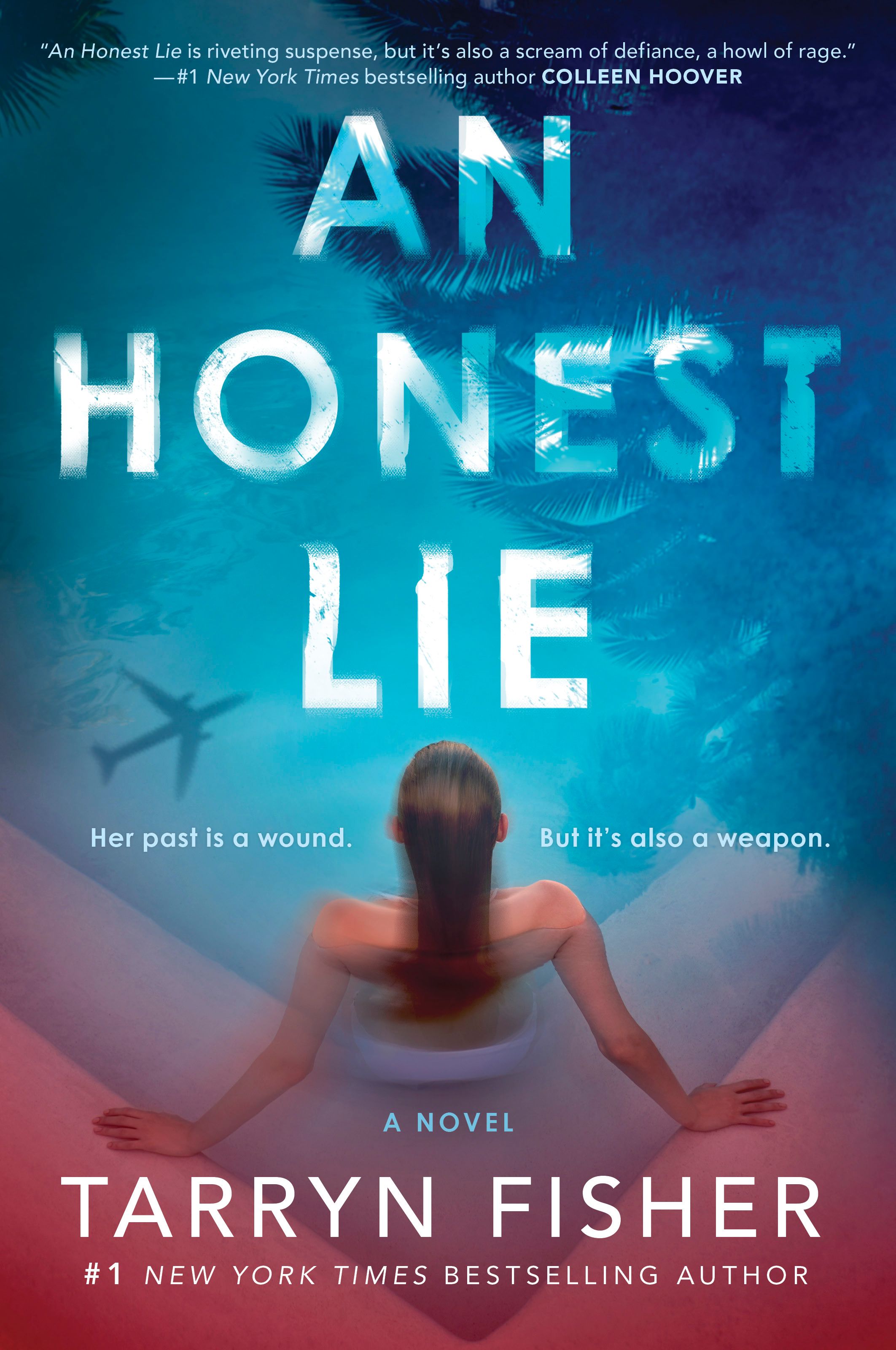 "I'm going to kill her. You'd better come if you want to save her."

Lorraine—"Rainy"—lives at the top of Tiger Mountain. Remote, moody, cloistered in pine trees and fog, it's a sanctuary, a new life. She can hide from the disturbing past she wants to forget.

If she's allowed to.

When Rainy reluctantly agrees to a girls' weekend in Vegas, she's prepared for an exhausting parade of shots and slot machines. But after a wild night, her friend Braithe doesn't come back to the hotel room.

And then Rainy gets the text message, sent from Braithe's phone: someone has her. But Rainy is who they really want, and Rainy knows why.

What follows is a twisted, shocking journey on the knife-edge of life and death. If she wants to save Braithe—and herself—the only way is to step back into the past.

This seething, gut-punch of a thriller can only have sprung from the fiendish brain of Tarryn Fisher, one of the most cunning writers of our time.
Available at:
Amazon | Barnes & Noble | Google Play | Kobo | Apple Books | Indiebound | Indigo | Audible | Goodreads
Light Years From Home by Mike Chen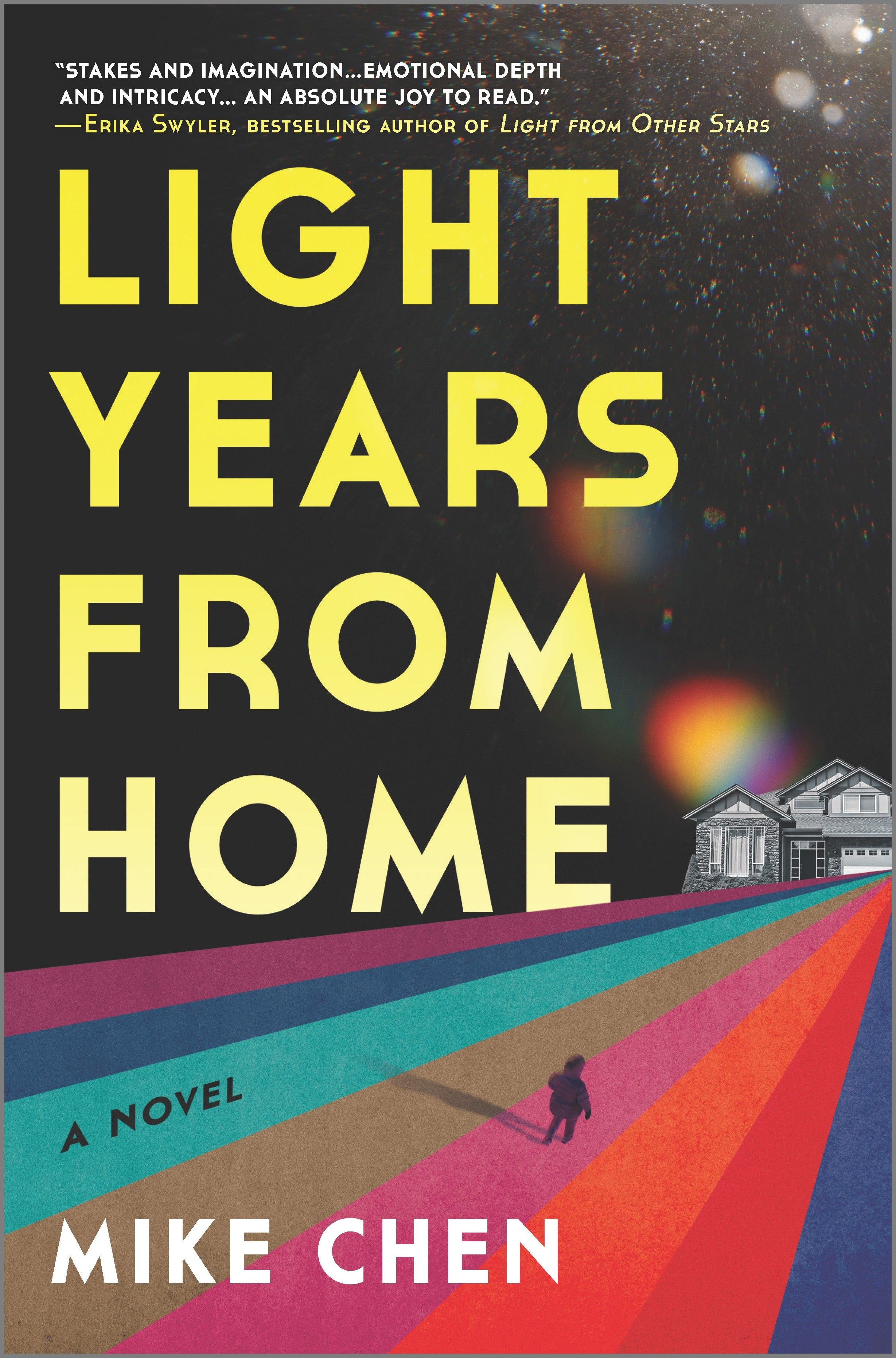 "With heart and insight…Chencrosses the stakes and imagination of a space opera with the emotional depth and intricacy of a family drama." —Erika Swyler, bestselling author of Light from Other Stars
Every family has issues. Most can't blame them on extraterrestrials.
Evie Shao and her sister, Kass, aren't on speaking terms. Fifteen years ago on a family camping trip, their father and brother vanished. Their dad turned up days later, dehydrated and confused—and convinced he'd been abducted by aliens. Their brother, Jakob, remained missing. The women dealt with it very differently. Kass, suspecting her college-dropout twin simply ran off, became the rock of the family. Evie traded academics to pursue alien conspiracy theories, always looking for Jakob.
When Evie's UFO network uncovers a new event, she goes to investigate. And discovers Jakob is back. He's different—older, stranger, and talking of an intergalactic war—but the tensions between the siblings haven't changed at all. If the family is going to come together to help Jakob, then Kass and Evie are going to have to fix their issues, and fast. Because the FBI is after Jakob, and if their brother is telling the truth, possibly an entire space armada, too.
The perfect combination of action, imagination and heart, Light Years from Home is a touching drama about a challenge as difficult as saving the galaxy: making peace with your family…and yourself.
Available in paperback December 27, 2022:
Amazon | Barnes & Noble | Google Play | Kobo | Apple Books | Indiebound | Indigo | Audible | Goodreads
The Binding Room by Nadine Matheson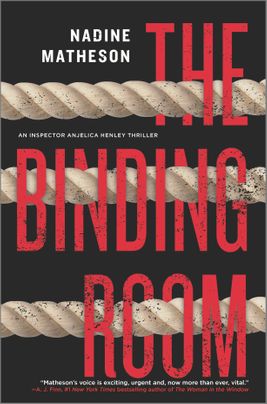 Detective Anjelica Henley confronts a series of ritualistic murders in this heart-pounding thriller about race, power and the corrupt institutions that threaten us
When Detective Anjelica Henley is called to investigate the murder of a popular preacher in his own church, she discovers a second victim, tortured and tied to a bed in an upstairs room. He is alive, but barely, and his body shows signs of a dark religious ritual.
With a revolving list of suspects and the media spotlight firmly on her, Henley is left with more questions than answers as she attempts to untangle both crimes. But when another body appears, the case takes on a new urgency. Unless she can apprehend the killer, the next victim may just be Henley herself.
Both fans of The Jigsaw Man and readers coming to Matheson's work for the first time will get swept away in this heart-pounding thriller. Drawing on her experiences as a criminal attorney, Nadine Matheson deftly explores issues of race, class and justice through an action-packed story that will hold you captive until the last terrifying page.
Available at:
Amazon | Barnes & Noble | Google Play | Kobo | Apple Books | Indiebound | Indigo | Audible | Goodreads
Bone Weaver by Aden Polydoros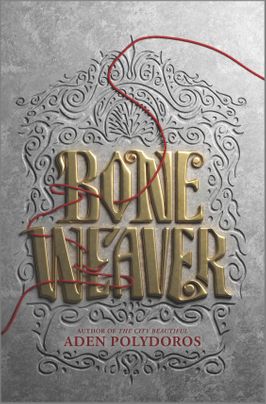 From the author of The City Beautiful comes a haunting fantasy following Toma, adopted daughter of the benevolent undead, making her way across a civil war-torn continent to save her younger sister as she discovers she might possess magical powers herself.
The Kosa empire roils in tension, on the verge of being torn apart by a proletarian revolution between magic-endowed elites and the superstitious lower class, but seventeen-year-old Toma lives blissfully disconnected from the conflict in the empire with her adoptive family of benevolent undead.
When she meets Vanya, a charming commoner branded as a witch by his own neighbors, and the dethroned Tsar Mikhail himself, the unlikely trio bonds over trying to restore Mikhail's magic and protect the empire from the revolutionary leader, Koschei, whose forces have stolen the castle. Vanya has his magic, and Mikhail has his title, but if Toma can't dig deep and find her power in time, all of their lives will be at Koschei's mercy.
Available at:
Amazon | Barnes & Noble | Google Play | Kobo | Apple Books | Indiebound | Indigo | Goodreads
And If They Are A Little Too Young For "Stranger Things" Try This Read!
The Supernatural Society by Rex Ogle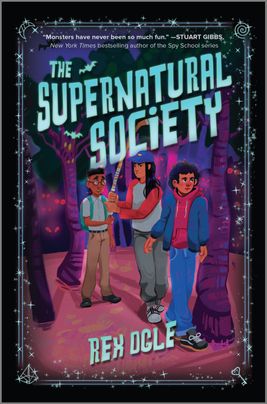 Readers will be scared silly in this spooky and hilarious middle grade series starter about a town chock-full of monsters and the kids who must unravel centuries of secrets to save it.
Will Hunter thought his life couldn't get any worse:
His parents just got divorced,
His best (and only) friend now is his dog, Fitz,
And his mom moved them from New York City to the middle-of-nowhere town called East Emerson.
But Will was wrong—things are about to get way worse. Because East Emerson is filled with a whole lot of monsters, and he's the only person who can see them.
When all the town pets (including Fitz) go missing, Will suspects there's something sinister going on. So he joins forces with outcast Ivy and super-smart Linus to uncover the ancient secrets of East Emerson. Besides, nothing bad could happen when three sixth graders team up against monsters, magic, myths, and mad science . . . right?
Available at:
Amazon | Barnes & Noble | Google Play | Kobo | Apple Books | Indiebound | Audible | Indigo | Goodreads