The Inspiration
By Madeline Martin
My inspiration for The Librarian Spy came from two real areas of WWII – the American librarians who were sent to neutral countries to gather intel through foreign publications, and an incredibly brave woman who worked printing underground newspapers for the French resistance. I had my research work cut out for me with settings that spanned three countries – America, Portugal, and France. But research is my favorite part of writing historical fiction and I eagerly dove in. Beyond reading stacks of nonfiction books, numerous eyewitness accounts, and other various documents, I was also fortunate to travel.
One of the neutral areas librarians were sent to during WWII was Lisbon, Portugal, which is where I chose to send my American character, Ava Harper. I had never been to Portugal and found Lisbon to be a stunningly beautiful country with limestone and basalt mosaic walkways sprawling beneath clear blue skies amid the backdrop of the cobalt-hued Tagus River.
Being a neutral country meant Portugal did not experience bombing as others did during WWII, which left many of the locations the American librarians frequented remaining still to explore. One of the most important of these was Livraria Bertrand – a bookstore in the Chiado district with blue and white azulejo tiles layering the exterior of the corner building and a striated brickwork ceiling within. In addition to scouring these bookshelves for texts to send back to America, kiosks throughout the city provided foreign periodicals, including ones from clandestine printers under Nazi occupation.
While in Portugal, I also visited areas around Lisbon that were equally as important during WWII. I went to the beachside resorts in Estoril where Ian Flemming was inspired with ideas for his 007 legacy, Sintra where the rich let their imagination and wealth play in palaces and luxurious manors, and also Alfama where winding medieval streets survived the fated earthquake of 1755 and maintained its old-world charm.
I breakfasted on pasties de nata (recipe coming forthwith in my Reader's Guide), walked about ten miles a day in exploration, and fell in love with Fado, a 19th-century music specific to Lisbon – I returned home bursting with inspiration.
Though I've been to France before, I've never had the pleasure of visiting Lyon. I stayed near Place Bellecour in a charming apartment dating back to 1870 with original herringbone wood floors. The home was a perfect example of the layout of courtyard-style apartments my characters would have lived in and helped me create certain scenes.
During WWII, Lyon was the capital of the French Resistance and now has an incredible museum dedicated to the brave men and women who fought back against their Nazi oppressors as well as those persecuted and killed. Centre d'histoire de la résistance et de la déportation was a particular highlight for me as there was a room modeled after an underground printshop and included the exact printing press the real woman who inspired my French heroine, Elaine Rousseau, actually worked on.
Another aspect of Lyon that was a special delight for the history nerd in me was wandering through some of Lyon's infamous traboules. These covered passageways run through buildings, connecting them in a way that allows people to enter on one street and exit onto another that is sometimes blocks away. Initially implemented by silk employees during the 19th century to avoid all those steep hills, the resistance found ways to utilize them during the Nazi occupation. Not only could members of the resistance escape dicey situations through these traboules, but they were also used for clandestine meetings and to distribute secret messages in the many residential lockboxes.
Being able to travel and using guides who were equally as passionate about WWII really allowed me to bring these locations to life in my mind and subsequently onto the page. I hope everyone enjoys The Librarian Spy as well as the beauty and bravery of these incredible countries.
The Librarian Spy by Madeline Martin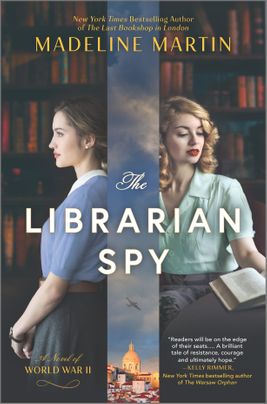 From the New York Times bestselling author of The Last Bookshop in London comes a moving new novel inspired by the true history of America's library spies of World War II.
Ava thought her job as a librarian at the Library of Congress would mean a quiet, routine existence. But an unexpected offer from the US military has brought her to Lisbon with a new mission: posing as a librarian while working undercover as a spy gathering intelligence.
Meanwhile, in occupied France, Elaine has begun an apprenticeship at a printing press run by members of the Resistance. It's a job usually reserved for men, but in the war, those rules have been forgotten. Yet she knows that the Nazis are searching for the press and its printer in order to silence them.
As the battle in Europe rages, Ava and Elaine find themselves connecting through coded messages and discovering hope in the face of war.
Available at:
Amazon | Barnes & Noble | Google Play | Kobo | Apple Books | Indiebound | Indigo | Audible | Goodreads