There's something so magical at Christmas, we really can't get enough of the holiday. Get your first taste of what Christmas 2021 will bring with these holiday romances from Susan Mallery, Sarah Morgan, RaeAnne Thayne and Sheila Roberts. These sweet stories will put you in a bright and merry mood when they release this fall!
The Wedding Guest by Susan Mallery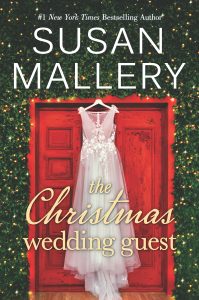 Susan Mallery, author of the Fool's Gold romances, cheerfully invites you to Wishing Tree, where Christmas comes to life…
The Somerville sisters believe in love, but they've lost faith it will happen for them. Reggie hasn't been home since the end of the world's shortest engagement. When her parents decide to renew their vows, she buffs up her twinkle to help with the Christmas wedding. Unexpectedly, Toby, her first love, is back too, and the spark between them shines as brightly as ever. In the spirit of the season, will they let go of past hurts and greet the New Year together?
Done waiting for the one, Dena is pregnant and on her own—on purpose. But then a gorgeous, sad-eyed songwriter checks into a room at her inn. Micah, unable to write since he lost his wife, finds inspiration in Dena's determination to be a mom. One snowflake-speckled kiss and he's a goner. But Dena is afraid to believe that a rock star could fall for a cookie-cutter small-town girl like her.
As the Christmas wedding draws closer, these two sisters just might unwrap the most treasured gift of all—love.
Pre-order now:
Amazon | Barnes & Noble | Google Play | Kobo | Apple Books | Indiebound | Indigo | Audible | Goodreads
The Christmas Escape by Sarah Morgan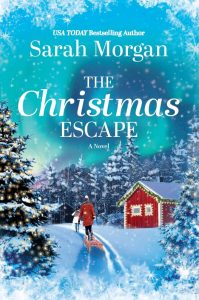 "Morgan is a masterful storyteller…. For fans of Jojo Moyes and Taylor Jenkins Reid." —Booklist
It was supposed to be Christy Sullivan's perfect Christmas getaway—a trip to Lapland with her family and best friend, Alix. But facing a make-or-break marriage crisis, Christy desperately needs time alone with her husband. Her solution? Alix can take Christy's little daughter to Lapland, and they will reunite there for Christmas Day. It's a big ask, but what else are friends for?
There's nothing Alix won't do for Christy. But Christy's request to save Christmas is giving Alix sleepless nights. She knows something is wrong, but for the first time ever, Christy isn't talking. And even the Arctic temperatures in Lapland aren't enough to dampen the seriously inconvenient sizzle Alix is developing for Zac, a fellow guest and nemesis from her past.
As secrets unravel and unexpected romance shines under the northern lights, can Christy and Alix's Christmas escape give them the courage to fight for the relationships they really want, and save the precious gift of each other's friendship?
Pre-order now:
Amazon | Barnes & Noble | Google Play | Kobo | Apple Books | Indiebound | Indigo | Audible | Goodreads
Sleigh Bells Ring by RaeAnne Thayne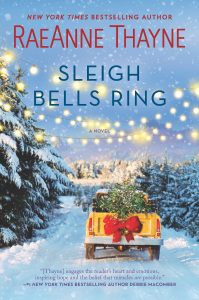 "RaeAnne Thayne gets better with every book." —Robyn Carr, #1 New York Times bestselling author
Ranch manager Annie McCade thought her twin niece and nephew could join her at the Angel View Ranch for Christmas with her absent employer being none the wiser. But when the ranch's owner, Tate Sheridan, shows up out of the blue, Annie's plans are upended. Soon she finds herself helping Tate make a Christmas to remember for his grieving and fractured extended family.
Sleigh Bells Ring is New York Times bestselling author RaeAnne Thayne's latest heartwarming Christmas novel, and it's coming soon from HQN.
Pre-order now:
Amazon | Barnes & Noble | Google Play | Kobo | Apple Books | Indiebound | Indigo | Goodreads
A Little Christmas Spirit by Sheila Roberts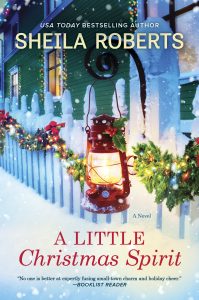 The best Christmas gifts—family, friendship and second chances—are all waiting to be unwrapped in this sparkling new novel from USA TODAY bestselling author Sheila Roberts.

Single mom Lexie Bell hopes to make this first Christmas in their new home special for her six-year-old son, Brock. Festive lights and homemade fudge, check. Friendly neighbors? Uh, no. The reclusive widower next door is more grinchy than nice. But maybe he just needs a reminder of what matters most. At least sharing some holiday cheer with him will distract her from her own lack of romance…
Stanley Mann lost his Christmas spirit when he lost his wife and he sees no point in looking for it. Until she shows up in his dreams and informs him it's time to ditch his scroogey attitude. Stanley digs in his heels, but she's determined to haunt him until he wakes up and rediscovers the joys of the season. He can start by being a little more neighborly to the single mom next door. In spite of his protests, he's soon making snowmen and decorating Christmas trees. How will it all end?
Merrily, of course. A certain Christmas ghost is going to make sure of that!
Pre-order now:
Amazon | Barnes & Noble | Google Play | Kobo | Apple Books | Indiebound | Indigo | Goodreads
Let us know: are you looking forward to any of these holiday reads this year?