Move over Coachella—bookchella is here! The headliners? Books featuring music and, wait for it, books by musicians. If you're someone who can't be without their premium Spotify account, then this one's for you.
The Great Glorious Goddamn of It All by Josh Ritter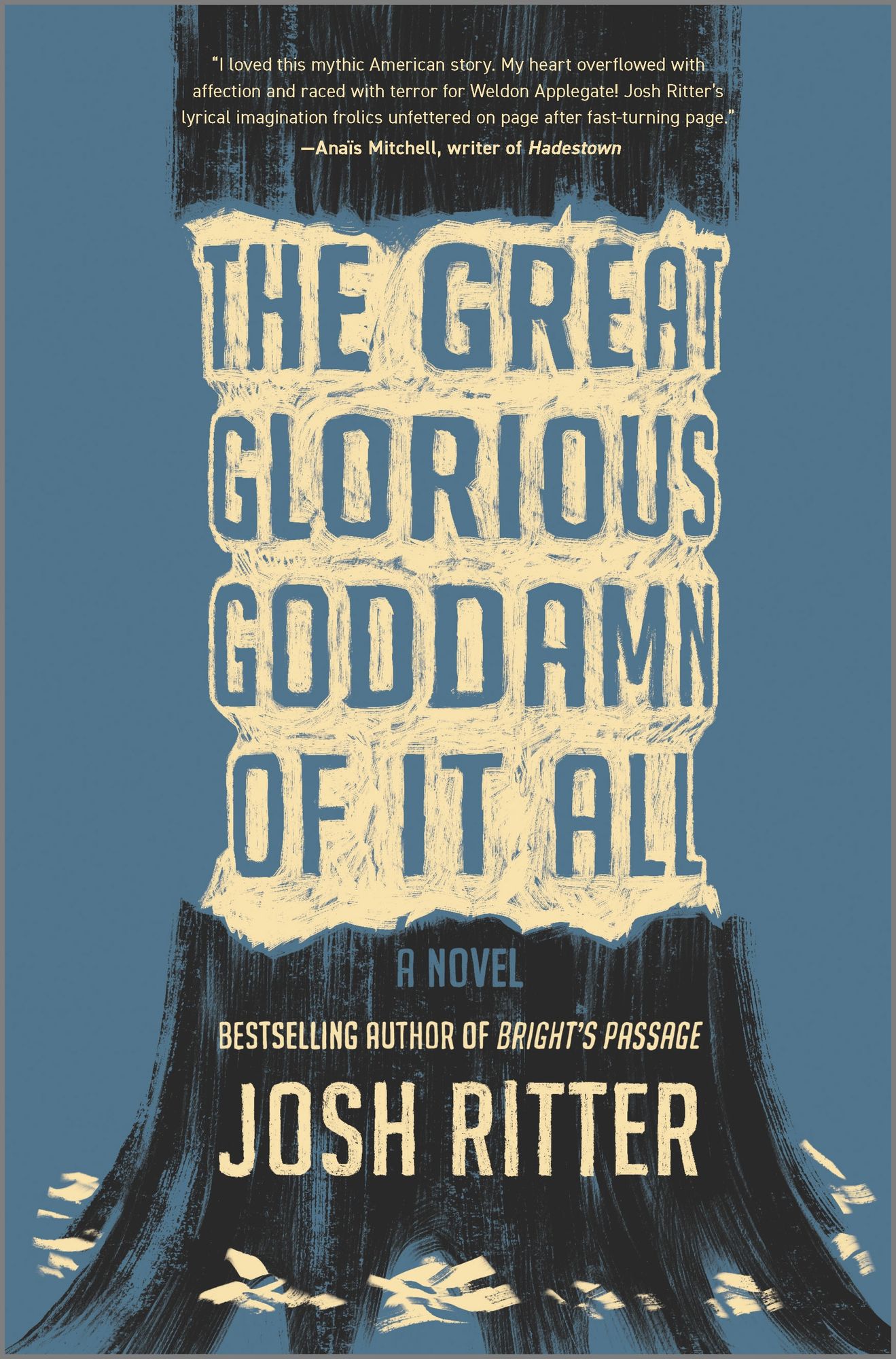 From singer-songwriter Josh Ritter, a lyrical, sweeping novel about a young boy's coming-of-age during the last days of the lumberjacks.
In the tiny timber town of Cordelia, Idaho, ninety-nine year old Weldon Applegate recounts his life in all its glory, filled with tall tales writ large with murder, mayhem, avalanches and bootlegging. It's the story of dark pine forests brewing with ancient magic, and Weldon's struggle as a boy to keep his father's inherited timber claim, the Lost Lot, from the ravenous clutches of Linden Laughlin.
Ever since young Weldon stepped foot in the deep Cordelia woods as a child, he dreamed of joining the rowdy ranks of his ancestors in their epic axe-swinging adventures. Local legend says their family line boasts some of the greatest lumberjacks to ever roam the American West, but at the beginning of the twentieth century, the jacks are dying out, and it's up to Weldon to defend his family legacy.
Braided with haunting saloon tunes and just the right dose of magic, The Great Glorious Goddamn of It All is a novel bursting with heart, humor and an utterly transporting adventure that is sure to sweep you away into the beauty of the tall snowy mountain timber.
Available at:
Amazon | Barnes & Noble | Google Play | Kobo | Apple Books | Indiebound | Indigo | Audible | Goodreads
The Perfect Day to Boss Up by Rick Ross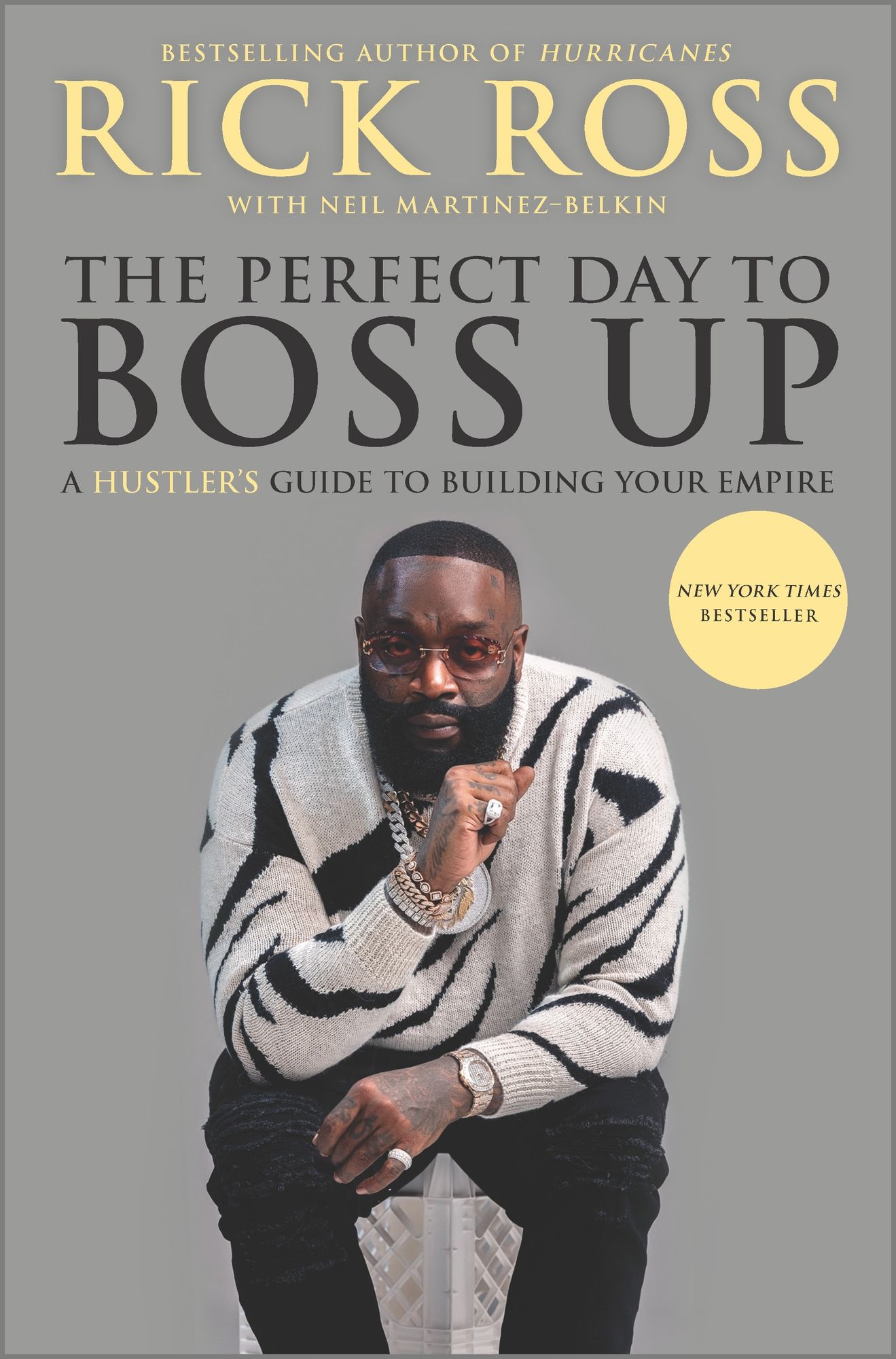 A captivating and inspiring guide to building an untouchable empire from mud to marble, no matter what obstacles stand in the way
Rick Ross is a hip-hop icon and a towering figure in the business world, but his path to success was not always easy. Despite adversity and setbacks, Ross held tight to his vision and never settled for anything less than greatness. Now, for the first time, he shares his secrets to success, offering his own life as a road map to readers looking to build their own empire. Along the way he reveals the simple, empowering "Boss Commandments" that everyone can implement to improve their life, excel in the business world and achieve even their wildest dreams. As Ross explains, "It doesn't matter what's going on. Even the most dire situation is just another opportunity to boss up."
Intimate, insightful and brimming with no-nonsense advice, The Perfect Day to Boss Up is the ideal book for hustlers everywhere.
Available at:
Amazon | Barnes & Noble | Google Play | Kobo | Apple Books | Indiebound | Indigo | Audible | Goodreads
Hurricanes by Rick Ross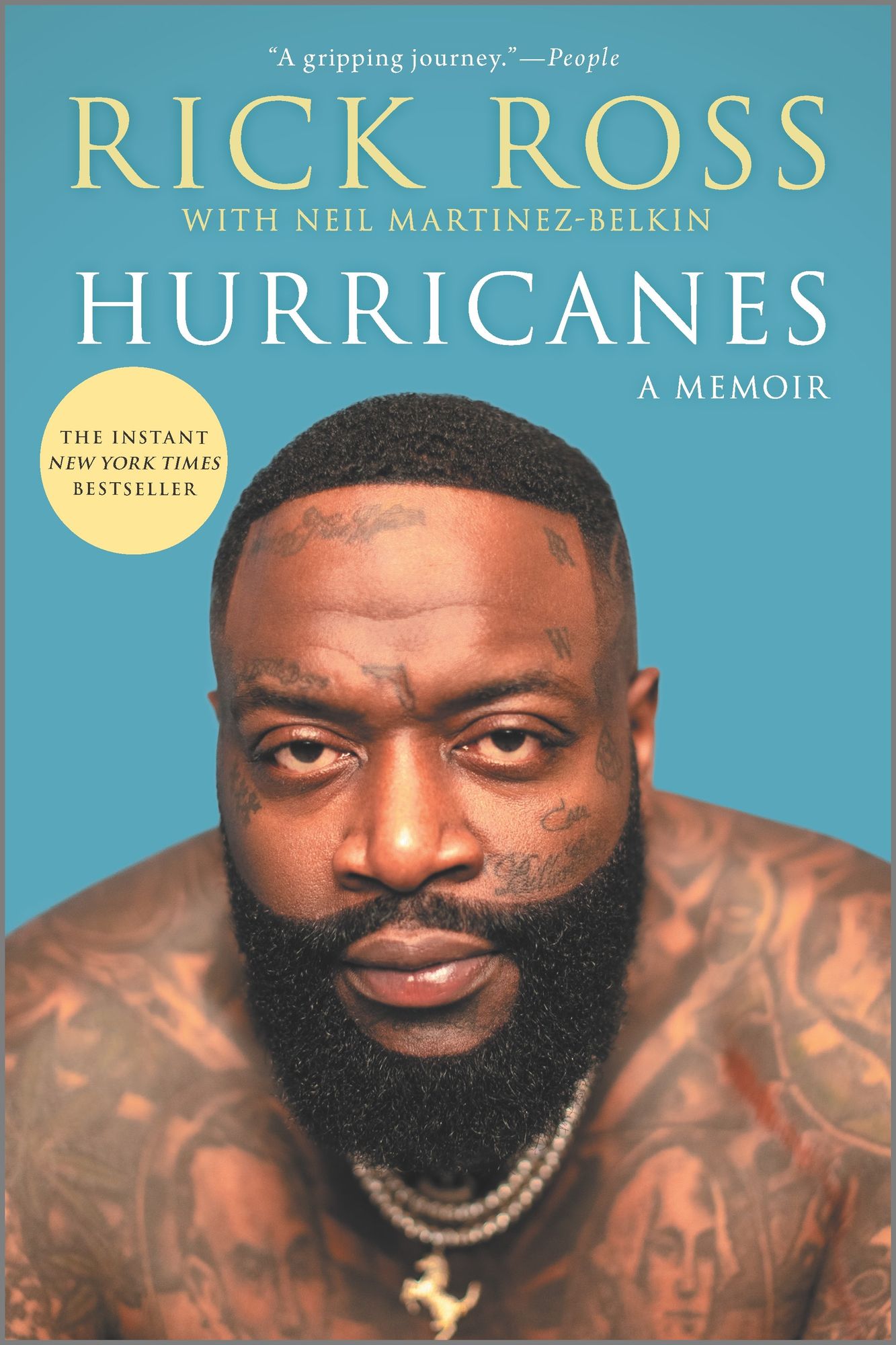 *NEW YORK TIMES BESTSELLER*

"A gripping journey."—PeopleThe highly anticipated memoir from hip-hop icon Rick Ross chronicles his coming of age amid Miami's crack epidemic, his star-studded controversies and his unstoppable rise to fame.
Rick Ross is an indomitable presence in the music industry, but few people know his full story. Now, for the first time, Ross offers a vivid, dramatic and unexpectedly candid account of his early childhood, his tumultuous adolescence and his dramatic ascendancy in the world of hip-hop.
Born William Leonard Roberts II, Ross grew up "across the bridge," in a Miami at odds with the glitzy nightclubs and yachts of South Beach. In the aftermath of the 1980 race riots, he came of age at the height of the city's crack epidemic. All the while he honed his musical talent, overcoming setback after setback until a song called "Hustlin'" changed his life forever.
From his first major label deal to the controversies, health scares, arrests and feuds he had to transcend along the way, Hurricanes is a revealing portrait of one of the biggest stars in the rap game and an intimate look at the birth of an artist.
Available at:
Amazon | Barnes & Noble | Google Play | Kobo | Apple Books | Indiebound | Indigo | Audible | Goodreads
The Sound of Stars by Alechia Dow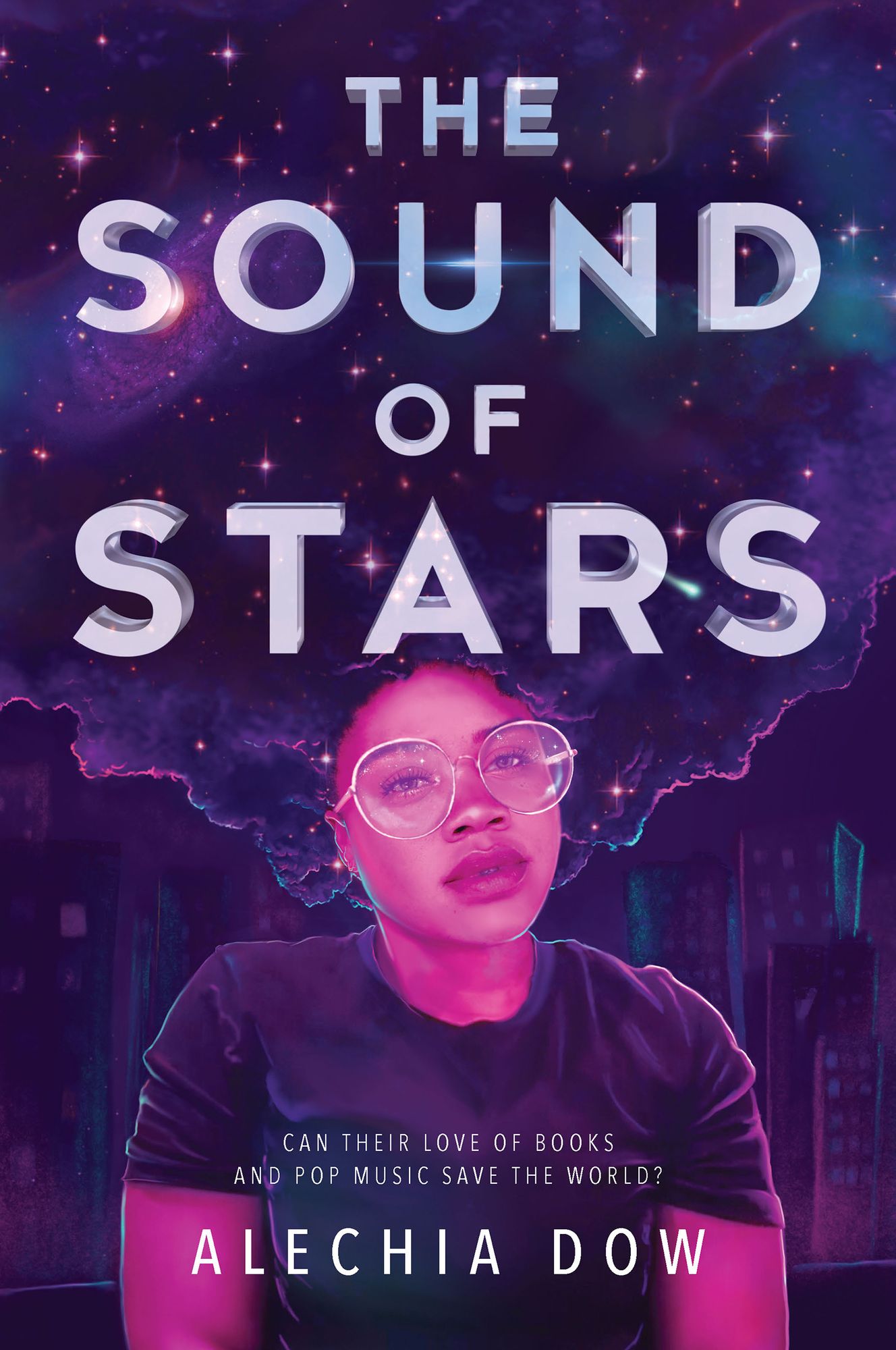 Can a girl who risks her life for books and an alien who loves pop music work together to save humanity? A beautiful and thrilling debut novel for fans of Marie Lu and Veronica Roth.
Two years ago, a misunderstanding between the leaders of Earth and the invading Ilori resulted in the deaths of one-third of the world's population.
Today, seventeen-year-old Ellie Baker survives in an Ilori-controlled center in New York City. With humans deemed dangerously volatile because of their initial reaction to the invasion, emotional expression can be grounds for execution. Music, art and books are illegal, but Ellie still keeps a secret library.
When young Ilori commander M0Rr1S finds Ellie's library, he's duty-bound to deliver her for execution. The trouble is, he finds himself drawn to human music and in desperate need of more.
Humanity's fate rests in the hands of an alien Ellie should fear, but M0Rr1S has a potential solution—thousands of miles away. The two embark on a wild and dangerous journey with a bag of books and their favorite albums, all the while creating a story and a song of their own that just might save them both.
Available at:
Amazon | Barnes & Noble | Google Play | Kobo | Apple Books | Indiebound | Indigo | Audible | Goodreads
Music from Another World by Robin Talley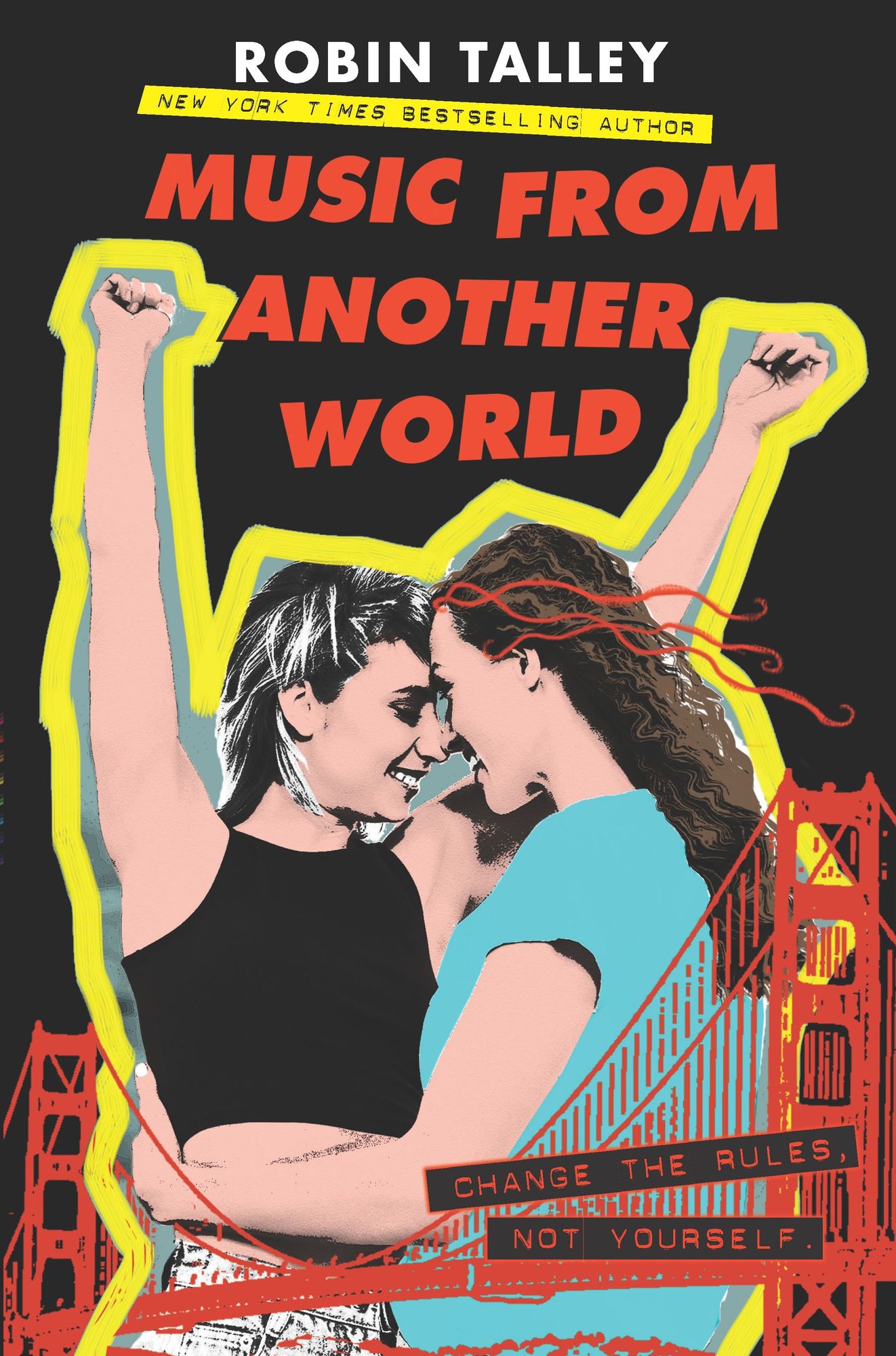 It's summer 1977 and closeted lesbian Tammy Larson can't be herself anywhere. Not at her strict Christian high school, not at her conservative Orange County church and certainly not at home, where her ultrareligious aunt relentlessly organizes antigay political campaigns. Tammy's only outlet is writing secret letters in her diary to gay civil rights activist Harvey Milk…until she's matched with a real-life pen pal who changes everything.
Sharon Hawkins bonds with Tammy over punk music and carefully shared secrets, and soon their letters become the one place she can be honest. The rest of her life in San Francisco is full of lies. The kind she tells for others—like helping her gay brother hide the truth from their mom—and the kind she tells herself. But as antigay fervor in America reaches a frightening new pitch, Sharon and Tammy must rely on their long-distance friendship to discover their deeply personal truths, what they'll stand for…and who they'll rise against.
A master of award-winning queer historical fiction, New York Times bestselling author Robin Talley once again brings to life with heart and vivid detail an emotionally captivating story about the lives of two teen girls living in an age when just being yourself was an incredible act of bravery.
Available at:
Amazon | Barnes & Noble | Google Play | Kobo | Apple Books | Indiebound | Indigo | Audible | Goodreads
Sing Me Forgotten by Jessica S. Olson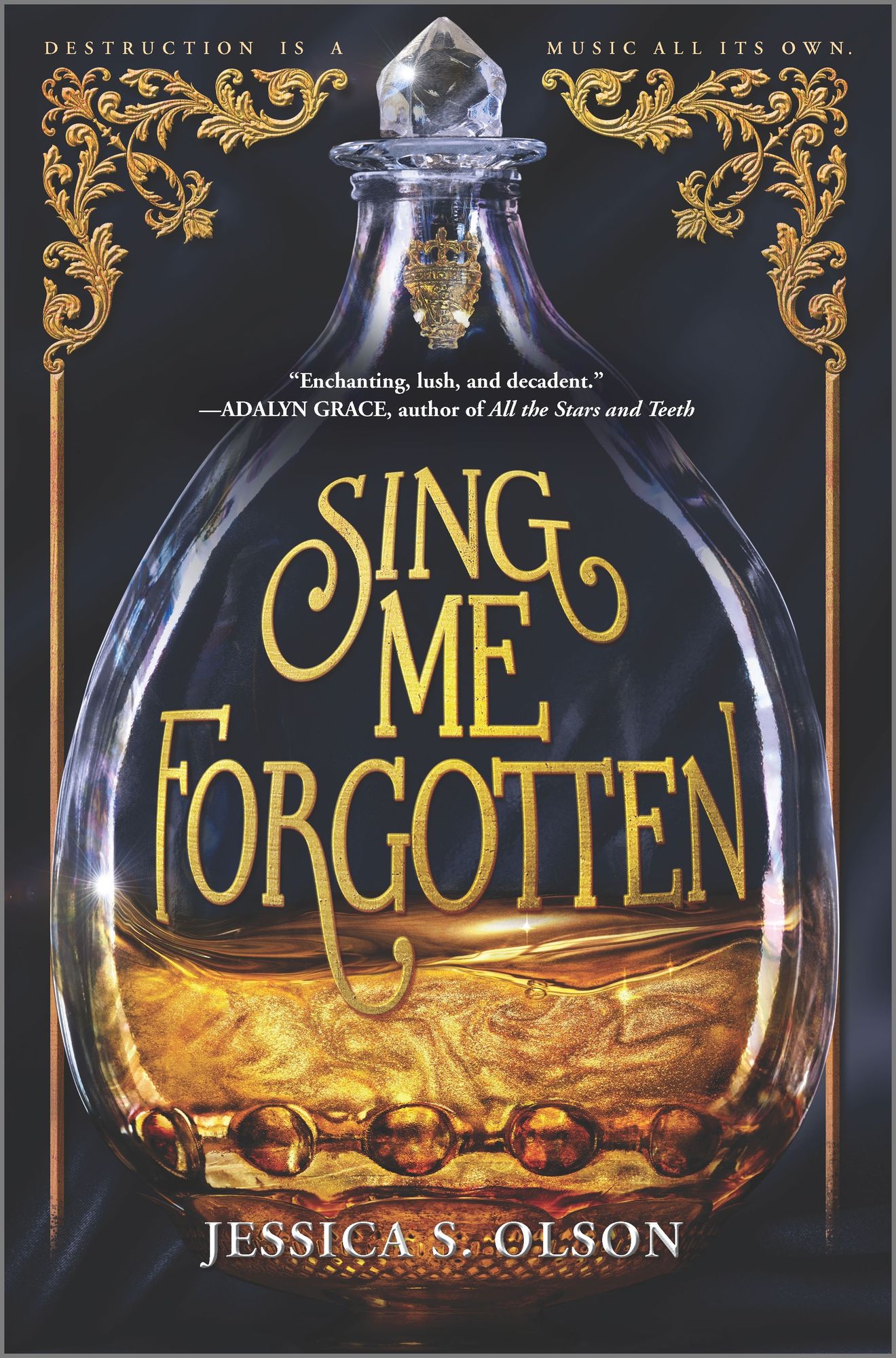 Isda does not exist. At least not beyond the opulent walls of the opera house.

Cast into a well at birth for being one of the magical few who can manipulate memories when people sing, she was saved by Cyril, the opera house's owner. Since that day, he has given her sanctuary from the murderous world outside. All he asks in return is that she use her power to keep ticket sales high—and that she stay out of sight. For if anyone discovers she survived, Isda and Cyril would pay with their lives.
But Isda breaks Cyril's cardinal rule when she meets Emeric Rodin, a charming boy who throws her quiet, solitary life out of balance. His voice is unlike any she's ever heard, but the real shock comes when she finds in his memories hints of a way to finally break free of her gilded prison.
Haunted by this possibility, Isda spends more and more time with Emeric, searching for answers in his music and his past. But the price of freedom is steeper than Isda could ever know. For even as she struggles with her growing feelings for Emeric, she learns that in order to take charge of her own destiny, she must become the monster the world tried to drown in the first place.
Available at:
Amazon | Barnes & Noble | Google Play | Kobo | Apple Books | Indiebound | Indigo | Audible | Goodreads
Fan Club by Erin Mayer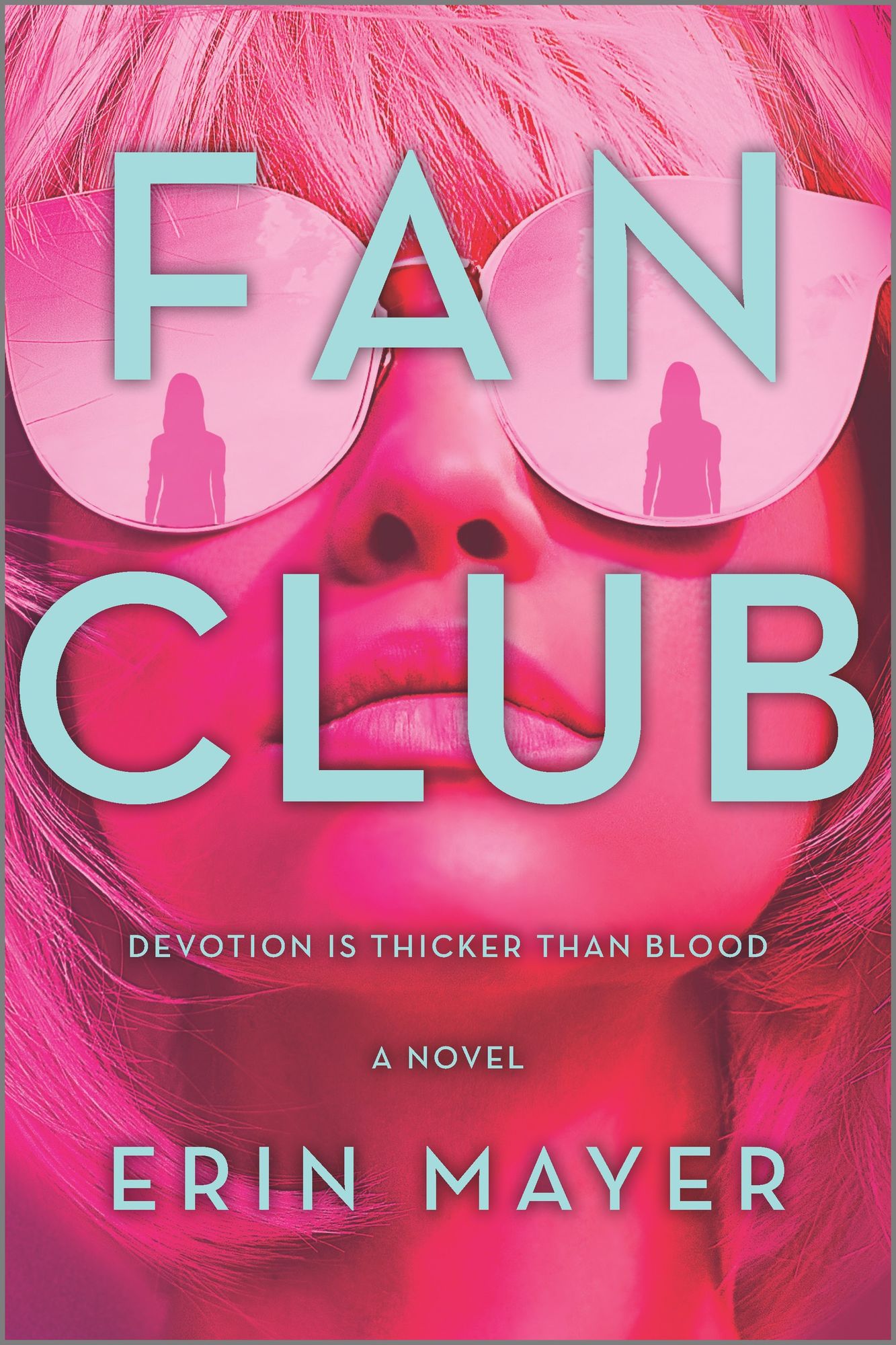 "Mayer lays bare the terrible destiny of a society obsessed with social media stalking and celebrity relationships." —Julia Heaberlin, bestselling author of We Are All the Same in the Dark
In this raucous psychological thriller, a disillusioned millennial joins a cliquey fan club, only to discover that the group is bound together by something darker than devotion
Day after day our narrator searches for meaning beyond her vacuous job at a women's lifestyle website—entering text into a computer system while she watches their beauty editor unwrap box after box of perfectly packaged bits of happiness. Then, one night at a dive bar, she hears a message in the newest single by international pop star Adriana Argento, and she is struck. Soon she loses herself to the online fandom, a community whose members feverishly track Adriana's every move.
When a colleague notices her obsession, she's invited to join an enigmatic group of adult Adriana superfans who call themselves the Ivies and worship her music in witchy candlelit listening parties. As the narrator becomes more entrenched in the group, she gets closer to uncovering the sinister secrets that bind them together—while simultaneously losing her grip on reality.
With caustic wit and hypnotic writing, this unsparingly critical thrill ride through millennial life examines all that is wrong in our celebrity-obsessed internet age, and how easy it is to lose yourself in it.
Available at:
Amazon | Barnes & Noble | Google Play | Kobo | Apple Books | Indiebound | Indigo | Audible | Goodreads
What's your favorite book tied to music? Let us know in the comments below.