We're coming off a suspense high and indulging in holiday magic with our December Read With BookClubbish pick! One More for Christmas by Sarah Morgan will delight you and make you feel all warm and fuzzy inside…and who wouldn't want that around this time of year?
ARE YOU READING ALONG WITH US THIS MONTH?
MAKE SURE TO TUNE INTO OUR FACEBOOK PAGE TO PARTICIPATE IN A LIVE CHAT WITH THE AUTHOR ON TUESDAY, DECEMBER 15 AT 1:00 P.M. EST TO GET ALL YOUR QUESTIONS ANSWERED! CAN'T MAKE IT TO THE LIVE? NO PROBLEM! LEAVE A COMMENT BELOW WITH YOUR QUESTIONS FOR SARAH MORGAN.
RSVP to the Facebook event now! And, as always, don't forget to join in on the conversation all month long on social by using the hashtag #ReadWithBookClubbish.
December Read With BookClubbish Pick: One More for Christmas by Sarah Morgan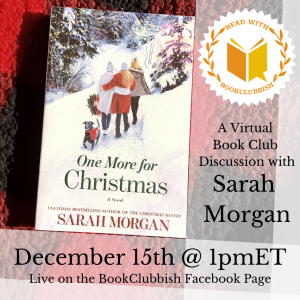 From the USA TODAY bestselling author of The Christmas Sisters and A Wedding in December comes this sparkling tale of Christmas redemption…
For sisters Samantha and Ella Mitchell, Christmas is their most precious time of the year. But this year, they'll be buying presents for the most unexpected guest of all—their mother. It's been five years since they last saw each other. But when their mom calls out of the blue, Samantha and Ella cautiously agree to spend Christmas all together in the beautiful Scottish Highlands…
Gayle Mitchell is at the top of her career, but her success has come at a price—her relationship with her daughters. Her tough-love approach to parenting was designed to make them stronger, but instead managed to push them away…until a brush with her own mortality forces Gayle to make amends.
As the snowflakes fall on their first family celebration in years, the Mitchell women must learn that sometimes facing up to the past is all you need to heal your heart…
Pick up your copy at:
Amazon | Barnes & Noble | Google Play | Kobo | Apple Books | Indiebound | Indigo | Goodreads
Discussion Questions
Gayle realizes that one of the biggest regrets she has is losing the relationship she had with her daughters. What is one regret you have in life? Would you make the same choices if you had a second chance to do it over again?
Samantha and Ella have worked hard to create their own Christmas family traditions – what is the importance of tradition at Christmas? And what are your favorite festive family traditions to celebrate?
Redemption is a major theme of this novel – how important is forgiveness (of others, but also yourself) to finding happiness?
How does the Christmas setting work to add layers to the reading experience?
Who would you most want to share this book with, and why?
Samantha, Gayle and Ella all keep secrets from each other, which come out in dramatic style – do you feel it's ever right to keep secrets from loved ones? Or is it always better to be totally truthful?
This book is all about having an unexpected, and initially unwelcome, Christmas guest. Which extra guest would you most want to have with you for Christmas this year?
You May Also Like…
Do you have a question you'd like to ask Sarah Morgan? Let us know in the comments below!