Dearest Readers,
it's safe to say that the rakish Viscount and captivating Sharma sisters have been the talk of the Ton this past weekend. If you're anything like us, you've been wrapped up in all the intrigue and glamour that season 2 of Bridgerton brings off the page and to the screen. Whether you've devoured the entire season in one sitting or are savoring each delectable moment, we're here to tell you the fun doesn't have to end once you're done!
Here are seven enchanting historical romances to whisk you away, and remember: all's fair in love and war.
By Winter's Light by Stephanie Laurens
It's frosty December in Scotland and six Cynster families come together at snowbound Casphairn Manor to celebrate the season—and where Cynsters gather, love is never far behind.
The festive occasion unites Daniel Crosbie, tutor to Lucifer Cynster's sons, and Claire Meadows, widow and governess to Gabriel Cynster's daughter. Daniel and Claire have met before, and the embers of an unexpected passion smolder between them.
However, Claire, once bitten, twice shy, believes a second marriage is not in her stars. Yet Daniel is determined. Assisted by a bevy of Cynsters—innate matchmakers every one—Daniel strives to persuade Claire that trusting him with her hand and her heart is her right path to happiness.
Claire is increasingly drawn to Daniel despite her misgivings. Then catastrophe strikes, and by winter's light, she learns that love—true love—is worth any risk, any price.
Available at:
Amazon | Barnes & Noble | Indiebound | Indigo | Goodreads
The Tempting of Thomas Carrick by Stephanie Laurens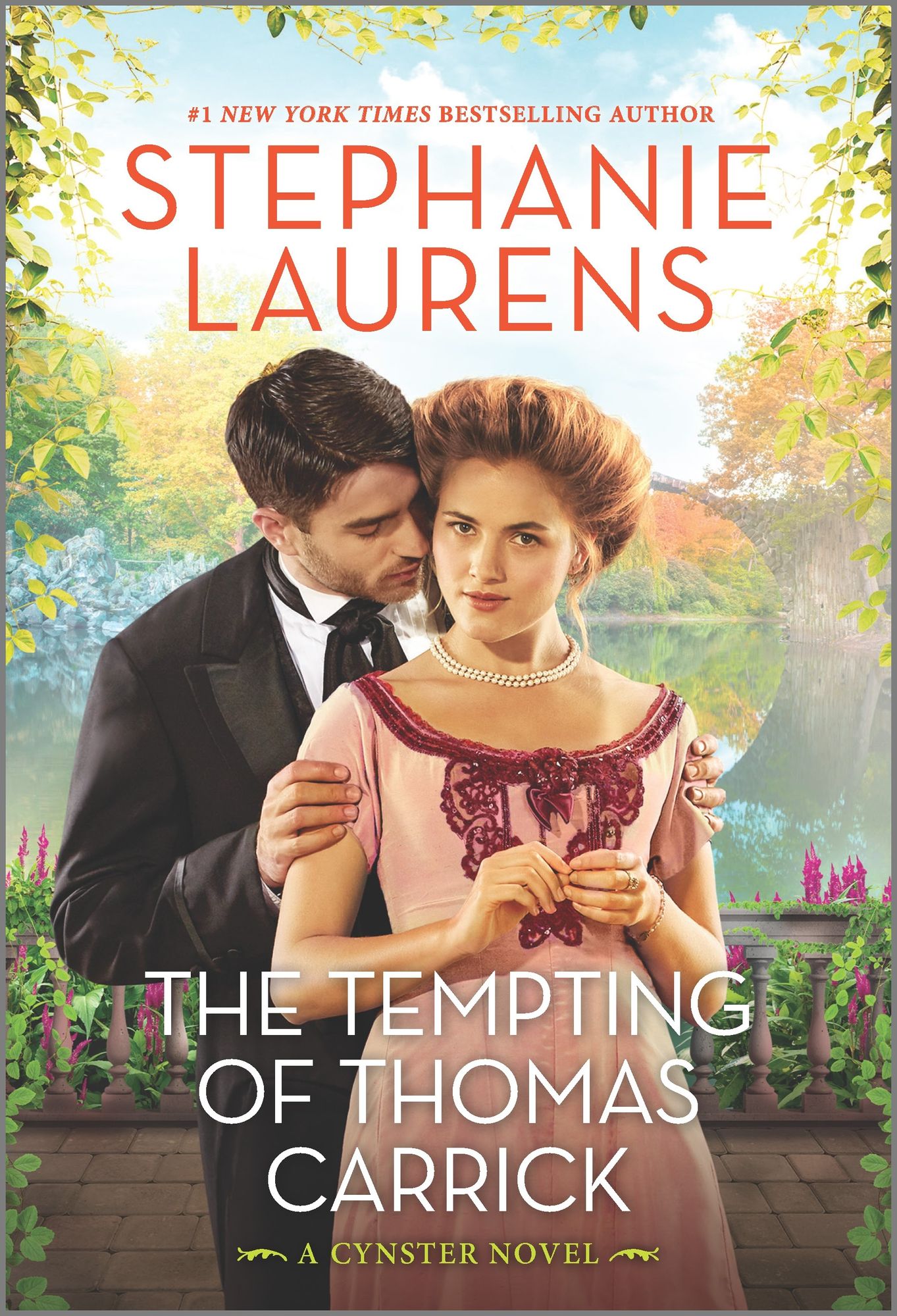 #1 New York Times bestselling author Stephanie Laurens returns to Scotland, where destiny and passion intertwine
Thomas Carrick is determined to make his own life in the bustling port city of Glasgow, far from the demands of the Carrick clan, eventually with an appropriate wife on his arm. But disturbing events on his family's estate force him to return to the Scottish countryside—where he must ask for help from the last woman he wants to face. Thomas has never forgotten Lucilla Cynster and the connection that seethes between them, but to marry Lucilla would mean embracing a life he's adamant is not for him. Strong-willed and passionate, Lucilla knows Thomas is hers—her fated lover, husband, protector, mate. He is the only man for her, just as she is his one true love. How can he ignore a bond stronger than reason and choose a different path? She's determined to fight for their future, and while she cannot command him, she has enticements of her own to wield when it comes to tempting Thomas Carrick.
Available in Paperback on March 29, 2022:
Amazon | Barnes & Noble | Indiebound | Indigo | Goodreads
Her Scandalous Pursuit by Candace Camp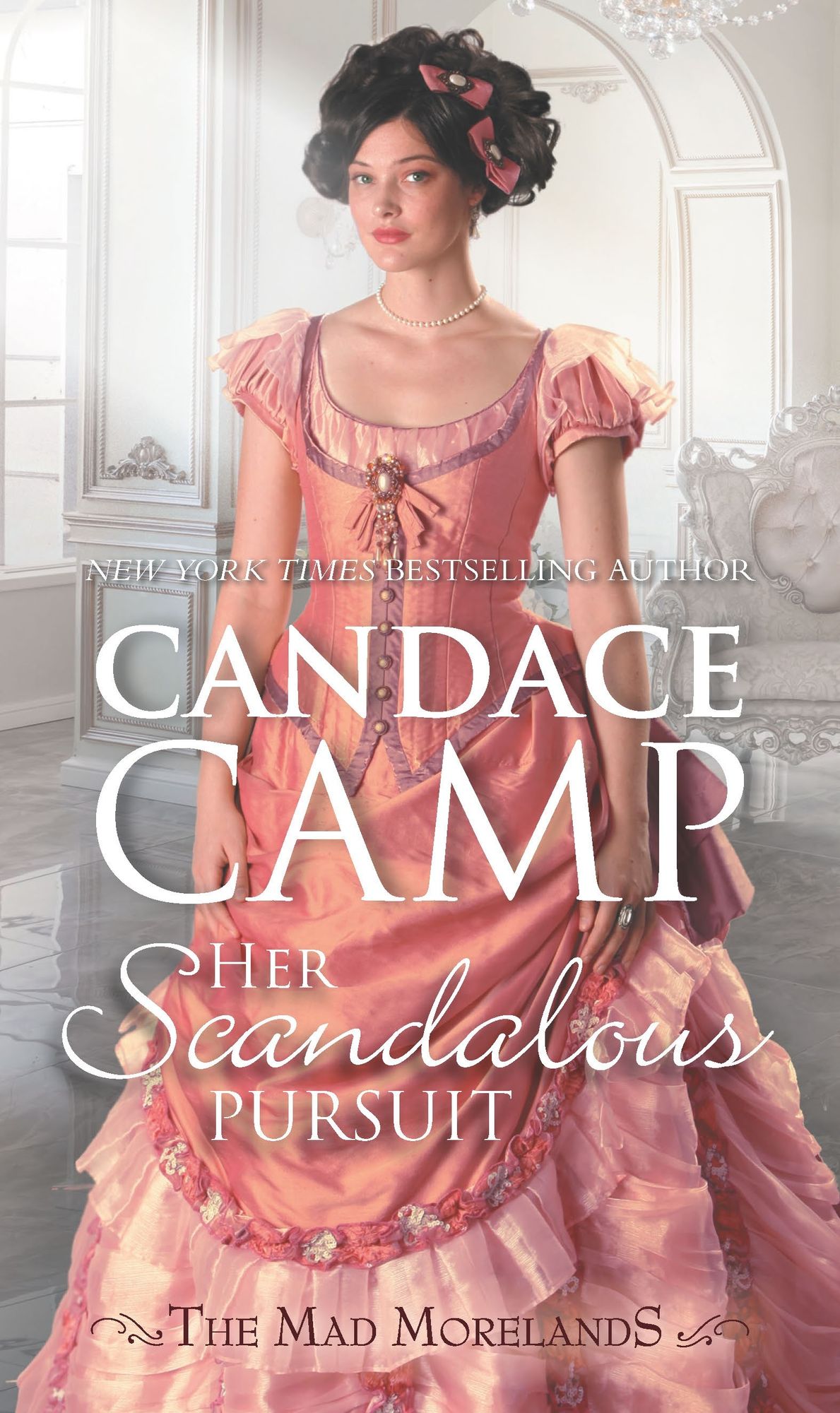 The long-awaited prequel to the Mad Morelands series—the story of Thisbe, the oldest Moreland daughter.
Thisbe Moreland is used to men not taking her seriously. As a scientist, she's accustomed to being the only woman at lectures and meetings, her presence met with scorn and derision. So it comes as a pleasant surprise when she sits next to a handsome young man who is actually interested in having a conversation about science.
Desmond Harrison cannot believe his good fortune when he sits next to Thisbe—she's intelligent and incredibly beautiful. He longs to see her again—but he's ashamed of his low birth. Not to mention his employment with the infamous Professor Gordon, a formerly respected scientist who turned to spiritualism and is now deeply scorned.
When Professor Gordon demands that Desmond recover an artifact for him—an ancient object reputed to have terrible power, known as the Eye of Annie Blue—Desmond realizes that only Thisbe holds the key. Desmond must choose between his love for Thisbe and his loyalty to his mentor…but humanity's very future will depend on his choice.
Available at:
Amazon | Barnes & Noble | Google Play | Kobo | Apple Books | Indiebound | Indigo | Audible | Goodreads
Last Duke Standing by Julia London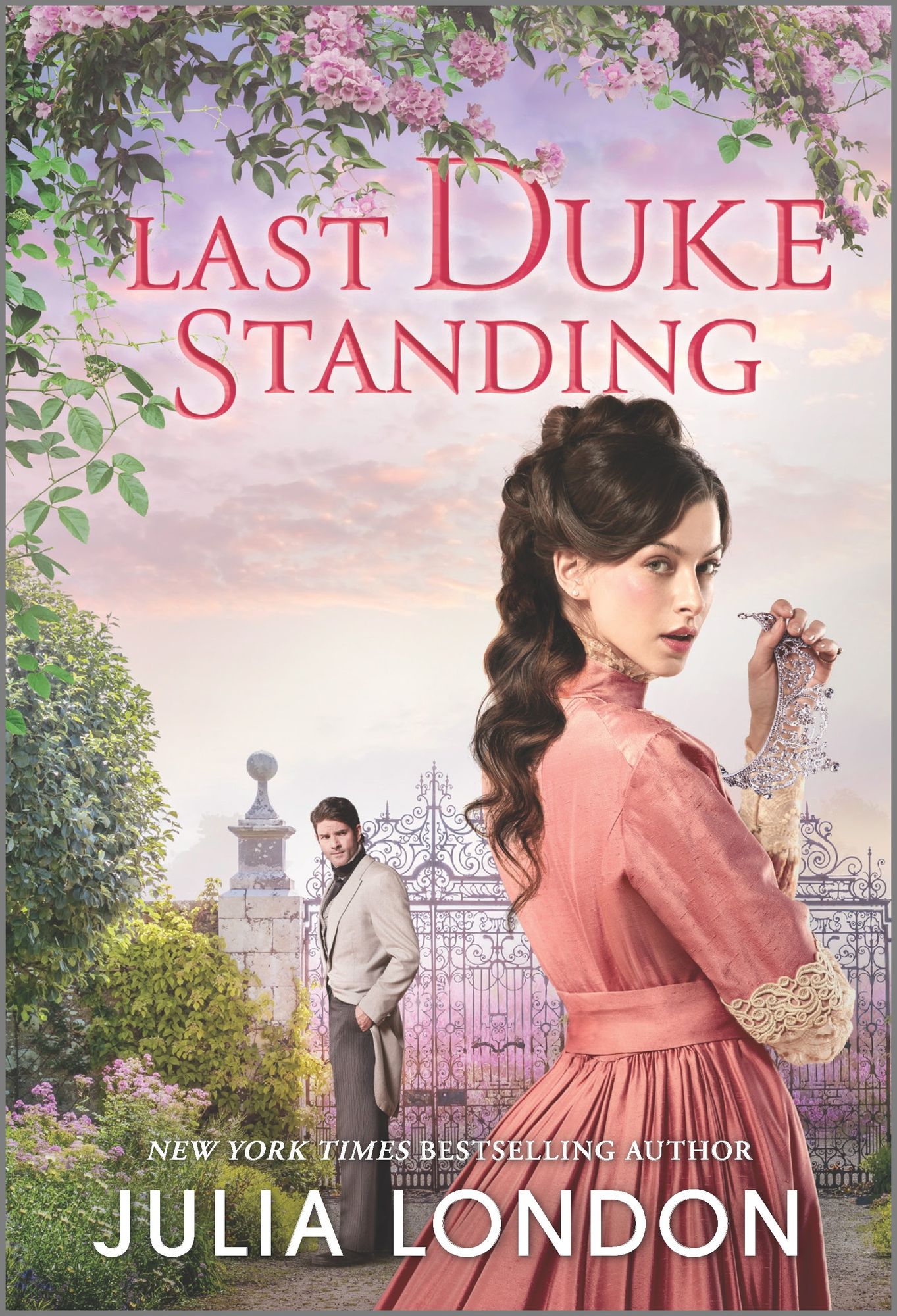 New York Times bestselling author Julia London opens her sparkling, witty, sexy new series, A Royal Match, with a young future queen in the market for a husband, and the charming—and opinionated—Scottish lord tasked to introduce her to the ton's most eligible bachelors.
Charming. Cheeky. Cunning.
When Crown Princess Justine of Wesloria is sent to England to learn the ropes of royalty, she falls under the tutelage of none other than Queen Victoria herself. Justine's also in the market for a proper husband—one fit to marry the future queen of Wesloria.
Because he knows simply everyone, William, Lord Douglas (the notoriously rakish heir to the Duke of Hamilton seat in Scotland, and decidedly not husband material), is on hand as an escort of sorts. William has been recruited to keep an eye on the royal matchmaker for the Weslorian prime minister, tasked to ensure the princess is matched with a man of quality…and one who will be sympathetic to the prime minister's views.
As William and Justine are forced to scrutinize an endless parade of England's best bachelors, they become friends. But when the crowd of potential grooms is steadily culled, what if William is the last bachelor standing?
Available at:
Amazon | Barnes & Noble | Google Play | Kobo | Apple Books | Indiebound | Indigo | Audible | Goodreads
The Charm School by Susan Wiggs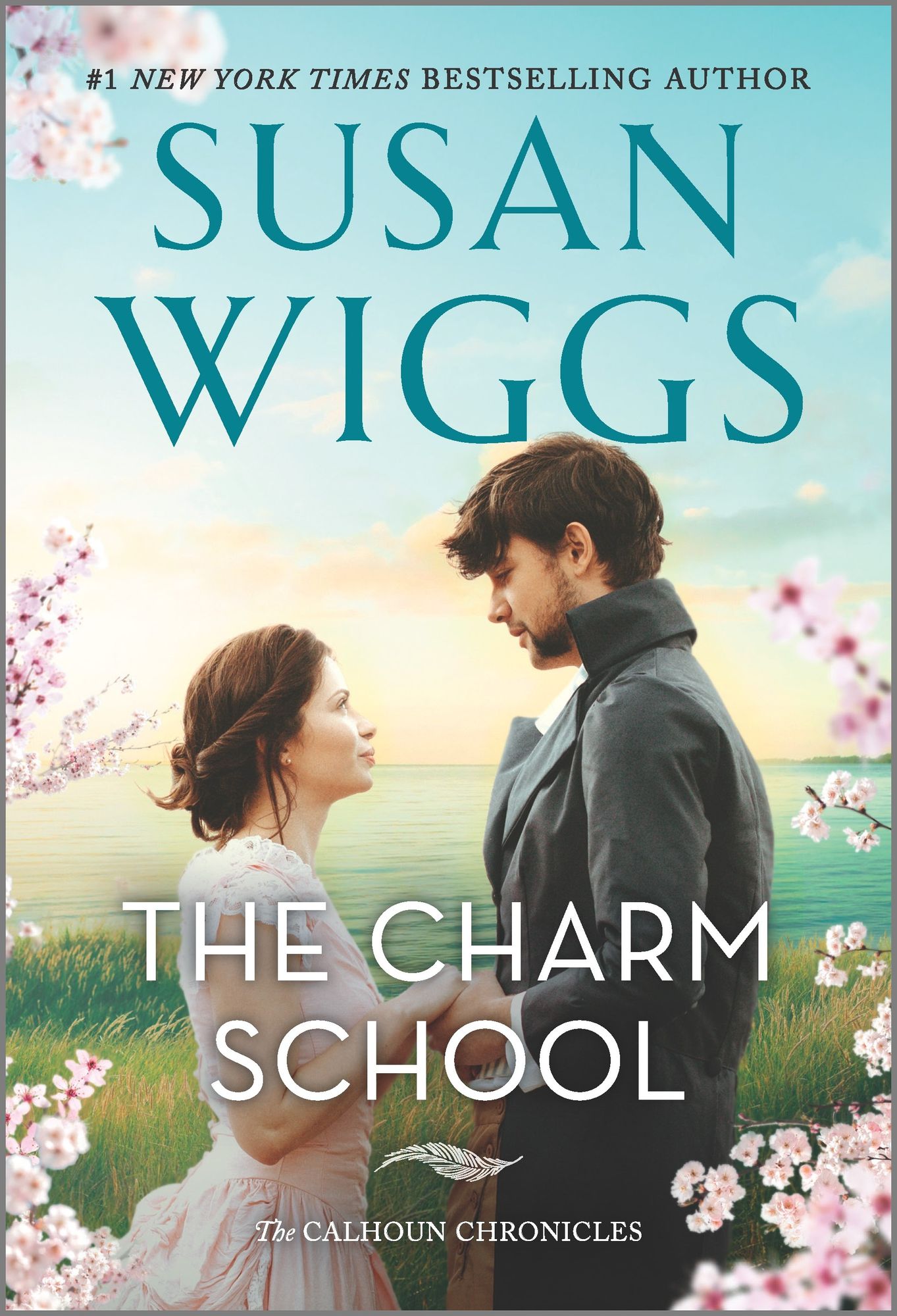 As the ballrooms of 1800s America glitter, romance is afoot…

Boston and Rio de Janeiro, 1851
An awkward misfit in an accomplished family, Isadora Peabody yearns to escape her life as a wallflower in Boston society. Fate intervenes when she learns that a ship bound for Rio de Janeiro is in need of an interpreter—a pursuit she very much enjoys. The only problem? The surly and handsome captain is adamantly opposed to a woman taking the role.
Sea captain Ryan Calhoun used to have a good family name. But he'd purposely walked away from everything it afforded him, driven by his quest to right an old wrong. When he finds himself falling for the meek young woman who comes aboard his ship, he's determined to stay away from her—if only to keep her out of his secretive, dangerous plans.
As the tides of attraction flow between them, Ryan and Isadora must risk it all for love. For a true lady must learn to speak her mind, and Isadora is ready to put her newfound charms to the test.
Available at:
Amazon | Barnes & Noble | Google Play | Kobo | Apple Books | Indiebound | Indigo | Audible | Goodreads
The Horseman's Daughter by Susan Wiggs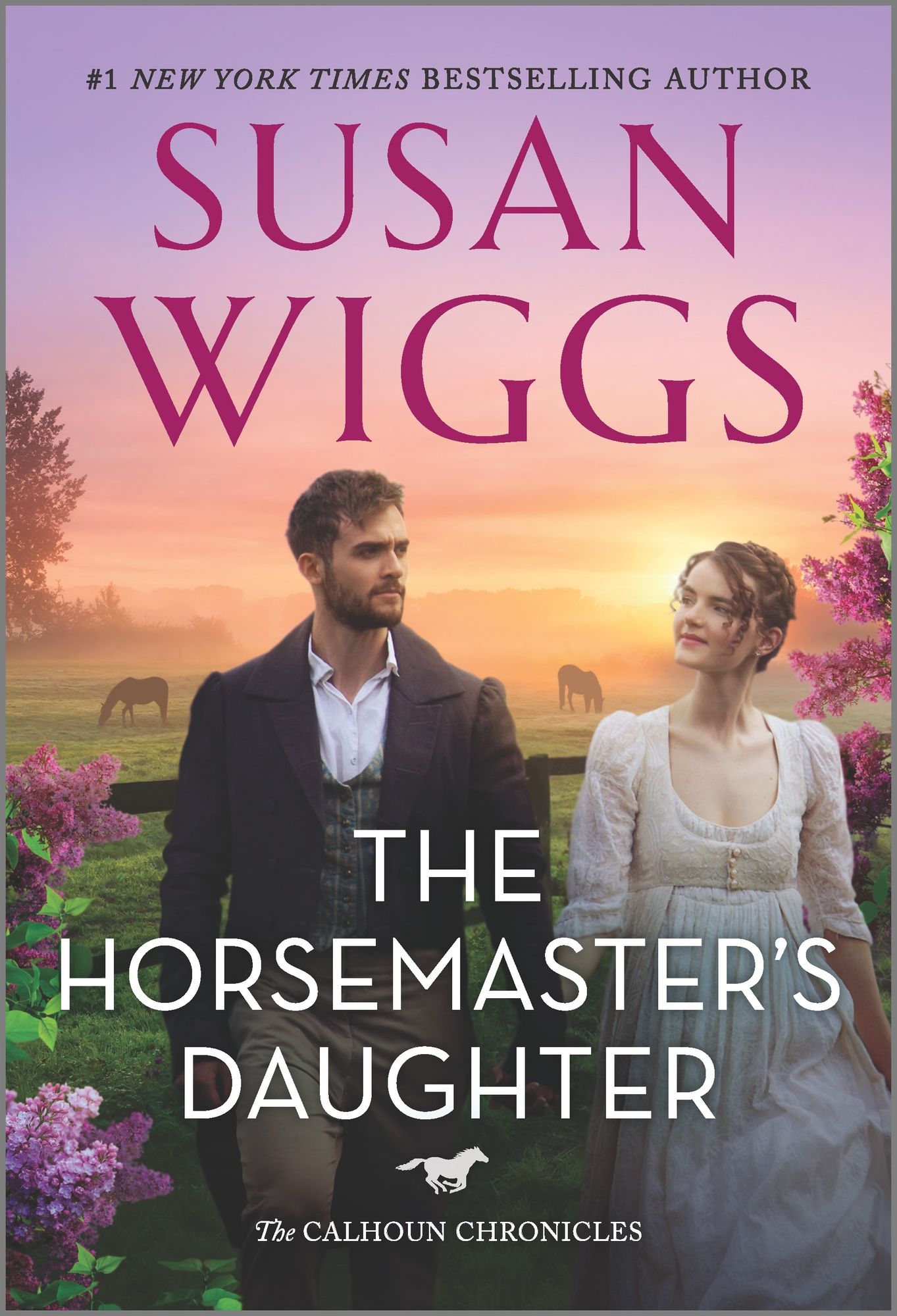 An unbroken horse, a broken man, an estate that needs her…
Virginia, 1854
Once a privileged son of the South, Hunter Calhoun now stands a widower shadowed by the scandal of his wife's death. Burying himself in his business breeding Thoroughbred racehorses, he's left his family to crumble and his young children to mourn alone. But when a poor investment threatens to bankrupt him, Hunter is forced to seek help by other means…
Eliza Flyte is a horse whisperer like no other. Removed from the world of wealth and social privilege, she grew up on an isolated island off the coast of Virginia and learned the secrets of gentling horses. When the wounded and grieving Hunter shows up unexpectedly at her doorstep, with a crazed and wild stallion in tow, she must brave Virginia society in order to heal them both.
As two worlds collide, Hunter and Eliza can no longer fight their attraction for each other. But it just might take a miracle for these two mismatched lovers to find their happily-ever-after.
Available at:
Amazon | Barnes & Noble | Google Play | Kobo | Apple Books | Indiebound | Indigo | Audible | Goodreads
A Caribbean Heiress in Paris by Adriana Herrera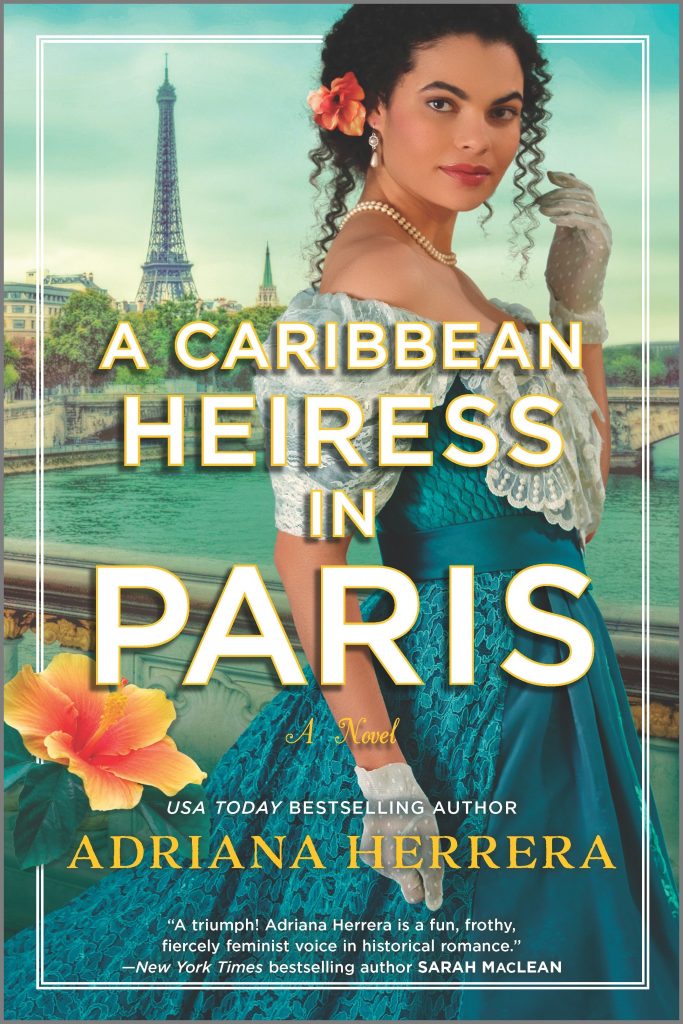 Paris, 1889
The Exposition Universelle is underway, drawing merchants from every corner of the globe…including Luz Alana Heith-Benzan, heiress to the Caña Brava rum empire.
Luz Alana set sail from Santo Domingo armed with three hundred casks of rum, her two best friends and one simple rule: under no circumstances is she to fall in love. In the City of Lights, she intends to expand the rum business her family built over three generations, but buyers and shippers alike can't imagine doing business with a woman…never mind a woman of color. This, paired with being denied access to her inheritance unless she marries, leaves the heiress in a very precarious position.
Enter James Evanston Sinclair, Earl of Darnick, who has spent a decade looking for purpose outside of his father's dirty money and dirtier dealings. Ignoring his title, he's built a whisky brand that's his biggest—and only—passion. That is, until he's confronted with a Spanish-speaking force of nature who turns his life upside down.
From their first tempestuous meeting, Luz Alana is conflicted. Why is this titled—and infuriatingly charming—Scottish man so determined to help her?
For Evan, every day with Luz Alana makes him yearn for more than her ardent kisses or the marriage of convenience that might save them both. But Luz Alana sailed for Paris prepared to build her business and her future; what she wasn't prepared for was love finding her.
Available on May 31, 2022:
Amazon | Barnes & Noble | Google Play | Kobo | Apple Books | Indiebound | Indigo | Audible | Goodreads
Let us know which titles you've read below! Until next time!