You know that moment when you forgot you ordered something and you get your own surprise unboxing moment? …No? Just us? WELL, we highly reccomend it. So here's your chance! Here are 7 must-have romcoms to take you all the way through the summer! Think of it as a summer advent calendar 😏.
Fool Me Once by Ashley Winstead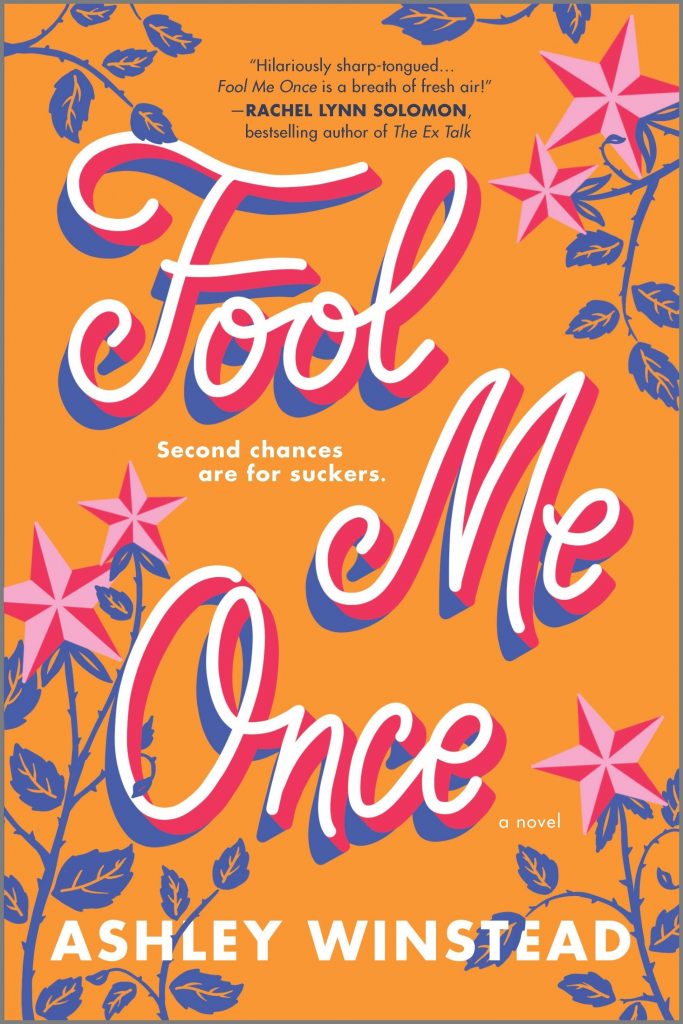 In this fierce and funny battle of the exes, Ashley Winstead's Fool Me Once explores the chaos of wanting something you used to have.
Lee Stone is a twenty-first-century woman: she kicks butt at her job as a communications director at a women-run electric car company (that's better than Tesla, thank you), and after work she is "Stoner," drinking guys under the table and never letting any of them get too comfortable in her bed…
That's because Lee's learned one big lesson: never trust love. Four major heartbreaks set her straight, from her father cheating on her mom all the way to Ben Laderman in grad school—who wasn't actually cheating, but she could have sworn he was, so she reciprocated in kind.
Then Ben shows up five years later, working as a policy expert for the most liberal governor in Texas history, just as Lee is trying to get a clean energy bill rolling. Things get complicated—and competitive—as Lee and Ben are forced to work together. Tension builds just as old sparks reignite, fanning the flames for a romantic dustup the size of Texas.
Available April 5, 2022:
Amazon | Barnes & Noble | Google Play | Kobo | Apple Books | Indiebound | Indigo | Audible | Goodreads
THE DACHSHUND WEARS PRADA BY STEFANIE LONDON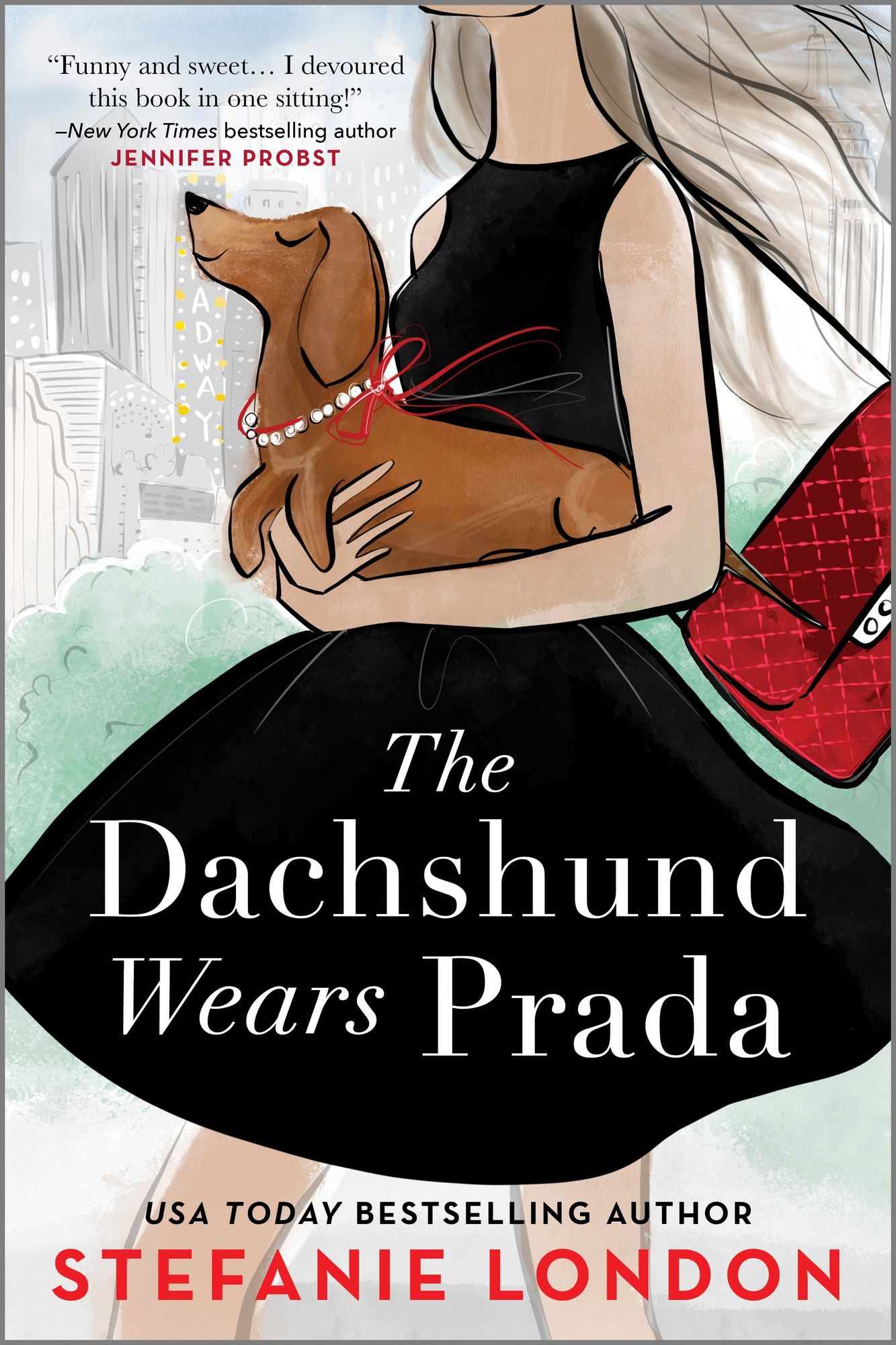 How do you start over when the biggest mistake of your life has more than one million views?
Forget diamonds—the internet is forever. Social media consultant Isla Thompson learned that lesson the hard way when she went viral for all the wrong reasons. A month later, Isla is still having nightmares about the moment she ruined a young starlet's career and made herself the most unemployable influencer in Manhattan. But she doesn't have the luxury of hiding until she's no longer Instagram poison. Not when her fourteen-year-old sister, Dani, needs Isla to keep a roof over their heads. So, she takes the first job she can get: caring for Camilla, a glossy-maned, foul-tempered hellhound.
After a week of ferrying Camilla from playdates to pet psychics, Isla starts to suspect that the dachshund's bark is worse than her bite—just like her owner, Theo Garrison. Isla has spent her career working to make people likable and here's Theo—happy to hide behind his reputation as a brutish recluse. But Theo isn't a brute—he's sweet and funny, and Isla should not see him as anything but the man who signs her paychecks. Because loving Theo would mean retreating to his world of secluded luxury, and Isla needs to show Dani that no matter the risk, dreams are always worth chasing.
Available May 3, 2022:
Amazon | Barnes & Noble | Google Play | Kobo | Apple Books | Indiebound | Indigo | Audible | Goodreads
A Proposal They Can't Refuse by Natalie Caña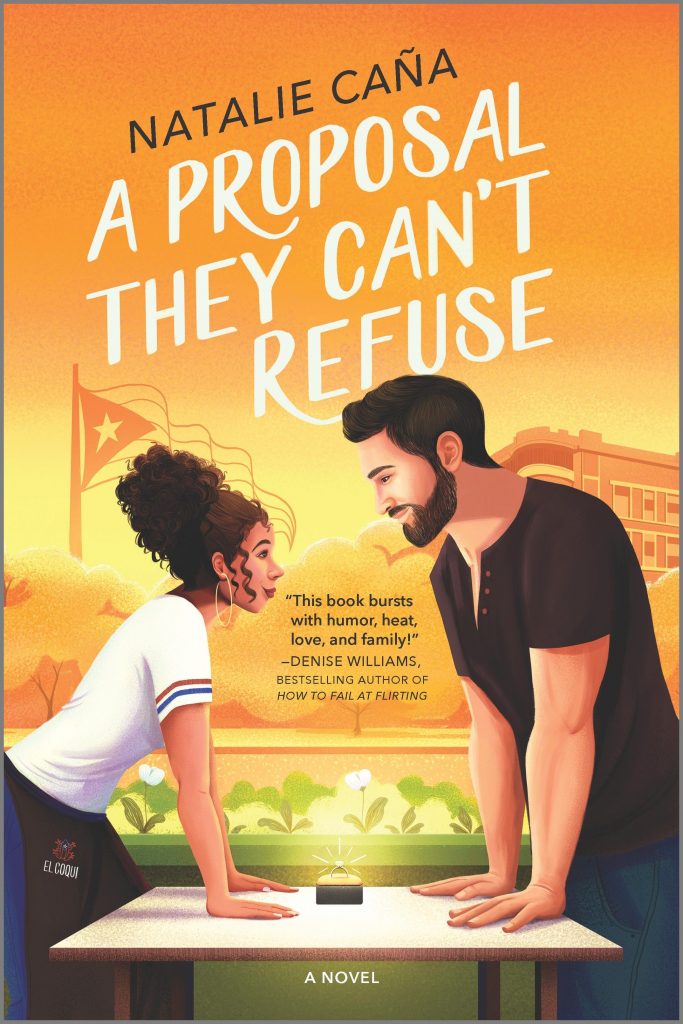 Natalie Caña turns up the heat, humor and heart in this debut rom-com about a Puerto Rican chef and an Irish American whiskey distiller forced into a fake engagement by their scheming octogenarian grandfathers.
Kamilah Vega is desperate to convince her family to update their Puerto Rican restaurant and enter it into the Fall Foodie Tour. With the gentrification of their Chicago neighborhood, it's the only way to save the place. The fly in her mofongo—her blackmailing abuelo says if she wants to change anything in his restaurant, she'll have to marry the one man she can't stand: his best friend's grandson.
Liam Kane spent a decade working to turn his family's distillery into a contender. But just as he and his grandfather are on the verge of winning a national competition, Granda hits him with a one-two punch: he has cancer and has his heart set on seeing Liam married before it's too late. And Granda knows just the girl…Kamilah Vega.
If they refuse, their grandfathers will sell the building that houses both their businesses. With their futures on the line, Kamilah and Liam plan to outfox the devious duo, faking an engagement until they both get what they want. But soon, they find themselves tangled up in more than either of them bargained for.
Available May 24, 2022:
Amazon | Barnes & Noble | Google Play | Kobo | Apple Books | Indiebound | Indigo | Audible | Goodreads
Here For the Drama by Kate Bromley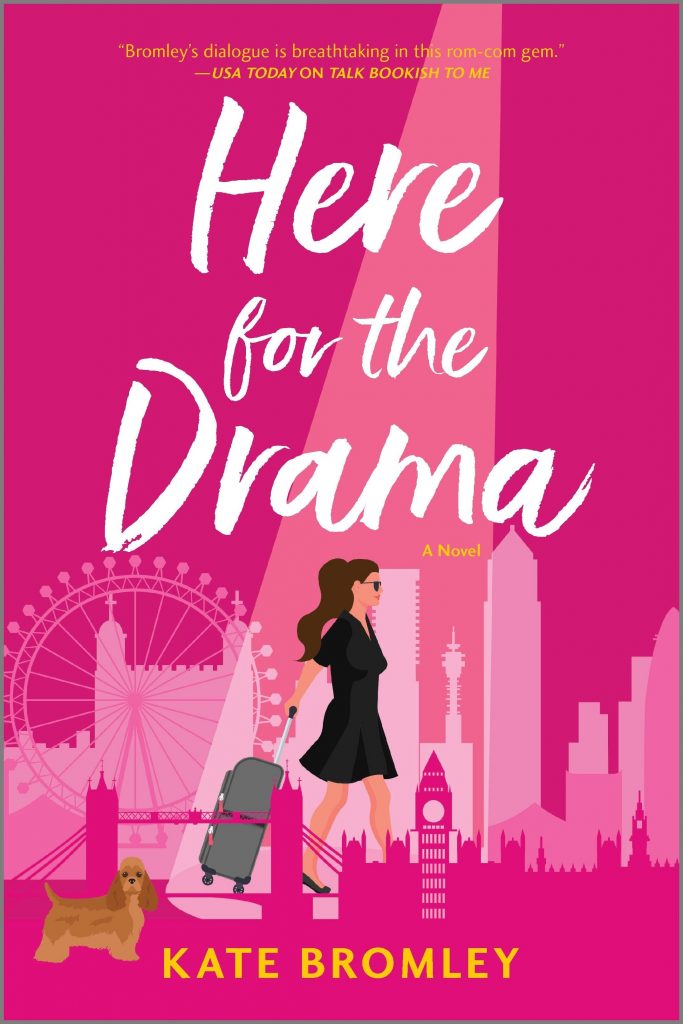 It wouldn't be the theater without a few theatrics…
Becoming a famous playwright is all Winnie ever dreamed about. For now, though, she'll have to settle for assisting the celebrated, sharp-witted feminist playwright Juliette Brassard. When an experimental theater company in London, England, decides to stage Juliette's most renowned play, The Lights of Trafalgar, Winnie and Juliette pack their bags and hop across the pond.
But the trip goes sideways faster than you can say "tea and crumpets." Juliette stubbornly butts heads with the play's director and Winnie is left stage-managing their relationship. Meanwhile, Winnie's own work seems to have stalled, and though Juliette keeps promising to read it, she always has some vague reason why she can't. Then, Juliette's nephew, Liam, enters stage left. He's handsome, he's smart, he is devastatingly British…and his family ties to Juliette pose a serious problem, forcing Winnie to keep their burgeoning relationship on the down-low. What could go wrong?
Balancing a production seemingly headed for disaster, a secret romance and the sweetest, most rambunctious rescue dog, will Winnie save the play, make her own dreams come true and find love along the way—or will the slings and arrows of outrageous fortune get the best of her?
Available June 21, 2022:
Amazon | Barnes & Noble | Google Play | Kobo | Apple Books | Indiebound | Indigo | Audible | Goodreads
For Butter or Worse by Erin La Rosa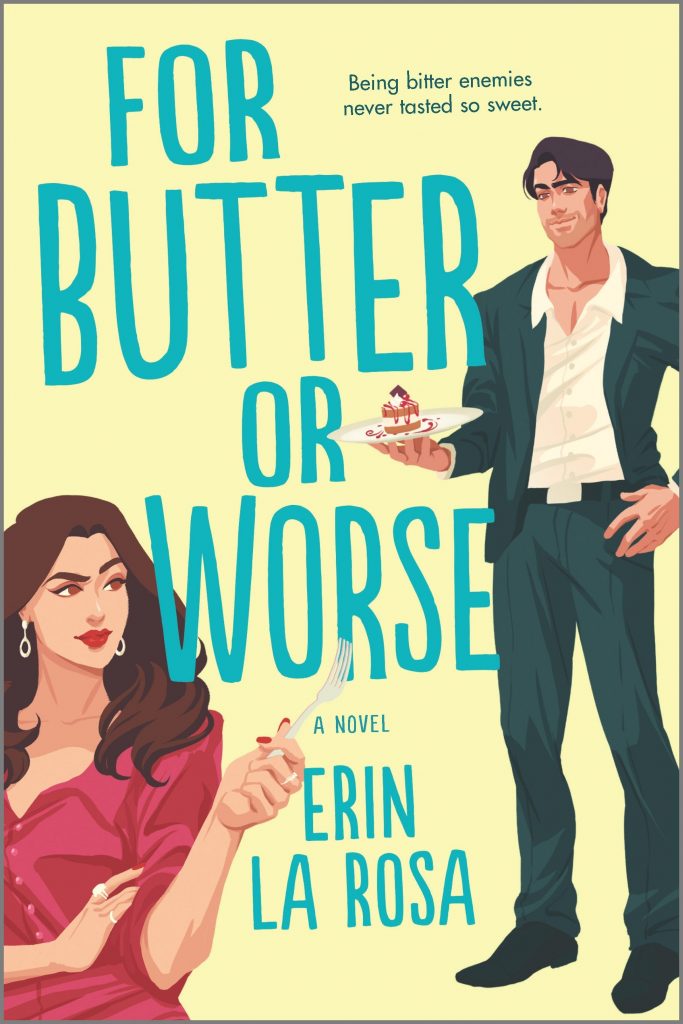 They go together like water and oil…
All chef Nina Lyon wants is to make a name for herself in the culinary world and inspire young women everywhere to do the same. For too long, she's been held back and underestimated by the male-dominated sphere of professional kitchens, and she's had enough. Now, as co-host of the competitive reality TV series The Next Cooking Champ!, she finally has a real shot at being top tier in the foodie scene.
Too bad her co-host happens to be Hollywood's smarmiest jerk.
Restaurateur Leo O'Donnell never means to get under Nina's skin. It just seems to happen, especially when the cameras are rolling. It's part of the anxiety and stress he has come to know all too well in this line of work. So nothing prepares him for the fallout after he takes one joke a smidge too far and Nina up and quits—on live TV.
To make matters worse, the two are caught in what looks like a compromising situation by the paparazzi…and fans of the show go absolutely nuts. Turns out, a "secret romance" between Nina and Leo may just be what their careers need most.
Now all they have to do is play along, without killing each other…and without catching feelings. Easy as artisanal shepherd's pie. Right?
Available July 26, 2022:
Amazon | Barnes & Noble | Google Play | Kobo | Apple Books | Indiebound | Indigo | Audible | Goodreads
Mr. Perfect On Paper by Jean Meltzer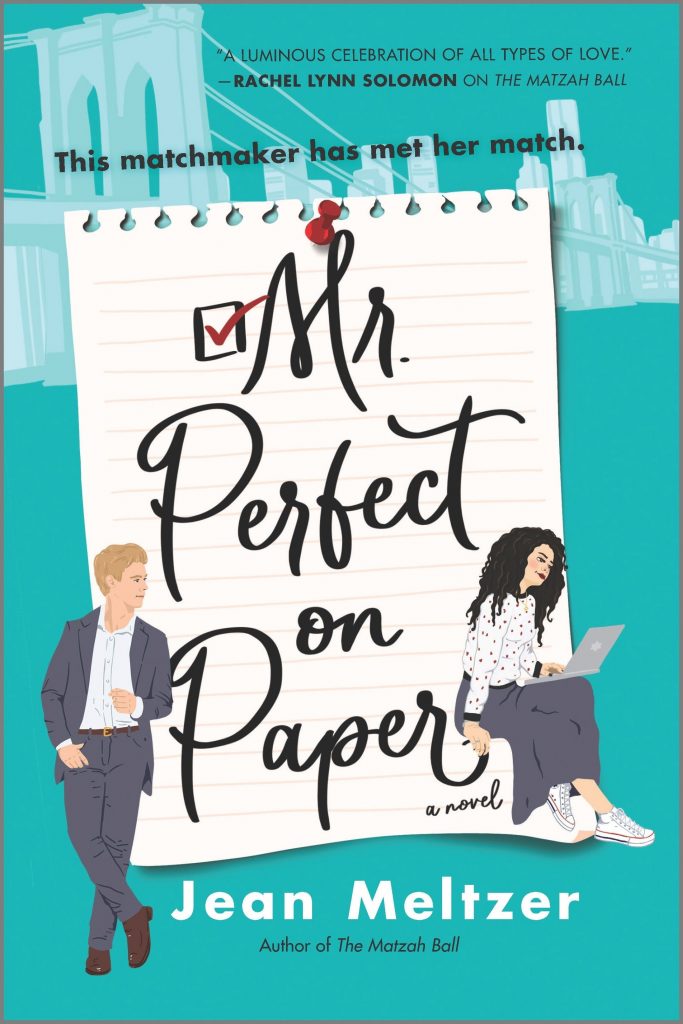 From the author of The Matzah Ball comes a pitch-perfect romcom following a third-generation Jewish matchmaker who unwittingly finds her own search for love thrust into the spotlight…

The perfect Jewish husband should be:
A doctor or lawyer (preferably a doctor)
Baggage-free (no previous marriages, no children)
And of course—he must be Jewish
As the creator and CEO of the popular Jewish dating app J-Mate, matchmaker Dara Rabinowitz knows the formula for lasting love—at least, for everyone else. When it comes to her own love life, she's been idling indefinitely. Until her beloved bubbe shares Dara's checklist for "The Perfect Jewish Husband" on national television and charming news anchor Chris Steadfast proposes they turn Dara's search into must-see TV.
As a non-Jewish single dad, Chris doesn't check any of Dara's boxes. But her hunt for Mr. Perfect is the ratings boost his show desperately needs. If only Chris could ignore his own pesky attraction to Dara—a task much easier said than done when Dara starts questioning if "perfect on paper" can compete with how hard she's falling for Chris…
Available August 9, 2022:
Amazon | Barnes & Noble | Google Play | Kobo | Apple Books | Indiebound | Indigo | Audible | Goodreads
Would You Rather by Allison Ashley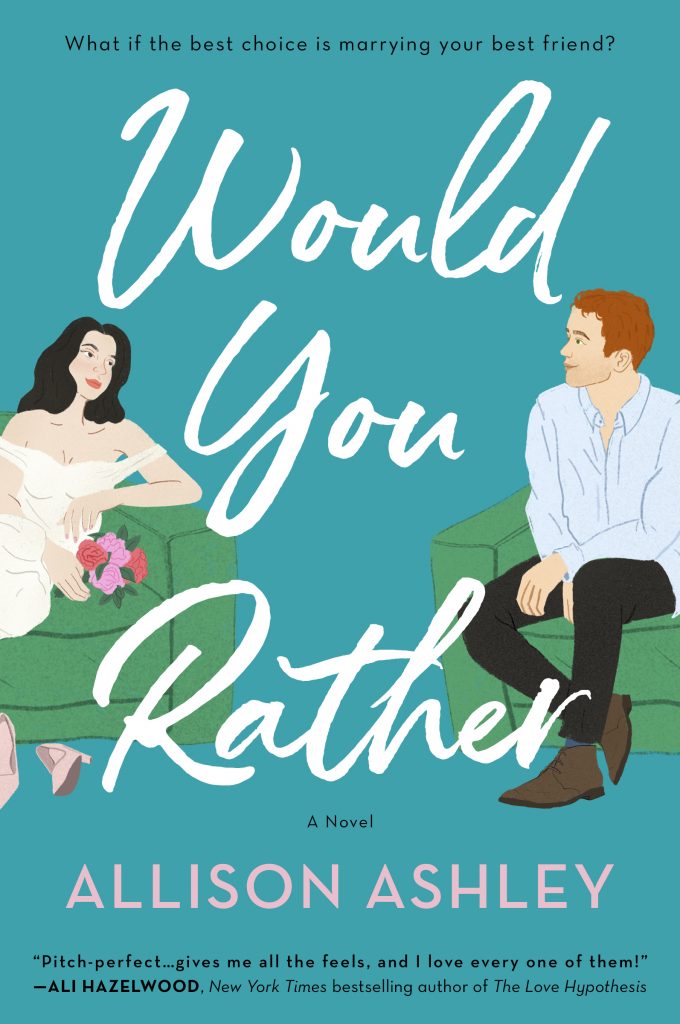 Would you rather play it safe in the friend zone, or risk it all with a modern marriage of convenience?
Noah and Mia have always been best friends, and their friendship is the most important thing to them. Life is going great for Noah and he's up for a promotion in a job he loves. ButMia's life is on hold as she awaits a kidney transplant. She's stuck in a dead-end job and, never wanting to be a burden, has sworn off all romance. So when the chance of a lifetime comes to go back to school and pursue her dream, it's especially painful to pass up. She can't quit her job or she'll lose the medical insurance she so desperately needs.
To support her, Noah suggests they get married—in name only—so she can study full-time and still keep the insurance. It's a risk to both of them, with jobs, health and hearts on the line, and they'll need to convince suspicious coworkers and nosy roommates that they're the real deal. But if they can let go of all the baggage holding them back, they might realize that they would rather be together forever.
Available August 23, 2022:
Amazon | Barnes & Noble | Google Play | Kobo | Apple Books | Indiebound | Indigo | Audible | Goodreads
We know there's so many good choices. You're welcome in advance 😉. Share which books have been added to your TBR below!