We're all gravitating towards feel-good content right now. While the world is kinda scary right now, let's take a look back at some cozy Christmas books to remind us of simpler times. Sometimes that's all we need. Now, just imagine you're snowed in and have to snuggle up with a book, cup of tea, and a warm fire.
A Wedding in December by Sarah Morgan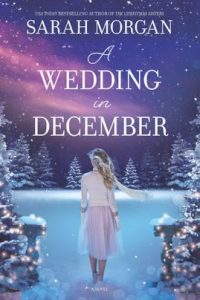 From the USA Today bestselling author of The Christmas Sisters comes this funny, charming and heartwarming all new original Christmas novel. This is Sarah Morgan at her festive best!
In the snowy perfection of Aspen, the White family gathers for youngest daughter Rosie's whirlwind Christmas wedding. First to arrive are the bride's parents, Maggie and Nick. Their daughter's marriage is a milestone they are determined to celebrate wholeheartedly, but they are hiding a huge secret of their own: they are on the brink of divorce. After living apart for the last six months, the last thing they need is to be trapped together in an irresistibly romantic winter wonderland.
Rosie's older sister, Katie, is also dreading the wedding. Worried that impulsive, sweet-hearted Rosie is making a mistake, Katie is determined to save her sister from herself! If only the irritatingly good-looking best man, Jordan, would stop interfering with her plans…
Bride-to-be Rosie loves her fiancé but is having serious second thoughts. Except everyone has arrived—how can she tell them she's not sure? As the big day gets closer, and emotions run even higher, this is one White family Christmas none of them will ever forget!
Available at:
Amazon | Barnes & Noble | Google Play | Kobo | Apple Books | Indiebound | Audible | Goodreads
Marry Me at Christmas by Susan Mallery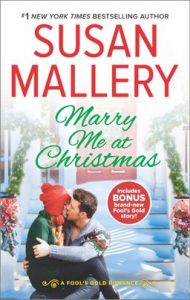 Wish upon a Christmas star in this sparkling Fool's Gold romance!
To bridal boutique owner Madeline Krug, organizing a Christmas wedding sounds like a joy—until she finds out she'll be working closely with the gorgeous brother of the bride, movie star Jonny Blaze. How will a small-town girl like her keep from falling for the world's sexiest guy? Especially with mistletoe lurking around every corner!
Jonny came to Fool's Gold looking for normal, not for love. Happily-ever-after only happens in the movies. Still, nothing about this quirky town is quite what he expected, and "ordinary" Madeline is the most extraordinary woman he's ever met. Refreshingly honest, disarmingly sweet. Achingly beautiful.
Available at:
Amazon | Barnes & Noble | Google Play | Kobo | Apple Books | Indiebound | Goodreads
Season of Wonder by RaeAnne Thayne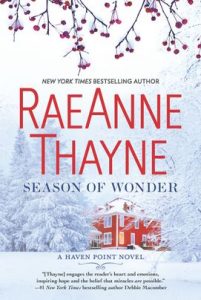 It's a long way from New York to Idaho…but could they have found a home at last?
Dani Capelli has never truly belonged anywhere. And from her earliest days as a foster child in Queens, she would have been lost if it weren't for her love of animals. Until high school, when she fell hard for the wrong boy, and found herself pregnant—and married—by graduation. Two daughters later, Dani realized her mistake and filed for divorce, and with the help of scholarships and loans—and a lot of macaroni and cheese dinners—she enrolled in vet school. Things were finally looking up…until her ex-husband became her late husband, in the most notorious way possible.
Now Dani and her daughters need an out-of-town pass more than ever. So when the retiring Haven Point veterinarian offers her a chance to settle in the small Idaho town and take over his practice, she jumps at it. But adjusting to the charming mountain community isn't easy; thirteen-year-old Silver begins acting out while six-year-old Mia is growing too attached to Haven Point and everything in it, especially their next-door-neighbor, Deputy Sheriff Ruben Morales. And Dani can't blame her. Ruben is everything she's secretly wanted—and everything she can't bear to risk loving…and losing.
As the holidays draw near, their shared concern for Dani's daughters brings them closer together, giving Ruben the chance to show this big-city woman just how magical Christmas in Haven Point can be…and that the promise of a home at last is very real in the most wondrous season of the year…
Available at:
Amazon | Barnes & Noble | Google Play | Kobo | Apple Books | Indiebound | Audible | Goodreads
Christmas from the Heart by Sheila Roberts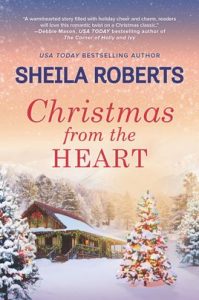 USA TODAY bestselling author Sheila Roberts takes readers to the charming, snowbound town of Pine River in this irresistible holiday romance.
Sometimes you need to look beyond the big picture to see what really matters
Olivia Berg's charity, Christmas from the Heart, has helped generations of families in need in Pine River, Washington, but this year might be the end of the road. Hightower Enterprises, one of their biggest donors since way back when Olivia's grandmother ran the charity, has been taken over by Ebenezer Scrooge the Second, aka CFO Guy Hightower, and he's declared there will be no more money coming to Christmas from the Heart.
Guy is simply being practical. Hightower Enterprises needs to tighten its belt, and when you don't have money to spare, you don't have money to share. You'd think even the pushy Olivia Berg could understand that.
With charitable donations dwindling, Olivia's Christmas budget depends on Hightower's contribution. She's focused her whole life on helping this small town, even putting her love life on hold to support her mission.
When Guy's Maserati breaks down at the edge of the Cascade foothills, he's relieved to be rescued by a pretty young woman who drives him to the nearby town of Pine River. Until he realizes his rescuer is none other than Olivia Berg. What's a Scrooge to do? Plug his nose and eat fruitcake and hope she doesn't learn his true identity before he can get out of town. What could go wrong?
Available at:
Amazon | Barnes & Noble | Google Play | Kobo | Apple Books | Indiebound | Audible | Goodreads
Bring Me Home for Christmas by Robyn Carr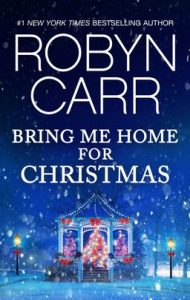 Come back to celebrate the holidays in Virgin River, the beloved town from the series by #1 New York Times bestselling author Robyn Carr.
This year, Becca Timm knows the number one item on her Christmas wish list—getting over Denny Cutler. Three years ago Denny broke her heart before heading off to war. It's time she got over her silly college relationship and moved on.
So she takes matters into her own hands and heads up to Virgin River, the rugged little mountain town that Denny calls home, as an uninvited guest on her brother's men-only hunting weekend. But when an accident turns her impromptu visit into an extended stay, Becca finds herself stranded in Virgin River. With Denny. In very close quarters.
As the power of Christmas envelops the little town, Becca discovers that the boy she once loved has become a strong and confident man. And the most delicious Christmas present she can imagine.
Available at:
Amazon | Barnes & Noble | Google Play | Kobo | Apple Books | Indiebound | Goodreads
The Giving Heart by Toni Blake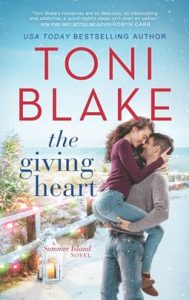 Spend a white Christmas on Summer Island, where the fires are warm and the romance is hotter
Lila Sloan wonders why she ever thought house-sitting for her sister Meg on the remote Summer Island was a good idea. And to make matters worse, local real estate developer Beck Grainger is trying to cut down the beautiful trees that line the property. Lila can't let this happen; Meg will never forgive her.
Beck can understand Lila's anger—sort of. The trees are actually on the neighboring property, and the land was zoned for development months ago, so his plans were no secret. But he dislikes being at odds with his friend's sister, especially because Lila is appealing in every way: loyal, quick-witted and completely stunning.
Lila hates that she's so attracted to Beck, who seems like a genuinely good man, despite his tree-murdering tendencies. And their chemistry is off the charts. She just wishes he'd let this development go. As Summer Island counts down to a snowy Christmas, Lila and Beck will have to strike a compromise that seems impossible for them both—or risk losing the best thing either of them has ever had.
Available at:
Amazon | Barnes & Noble | Google Play | Kobo | Apple Books | Indiebound | Audible | Goodreads
An Alaskan Christmas by Jennifer Snow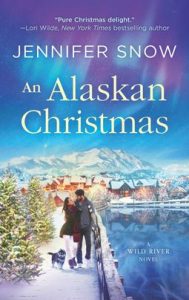 In Alaska, it's always a white Christmas—but the sparks flying between two reunited friends could turn it red-hot…
If there's one gift Erika Sheraton does not want for Christmas, it's a vacation. Ordered to take time off, the workaholic surgeon reluctantly trades in her scrubs for a ski suit and heads to Wild River, Alaska. Her friend Cassie owns a tour company that offers adventures to fit every visitor. But nothing compares to the adrenaline rush Erika feels on being reunited with Cassie's brother, Reed Reynolds.
Gone is the buttoned-up girl Reed remembers. His sister's best friend has blossomed into a strong, skilled, confident woman. She's exactly what his search-and-rescue team needs—and everything he didn't know he craved. The gulf between his life in Wild River and her big-city career is wide. But it's no match for a desire powerful enough to melt two stubborn hearts…
Available at:
Amazon | Barnes & Noble | Google Play | Kobo | Apple Books | Indiebound | Audible | Goodreads
Need some more Christmas? Take a look at our themed Amazon shop here.